Remote access software, you can also call remote desktop/ remote control software, is able to connect to a remote device from a local device over the internet. It breaks the limitation of space and decreases the time spent on the road, making it becomes indispensable for remote work, remote assistance, remote learning, etc. You can find out the best free remote access software in 2022 from the following list that covers the overviews, features, and operations of 5 great remote access programs.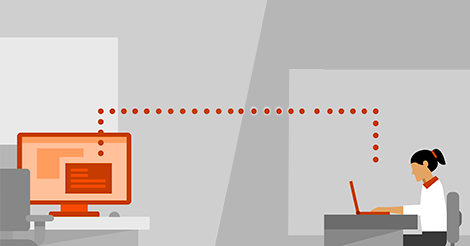 Part 1. Windows built-in remote access software [without downloading the third-party app]
If you are a Windows computer user, luckily, you can don't need to download a third-party remote desktop software as Microsoft has offered useful and various remote access apps in Windows.
1. Windows Remote Desktop
Windows Remote Desktop allows you to access an unattended computer using the Remote Desktop client on the LAN or over the internet.
✍ Its benefits:
✔ It is built into Windows computers, requiring no additional download.
✔ File transfer and copy & paste are supported.
✔ The host computer is locked automatically during the remote session, preventing peeping from others.
✍ Its shortcomings:
✔ Only Windows advanced editions support it and Windows Standard and Windows Home don't support RDP.
✔ Needs annoying configurations like port forwarding when accessing a computer from an outside network.
✔ Useful functions like chat, resolution change, and image quality adjustment. are unavailable in a remote session.
To use Windows Remote Desktop for accessing a computer, follow the steps below:
Step 1. On the to-be-controlled computer, go to Settings > System> Remote Desktop and drag the slider rightward to enable Remote Desktop in Windows 10/11.
Step 2. Click Select users that can remotely access this PC, click Add to add the users that can connect remotely to this computer. Only the users that are added have the ownership to access this PC.
Step 3. On your local computer, press Windows + R, input mstsc.exe, and click Enter to open Remote Desktop Connection.
Step 4. Type the IP of the destination PC and click Connect.
Step 5. In the Enter your credentials window, type the user name and password of the controlled computer. Then, click OK.
Step 6. You may receive a message saying that "The identity of the remote computer cannot be verified. Do you want to connect anyway?" Click Yes and you can control the remote computer. After that, you can write unfinished documents or offer remote support.
✍ Notes:
2. Windows Remote Assistance
Windows Remote Assistance helps you to connect to a Windows computer by sending an invitation for remote support.
✍ Its benefits:
✔ No extra download is required.
✔ Chat in session is supported.
✔ It can offer remote assistance on the same network or different networks without port forwarding.
✔ Compatible with all Windows operating systems from Windows XP to Windows 11.
✍ Its shortcomings:
✔ File transfer isn't supported.
✔ Unattended remote assistance isn't allowed.
Now, let's see how to use the free remote assistance software to access another computer.
Step 1. On the computer that needs help, press Windows+ R, input sysdm.cpl and click Enter to open System Properties window.
Step 2. Go to Remote and check Allow Remote Assistance to this computer.
Step 3. Press Windows+ R, input msra, and hit Enter key to open Windows Remote Assistance.
Step 4. Choose Invite someone you trust to help you.
Step 3. Click Save this invitation as a file and save it to your desktop. Then send the file to the one that will help you.
Step 4. The invited person opens the file and inputs the password in the box.
Step 5. Then you'll receive a message to ask you to allow connect. Click "Yes" and your computer will be accessed and controlled.
Step 6. Then, the invited person can troubleshoot your PC issues.
3. Quick Assist
Quick Assist, a new app in Windows 11/10, allows you to remotely receive remote connection or provide assistance by logging in to your Microsoft account and filling in a digital code.
✍ Its benefits:
✔ You don't need to waste time downloading a third-party remote access program for Windows.
✔ Operations like chat, annotation, and channel switch are supported in a remote session.
✔ The host computer and the client computer can locate in different networks without extra setup.
✍ Its shortcomings:
✔ It's unavailable to transfer files with Quick Assist.
✔ Digital code becomes invalid quickly.
The tutorial on using Quick Assist is listed as follows:
Step 1. In the search box, input quick assist and launch it on the two computers.
Step 2. In the controlling computer, click Assist another person and sign in to the Microsoft account and get a security code. The expiry period of the code is ten minutes.
Step 3. In the controlled computer, input the security code under "Get assistance". Then, click "Share screen".
Step 4. Two options Take full control and View screen will pop up. Choose one and click Allow,
Step 5. Then, the desktop of the controlled computer will display on the client computer. Shortcut functions, like rebooting the computer,are available.
Part 2. Third-party free remote access software [more compatible and easier]
If you need more comprehensive remote access software, have a look at these two great third-party free remote access software. Both of them don't need to make port forwarding even accessing a computer from a different network.
1. AnyViewer
AnyViewer, can be the best free remote access software for Windows computer.
✍ Its benefits:
✔ Both attended remote access and unattended remote access are supported.
✔ File transfer with/without a running remote session is available.
✔ Fast and easy installation and setup.
✔ Chat in session and shortcuts of many useful operations, like opening Task Manager and launching CMD are offered.
✔ Multiple-monitor support.
✍ Its shortcomings:
✔ It's not allowed to copy and paste files and folders in a remote session.
Now, see how to use it to achieve one-click unattended remote access with the same AnyViewer account. To control another computer for remote assistance, you can send a remote control request.
Best remote access software free download
It is secured by high-standard ECC algorithm. It supports one-click unattended remote access, screen view, lock computer, etc. And it also offers advanced editions for more features, like privacy mode access. Get it right now on your devices.
Step 1. Launch AnyViewer on both computers. Create an AnyViewer account and log in to the same account on both devices.
Note: Once logged in, the computer will be assigned to the account and you can see the assigned devices in My devices list and start remote control or do something else.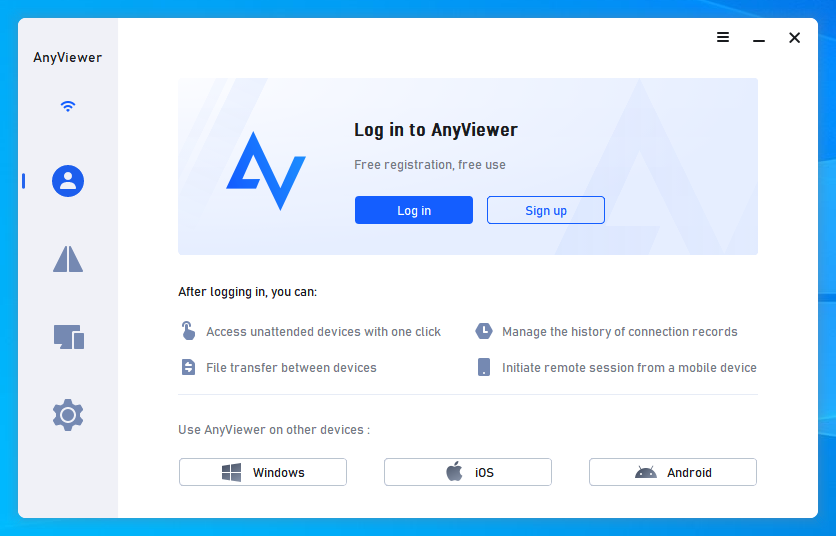 Step 3. On the client PC, go to Device and click the host computer; then click One-click control.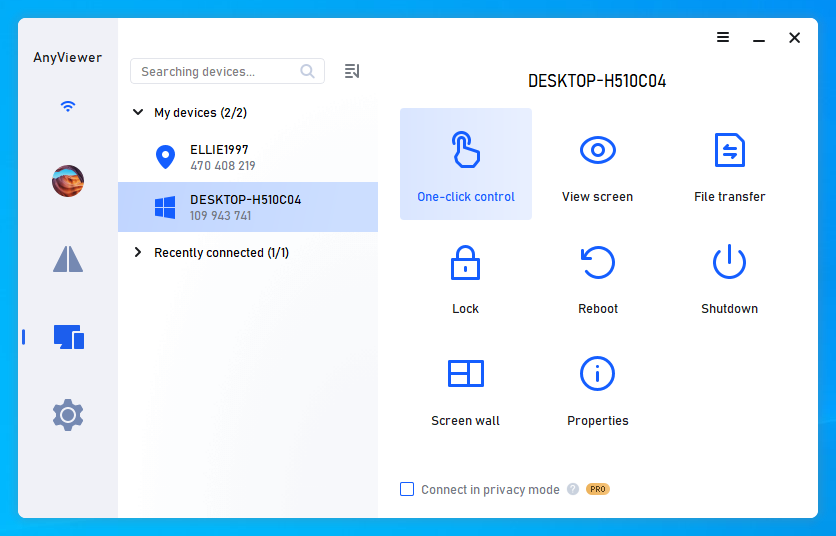 Now, you can see the remote desktop window and do whatever you want to do.

Chrome Remote Desktop
Chrome Remote Desktop, can be available as an extension of Google Chrome and supports accessing Mac, Windows, or Linux computers from your device.
✍ Its benefits:
✔ It has wide compatibility and enables you to set up a connection as long as the devices can run the Chrome browser.
✔ Unattended remote access supported.
✍ Its shortcomings:
✔ No chat function in session.
✔ No multi-monitor support.
✔ Unable to reboot the remote computer and then reconnect to it.
Let's see how to use Chrome Remote Desktop for remote access. Take accessing Windows computer from the computer as an example.
Step 1. On the host computer, run Google Chrome browser and enter Chrome Remote Desktop window. Click the download icon to download the free remote access extension on Google.

Step 2. After that, click Add to Chrome to add the extension to Chrome and enable it.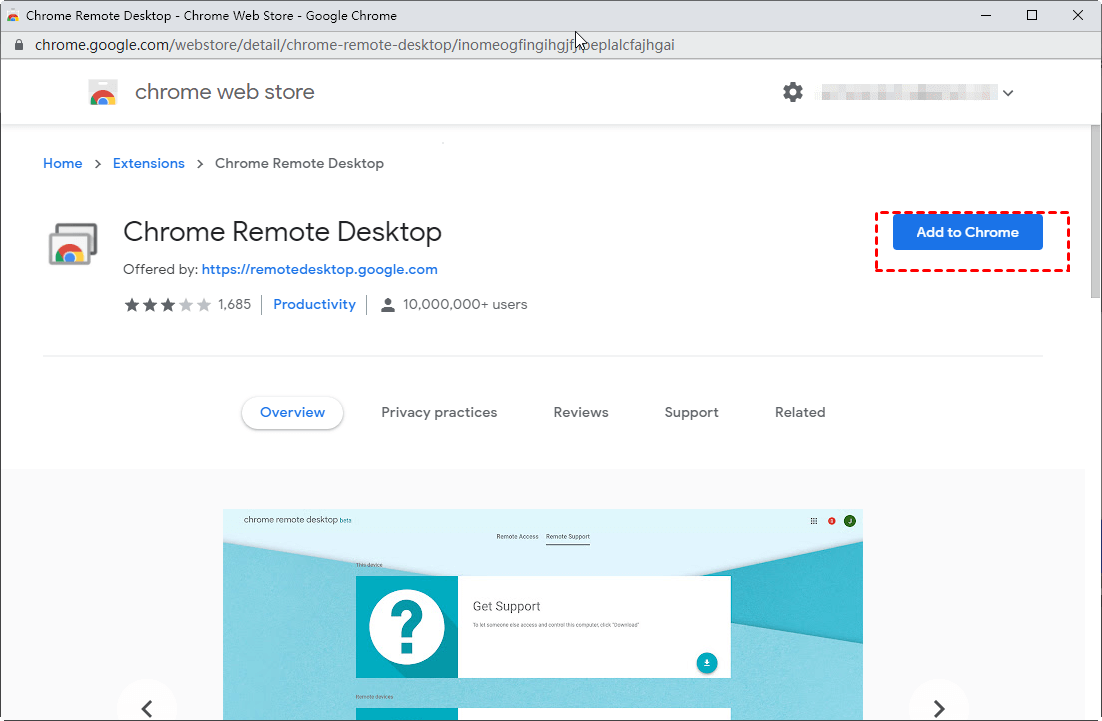 Step 3. Go to Remote Support interface, click the blue Generate Code button under Share this screen to generate a one-time access code for this computer.

Step 4. On the client computer, download and enable Chrome Remote Desktop and sign into the same Google account. On the Remote Support interface, find the Remote Device below. Enter the code automatically generated on the host computer.
✍ Notes:
▪ The steps about how to access PC from iPhone or iPad or Andriod are as similar as the above steps.
▪ If you encounter a timeout issue, you can refer to How to Fix Chrome Remote Desktop Not Working Step-by-Step
Conclusion
Here are introduced five best free remote access software and each has its own pros and cons. If you are unwilling to download third-party tools, the tools listed in the first part are suitable. If you want to get a better remote access experience, it's recommended to choose the tools listed in the second part.