Why do we assign devices to an AnyViewer account?
AnyViewer, is excellent remote desktop software for Windows computers, enabling you to connect to a remote PC from anywhere. Once you have assigned devices to an AnyViewr account, you can complete these operations between assigned computers.
✔ One-click control: Access unattended computer with 1 click.
✔ View the screen: Only view the remote screen without taking control of it.
✔ Lock/Reboot/Shutdown: 1 click to lock, reboot, and shut down the remote computer.
✔ File Transfer: Open File Transfer windows and transfer files between the two connected devices.
✔ Properties: Check the device properties of the device, including Device Name, Remark, Device ID, Computer Name, Lost Login IP, and Lost Login Time.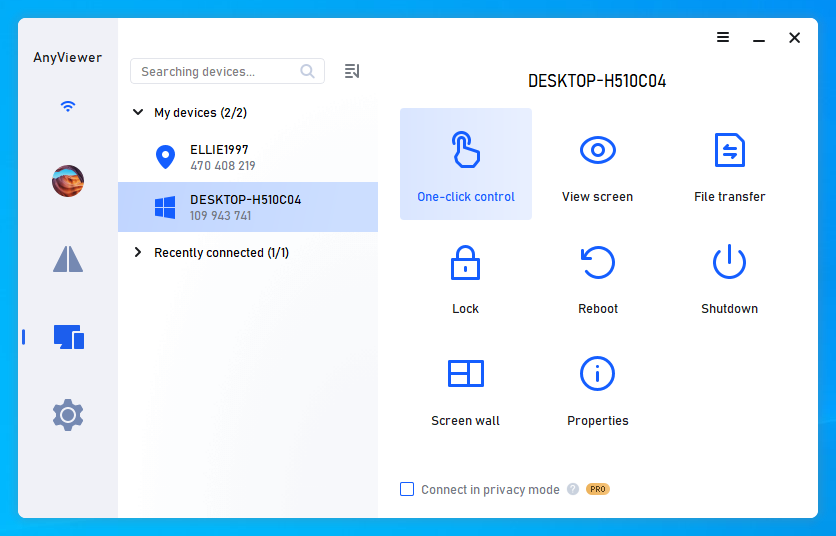 Two ways to assign devices to an AnyViewer account
To assign devices to an AnyViewer account, refer to the following two ways under different cases.
Way 1. [Automatically] Assign devices to an AnyViewer account
If the number of assigned devices isn't up to the maximum number of the account, the device will be assigned the account automatically when you log into the account on the device.
Step 1. Download, install and fire up AnyViewer on your device.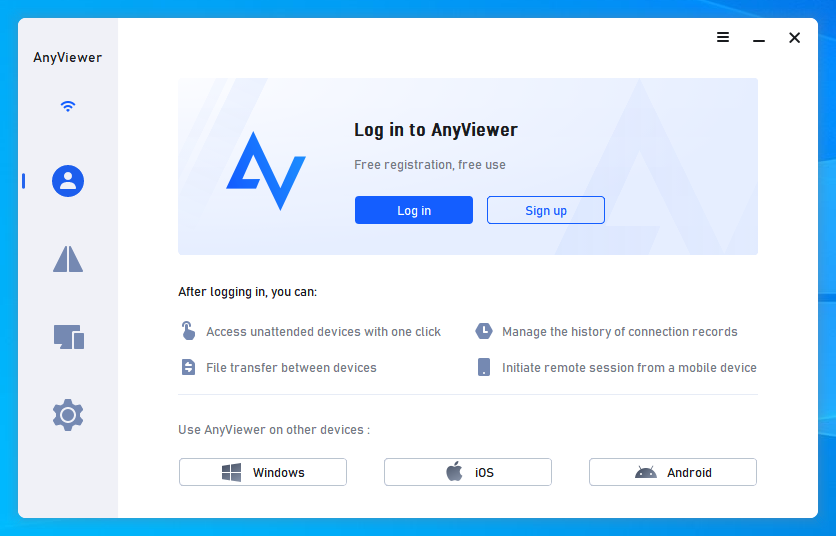 Step 2. Create an AnyViewer account and then, you can log in to the AnyViewer account on all your devices.
Step 3. The devices will be assigned to the account automatically. Go to "Device", click the device and you can take the operations listed above.
✍ Note: By default, the "Auto login" is checked; if you uncheck the option, you'll be logged out every time you reboot the software.
[Manually] Assign Device to an AnyViewer account
When the number of assigned devices for the AnyViewer account reaches the limit and you log in to the account on a new device, it will only add the device to the "My Devices' list without assignment. To assign new devices to the account, you need to unassign other devices and then manually assign the devices.
✍ Note: For a free account, the number of assigned devices is up to 3. To assign more devices, it's recommended to upgrade your account to Professional or Enterprise, which respectively enables you to assign 10 and 100 devices to one account. Then, you can manually assign the new computer. After upgrading, you can enjoy other highlights of AnyViewer, like high-speed file transfer, accessing in privacy mode, and managing more devices.
Step 1. Select an assigned device under "Device" > "My Devices", right-click it, and select "Remove device".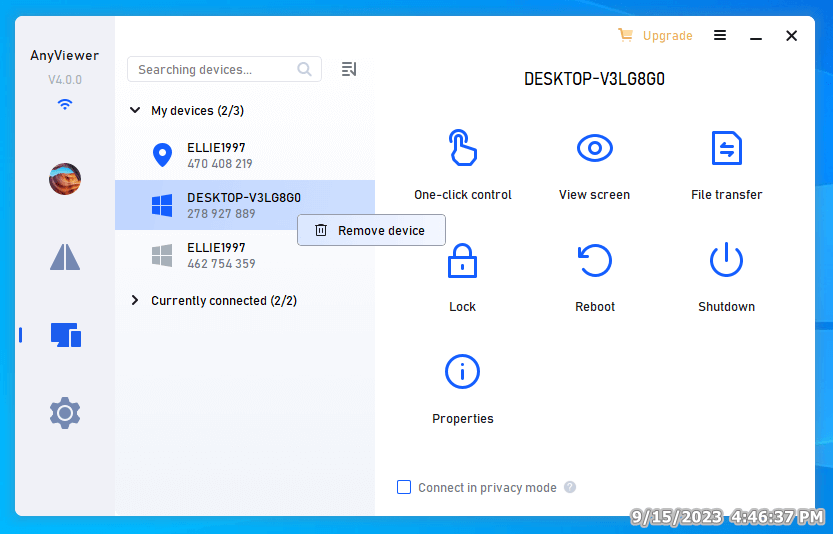 Step 2. After removing the device, you won't be able to achieve one-click remote access to this account. Click "OK" to confirm the operation.
Step 3. On the device that you want to bundle to the account, log into the AnyViewer account, then the device will be automatically assigned to the account .