Does TeamViewer have a free version?
Some users who need the remote desktop software for different reasons may wonder does TeamViewer have a free version. The answer is YES. TeamViewer is free for personal usage, which includes any work in your personal life that you are not compensated for. Personal usage includes connecting personal gadgets at home or remotely assisting friends and relatives.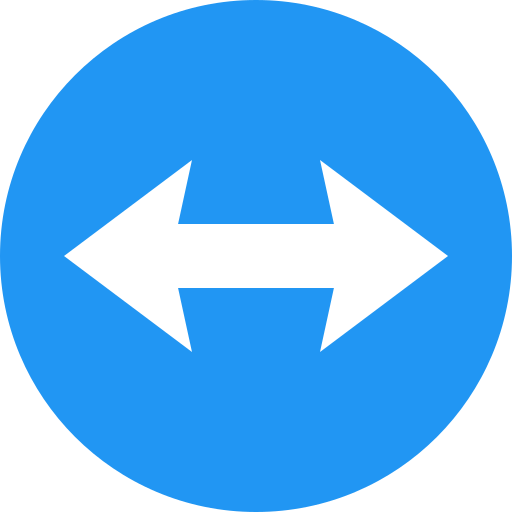 What are the TeamViewer free version limitations?
How long can I use TeamViewer for free? Normally, there is no time limit on TeamViewer free version as long as you're using it for personal use. Are there any TeamViewer free version limitations? YES. There are basically two limitations.
The first limitation of the free version is that TeamViewer will block your connections if it suspects you are using it for commercial use. Commercial use is not limited to tasks for which you are being paid. Connections to or from corporate networks, connections to or from recognized server operating systems, and providing support to customers and colleagues all fall under commercial use. For example, if you're using TeamViewer to remote into work PC from home, you'll definitely receive the following message:
The second limitation of the free version is that some features are unavailable in the free version. For example, remote printing, black screen, block remote input, and wake-on-LAN. Besides, only 1 concurrent connection is allowed for TeamViewer free version.
It appears to be common that TeamViewer suspects users using it for commercial purposes, which they are not, and blocks their connections. If you encounter this, you can send the TeamViewer team an email and request them to investigate. Worth noting that there is no guarantee that they will unblock your ID. If they don't then you will either need to pay for a license or find a TeamViewer alternative.
Best TeamViewer alternative for Windows - AnyViewer
Similar to TeamViewer, AnyViewer is a free remote desktop program for Windows that enables safe, worldwide access to your devices. What's the distinction? There is no time restriction with AnyViewer. You may use it any way you choose, whether for personal or business use. You can access a business computer from home or provide remote help to customers. You won't be expelled ever again in the middle of a connection.
Additionally, AnyViewer's free edition provides the appealing features listed below:
It offers unattended remote access from PC to PC, iOS to PC, and Android to PC.
Every account has the ability to manage 10 devices and designate 3 devices for remote unsupervised access.
It allows for two concurrent sessions.
It allows for the remote session to be adjusted for picture quality and resolution.
It supports multiple monitors on one screen.
It supports in-session text chat.
It allows for the transport of large files.
Step 1. Install and run AnyViewer on both of your computers. Navigate to Log in and then Sign up on the Controller computer (if you have already registered on the official website, you can log in directly).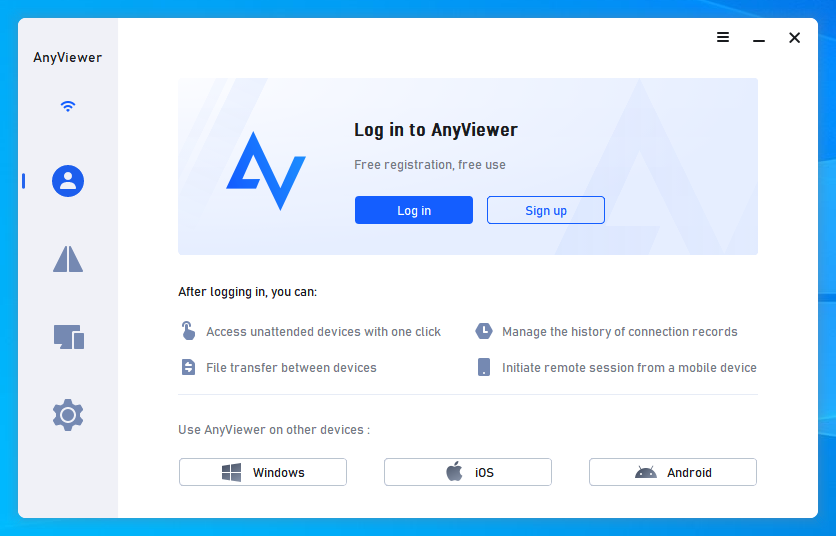 Step 2. Fill out the sign-up form.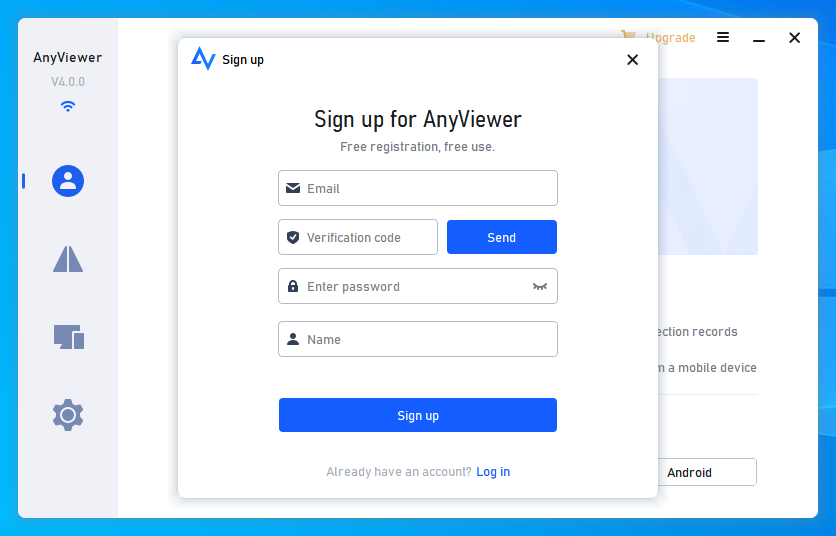 Step 3. You should now see that you have successfully logged into AnyViewer. Your device will be assigned to the account to which you have logged in automatically.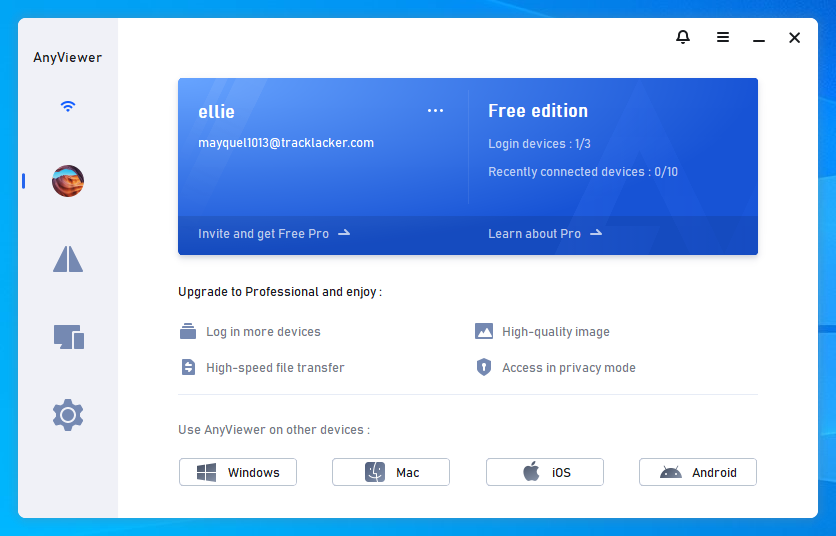 Step 4. Log in to the same AnyViewer account on the two devices, then you can click One-click control to achieve a direct connection, click View the screen to see another's screen, or click File transfer to share files between computers.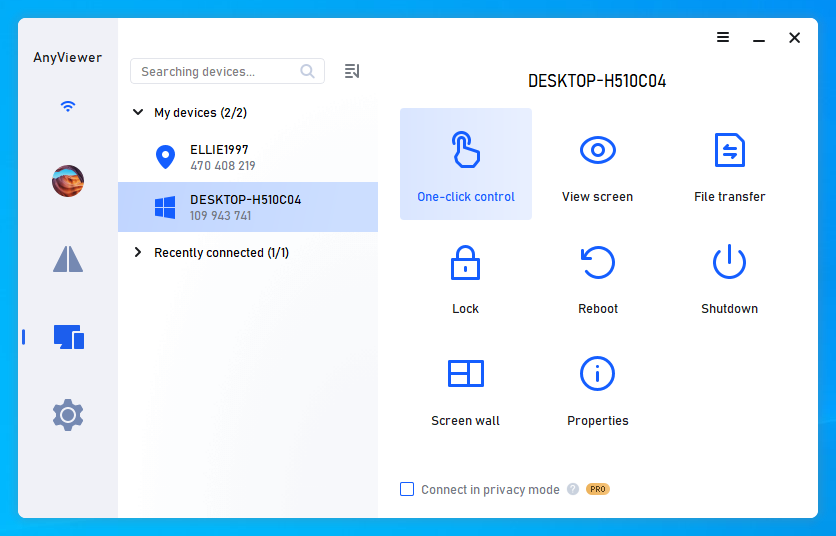 Notes:✎...

You can also upgrade your account to a Professional or Enterprise plan to enjoy more rights:

Faster file transfer speed. Transfer speed for a free account is 500 KB/s, and for a paid account is up to 10 MB/s.
Increasing number of files transferred in a single time.
Larger size of a single file that can be transferred.
More devices can be assigned to the same account for unattended remote access.
More Currently connected devices are displayed for chekcing connection history.
Connect in privacy mode to protect privacy.
Initial more concurrent connections to one computer.
Closing words
Does TeamViewer have a free version? How long can you use TeamViewer for free? What are the TeamViewer free version limitations? This post primarily has given answers to these questions. TeamViewer is free for personal use without a time limit. But if you are detected as using it for commercial use, your connection will immediately be blocked. Therefore, we highly recommend you use the free TeamViewer alternative AnyViewer. It has no restrictions on the users' purposes. Download and try it right now.