Why does TeamViewer lag so much?
I can move the mouse on my partner's computer when we are connected, but it takes a very long time for an application or folder to respond when I click on it. Opening a file or getting a response from the remote computer takes five minutes."
- Question from TeamViewer Community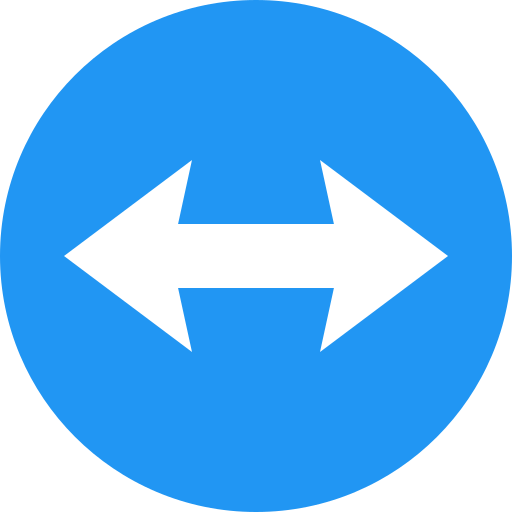 Why is TeamViewer so laggy? The performance of TeamViewer depends on three settings: Internet settings, Windows settings, and TeamViewer settings. While a fast Internet connection on both sides counts to a large extent, you can apply a number of Windows and software optimizations to get the most out of the problem if you're experiencing lag and pauses when using TeamViewer.
3 methods to fix TeamViewer very slow
Next, we'll introduce how to fix TeamViewer very slow from three perspectives: TeamViewer settings, Windows settings, and Internet settings.
Method 1. Optimize TeamViewer settings
In order to improve the speed of your remote connection, you can change the settings beforehand in your TeamViewer options. Screen resolution and wallpaper both play big parts in performance. Higher resolution and wallpaper mean greater details, and that details take longer to be sent over the Internet. Therefore, you're recommended to change the screen to a smaller size but not too small and hide the wallpaper. You can also change the display quality to an optimized speed.
Step 1. Go to Options (on the top right corner) > Remote Control > Quality > Optimize speed. Check the box marked Remove own wallpaper as well.
Step 2. You can also change to a lower resolution during the remote session. Go to the menu bar View and choose the suitable resolution from the pull-down menu in Performance.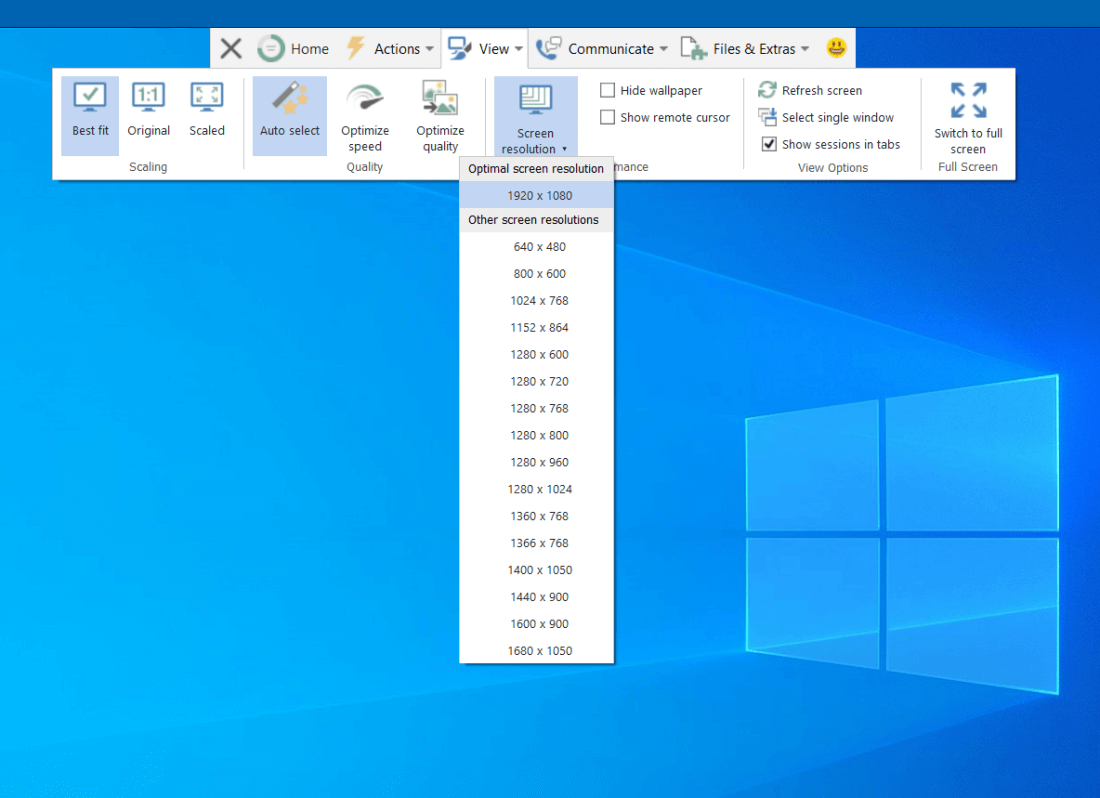 Method 2. Optimize Windows settings
Visual Effects in Windows settings enhance the overall design and look of the operating system. Some features, including Aero, are visual eye candy but unnecessary for essential functions. Turning off visual effects makes more resources available to TeamViewer.
Step 1. Typing Adjust the appearance and performance of Windows in the search box on the taskbar. Open it.
Step 2. On the Visual Effects tab, select Adjust for best performance > Apply.
Method 3. Optimize Internet settings
Data from the remote computer is transmitted using your Internet connection by TeamViewer. It is advised to use a fast download speed to prevent lag. The distant computer is uploading concurrently. The rate at which the other computer can send information limits how quickly your computer can receive it.
Here are some tips to lower the effect of Internet settings on TeamViewer performance. Installing the latest drivers for your network devices, such as a Wi-Fi adapter or network card, and installing the latest firmware for your router can improve performance and fix persistent bugs. Avoid using the Internet and limit Internet access from other devices on the network while TeamViewer is running.
AnyViewer: Fast TeamViewer alternative
If you still experience TeamViewer display very slow, the final advice for you is to find a TeamViewer alternative. For example, AnyViewer. Like TeamViewer, AnyViewer is a free remote desktop tool. But AnyViewer runs smoothly without any lags. The stable and fast remote connection makes it one of the most popular remote desktop software.
Step 1. Install and run AnyViewer on both of your computers. Navigate to Log in and then Sign up on the Controller computer (if you have already registered on the official website, you can log in directly).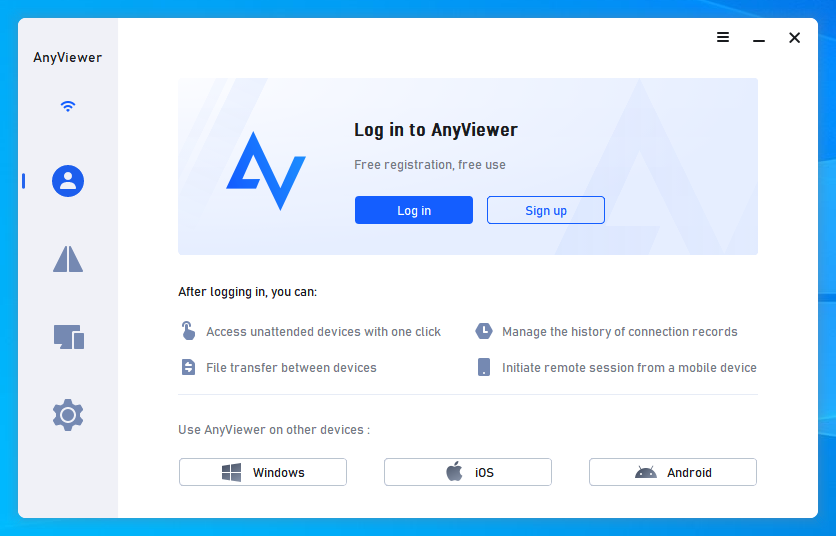 Step 2. Fill out the sign-up form.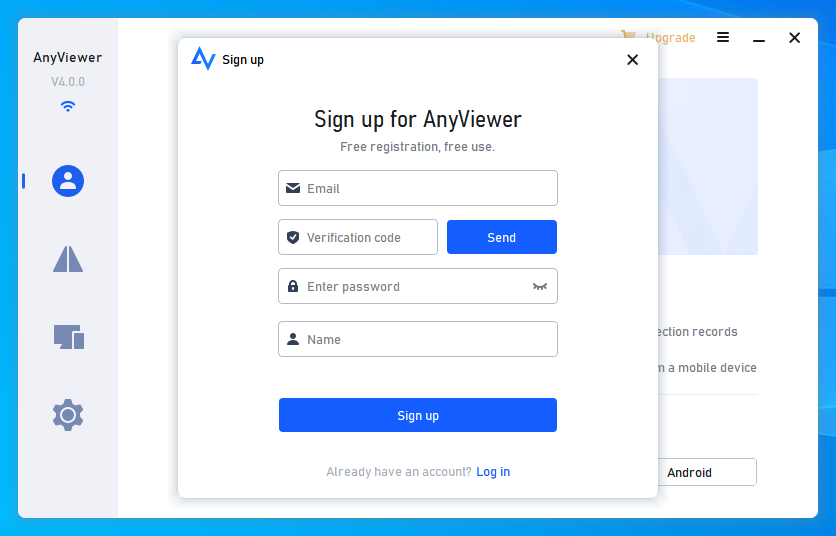 Step 3. You should now see that you have successfully logged into AnyViewer. Your device will be assigned to the account to which you have logged in automatically.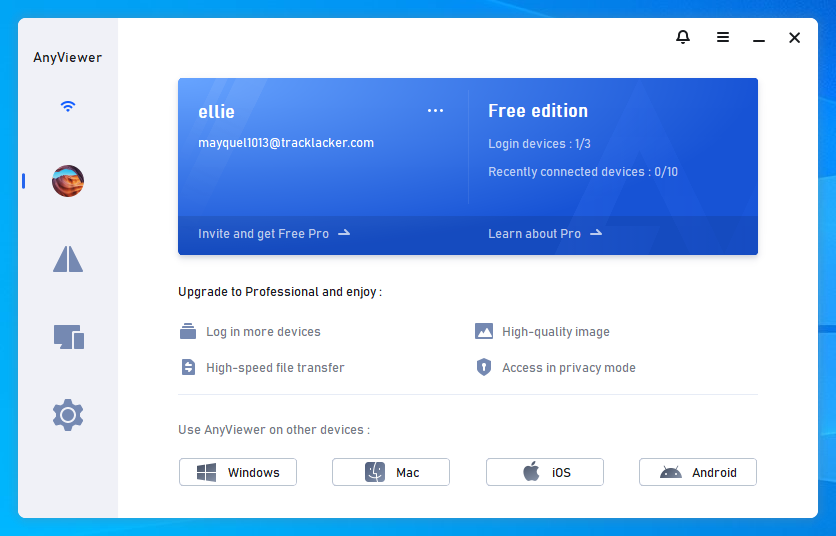 Step 4. Log in to the same AnyViewer account on the two devices, then you can click One-click control to achieve a direct connection, click View the screen to see another's screen, or click File transfer to share files between computers.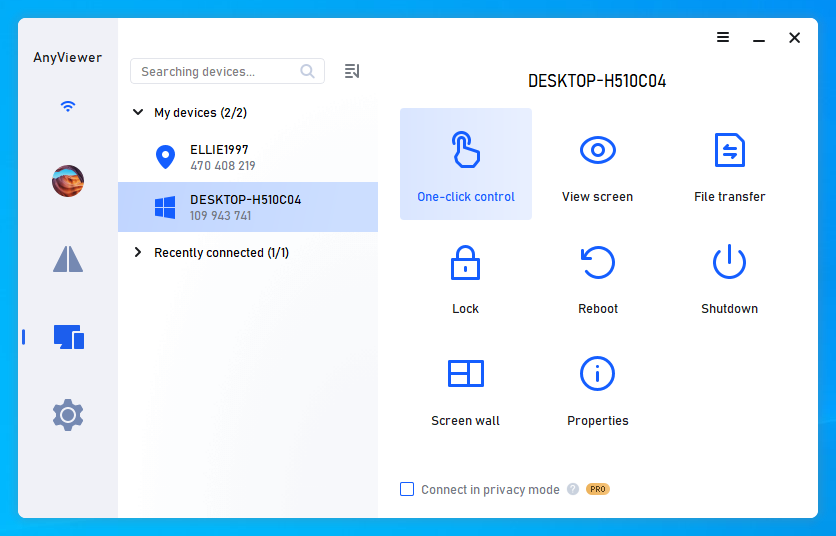 Notes:✎...

You can also upgrade your account to a Professional or Enterprise plan to enjoy more rights:

Faster file transfer speed.
More assigned devices to achieve unattended remote access.
Connect in privacy mode to protect privacy.
Initial more concurrent connections to one computer.
Closing words
This post primarily introduces 3 methods to fix TeamViewer very slow. You can try to configure your TeamViewer, Windows, or Internet to speed up the TeamViewer connections. Besides, we have also introduced a free TeamViewer alternative, AnyViewer.It provides you with fast and stable remote connections.