Is TeamViewer free for private use?
Is TeamViewer free for private use? Yes, TeamViewer has a free version for private use. As interpreted by the TeamViewer official, private use refers to any use of TeamViewer that is not directly or indirectly compensated. For example, a customer paying you for providing support is a direct payment, and accessing a company computer for work-related activities is an indirect payment.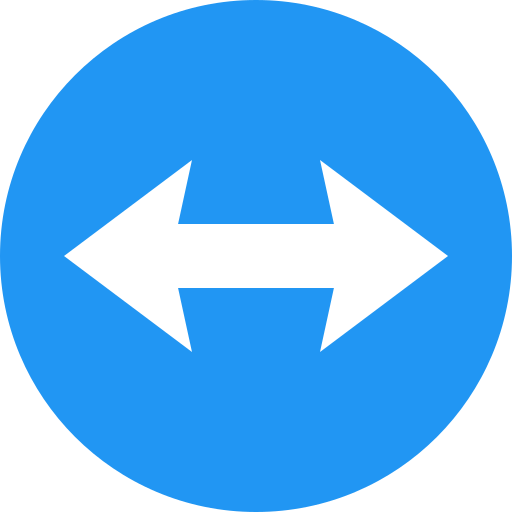 TeamViewer Free Version Limitations
Can you use TeamViewer for free? Although you can, many private version users reflected that they have been blocked from connection even though they are not using TeamViewer for commercial purposes. The following "Connection blocked after timeout" is a typical TeamViewer free version error. Consider yourself in the middle of a project when you are locked out of your remote session! It's not just annoying; it's downright disruptive.
Besides, features like remote printing, blank screen, block remote input, and Wake-on-LAN are not available in the free version, making its functionality very limited.
Free TeamViewer alternative for Windows - AnyViewer
The pricing plans for TeamViewer's commercial versions probably are more stressed than many people even many small businesses could possibly handle. Therefore, if you're tired of the TeamViewer free license time limit, the best option for you is to find a TeamViewer alternative.
Like TeamViewer, AnyViewer is the free remote desktop software for Windows which offers secure remote access to your devices from anywhere. What's the difference? With AnyViewer, there's no time limit. You are free to use it for any purpose, no matter if it is private or commercial. You won't be kicked out in the middle of the connections any more.
Besides, AnyViewer free version also has the following attractive features:
It supports PC-to-PC, iOS-to-PC, Android-to-PC unattended remote access.
Every account can manage 10 devices and assign 3 devices for unattended remote access.
It supports 2 simultaneous sessions.
It supports image quality and resolution adjustment during the remote session.
It supports multiple monitors on one screen.
It supports text chat in session.
It supports large file transfers.
Step 1. Install and run AnyViewer on both of your computers. Navigate to Log in and then Sign up on the Controller computer (if you have already registered on the official website, you can log in directly).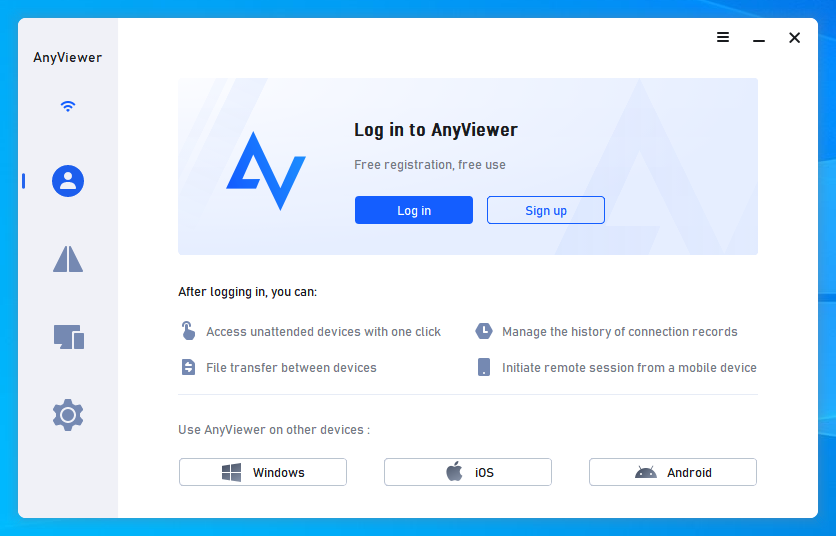 Step 2. Fill out the sign-up form.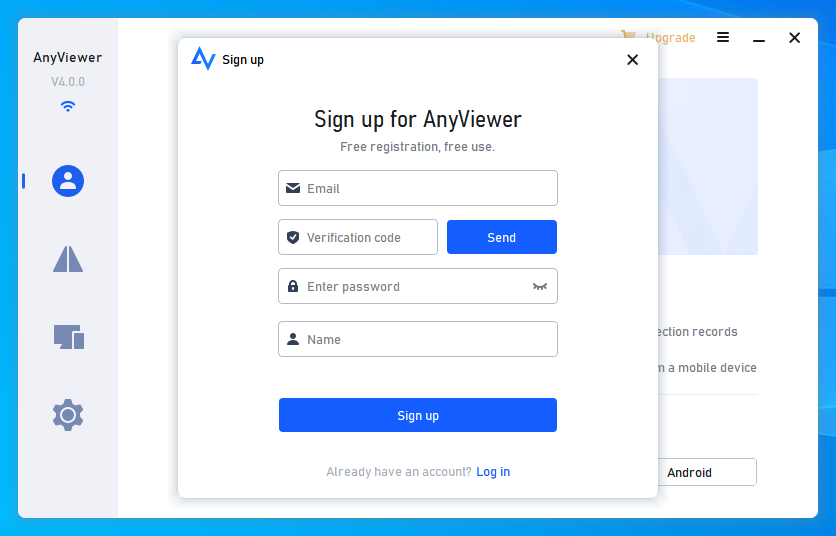 Step 3. You should now see that you have successfully logged into AnyViewer. Your device will be assigned to the account to which you have logged in automatically.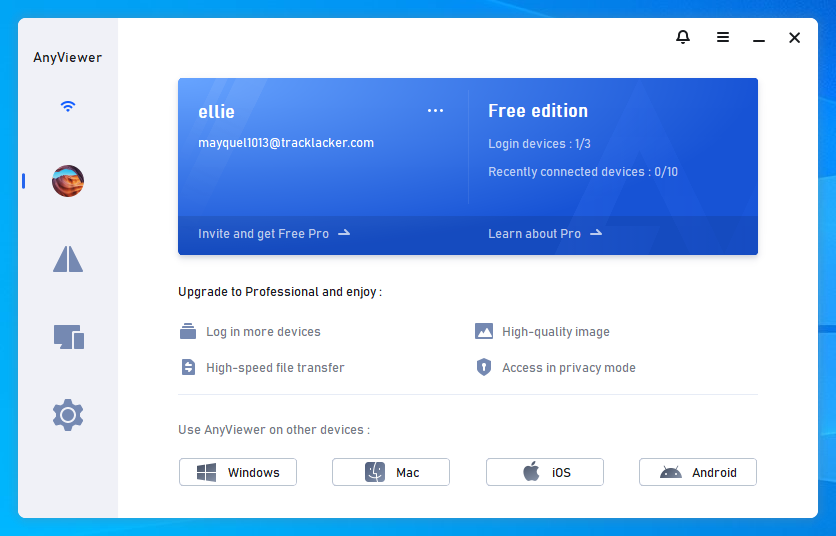 Step 4. Log in to the same AnyViewer account on the two devices, then you can click One-click control to achieve a direct connection, click View the screen to see another's screen, or click File transfer to share files between computers.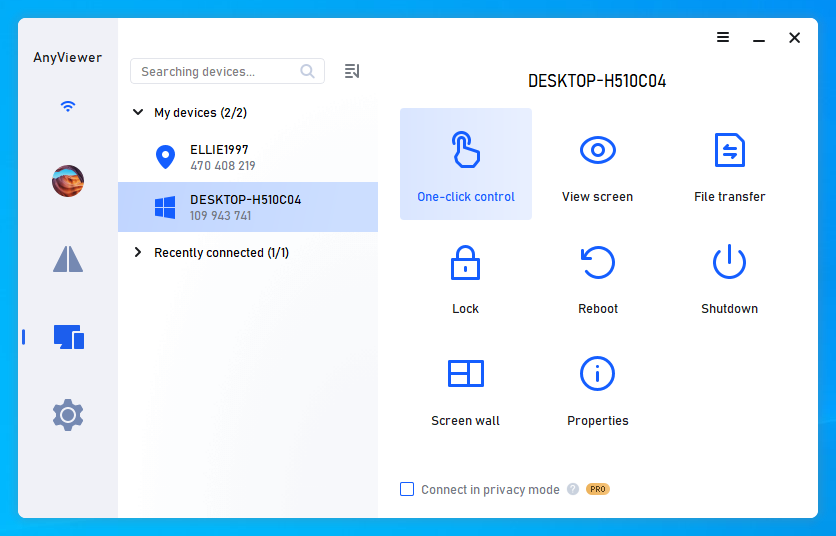 Notes:✎...

You can also upgrade your account to a Professional or Enterprise plan to enjoy more rights:

Faster file transfer speed. Transfer speed for a free account is 500 KB/s, and for a paid account is up to 10 MB/s.
Increasing number of files transferred in a single time.
Larger size of a single file that can be transferred.
More devices can be assigned to the same account for unattended remote access.
More Currently connected devices are displayed for chekcing connection history.
Connect in privacy mode to protect privacy.
Initial more concurrent connections to one computer.
Closing words
This post primarily answers the question "Is TeamViewer free for private use?".the answer is positive. But you also need to know that the free version of TeamViewer comes with many limitations, for example, time limit.
Therefore, we recommend you the best TeamViewer alternative, AnyViewer. Its free version supports lots of practical features. If you're tired of TeamViewer free version, try AnyViewer tight away.