How can I send large files over the internet?
"I start to work from home this morning. When I use Gmail to transfer a large file (98MB) from my work computer to my home computer, I failed. Later I found that Gmail has limited the size of attached files to 25MB. How can I transfer large files over the internet?"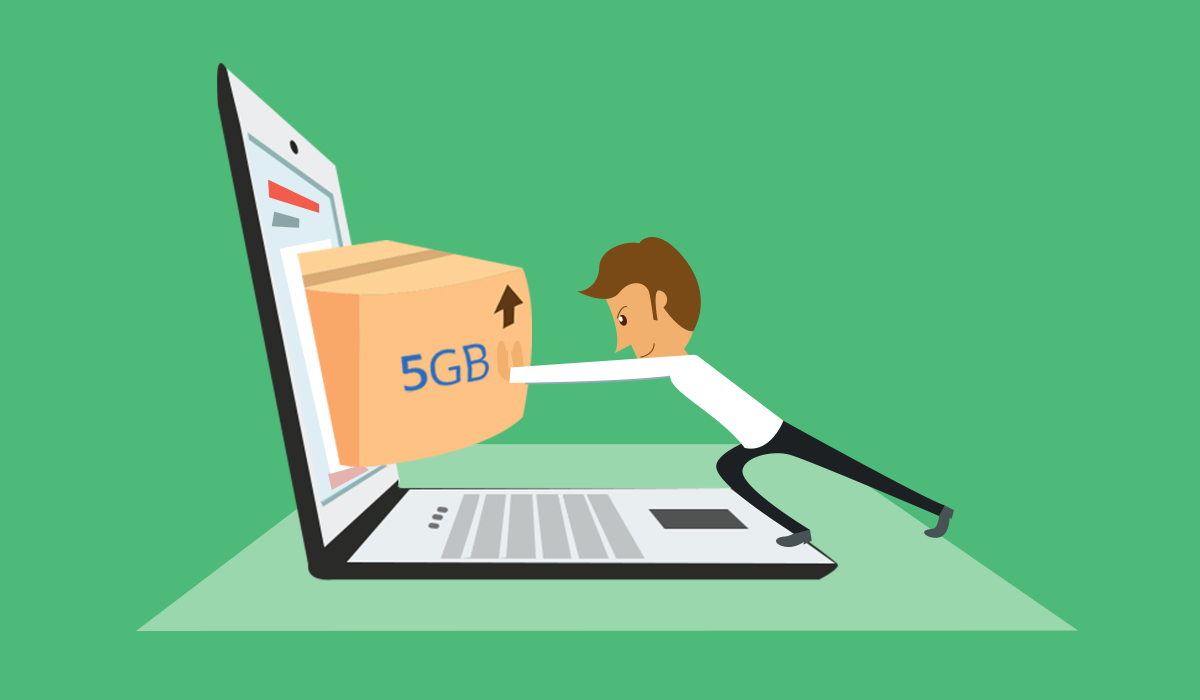 How to transfer large files over the internet [3 free options]
To free transfer files over the internet when working from home outside the company, email is not your only choice, especially when the files are large. Check out the three easy and safe ways.
Option 1. Transfer large files over the network via remote file transfer tool [recommended]
AnyViewer, a remote desktop software with file transfer feature is your best choice to transfer a large file or files over the internet. Why would we say that? There are two reasons:
It allows you to transfer a batch of large files at a breakneck speed. For example, it only costs about 20 seconds to transfer a 2 GB zip file from the local to the remote computer.
It provides you with multiple additional features. When working from home, sometimes you don't only need to transfer files between computers. As a remote desktop tool as well, it also allows you to easily control and manage a remote computer or share screens remotely.
It supports you to drag & drop files from your local device to the remote device, which is extremely convenient for file transfer.
Step 1. Download, install, and launch AnyViewer on both Windows computers.
Step 2. On the Controller computer, go to Log in, and then click Sign up. (If you already have signed up on its official website, you can log in directly.)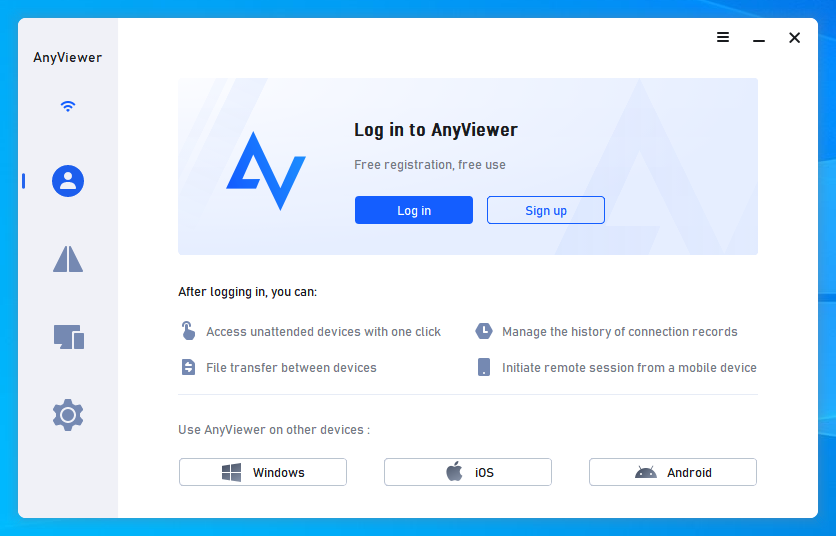 Step 3. Fill in the signup information.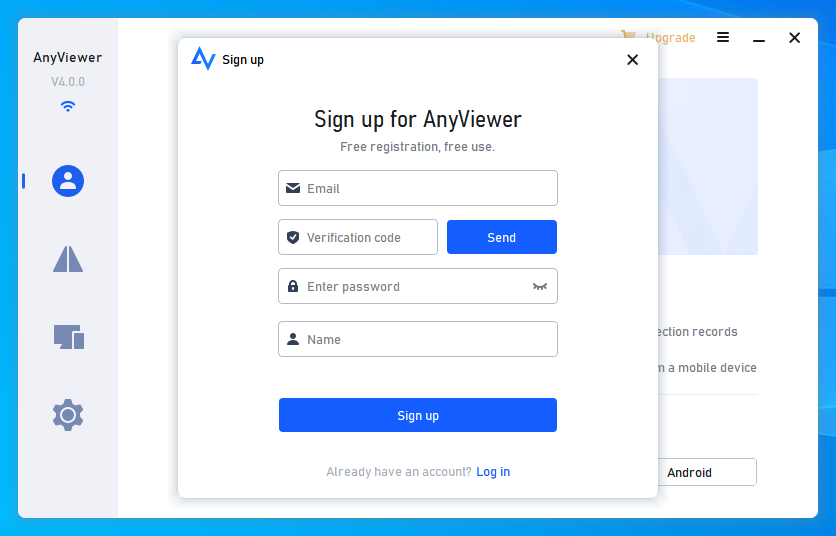 Step 4. Then you can see you successfully logged in to AnyViewer. Your device will automatically be assigned to the account you've logged in to.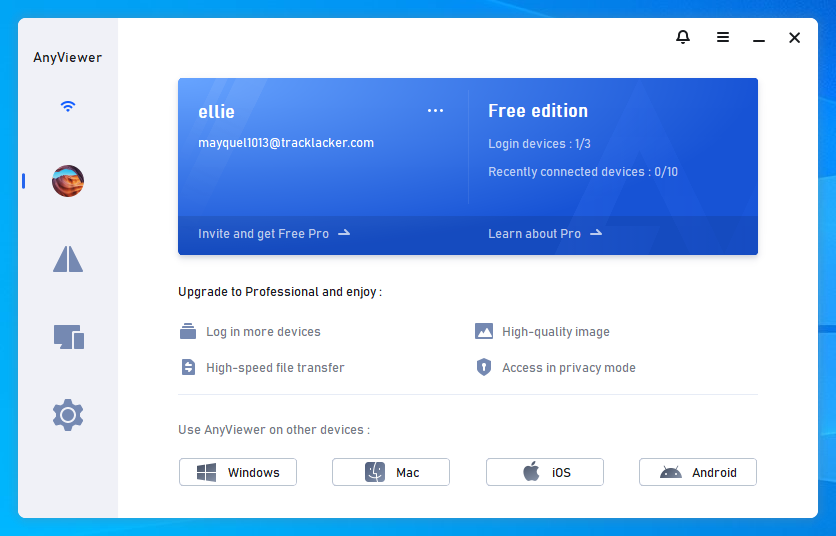 Step 5. Choose your target computer, and then click File transfer.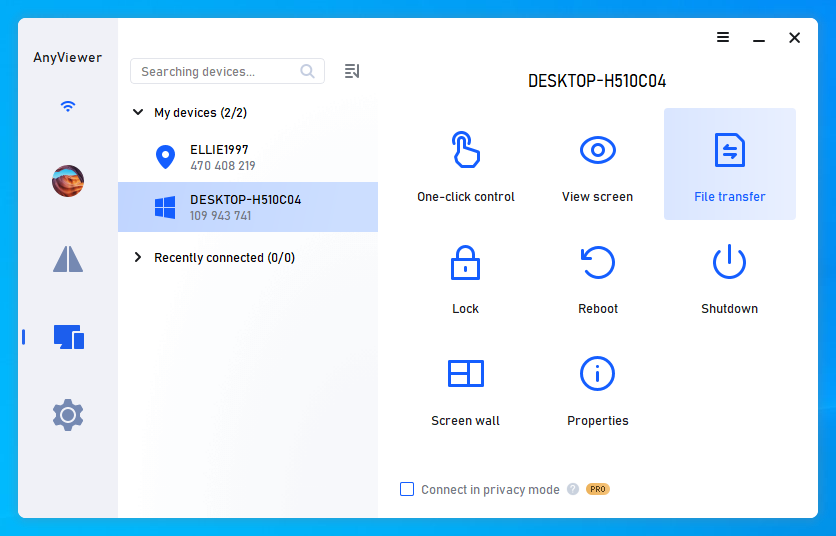 Tips:
You can also click
One-click control
to achieve
unattended remote access
to your office computer. Then you can completely control it just like you're sitting in front of it. After the connection is successful, you can also click the
Files
button in the menu bar to transfer files.

Step 6. Then a File Transfer dialog box will appear. The path of the Controller computer is shown on the left of the box, and the path of the Recipient computer is shown on the right. You're able to transfer files between devices freely by clicking the arrows after choosing the target files.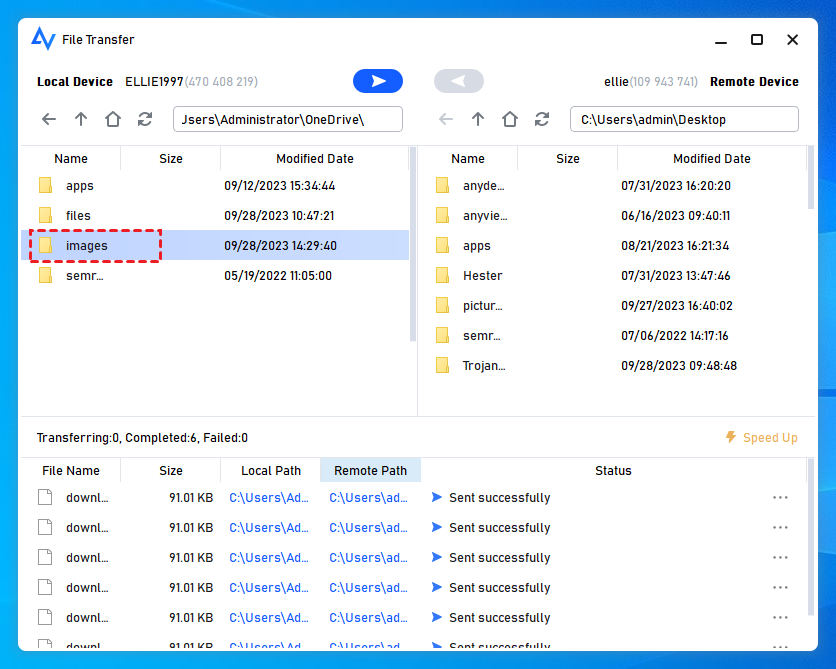 Notes:✎...

You can also upgrade your account to a professional or enterprise plan. Here is what a professional or enterprise plan can bring:

Faster file transfer speed. Transfer speed over the internet for a free account is 500 KB/s, and for a paid account is up to 10 MB/s.
Increasing numbers of files are being transferred at once. For a free account, 100 files can be transferred at a time; for a paid account, this number is unlimited.
The larger size of a single file can be transferred. The maximum size of a single file that can be transferred for the free account is 100 MB, and for a paid account is 1 TB.
Option 2. Sync large files over internet to another computer via cloud storage services
Cloud storage service is also an option to transfer large files over the internet. Technically, a cloud storage service is more like a backup tool allowing you to back up and sync your large files to your cloud and then download it whenever and wherever you want.
★Benefits

The cloud storage service app enables you to view and edit your files.
You can also access your uploaded files from any computer by going to the cloud storage service website and signing in.
If your device is stolen or damaged after you have saved your files there, your files will still be backed up and secured at the cloud storage service.
Note: Different cloud storage service providers make different pricing plans. You can check the prices on their official sites.
There are lots of cloud service providers at present. Here we'll take Google Drive as an example to show you how to transfer large files from one computer to another using a cloud storage service.
Step 1. Open the main interface of Google Drive, find and click My Drive in the left sidebar, click My Drive again, and select Upload files or Upload folder in the expanded menu.

Step 2. For example, click Upload files, and a window will pop up automatically. Select the file you want to upload and click Open in the lower-right corner.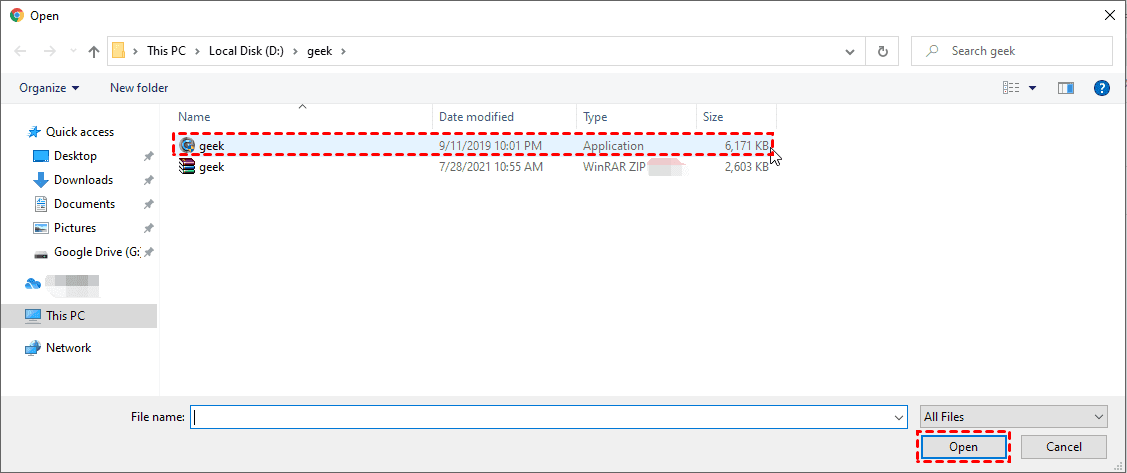 Step 3. You can see the file upload progress in the lower right corner. After the upload is completed, you can find the file in the main interface.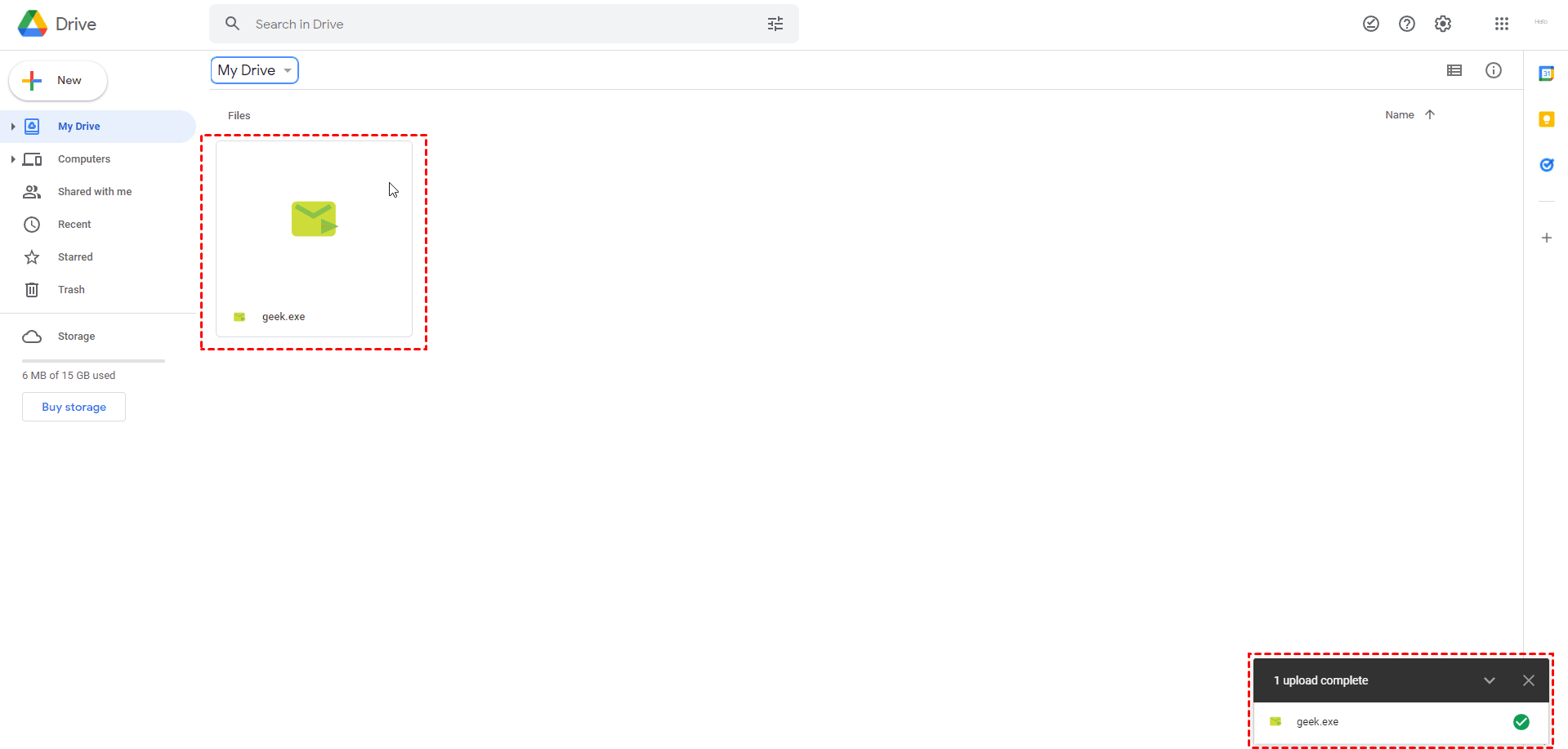 Step 4. Open Google Drive on the other computer and log in to the same Google account. Find the file you've transferred, right-click the file, and select Download in the expanded menu to realize remote file transfer between different computers.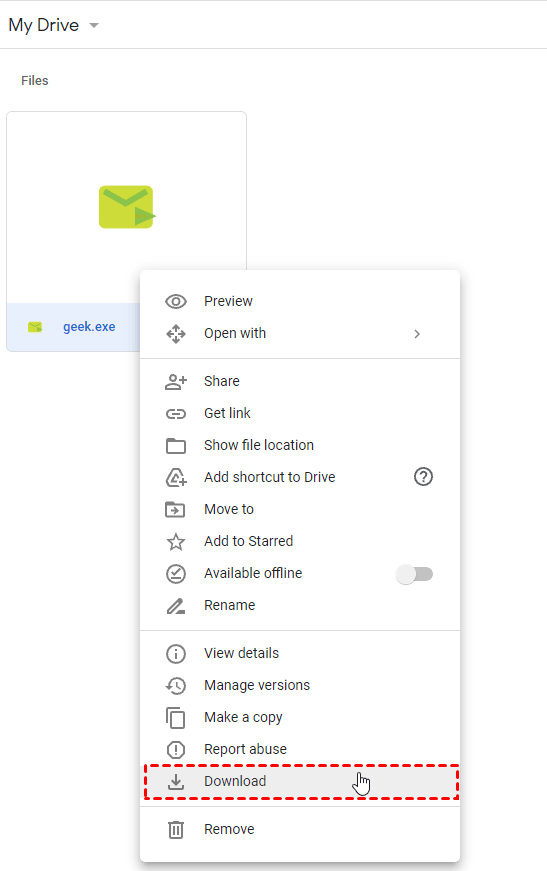 Option 3. Move large files between computers over the internet via USB drive
The final option on how to transfer large files between PCs over the internet is to use an intermediary storage device, such as a USB flash drive. To transfer files, you can copy your large files first to the storage device and then move the device to the other computer.
★Benefits

There is no need for internet access, additional software, or services.
External drives are portable, convenient, and secure because they can be encrypted.
Moving a large collection of files that require a lot of storage space via USB can be the quickest and most cost-effective option.
But the biggest limitation is that you're not allowed to transfer large files with a storage device in a remote environment, which is not very convenient when you're working from home and need to transfer files between your work computer and the home computer instantly.
Conclusion
This post primarily explains how to transfer large files over the internet while email is not available for you to transfer large files. You can choose from the free file transfer tool AnyViewer, cloud storage services, and movable storage devices. If you're going to meet all your remote work needs, you are advised to choose AnyViewer. In this way, you're not only allowed to transfer files but also completely control your work computer from home.