Can I remote into my work computer from home?
I'm going to work from home but I don't want to copy all necessary data from the PC at the office to my laptop at home. I'm wondering whether it is possible to control work computer from home with my laptop and then I can access necessary data saved files time and again. If it is available, how can I do that?"
How to control work computer from home over the internet
It is undoubted that you can connect to your work computer from home over internet. If you are familiar with computer knowledge, you can use Windows Remote Desktop(RDP) to remote into office computer, which requires port forwarding/VPN as the PCs are in different networks. If not, you can switch to a third-party remote access utility to access another computer in the office from a different network without extra work.
How to connect to work computer from home using RDP
This way can be a little bit complicated; it's recommended to consult with your IT professional at first.
✍ Step 1. Allow remote access to your work computer.
On Windows 11/10, go to Start> Settings > System > Remote Desktop and enable Remote Desktop.
On Windows 8, click Search box, input control panel and open it. Then go to System Security > choose Allow Remote Access > choose Allow remote connections to this computer > click Apply.
On Windows 7, locate Computer icon, right-click it > choose Properties > choose Remote Settings > select Allow connection from computers running any version of Remote Desktop(less secure)> click OK.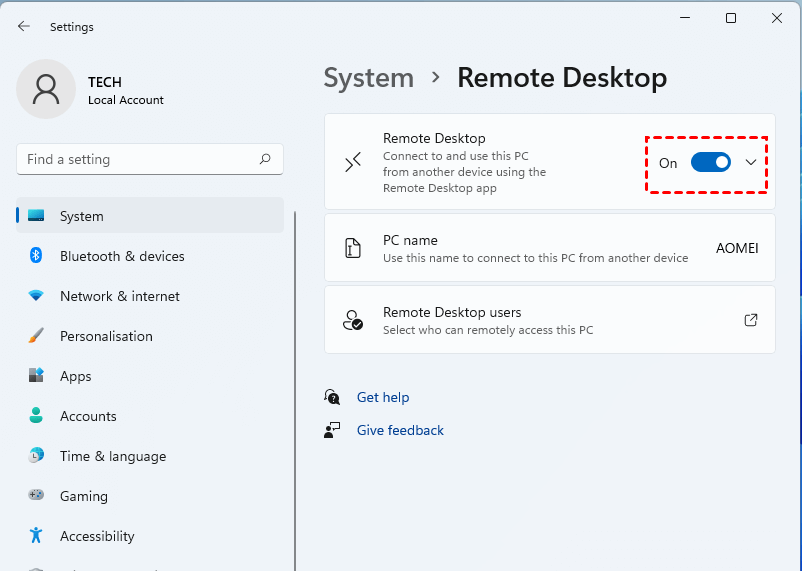 Note: Remote Desktop is only supported by Windows Professional and its advanced editions. Other editions like Window 10 Home doesn't support Remote Desktop.
✍ Step 2. Allow port 3389 in the Windows firewall.
Go to Control Panel > System and Security > Windows Firewall > click Advanced settings and enable Inbound Rules for Remote Desktop.
✍ Step 3. Set up port forwarding in the router.
Open your browser, log into the router website (usually at http://192.168.1.1 or http://192.168.0.1) > go to Advanced > Proceed > log into your account > Add a new port forwarding rule for TCP port 3889 to be forwarded to the internal IP of your work computer.
Note: To locate the IP of the work PC, run Command Prompt as administrator and then run ipconfig command.
✍ Step 4. Start remote access from your home computer.
On your computer at home, press Windows + R, input mstsc > input the user name and password of the account that you want to log in to of the work computer > click Connect.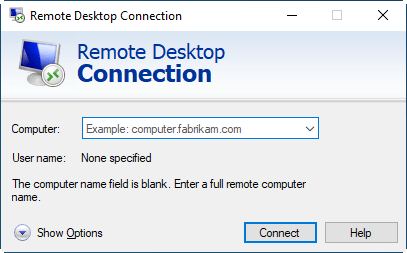 How to access work computer from home without VPN/port forwarding
This way is rather simple and suitable for the one who is looking for a secure way to control work computer from home or other places.
✍ Step 1. Set up AnyViewer on your office computer.
Free download the reliable and safe remote access software on your work computer. Run AnyViewer, create an AnyViewer account, and log into it.
Control work computer from home easily
Whether you want to access your work computer from home or control home computer work, AnyViewer can be helpful! With it, you can connect one PC to another securely and quickly. It supports chat, file transfer, and so on during the remote session. More »
✍ Step 2. Start remote control from your home.
On your home computer, install and run AnyViewer> log into the same account > go to Device > locate the work computer > click it and choose One-click Control.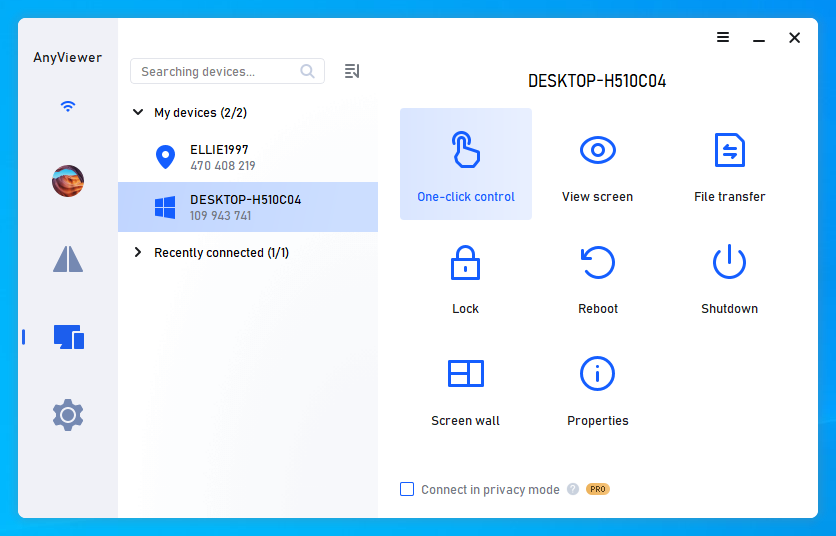 ✍ Notes:
✔ This is about how to use AnyViewer for remote into work computer from home. If you need to control home computer from work, log into AnyViewer account on both computers, and then you can access your home PC from your work computer by going to Device > clicking home computer > choose One-click control.
✔ To offer your friend or client instant remote support for once, it's unnecessary to log into the same account on both computers. You can go to Connect, input device ID of the remote computer, and then send a remote control request to the other end. You can see the desktop of the remote computer once your request is allowed.
✔ To unlock more functions, like accessing a remote computer in privacy mode, and getting other benefits, you can upgrade your free account to an advanced plan based on your own need. After upgrading, you can also get other privileges, including assigning more computers for one-click unattended remote access, high-quality image, etc.
Wrap things up
It's not a tough task to control work computer from home for accessing all content that you need if you use AnyViewer. The whole process can be ultra-easy. Apart from controlling Windows computers from other computers, it is also available for iOS devices. If you need to start remote control from iPhone or iPad, go to App Store, search AnyViewer, and install it.