Brief introduction of remote control
To remote access computer from anywhere used to be a very complicated task. But now everything has changed with the invention of remote control apps. Nowadays, there are various remote control apps on the market which make access computer from anywhere available. These apps allow you to remote control your computer from anywhere. You can choose which to use according to your own situation.
If you need to access a different machine which is not near you, remote control apps will let you access everything from afar. As long as both computers are turned on and set up for remote connection. You can transfer a file, print a document, open an application, troubleshoot a problem, or just work remotely.
Three options to achieve remote access computer from anywhere
Here in this post, three different kinds of remote control apps which can help you get remote access to computer from anywhere and their pros and cons are briefly introduced, you can choose after weighing the pros and cons.
Microsoft Remote Desktop Services
Microsoft Remote Desktop Services, formally known as Terminal Services, is a remote access and remote desktop solution for Windows 10. It allows you to connect a Windows 10 device to Windows, Android, iOS and macOS. You can remotely access and manage your office or home computers from anywhere at any time, no matter you are on a business trip or at home. The most convenient thing about Microsoft Remote Desktop is that you do not need to download it. Your computer is equipped with this program. You just need to check the Windows edition of your PC. Make sure you're running Windows 10 Pro or Enterprise. Check out how to set up Remote Desktop here.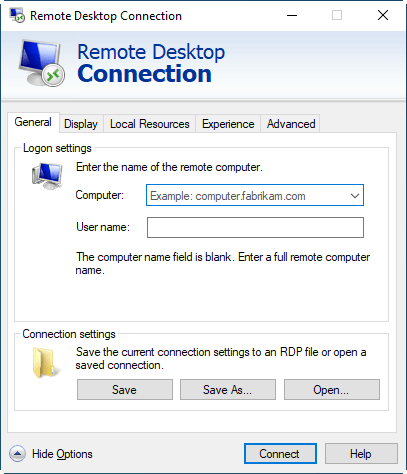 But Microsoft Remote Desktop has its drawbacks. According to some reports, its connection is not very stable. When you are trying to connect a Windows 10 PC to another Windows 10 PC for the first time, you always need to wait at least 2 to 4 minutes. And the first connection sometimes fails. Its multi-monitor support has also been criticized by lots of users for it can only choose one monitor or all monitors, but can not choose several specific monitors.
Chrome Remote Desktop
Chrome Remote Desktop is a browser extension of Chrome, which allows you to control your computers via browser. It enables you to remotely control another computer or be controlled by another computer from different operating systems. For example, iOS, OS X, Chrome OS, Android, Windows and Linux. You can securely access your important files, data, and applications from anywhere and easily transfer files between computers. You can also provide exceptional service for your colleagues, customers, or teams away from the office.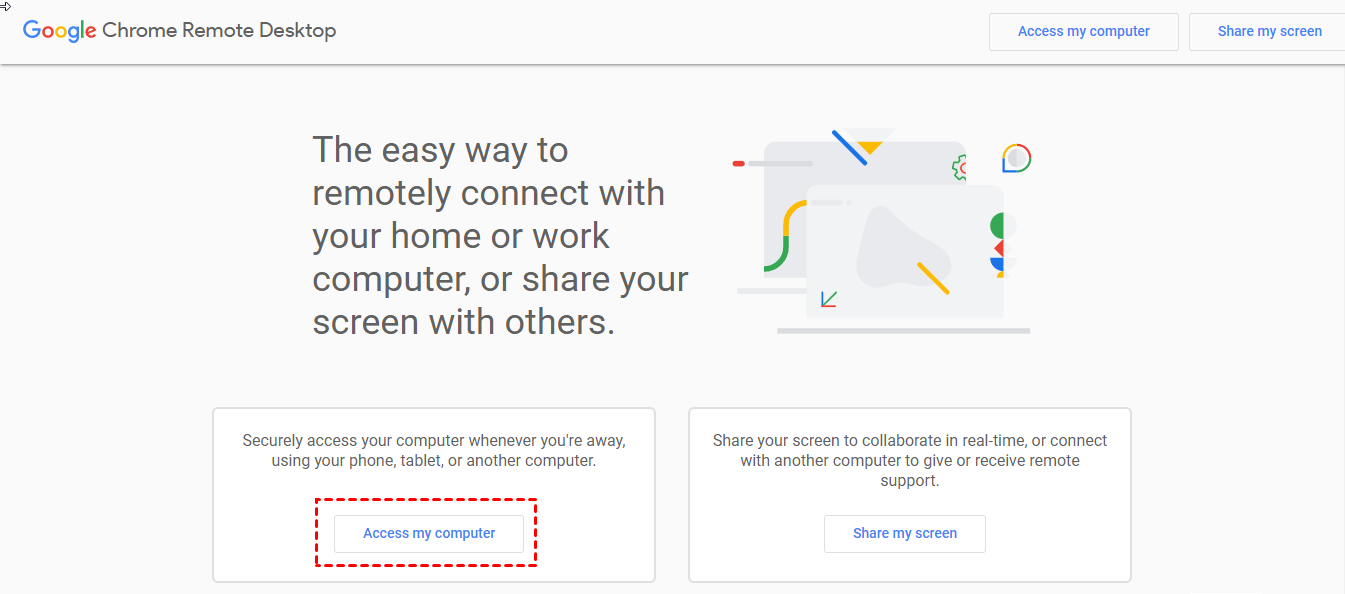 At present, chrome remote desktop provides two functions: Remote Access and Remote Support. The difference between the two functions is that the former allows you to get permanent remote access to your computer, while the latter generates one-time access code to let someone else to temporarily connect and control your computer. 
Chrome Remote Desktop is easy to install and operate, and it is totally free of charge. But according to the reports, the connection is not always stable.
AnyViewer
AnyViewer is a stable and fast remote access software for different versions of Windows. It's possible for you to remote into PCs or Servers and establish remote desktop connections anywhere, anytime over the internet.
AnyViewer is highly safe and reliable software, protecting your data from leakage. It's very easy to install. Its interface is quite concise and intuitive, making it easy for you to operate. Like Chrome Remote Desktop, it offers you remote access to the work computer and gives you chance to provide remote IT support for your friends or clients, saving your time and improving your work efficiency.  
AnyViewer also offers you a stable connection. And most importantly, it's totally free of charge.
   Methods 1. Send a control request
Step 1. Install and open AnyViewer on the devices. Input the device ID of the host computer and then click Connect.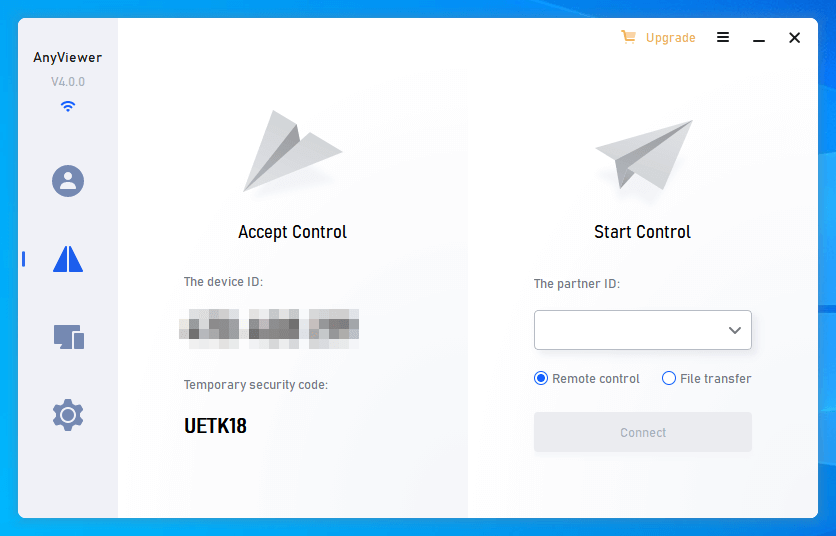 Step 2. Click Send a control request to your partner.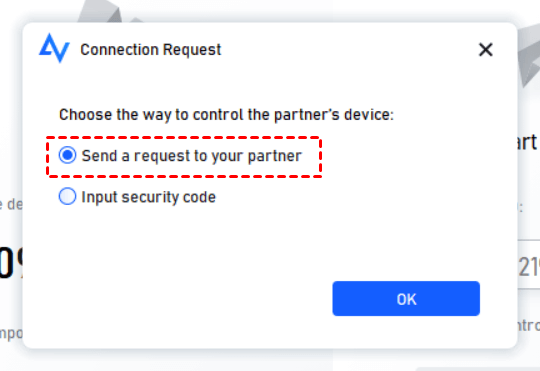 Step 3. On the host computer, click the green button to make the connection successful.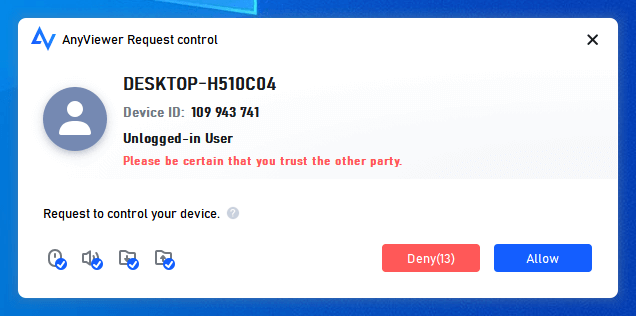 Methods 2. Input security code
Step 1. On the host computer, go to Settings > Recipient. Tick the third option and then set the permanent security code.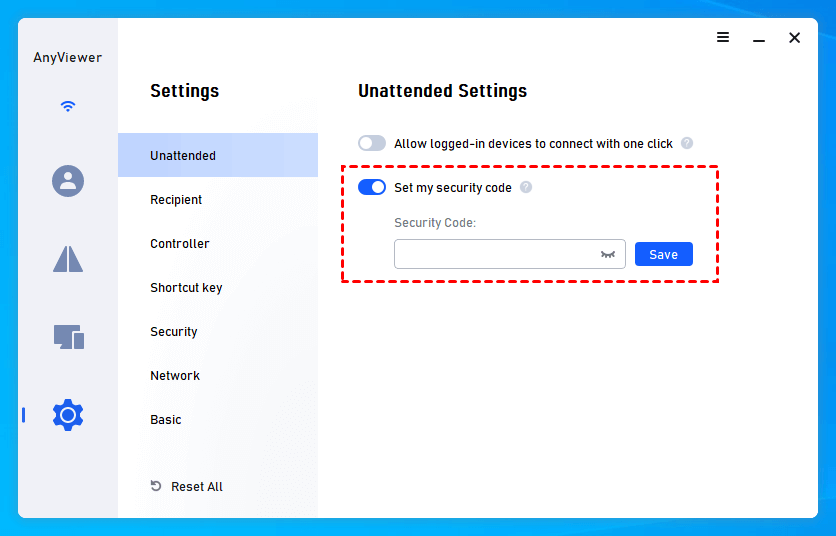 Step 2. On the client computer, input the device ID of the host computer and then click Connect.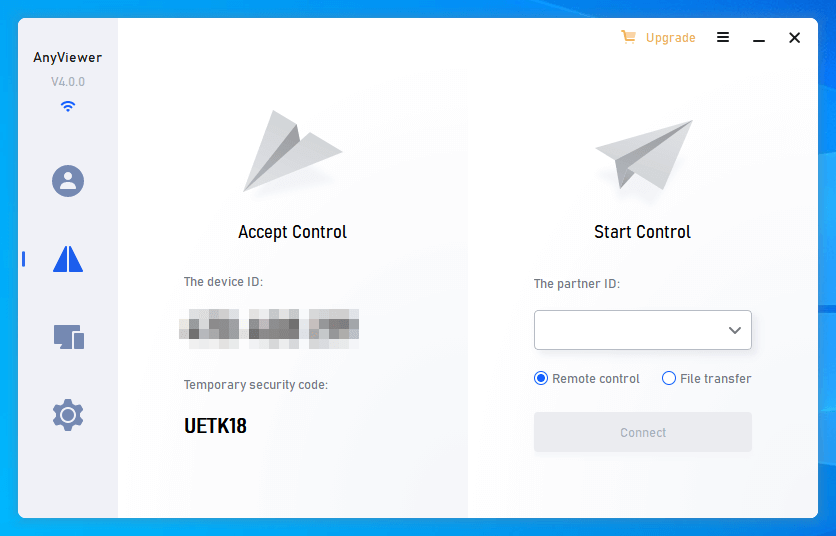 Step 3. Choose Input security code and click OK (the controller can input either the permanent security code or the temporary security code of the recipient).