How can I remotely access computers from anywhere?
I work for a big corporation. Our business covers all parts of the country, which means I take business trips a lot. Every time I leave, I copy important files that I might need from my office PC to my laptop. But sometimes, I may forget some of them. Is there a way to remotely access computers from anywhere, so I can just access my office PC from my laptop to get everything I need?"
- Question from Vivian
To remotely access computers from anywhere used to be a very complicated task. But now everything has changed with the invention of remote control apps. Nowadays, there are various remote control apps on the market which make access computers from anywhere available. These apps allow you to remote control your computer from anywhere. You can choose which to use according to your own situation.
Three options to achieve remote access computers from anywhere
Here in this post, three different kinds of remote control apps which can help you get remote access to computers from anywhere, and their pros and cons are briefly introduced, you can choose after weighing the pros and cons.
Microsoft Remote Desktop Services
Microsoft Remote Desktop Services, formally known as Terminal Services, is a remote access and remote desktop solution. It allows you to connect a Windows device to Windows, Android, iOS, and macOS. You can remotely access and manage your computers from anywhere at any time, no matter you are on a business trip or at home. The most convenient thing about Microsoft Remote Desktop is that you do not need to download it. Your computer is equipped with this program. Check out how to set up Remote Desktop here.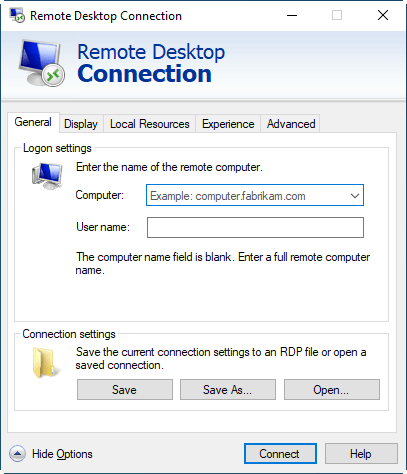 But Microsoft Remote Desktop has its drawbacks. According to some reports, its connection is not very stable. When you are trying to connect a Windows 10 PC to another Windows 10 PC for the first time, you always need to wait at least 2 to 4 minutes. And the first connection sometimes fails. Its multi-monitor support has also been criticized by lots of users for it can only choose one monitor or all monitors, but can not choose several specific monitors. And Remote Desktop can't be used to connect to Windows 10 Home edition (some other editions as well).
Chrome Remote Desktop
Chrome Remote Desktop is a browser extension of Chrome, which allows you to control your computers via browser. It enables you to remotely control another computer or be controlled by another computer from different operating systems. For example, iOS, OS X, Chrome OS, Android, Windows, and Linux. You can securely access your important files, data, and applications from anywhere and easily transfer files between computers. You can also provide exceptional service for your colleagues, customers, or teams away from the office.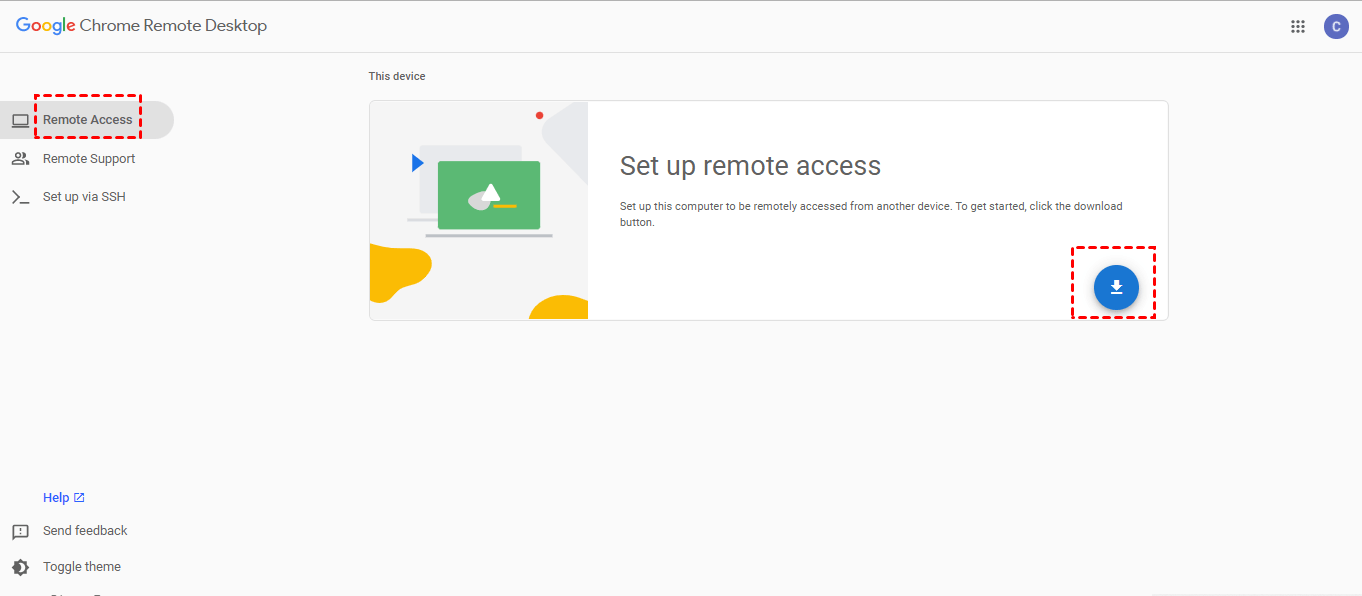 At present, chrome remote desktop provides two functions: Remote Access and Remote Support. The difference between the two functions is that the former allows you to get permanent remote access to your computer, while the latter generates a one-time access code to let someone else temporarily connect and control your computer.
Chrome Remote Desktop is easy to install and operate, and it is totally free of charge. But according to the reports, the connection is not always stable.
AnyViewer [recommended]
AnyViewer is a stable and fast remote access software for different versions of Windows. It's possible for you to remote into PCs or Servers and establish remote desktop connections anywhere, anytime over the internet. As an excellent remote desktop tool, AnyViewer has the following features:
Compatibility. It's compatible with various kinds of Windows systems from Windows 7 to the latest Windows 11.
iOS version. It also has an iOS version, you are able to remotely control PCs from your iPhone or iPad.
Security. It's encrypted with Elliptic Curve Cryptography (ECC), which keeps your information safe from prying eyes.
Fast connection. It was created by a skilled technical team to provide you with a fast remote connection with excellent image quality.
Part 1. For unattended remote access with one-click
Step 1. Download, install and launch AnyViewer on both computers. Go to Log in, and then click Sign up. (If you already have signed up on its official website, you can log in directly.)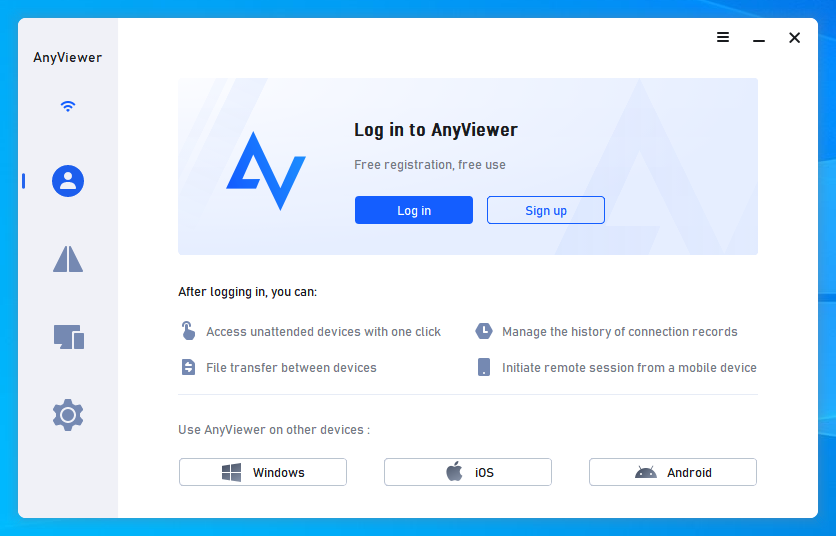 Step 2. Fill in the signup information.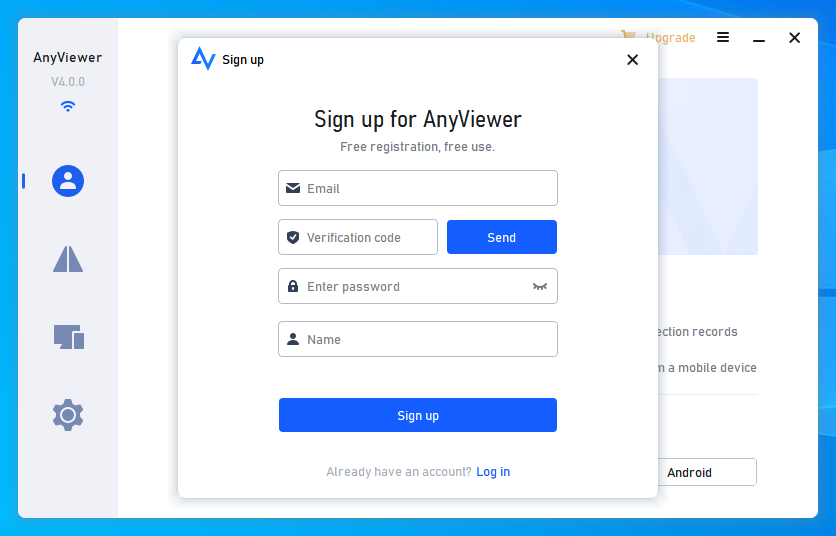 Step 3. Then you can see you successfully logged in to AnyViewer. Your device will automatically be assigned to the account you've logged in to.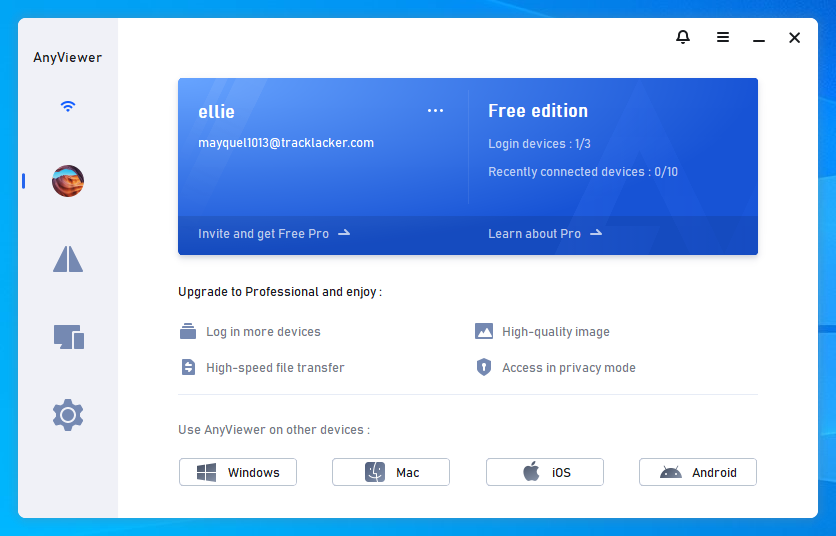 Note: If you have logged in to the same AnyViewer account on the two devices, then you can achieve a direct connection by clicking One-click control. You can also click File Transfer to transfer files between your office computer to your laptop.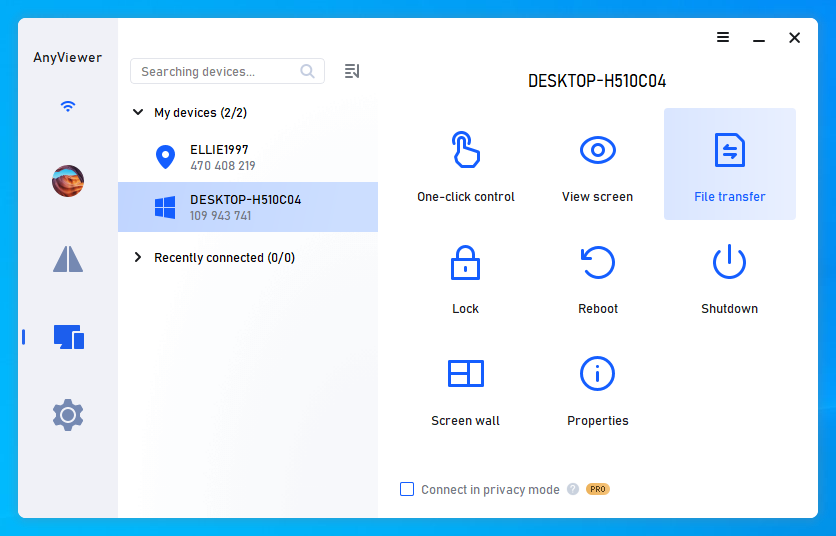 If the two devices are not logged in to the same account, you can read the following steps to learn two more connection methods.
Part 2. Two connection methods of AnyViewer
Connection method 1. Send a control request
Step 1. On the client computer, input the device ID of the host computer and then click Connect.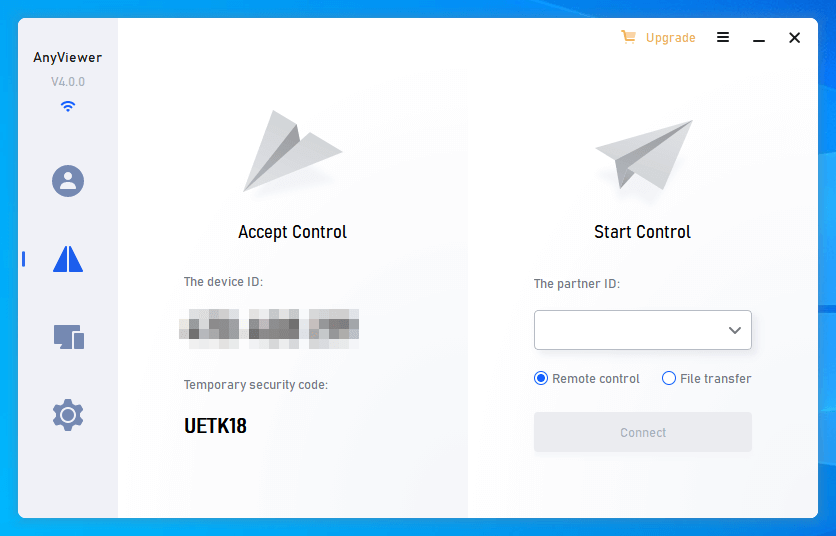 Step 2. Click Send a control request to your partner.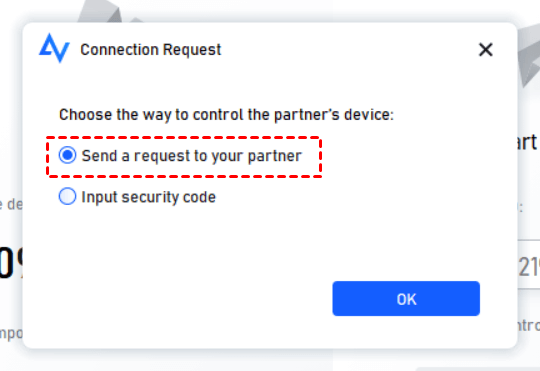 Step 3. On the host computer, click Allow to make the connection successful.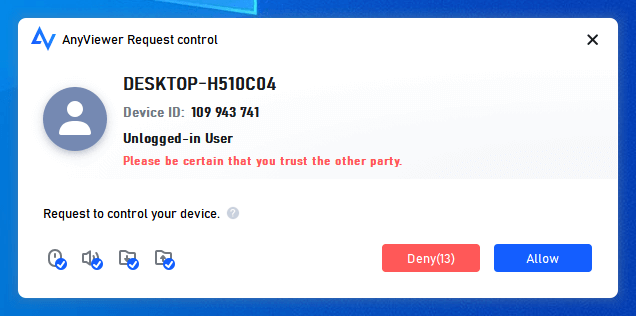 Connection method 2. Input security code
Step 1. On the host computer, go to Settings > Recipient. Tick the third option and then set the permanent security code.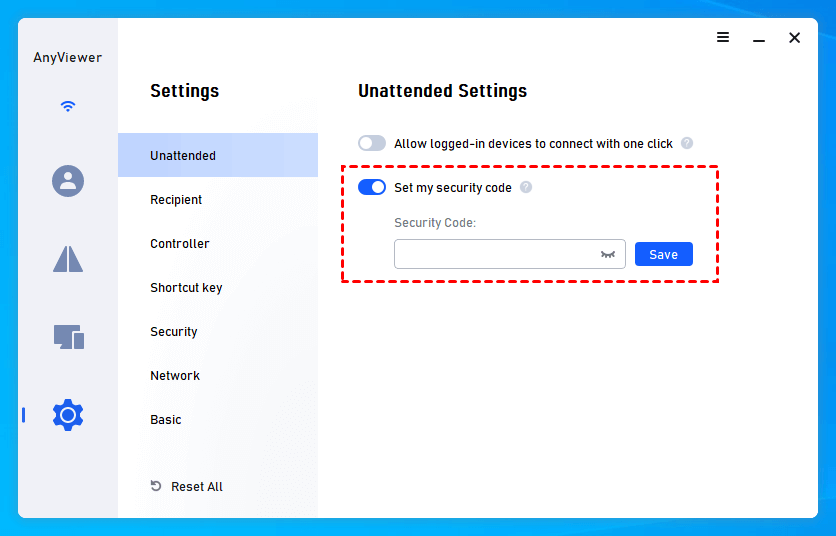 Step 2. On the client computer, input the device ID of the host computer and then click Connect. Choose Input security code and enter the code. Click OK to achieve remote access.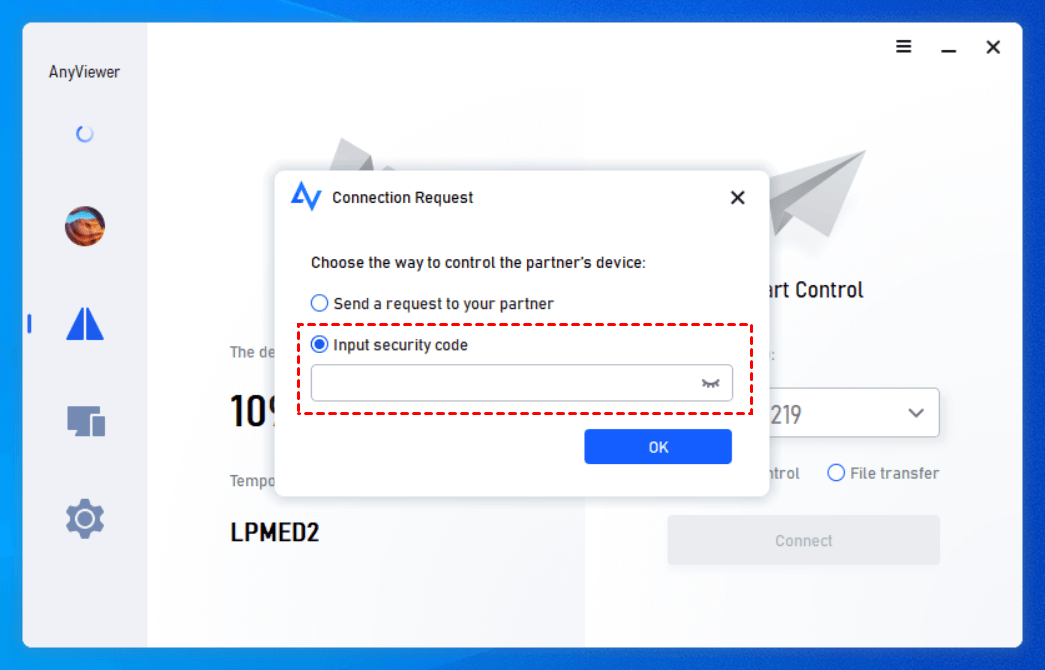 Conclusion
This post briefly introduces how remotely access computers from anywhere. Specifically, three kinds of remote control options are introduced, the Windows built-in RDP, Chrome Remote Desktop, and AnyViewer. To help you make a better choice, their pros and cons are also mentioned. You can choose according to your own preference.