Brief introduction of Chrome Remote Desktop
Chrome Remote Desktop, a free remote access tool, is available as a simple Chrome extension. It can establish permanent access to any devices through an access code. In the past, remote connection to a computer was a quite complicated process and would frequently fail for a variety of reasons. But now, everything has changed. With the emergence of Remote Desktop applications, you can easily get permanent access to any device. Chrome Remote Desktop is just an application that enables you to get remote access easily. Next, you will have a brief understanding of the function of Chrome Remote Desktop.
Chrome Remote Desktop is a program from Google. It enables you to remotely control another computer or be controlled by another computer from different operating systems. For example, iOS, OS X, Chrome OS, Android, Windows, and Linux. This application provides you with an easy way to securely access your computer whenever and wherever you are, no matter you are using your phone, tablet, or any other computer. It also allows you to share your screen to collaborate with your colleagues or classmates or give or receive remote support.
Besides, Chrome Remote Desktop's innovation lies in that it can achieve remote desktop connection directly in the Chrome browser, which has never been achieved before. The advantage of using Chrome Remote Desktop is that it completely crosses the platform. Whether you are using iOS, OS X, Chrome OS, Android, Windows, or Linux, all you need to do is install a Chrome browser and Chrome Remote Desktop extension on your computer.
How to create Chrome Remote Desktop permanent access?
If you don't want to get access code every time you are trying to remotely connect to another computer, Chrome Remote Desktop can also act as a permanent way to access another computer. All you need is a permanent access code. But first, you need to download Chrome Remote Desktop in your Chrome browser. Please follow the steps listed below to first get the program and then a get permanent access code.
Step 1. Open the Chrome Remote Desktop web page and click on the "Access my computer" button.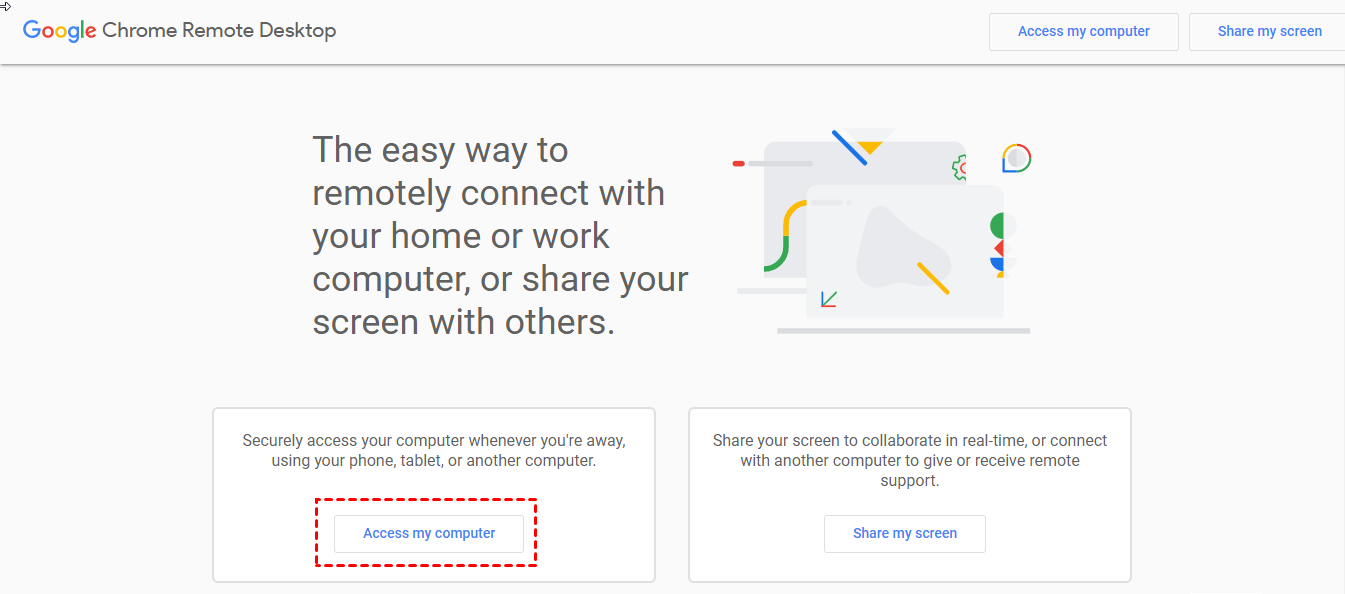 Step 2. Click on the download icon to set up remote access.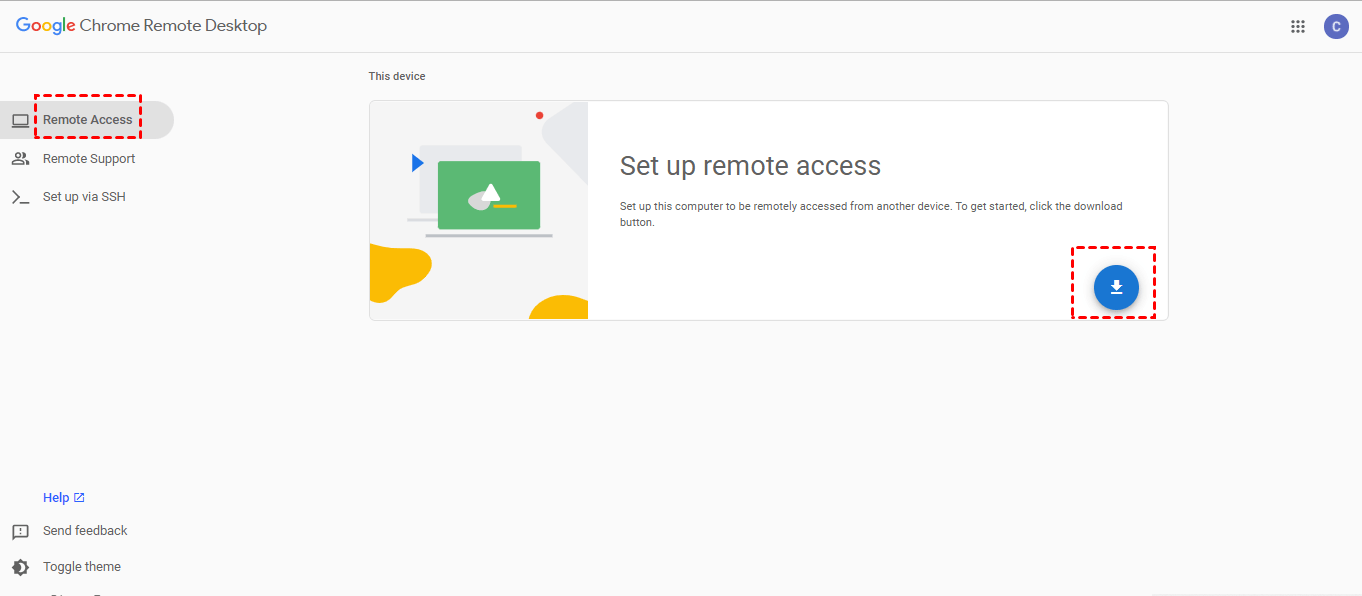 Step 3. Click on the "Add to Chrome" to add the Chrome Remote Desktop in your Chrome browser.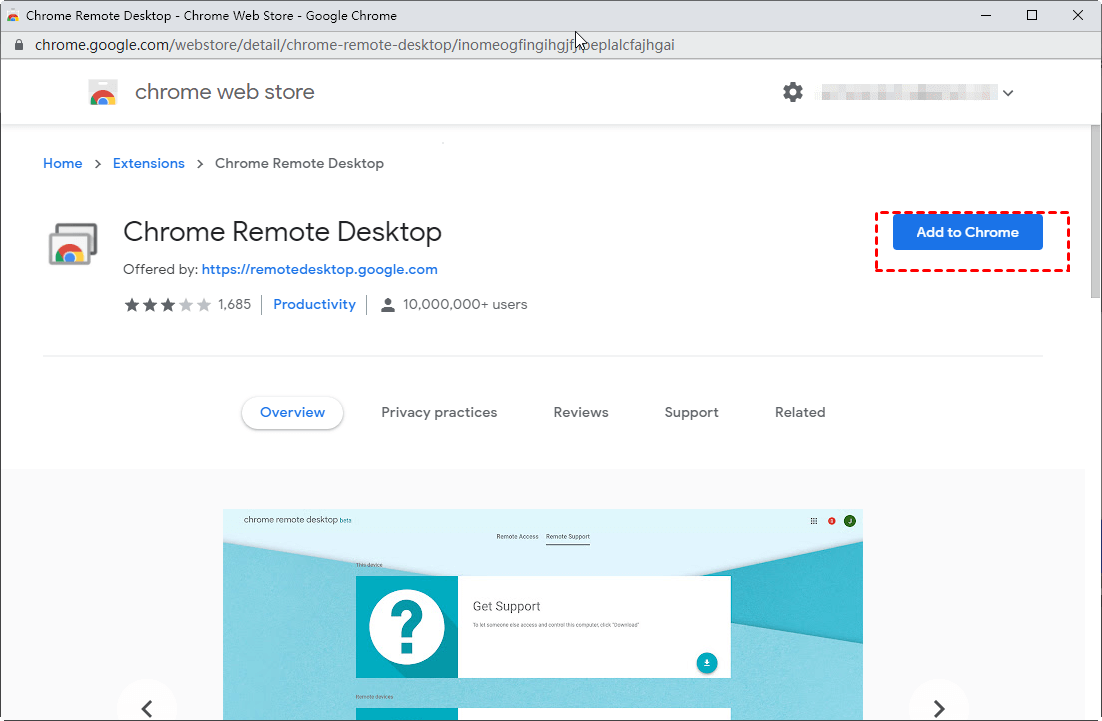 Step 4. Click on Accept & Install to install it.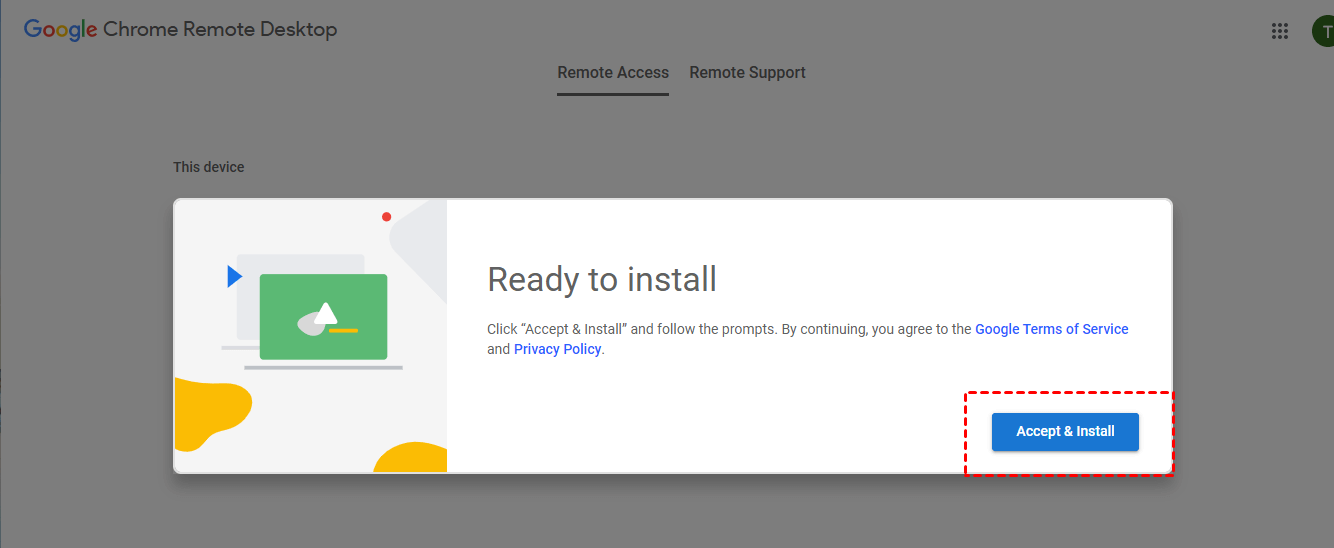 Step 5. Enter a name for your computer and then click Next.

Step 6. Choose a PIN with at least 6 numbers, and then enter it twice to start the program.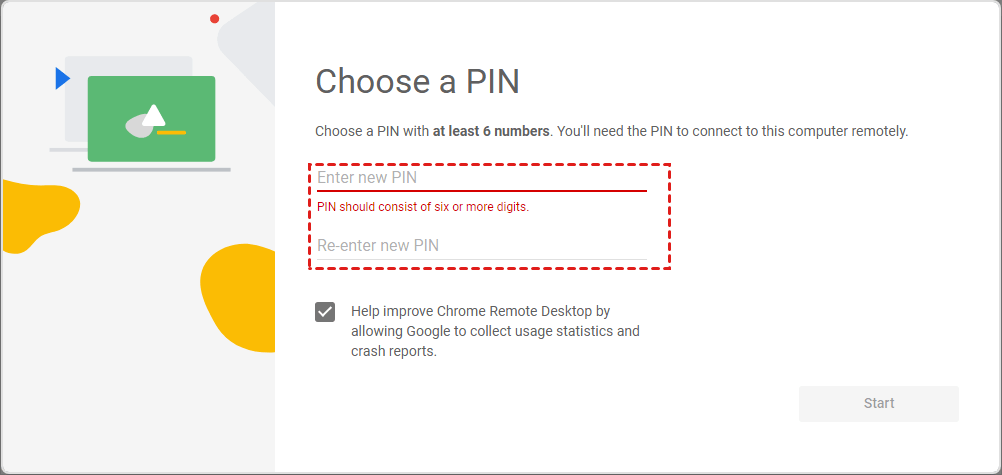 Step 7. To access the computer remotely, open the Remote Access page, select the computer, and enter the PIN you created.
Get another free Chrome Remote Desktop Alternative
In case some of you do not want to download Chrome browser or Chrome Remote Desktop may not working sometimes, another option is offered. Besides the Chrome Remote Desktop, there's another free remote access software named Anyviewer.
It is a reliable and easy-to-use remote desktop software for several versions of Windows. The simple system operation and clean interface of AnyViewer have been praised by many users. Here are instructional steps to guide you through the installation and usage of AnyViewer.
Step 1. Download, install and launch AnyViewer on both computers. Go to Log in, and then click Sign up. (If you already have signed up on its official website, you can log in directly.)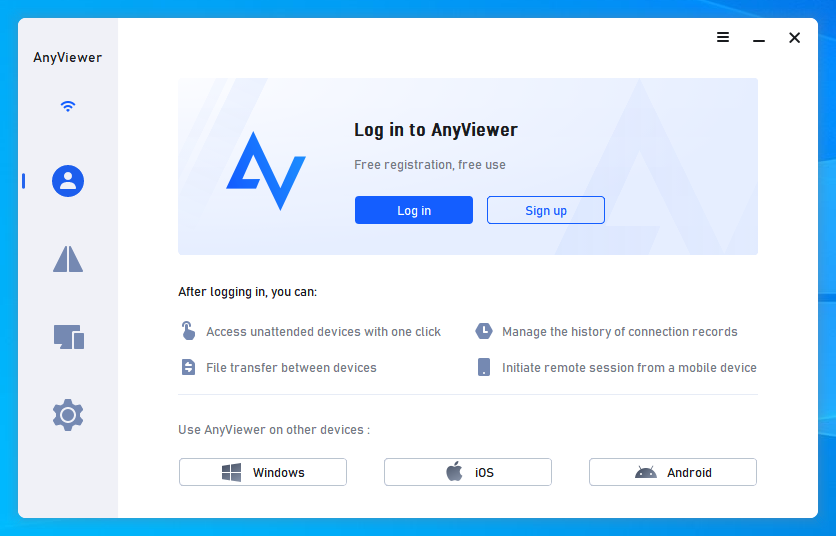 Step 2. Fill in the signup information.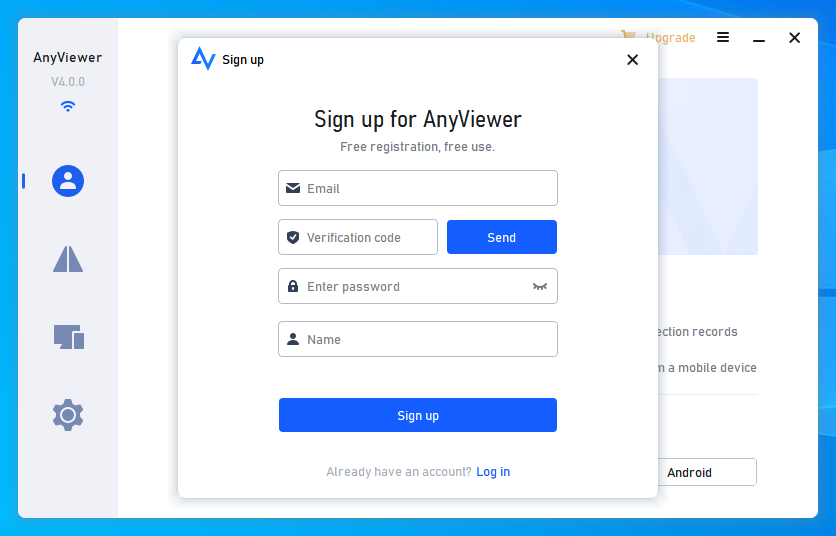 Step 3. Then you can see you successfully logged in to AnyViewer. Your device will automatically be assigned to the account you've logged in to.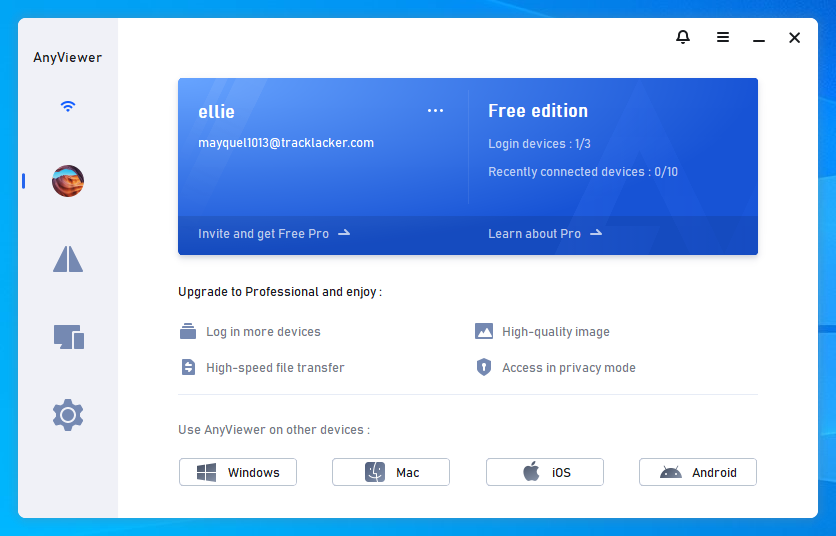 Step 4. Log in to the same AnyViewer account on the two devices, then you can achieve a direct connection by clicking Remote control.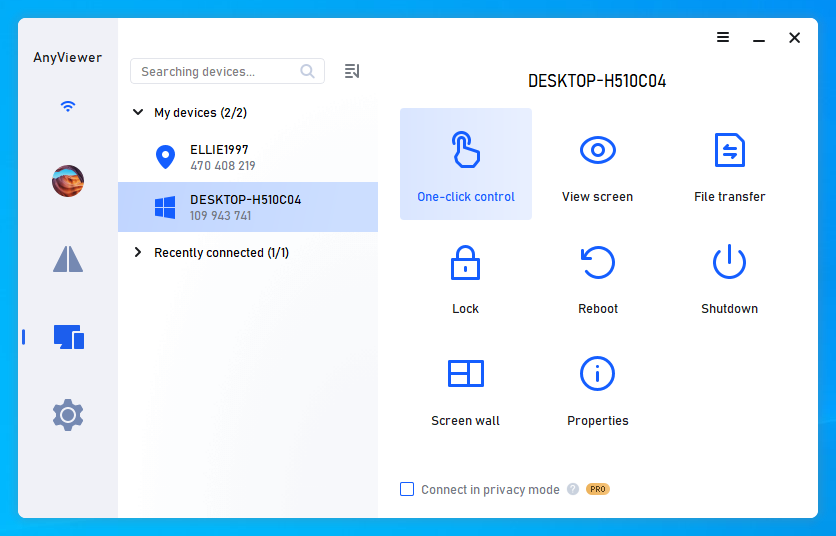 Note: You can also upgrade your account to Professional or Enterprise edition to assign more devices and to connect to another computer in privacy mode.