Why need a Chrome Remote Desktop alternative?
"When I want to use Chrome Remote Desktop to remotely access my computer, I always encounter annoying problems, for example, Chrome Remote Desktop goes offline, which makes me unable to use it normally. I wonder if there's a Chrome Remote Desktop alternative that could help me avoid all these Chrome Remote Desktop problems."
Actually, these problems seem to be common. Instead of wasting time looking for solutions, people would like to replace them directly with another remote control software. Based on the above considerations, this tutorial has carefully selected an alternative to Google Remote Desktop for you. But before that, let's have a comprehensive understanding of Chrome Remote Desktop first.
What is Chrome Remote Desktop?
Chrome Remote Desktop, a browser extension of Google, enables you to remotely control another computer or be controlled by another computer from different operating systems. Let's take a look at its pros and cons:
✍Pros
▪ Fully free.
▪Fully trans-platform, covering iOS, OS X, Chrome OS, Android, Windows, and Linux.
✍Cons
▪ Unstable connection.
▪ No chat box in the remote session.
▪ Need Google Chrome web browser.
▪ Consumes a lot of resources
Preparation work:
Connect both the client computer (the controller computer) and the host computer (the controlled computer) to the network.
Download and install the Chrome browser on both computers in advance, and register and log in to the same Google account.
Part 1. Enable remote control on the host computer
Step 1. On the host computer, open Chrome Remote Desktop download page. Click Remote Support first and then click the blue download button.
Step 2. After automatically jumping to the chrome web store, click Add to Chrome to download Chrome Remote Desktop.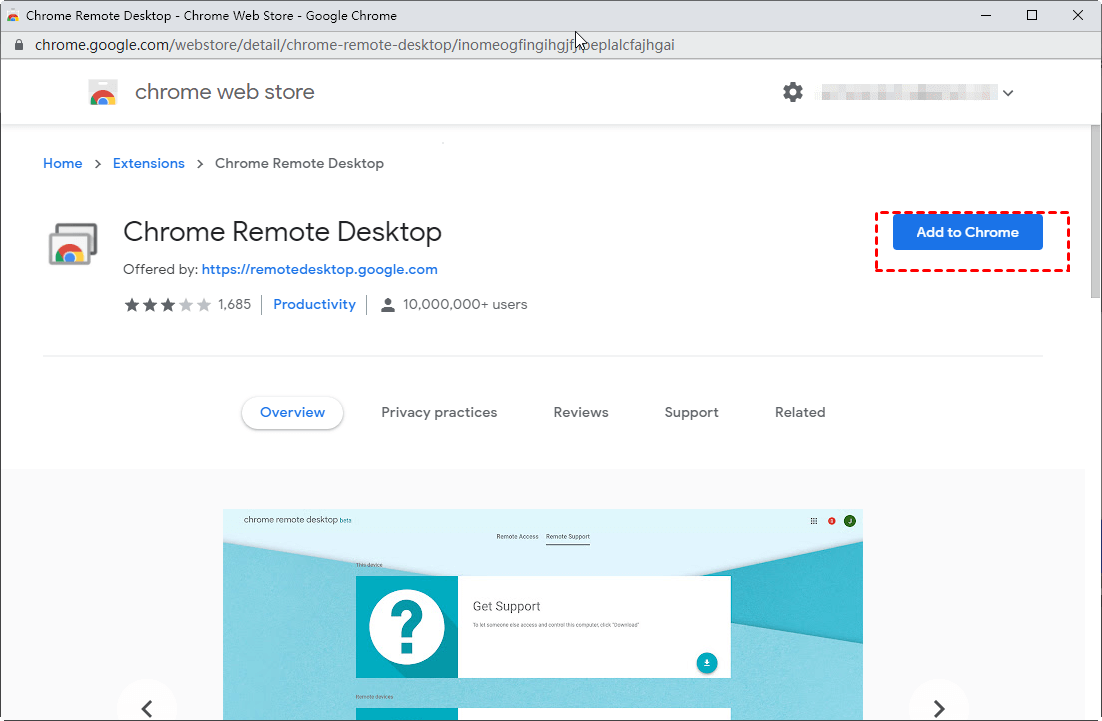 Step 3. Click Add extension to confirm the installation.
Step 4. Then turn back to the previous page, and then click Generate Code.

Step 5. Remember the automatically-generated code. Note: the code is only valid for 5 minutes.

Part 2. Start remote control on the client computer
Step 1. On the client computer, find Connect to another computer on the Remote Support page. Input the automatically-generated code of the host computer. Then click Connect.

Step 2. On the host computer, there will be a pop-up window asking whether the host computer allows the control of the client computer. Click Share to establish the connection.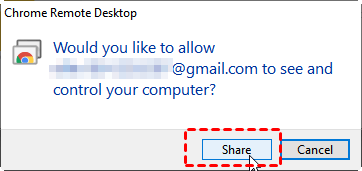 Chrome Remote Desktop is relatively simple in operation and can adapt to different network environments. However, both devices need to be installed with the Chrome browser, making it inconvenient for users of other browsers.
Therefore, it is necessary to find a Google Remote Desktop alternative. Next, we'll introduce AnyViewer, a popular alternative to Google Remote Desktop.
Free Chrome Remote Desktop alternative: AnyViewer
Just as Chrome Remote Desktop, AnyViewer is also a free and easy remote control solution. What's different is that AnyViewer is designed especially for Windows. Let's take a look at some of its advantages:
It is easy to set up. You only need two steps to prepare your AnyViewer for remote control, signing up for it and logging into it. No more tedious setup process anymore.
It provides you with the easiest way to establish unattended remote access to your remote computer, you can remotely control another device even there's no one sitting in front of it.
It is developed by a strong technical team, providing you with a stable and fast connection.
It is secured by Elliptic Curve Cryptography (ECC) encryption, protecting your data from leakage during a remote connection.
It is a professional remote control software for Windows and supports multiple Windows versions.. In addition to Windows 10, it also supports Windows 11/8.1/8/7 and Windows Server 2022/2019/2016/2012 R2.
How to use AnyViewer?
There are two parts. Firstly, you need to do some preparation work. Secondly, you could follow the steps to start remote access on the client computer.
Preparation work:
Connect the client computer (the controller computer) and the host computer (the controlled computer) to the Internet.
Download and install AnyViewer on the client computer and the host computer respectively.
Remote control over AnyViewer
Step 1. Launch AnyViewer on both computers. Go to Log in, and then click Sign up. (If you already have signed up on its official website, you can log in directly.)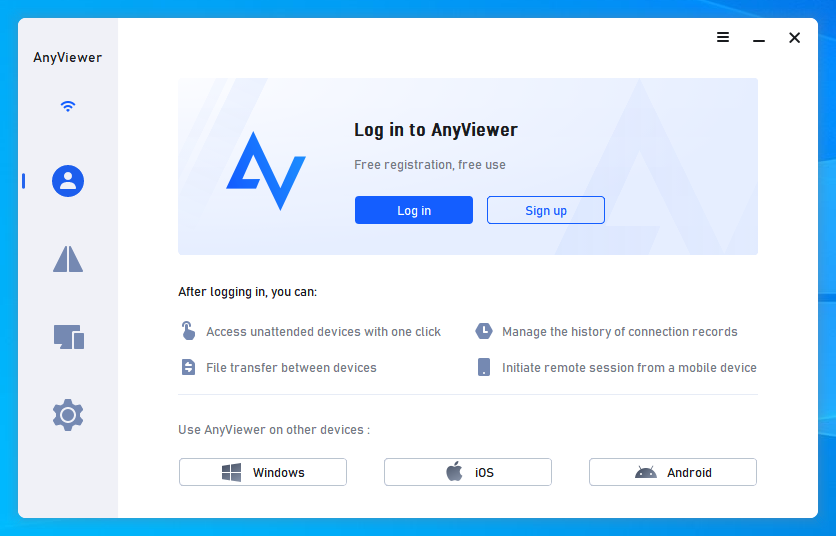 Step 2. Fill in the signup information.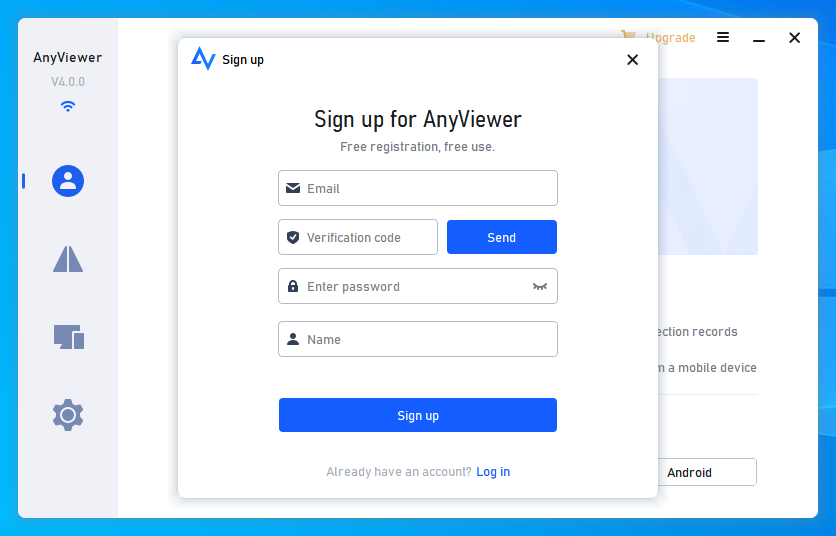 Step 3. Then you can see you successfully logged in to AnyViewer. Your device will automatically be assigned to the account you've logged in to.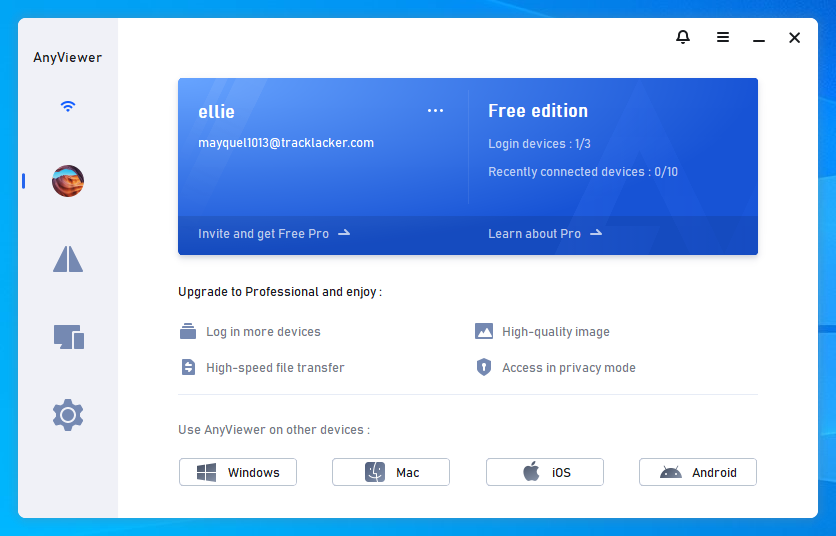 Step 4. Log in to the same AnyViewer account on the two devices, then click One-click control to achieve unattended remote access.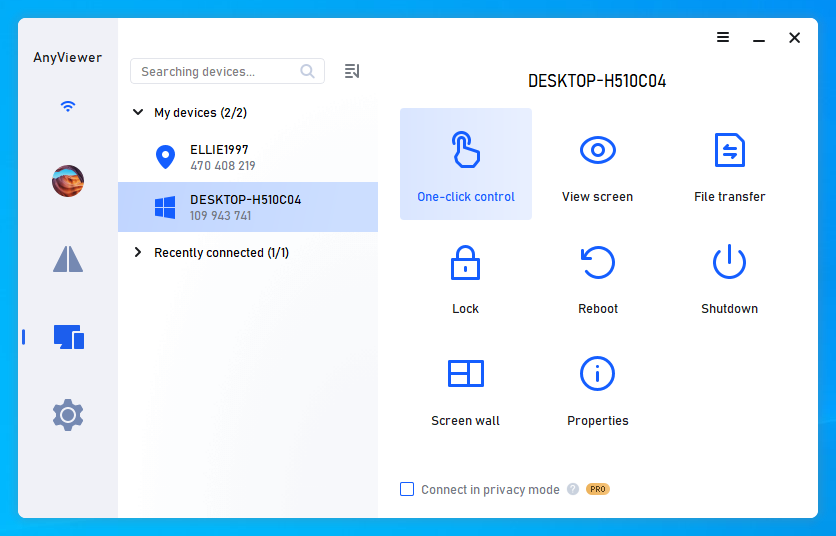 Notes:✎...

You can also upgrade your account to a Professional or Enterprise plan to enjoy more rights:

Faster file transfer speed. Transfer speed for a free account is 500 KB/s, and for a paid account is up to 10 MB/s.
Increasing number of files transferred in a single time.
Larger size of a single file that can be transferred.
More devices can be assigned to the same account for unattended remote access.
More Currently connected devices are displayed for checking connection history.
Connect in privacy mode to protect privacy.
Initial more concurrent connections to one computer.
AnyViewer can also provide users with some practical functions for remote control after a successful connection. Such as lock, logout, restart, Command Prompt (CMD), etc.

Users can choose image quality according to the network connection speed. If the network connection speed is better, it can provide a higher image quality. The default wallpaper hiding function makes the remote connection smoother.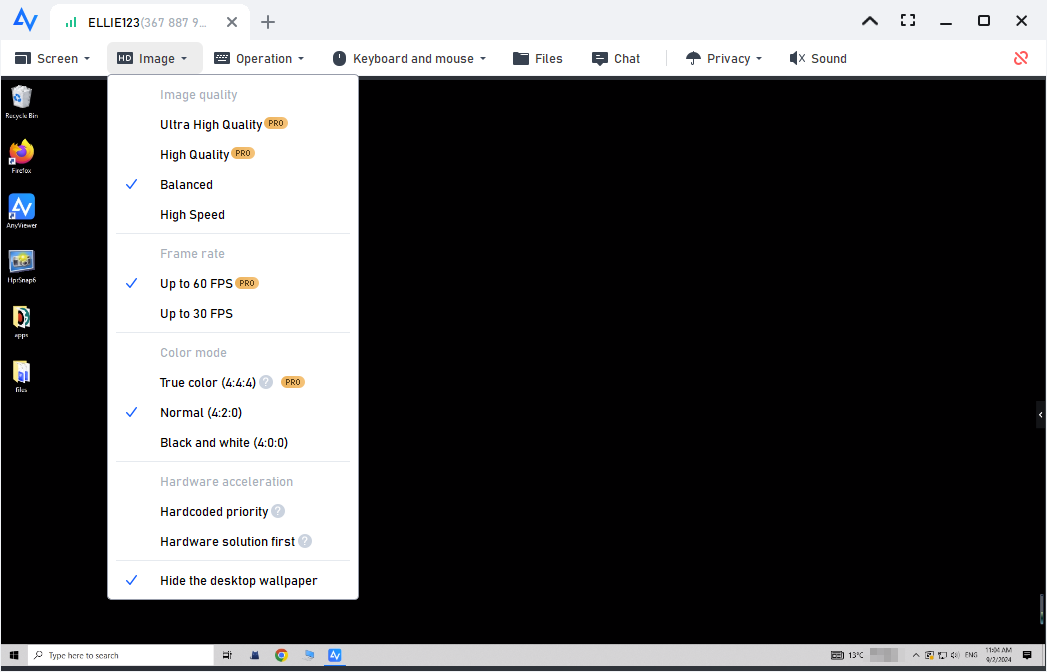 AnyViewer also provides users with different resolutions. Users can choose according to their preferences.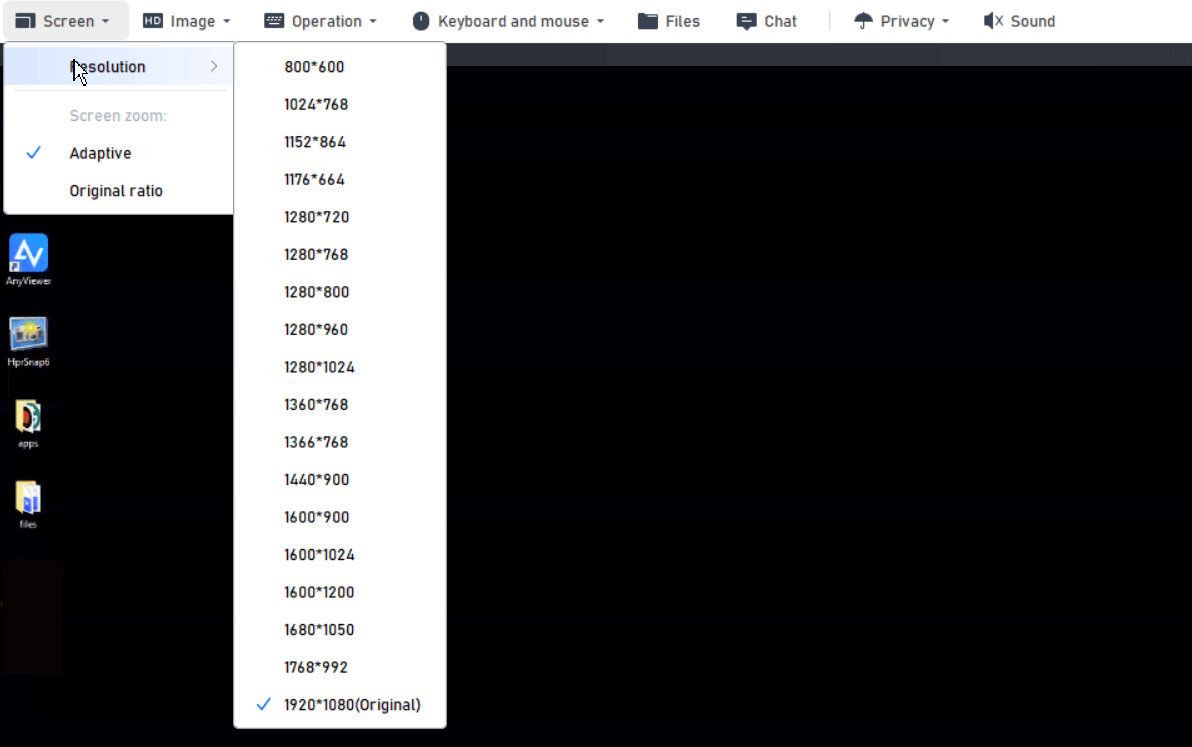 Conclusion
If you want a Chrome Remote Desktop alternative that is free, easy, yet professional, you can use AnyViewer. It can make up for the shortcomings of Chrome Remote Desktop. For example, you don't need an account to achieve remote access, and there is no limit on the number of remotely connected devices. On the whole, it can be used as the most perfect alternative to Chrome Remote Desktop.