Chrome Remote Desktop Forgot PIN
"A few months ago, I installed Chrome Remote Desktop both on my office computer and laptop for occasional remote work. But today, I suddenly realized in the morning that I had forgotten my Chrome Remote Desktop PIN. I remember that both computers use the same pin, but it's useless because I didn't save it in the password manager. Is there any way for me to fix my Chrome Remote Desktop forgot PIN problem?"
Many users have experienced forgetting Google Remote Desktop PIN problem, which has brought great trouble to their work and life. In this case, some users are seeking ways to find or reset Chrome Remote Desktop PIN. While some users are also using a suitable Chrome Remote Desktop alternative to avoid Chrome Remote Desktop problems, not only Google Remote Desktop forgot PIN problem, but other Chrome Remote Desktop problems like Chrome Remote Desktop timeout.
How to fix Chrome Remote Desktop forgot PIN problem?
Chrome Remote Desktop is free remote control software with high security. It can be used for remote connections in different networks. It is suitable for Windows, Mac, Linux, and other operating systems.
For Chrome Remote Desktop, you need a PIN code to achieve a remote connection. Thus, there is always someone suffering forgetting PIN Chrome Remote Desktop problem. Now the key point is how can we solve this problem.
Here, we summarize three common solutions for you to easily fix Chrome Remote Desktop forgot PIN problem.
Solution 1. Uninstall and reinstall Chrome Remote Desktop
Since you can reset Chrome Remote Desktop PIN after reinstalling Chrome Remote Desktop, this method can help you solve this problem.
Step 1. Expand Extensions in the upper-right corner of Chrome browser and click Manage extensions below.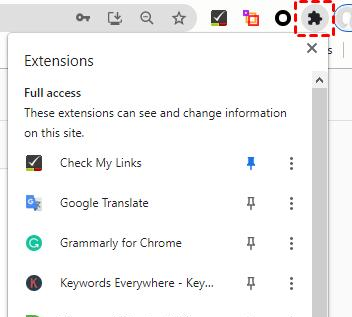 Step 2. In the main interface of Extensions, find Chrome Remote Desktop and click Remove.
Step 3. In the pop-up window, click Remove to confirm your removal.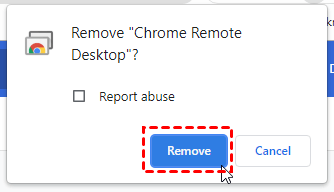 Step 4. Open Chrome Remote Desktop download page. Click Remote Access first and then click the blue download button.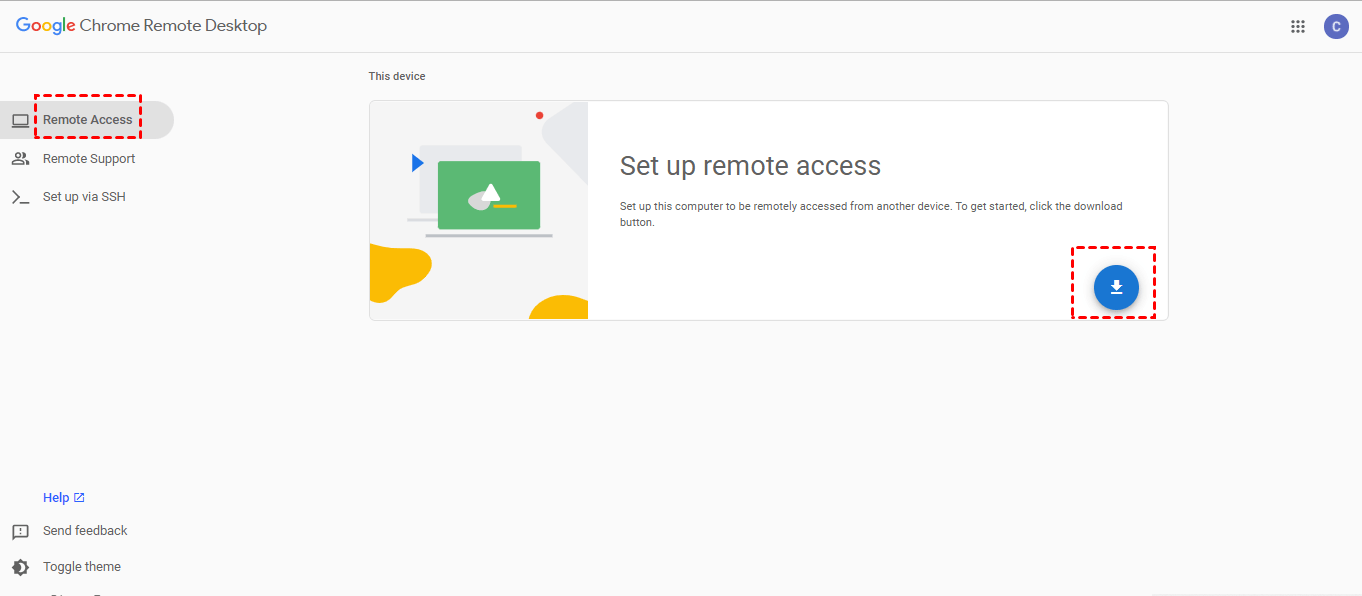 Step 5. After automatically jumping to the chrome web store, click Add to Chrome to download Chrome Remote Desktop.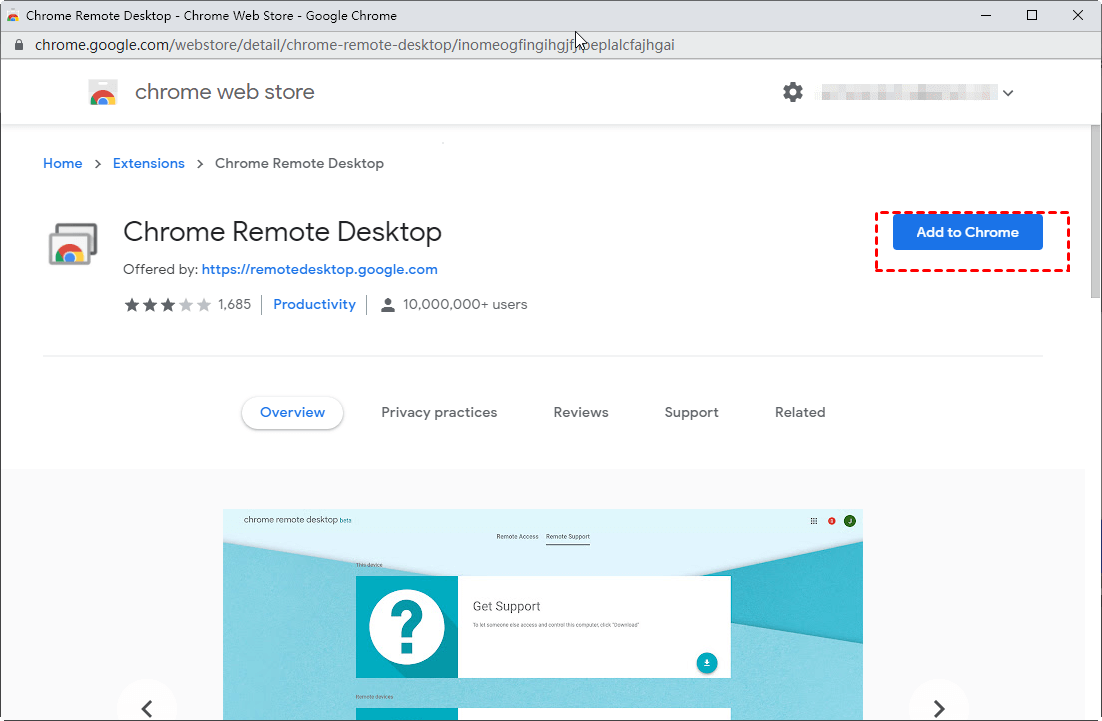 Step 6. Click Add extension to confirm the installation.
Step 7. Enter the name you want.

Step 8. Enter a PIN code you like and then click Start to finish the re-installation of Chrome Remote Desktop.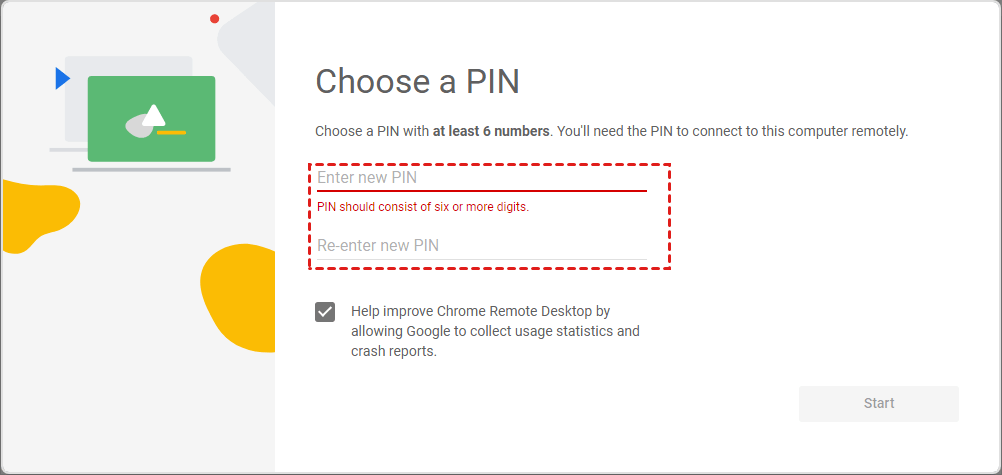 Solution 2. Check PIN in Chrome Personal Center
Step 1. Open Chrome browser, expand Personal Center in the upper-right corner and click the key icon.
Step 2. Click Autofill first and then click Password.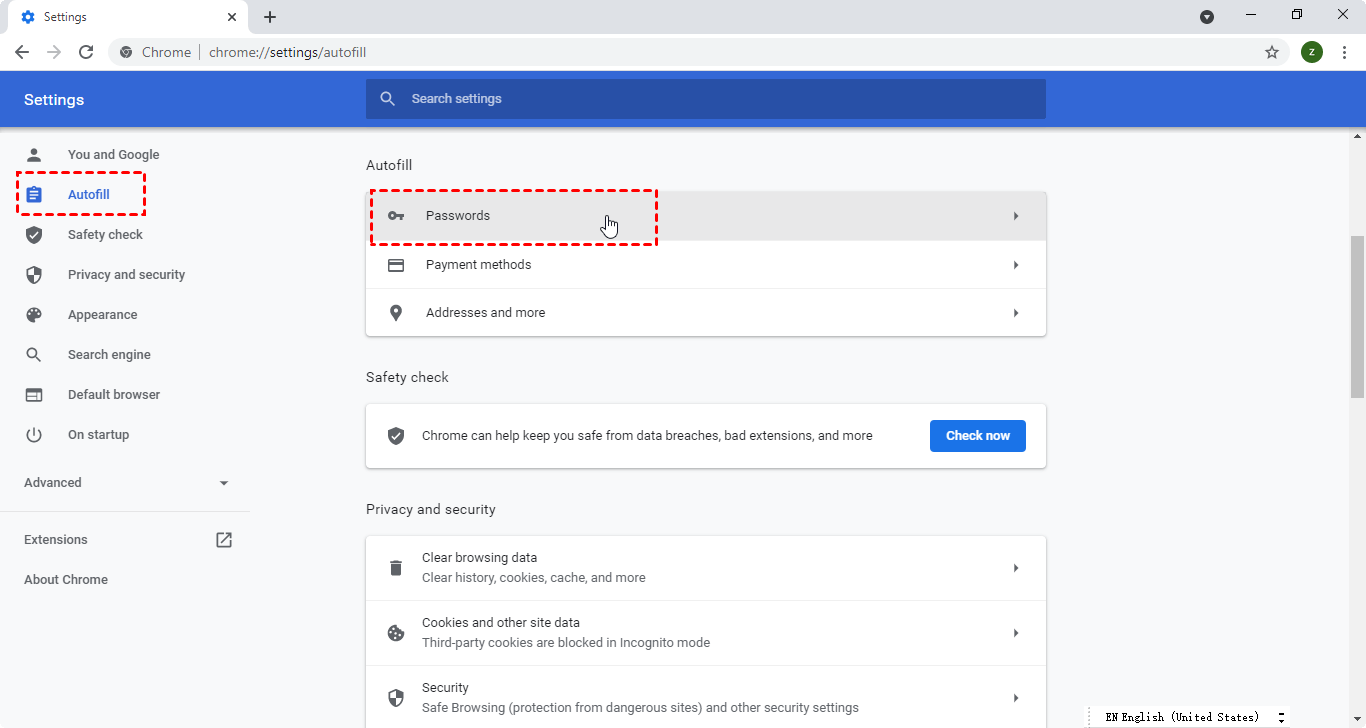 Step 3. Find Saved Password in the Password interface, you'll see the password you saved before. Find the Chrome Remote Desktop, then click the eye icon.
Step 4. Next, you're required to type your Windows password to allow you to see the Chrome Remote Desktop PIN.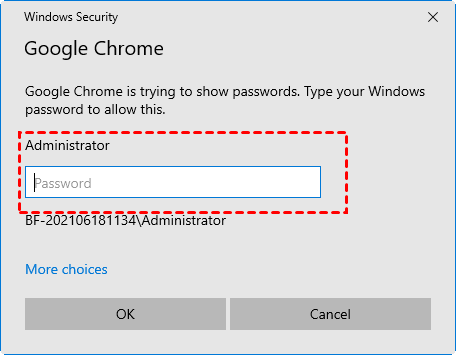 Step 5. Then you'll see your PIN appear here.
Solution 3. Disable the PIN feature
When connecting to a remote device over Chrome Remote Desktop, you need a PIN to verify that you have access to the device. In other words, PIN is the security guarantee of remote control over Chrome Remote Desktop. However, if your two devices are located in the same LAN and do not need further protection, you can consider disabling the PIN feature to avoid Chrome Remote Desktop forgot PIN problem.
 Step 1. Press Windows key + R to invoke the Run dialog box. Type in "regedit" and hit OK to open Registry Editor.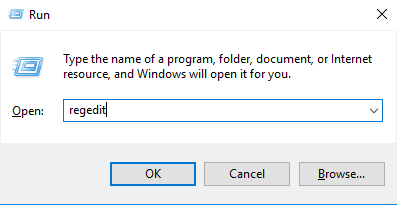 Step 2. Navigate here: Computer > HKEY_LOCAL_MACHINE > SOFTWARE > Policies. Right-click the Policies and choose New and then select Key.
Step 3. Enter Google as the name of the new key. Right-click the Google key, choose New, and select Key (the same as in Step 2). Enter Chrome as the name of the new key.
Step 4. Right-click the empty space in the right pane and choose New and select DWORD (32-bit) Value.
Step 5. Set the name of the DWORD to RemoteAccessHostAllowClientPairing.
Step 6. Double-click the newly created DWORD. Change Value data to 1 and click OK.
For security reasons, if you want to enable the PIN feature again in the future, just delete the DWORD (32-bit) value in the registry editor and restart the device.
If you think the above three methods are too complicated, or you are bored with using Chrome Remote Desktop with PIN, and want a simpler remote connection solution, you can use AnyViewer, the powerful free remote control software.
Free & easy remote control solution AnyViewer
AnyViewer is a free and easy remote control solution for multiple Windows versions. It is easy to operate. You don't need an account. You could easily achieve remote access by sending a remote control request. It also provides you with unattended remote access, you can remotely control another device even there's no one sitting in front of it.
The steps to use AnyViewer are divided into two parts. First, you need to set up the software. Second, you could start to control the remote computer.
Preparation work:
Connect the client computer (the controller computer) and the host computer (the controlled computer) to the Internet.
Download and install AnyViewer on the client computer and the host computer respectively.
Set up AnyViewer
Step 1. Run AnyViewer on both computers.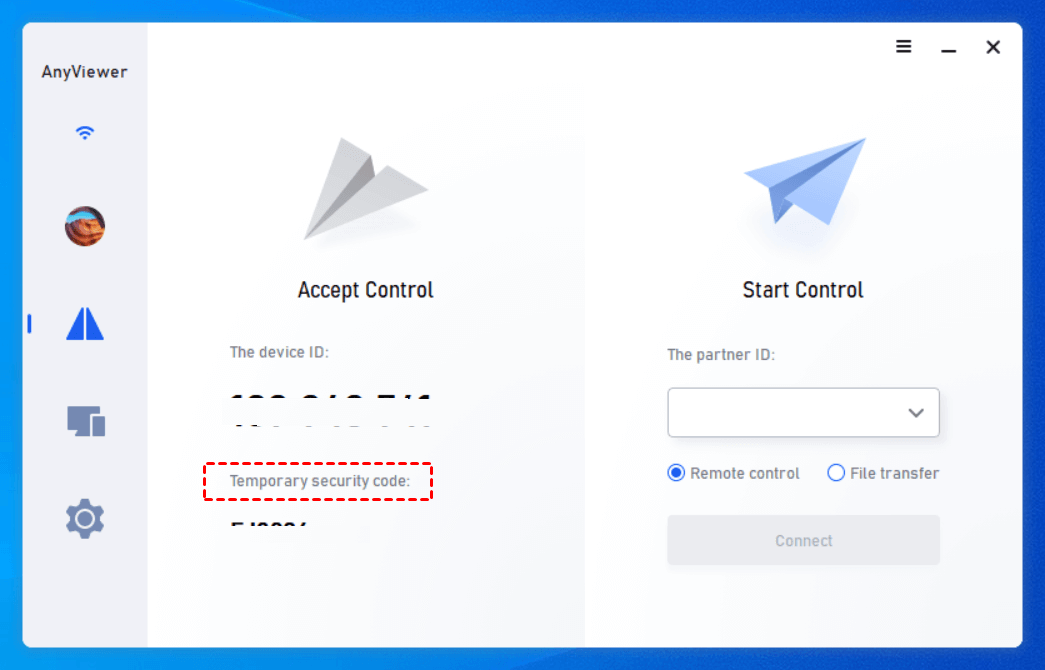 Step 2. On the host computer, click on Setting and then Recipient. Tick the third option. Then set the security code you want in the box. Then click OK to finish the set-up process.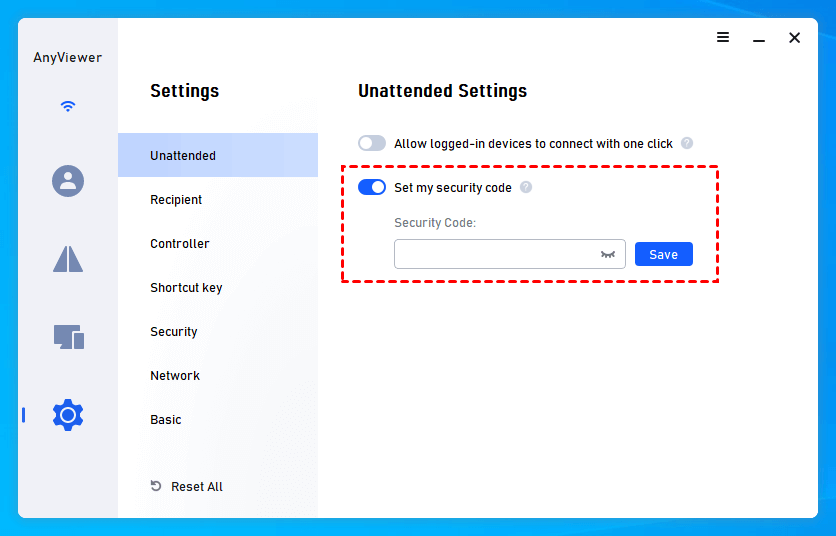 Remote control over AnyViewer
You've already configured it for remote access. On the client computer, enter the device ID of the host computer. After entering the device ID, you'll be given two options:
Option 1: You can send a control request; then the host computer will receive a pop-up request. People sitting in front of the host computer could either allow it or deny it.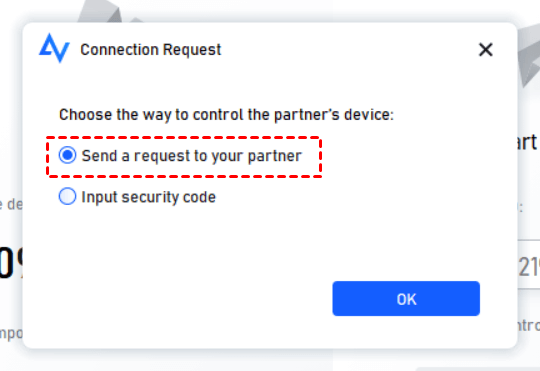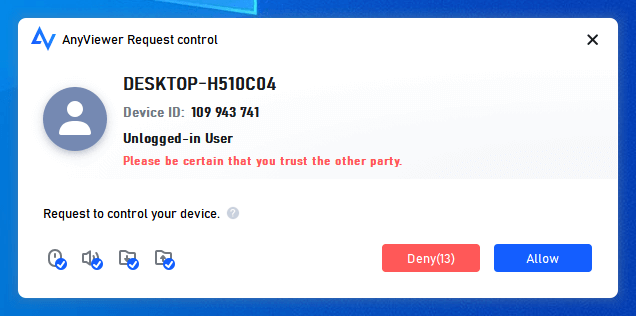 Option 2: You could also input a security code of your home PC to achieve remote connection directly. You can either input a permanent security code or a temporary security code.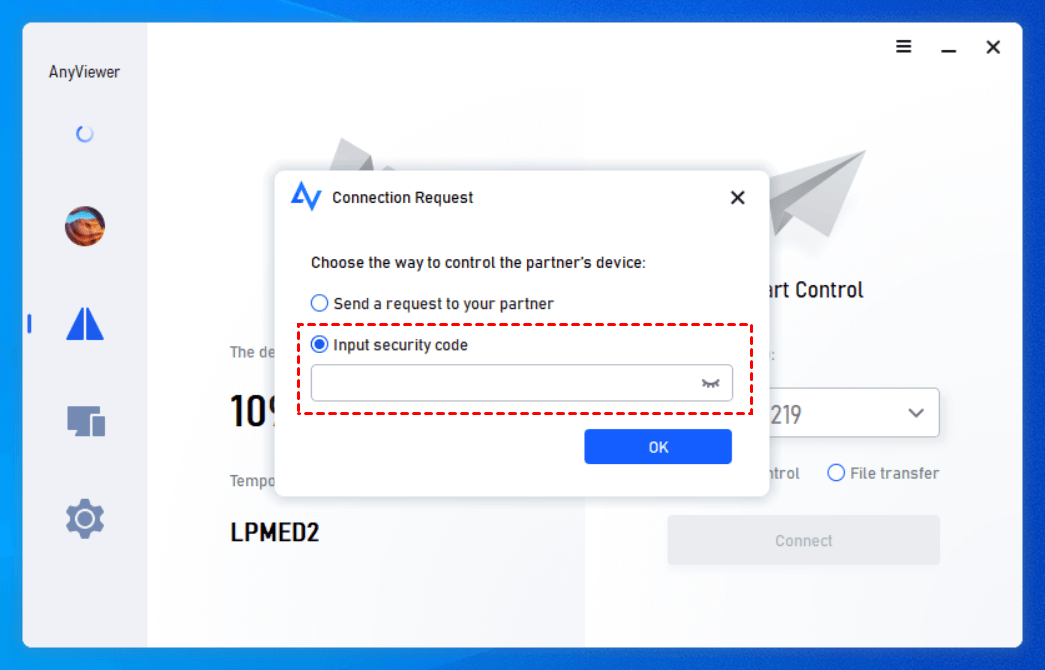 Tip: A permanent security code is set by you in advance. A temporary security code is automatically generated and will change every time. Both security codes allow you to establish a connection directly.
Conclusion
If you are bothered by Chrome Remote Desktop forgot PIN problem, you might as well try the three solutions mentioned above, which may help you ensure that Chrome Remote Desktop works normally. If one of the above-mentioned solutions works for you, we hope you can save your PIN to your computer to prevent similar problems from happening again.
If you're tired of being troubled by Chrome Remote Desktop forgot PIN problem, you can use an easier remote control solution AnyViewer. It is more convenient in operation compared with Chrome Remote Desktop. Besides, AnyViewer doesn't have as many problems as Chrome Remote Desktop. For example, Chrome Remote Desktop goes offline, or Chrome Remote Desktop freezes. Therefore, AnyViewer could be a perfect alternative to Chrome Remote Desktop.