Why do you need Chrome Remote Desktop alternative?
Chrome Remote Desktop, developed by Google, is a free remote access program. It is accessible as a simple Chrome extension, giving users a quick and convenient way to view any files on another computer, as well as receive remote support from others or provide others with remote support. What are the advantages of using Chrome Remote Desktop to remotely control PCs:
It is totally free, which is very cost-effective compared to commercial tools.
It supports different operating systems, for example, iOS, OS X, Chrome OS, Android, Windows, and Linux.
It is quite easy to operate. It doesn't require any specialized training on how to use this product.
However, many users have reported that they've encountered different Chrome Remote Desktop not working problems, such as connection and PIN errors, making it hard to achieve remote connection over Chrome Remote Desktop. Besides, Chrome Remote Desktop does have certain drawbacks. Here are partial negative comments extracted from a review site called TrustRadius about Chrome Remote Desktop:
Google account required. In addition to Google Chrome, it requires all computers to have a Google account and to be signed into the same account which could present security issues and which is not very friendly for non-Google users.
There have been a large number of patches. And applying patches in production environments requires significant planning and potential downtime.
Firewall rules are required. Chrome Remote Desktop requires pin-holes in your firewall to open certain ports if you're using it in a locked-down network.
Best Chrome Remote Desktop alternative free download
Users who are often depressed by Chrome Remote Desktop may want an alternative to Chrome Remote Desktop. Thankfully, there is a free remote access software called AnyViewer, which is built to meet the demands of remote users.
As a Google remote desktop alternative for different versions of Windows and Windows Server, here are some predominant features of AnyViewer:
Convenient. It can achieve unattended remote access with a few very easy steps.
Stable. It is developed by a strong technical team, providing you with a reliable and quick remote connection from one computer to another PC or multiple PCs without any breakdown.
Easy. It won't necessitate any changes to your computer's settings.
Secure. It offers a variety of connection options, even if the two computers are not logged in to the same account, which is perfect for providing remote support to clients or anyone that you do not completely trust.
How to use Chrome Remote Desktop alternative?
As mentioned above, AnyViewer has multiple advantages. Another advantage of AnyViewer is that it is simple to set up and use. The instructions for utilizing it are split into two sections. To begin, you'll need to complete some preliminary work. Then you may begin using the remote control.
Setting up AnyViewer
Before you may use AnyViewer to operate another computer remotely, you must first install it on both the client and the host computers. The steps are straightforward, and please make sure you follow them in the right order.
Step 1. Download, install and launch AnyViewer on both computers. Go to Log in, and then click Sign up. (If you already have signed up on its official website, you can log in directly.)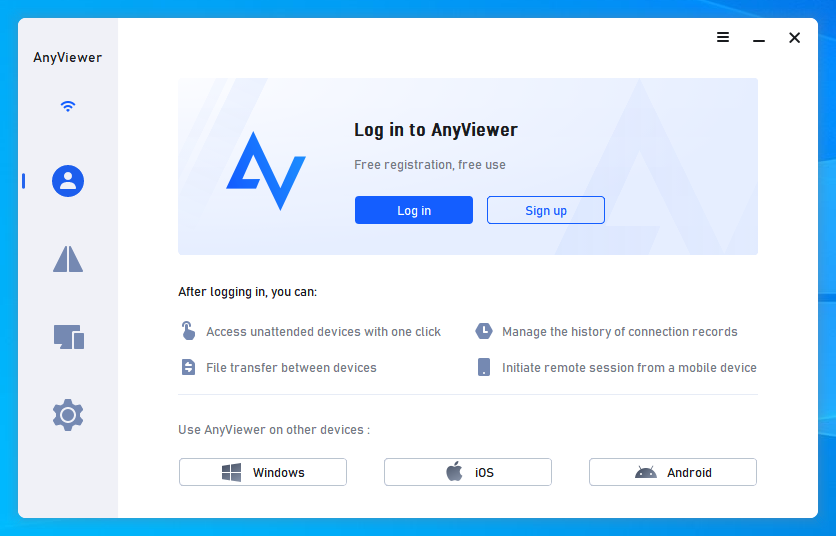 Step 2. Fill in the signup information.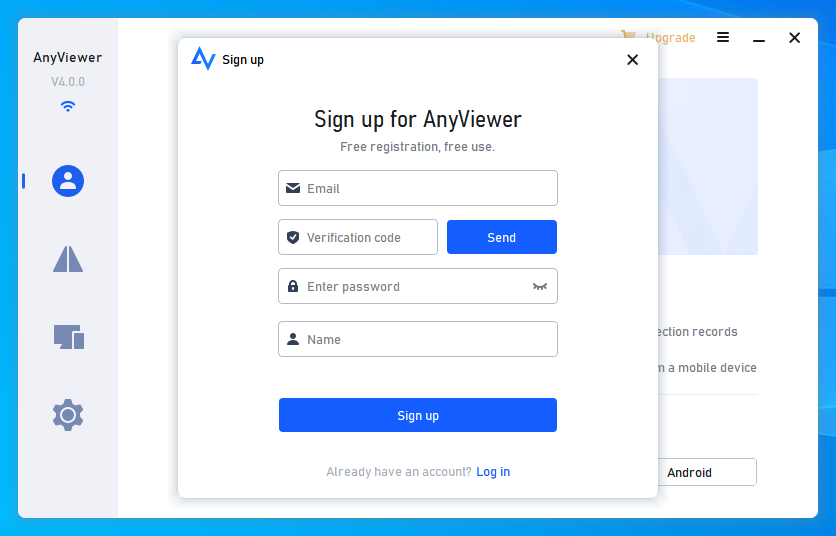 Step 3. Then you can see you successfully logged in to AnyViewer. Your device will automatically be assigned to the account you've logged in to.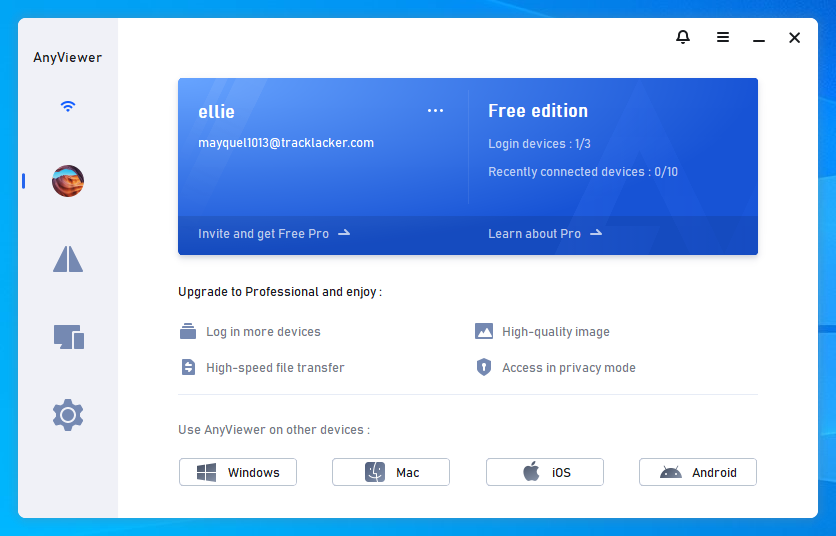 Step 4. Log in to the same AnyViewer account on the two devices, then you can achieve a direct connection by clicking One-click control.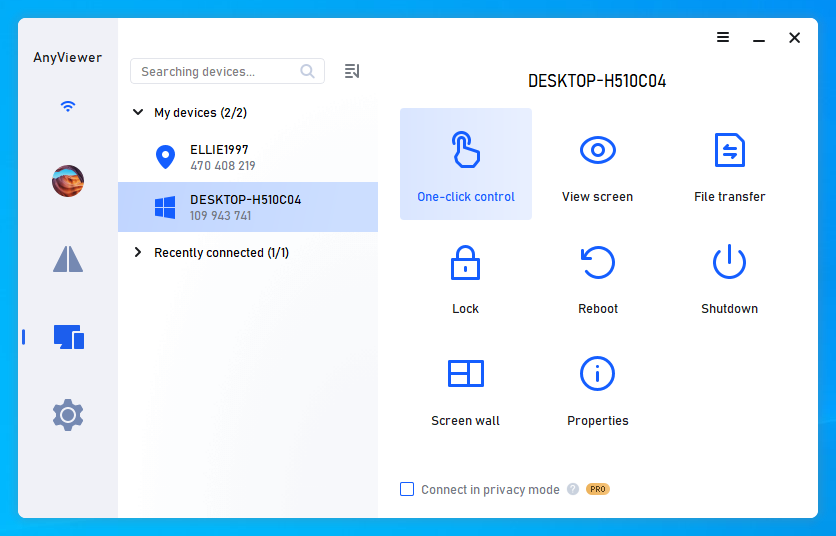 Tips: Upgrade to a Professional or Enterprise plan to enjoy more rights!
Faster transfer speed. Transfer speed for a free account is 500 KB/s, and for a paid account is up to 10 MB/s.
Increasing number of files transferred in a single time. The maximum number of files that can be transferred per time for a free account is 100.
Larger size of a single file that can be transferred. The maximum size of a single file that can be transferred for the free account is 100 MB.
More devices can be assigned to the same account for unattended remote access.
More Currently connected devices are displayed for management.
Connect in privacy mode to protect privacy.
Conclusion
This post first briefly introduces Chrome Remote Desktop including its advantages and drawbacks. Besides, we also offer you a professional Chrome Remote Desktop alternative free for Windows AnyViewer, hope it can meet your remote control requirements.