Brief introduction of Chrome Remote Desktop
Chrome Remote Desktop is a remote control software, developed by Google. It is a free remote access tool that's available as a simple Chrome extension, providing users with an easy and convenient solution to access another computer. Let's take a quick look at its advantages.
Convenience. It's a browser extension of Chrome, which allows you to control your computers via the Google browser directly. You don't need to download additional software at all.
Dual connection methods. It allows you to remotely access another computer with a permanent access PIN or a temporary access code depending on your needs.
Cross-platform capacity. It enables you to remotely control another computer from different operating systems, like iOS, OS X, Chrome OS, Android, Windows, and Linux.
How to Chrome remote control PC
How to Chrome remote control PC, in easier words, how to remotely control pc using Chrome Remote Desktop. Here in this part, we'll give you the detailed steps.
Option 1. Permanenntly access your PC via PIN
If you are trying to control your own PC and don't want to get new access every time, Chrome Remote Desktop provides you with permanent access. But first, you need to follow the steps listed below to set up Chrome Remote Desktop on both computers.
Step 1. Open the Chrome Remote Desktop web page and click on Access my computer button on your PC.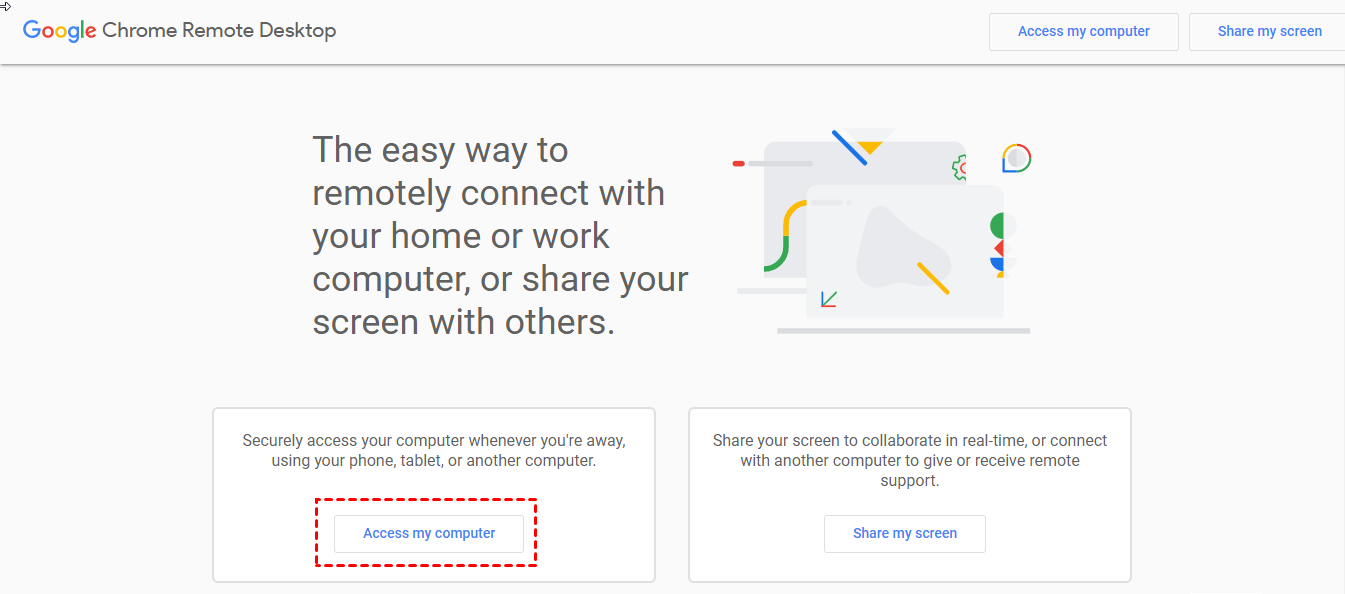 Step 2. Click on the download icon to set up remote access.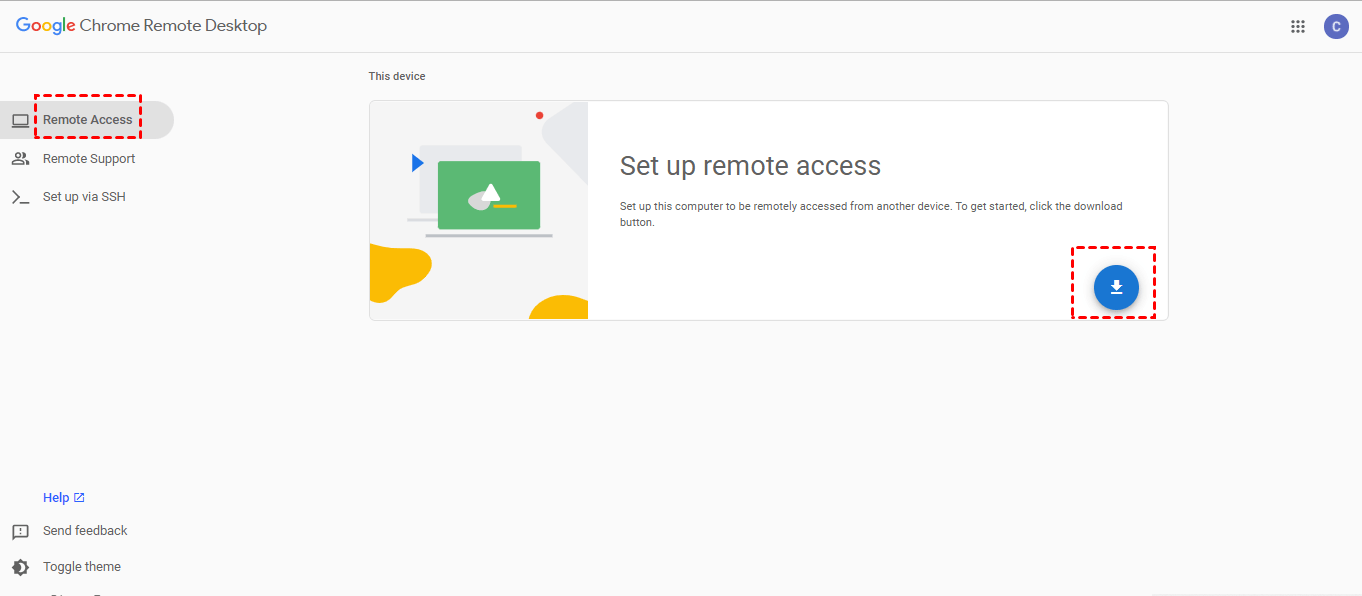 Step 3. Click on Add to Chrome to add the Chrome Remote Desktop in your Chrome browser.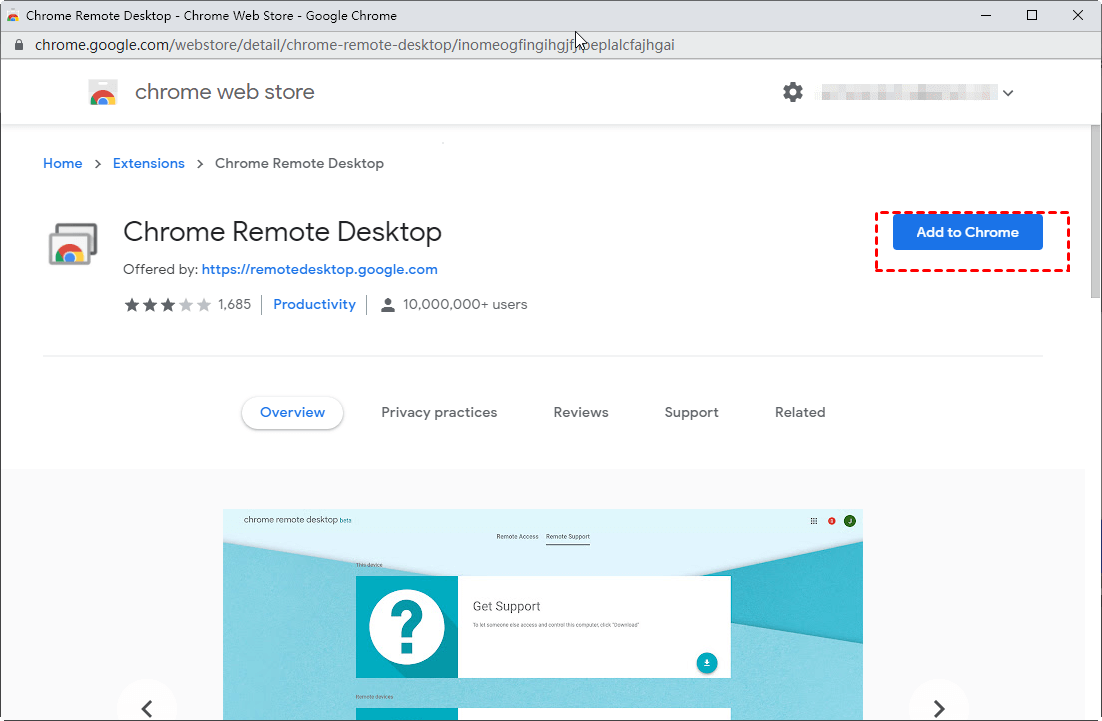 Step 4. Click on Accept & Install to install it.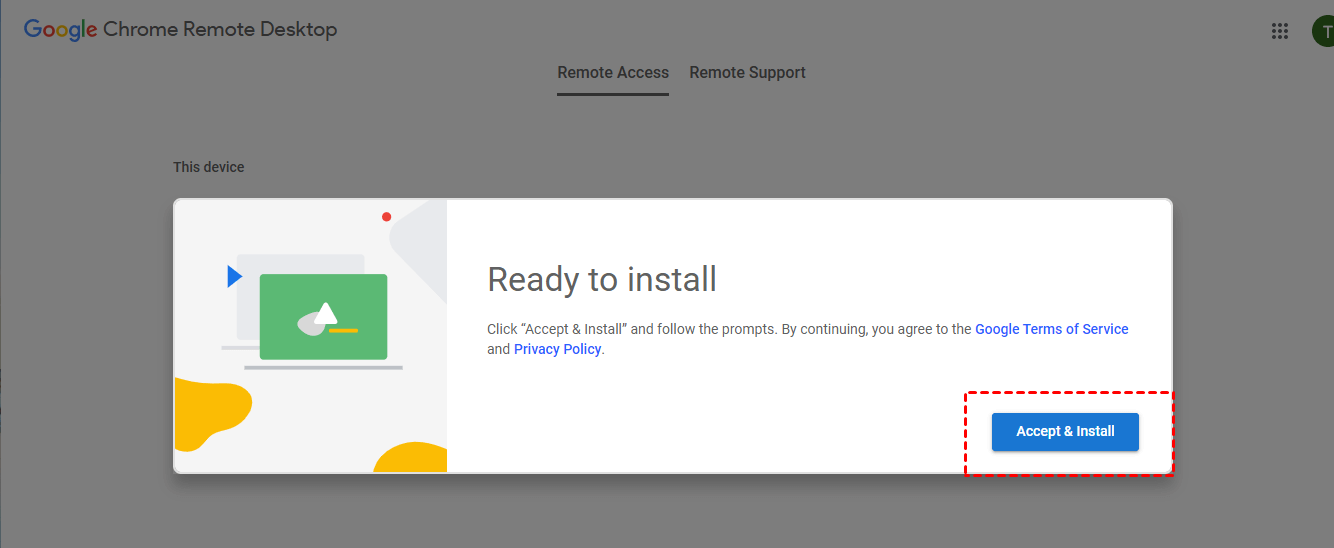 Step 5. Enter a name for your computer and then click Next.

Step 6. Choose a PIN with at least 6 numbers, and then enter it twice to start the program. If you have unfortunately forgotten your Chrome Remote Desktop PIN, don't worry, you can find it back.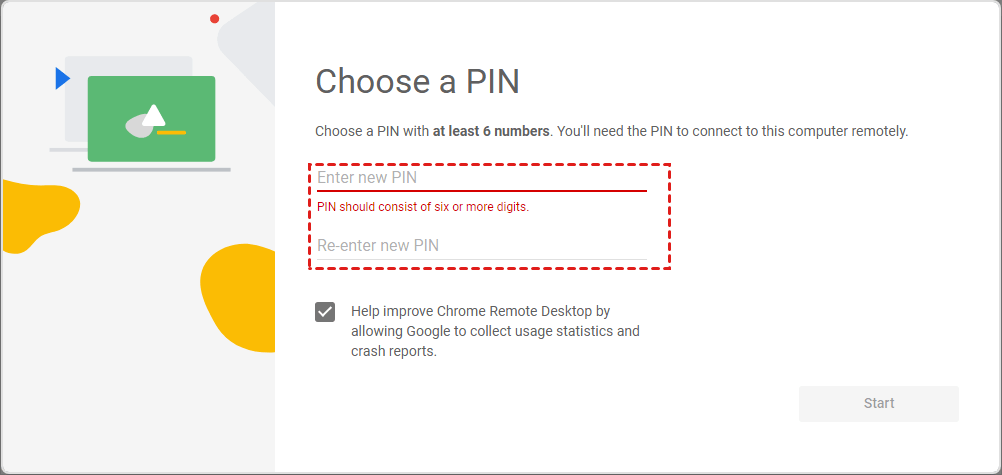 Step 7. To access the computer remotely, open the Remote Access page on another, select the target computer, and enter the PIN you created to achieve a permanent remote connection.
Option 2. Temporarily control the PC via one-time code
The above-mentioned steps allow you to get permanent access to another computer. If you just want a one-time connection with the other person's computer, then you need to click Remote Support.
Step 1. Click Remote Support and click the blue download button. Then follow the same steps mentioned above to add the extension.
Step 2. If you want to let someone else access this computer, click on Generate code to get a one-time code that expires in five minutes. Then share the code with the person you want to allow access to. They will be able to see your screen and control your computer.

Step 3. If you want to remotely control another computer, ask the other person for the one-time code mentioned above, enter the code, and you'll have access to another computer.

Free alternative to Chrome Remote Desktop.
Chrome Remote Desktop is pretty convenient for Google browser users, as it is a browser extension. However, if you are not a Google browser user, the advantage of Chrome Remote Desktop over other remote control software cannot be highlighted. Also, users always complain about Chrome Remote Desktop being laggy.
Thus, here, we recommend you to download a free remote control alternative AnyViewer. AnyViewer is a professional remote access software for different versions of Windows. With strong technical support, it offers you a stable and fast remote connection and the most convenient way to achieve unattended remote access.
Step 1. Download, install and launch AnyViewer on both computers. Go to Log in, and then click Sign up. (If you already have signed up on its official website, you can log in directly.)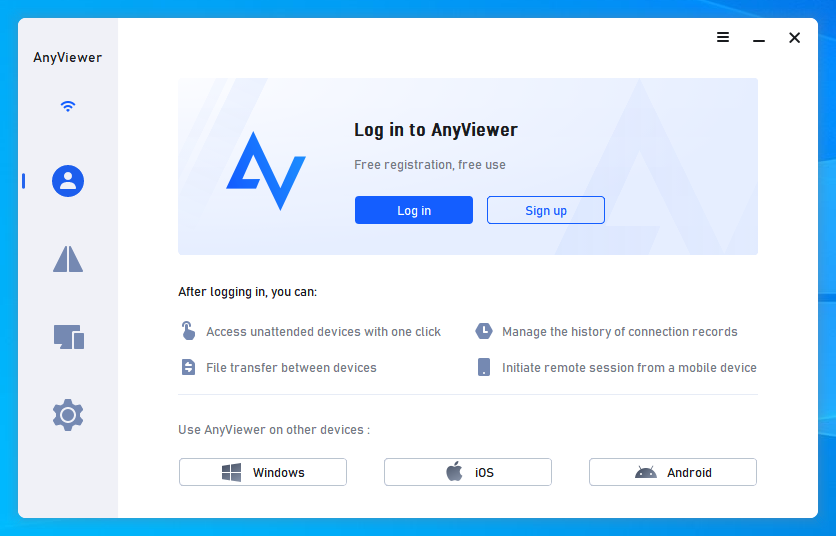 Step 2. Fill in the signup information.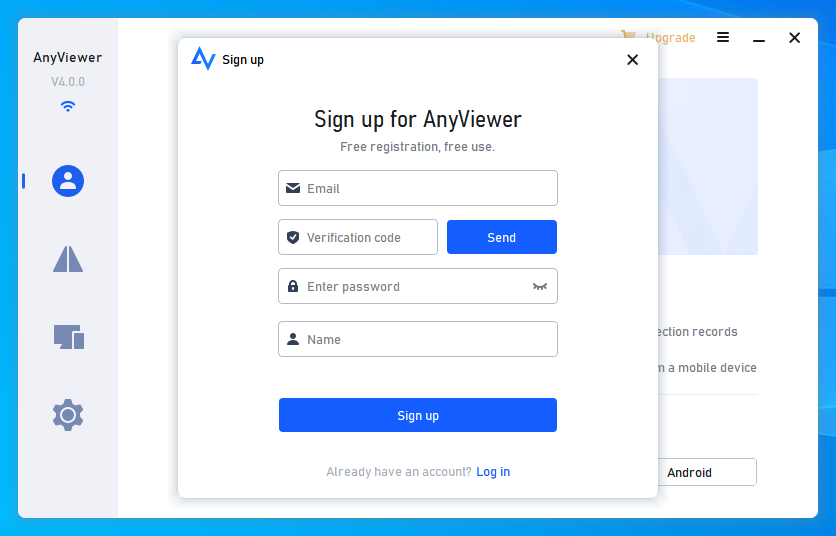 Step 3. Then you can see you successfully logged in to AnyViewer. Your device will automatically be assigned to the account you've logged in to.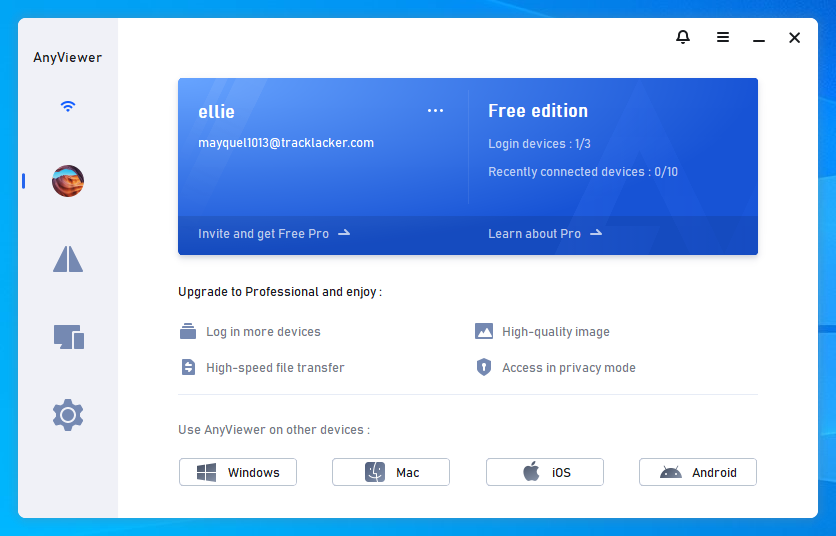 Step 4. Log in to the same AnyViewer account on the two devices, then you can achieve a direct connection by clicking One-click control.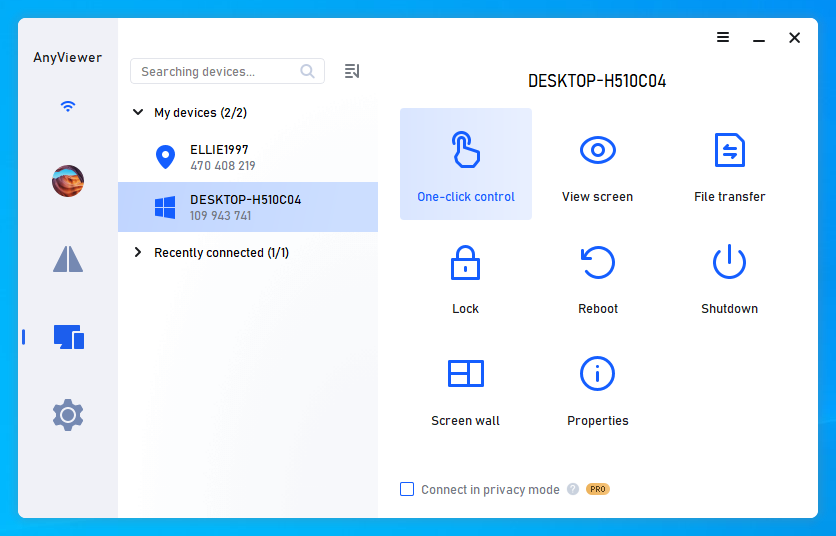 Note: You can also upgrade your account to a Professional or Enterprise plan. Then you'll have the following rights:
You can assign more devices to the same account and then achieve a one-click connection to more computers.
You can connect to another computer in privacy mode, which means you can black the screen and block the mouse and keyboard of the remote computer to protect your privacy.
Conclusion
This post mainly introduces how to Chrome remote control PC, in other words, how to control PC via Chrome Remote Desktop. But if you have suffered from CRD not working problem, you can use AnyViewer, the best Chrome Remote Desktop alternative. Try it right now to experience a better remote connection.