Why need remote access software for Windows 10?
Remote access software, also called remote control software, is becoming more and more popular. A remote access tool for Windows 10 enables you to access a remote Windows computer from another device as if you are in front of the Windows PC that is in a different location. For individuals, a remote control tool makes work more flexibly and productively. For businesses, remote access software can be used to remotely offer customers technical supports.
Three secure & free remote access software for Windows 10
There are various remote access tools in the market and here we will recommend three free and reliable tools to you. Pick up the proper one under different situations.
1. Windows 10 built-in remote access software: Remote Desktop [same network]
If you are using Windows 10 Professional or Enterprise Edition, it's not bad to choose Windows built-in tool, Remote Desktop. You don't need to install a third-party tool. This free tool is very easy to use when host and client Windows computers are in the same network. If the two PCs are not in the same network, you may need assistance from an IT member in your company. Or you can check the other two remote access apps. Now, have a look at how to set up Remote Desktop and connect to Windows PC from another PC in the same network.
Cautions: The two Windows computers should keep awake for connection.
Stage 1: Turn on Remote Desktop in Windows 10
Before remote connection, you need to sign into the computer that you need to control remotely and turn on Remote Desktop in this PC by doing the following steps:
Step 1. Click "Start" icon and click "Settings".
Step 2. In the pop-up window, go to "System" > "Remote Desktop".
Step 3. Drag the button rightward to enable Remote Desktop. Click "Confirm" button to execute the operation.
Note: By default, any user who has an administrative account on the client PC is allowed to access it, thus you need to set a strong password for your administrative account.
Stage 2. Remotely access to a Windows PC from another Windows PC
Now, check out these steps about how to set up connection between the two remote PCs.
Step 1. Type "Remote Desktop Connection" in Search box and choose "Remote Desktop Connection".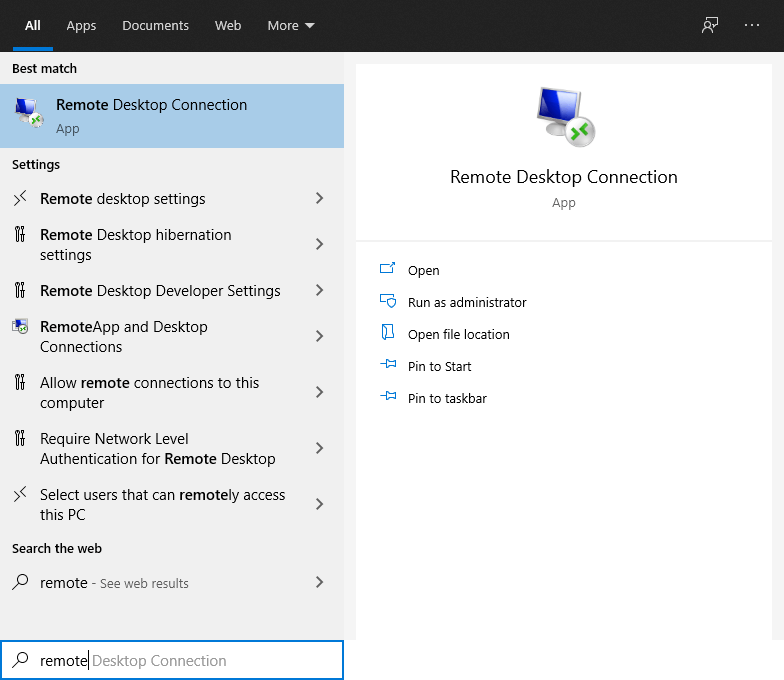 Step 2. In the pop-up RDC window, input the IP address of the host PC. Then, click "Connect".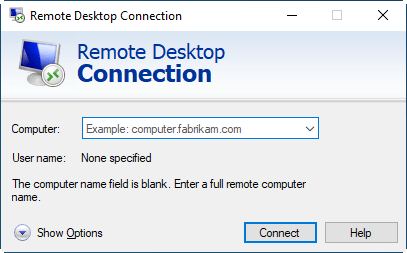 Step 3. Then, you'll be required to input the user name and the password of the host PC account. Finally, you'll be able to connect to the remote PC.
2. Available for Chrome broswer user: Google Remote Desktop
If you are using Windows Home Edition or encounter issues like Can't find the computer while using Microsoft Remote Desktop, have a look at Chrome Remote Desktop. It is free and available for mulitple platforms, including Windows 10. You can use it on any device that supports Chrome browser. Functions, like remote printing, are not available on Google Remote Desktop. Now, see how to use Chrome Remote Desktop to connect to Windows PC.
Step 1. On the host comptuter, go to Chrome Remote Desktop, go to "Remote Support" and click the blue download icon to download the remote access extension in Google
Step 2. After that, click "Add to Chrome" to add the extension to Chrome and enable it.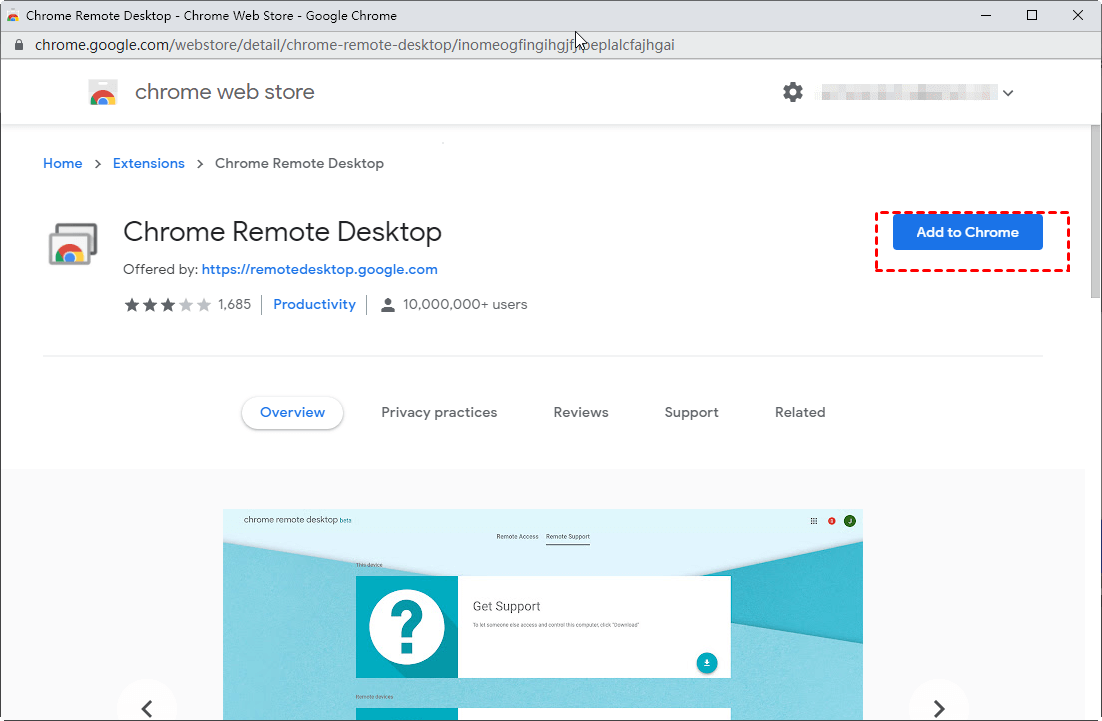 Step 3. Then, enter a name for the host computer, click "Next"; then set a six-digital PIN and click "Start".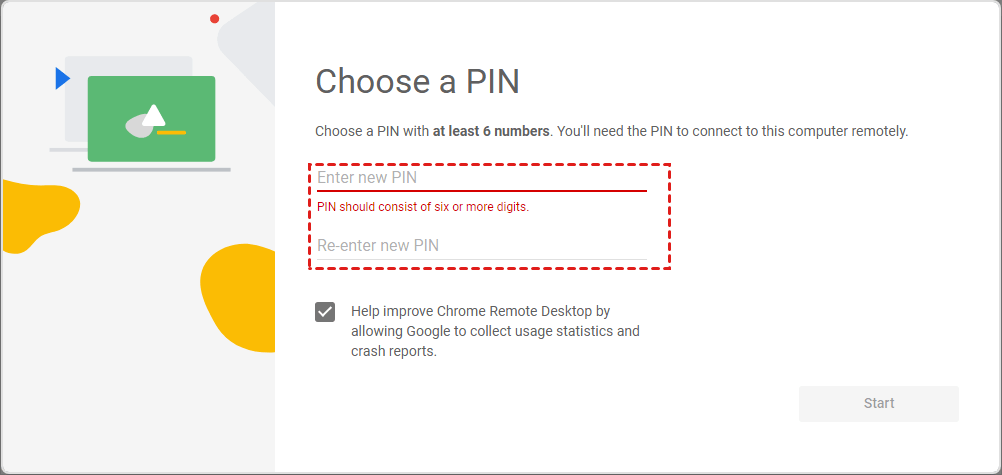 Step 4. On the client computer, log in to the same Google account of the host computer. Do the same steps to install Chrome Remote Desktop.
Step 5. On the Remote Support interface, find out the name of the host computer under "Remote Device", click it and input the PIN to remotely access the computer
3. Free and fast remote access software for Windows 11/10/8/7: AnyViewer [Recommended]
Or you can employ AnyViewer, a great remote access solution for Windows 11/10/8/7 and Windows Server. It offers stable & fast connection and is fairly simple to operate. Now, see how to use it to access a remote PC.
First of all, it should be installed and run on the two computers separately.
Step 1. Sign up for an AnyViewer account and then sign in to this account on the two computer. Once logged in, the PC will be assigned to the account automatically.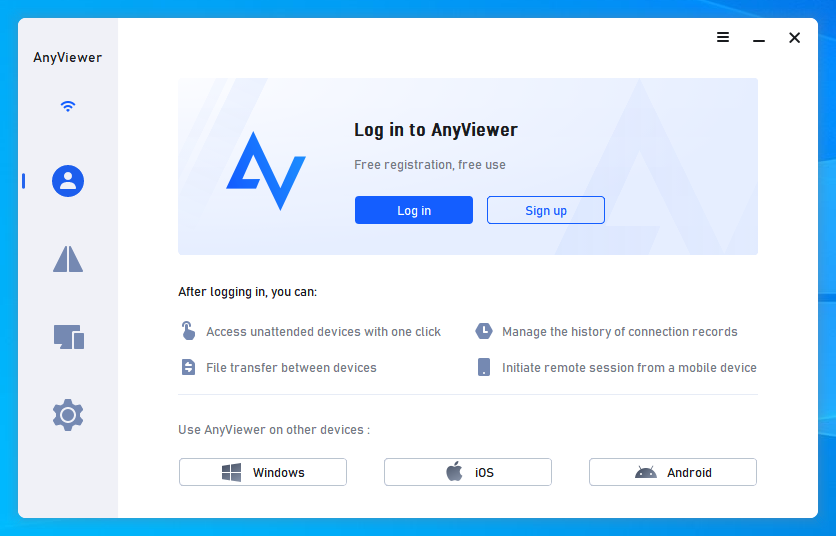 Step 2. On the client computer, go to "Device", click the PC that you need to control and click "Remote control" to achevie unattended access with one-click.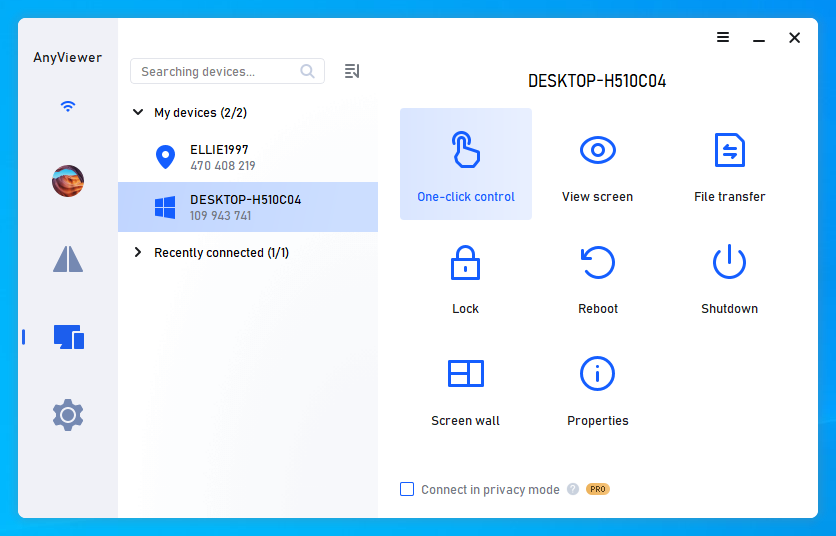 Step 3. Then, the desktop of the host computer will show up on the client computer. Many operations like "Ctrl+ Alt + Delete", "Lock", "Restart", etc., can be completed on the remote PC during the remote session.

Conclusion
This post has demonstrated three safe and stable remote access software for Windows 10. You can realize remote connection with Microsoft Remote Desktop. However, it's a little bit complicated, especially when the devices are not within the same LAN. Chrome Remote Desktop is OK to use for computers in different networks but it reburies you to log in to the same account. AnyViewer doesn't ask you to sign up an account and is rather simple to use. All in all, if you are unfamiliar with the three remote access utilities and want to control a PC under different networks, AnyViewer will be a nice choice!