How do I access work computer from Home Windows 10?
I need to remote desktop into my office computer for working from home laptop. The laptop is installed with Windows 10 Home Version. But I have been told that Windows 10 Home doesn't support Remote Desktop and I need to upgrade it to Professional version for using the utility. Can't I use RDP in Windows 10 Home?
Access work computer from Windows 10 Home using Remote Desktop
Actually, you can run RDP client on Windows 10 Home computer and connect to any Windows PC that running Professional version or higher version. That is to say, as long as your office PC is installed with a Professional or higher version, you can remotely connect to it from Windows 10 Home Edition. But  Windows 10 Home computer can't accept remote access from another computer using Remote Desktop. 
Now, see how to remote into work computer from PC with Windows 10 Home installed.
Preparation work: enable remote access for office computer
Step 1. On the work computer, press Windows + R, input "sysdm.cpl" and click OK to open System Properties window. 
Step 2. Switch to the Remote tab and choose "Allow connections to this computer" and click "OK".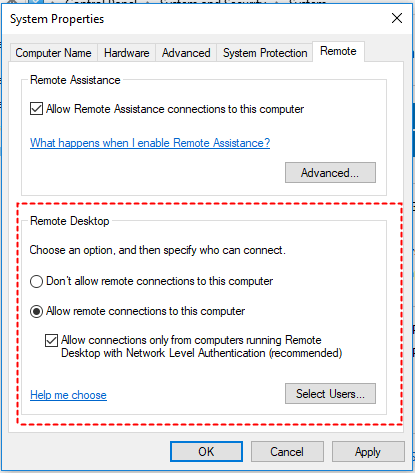 Note: Make sure that the remote connection is allowed; otherwise, you can encounter the RDP error - Remote Desktop can't find the computer. 
Then, you can use Remote Desktop client to access the office computer
Step 1. On the Windows 10 Home computer, press Windows + R, input "mstsc" to open Remote Desktop Client (Remote Desktop Connection). 
Step 2. On the pop-up window, input the computer name or the IP address of the work computer and then click the "Connect" button.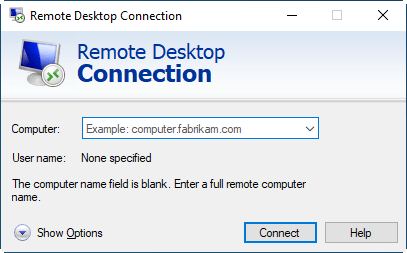 Step 3. Input the user name and the password of the account that you need to log in to. Then, click "OK". 
Now, you should access your work computer remotely. And you'll see the desktop of the remote work computer as if you are in the office. If you need to finish the remote control from home PC to work one, you can click the Close icon to close the connection.
☞ Tip: When your work computer and the Windows 10 Home Edition computer are not in the same network, you need to be granted by your company remote access to the network via VPN, as most companies have security measures to prevent accessing resources from outside the company network. And you may need to ask the help of the IT member in your company.
Access work computer from Windows 10 Home computer using AnyViewer
As aforementioned above, you can remote into your office computer using Remote Desktop as long as the work computer is running Windows Professional or higher version. However, what if your work computer is running  Windows Home Edition as well? Upgrade to Professional version? Why not turn to a free and safe remote control software, AnyViewer? It can be used as a great alternative to Windows Remote Desktop.
It supports all editions of Windows 11/10/8.1/8/7. That is to say, whether your work PC is running Windows 10 Professional or Windows 7 Home, you can access it using AnyViewer. What's more, it supports Windows Server 2019/2016/2012R2. You can click the following button to free download it on your office and Windows 10 Home computers. 
Step 1.  On your work computer, install and run AnyViewer.  Then, go to Settings > Recipient, enable "Set my security code" and type your security code.  Then, click "OK" to save the change.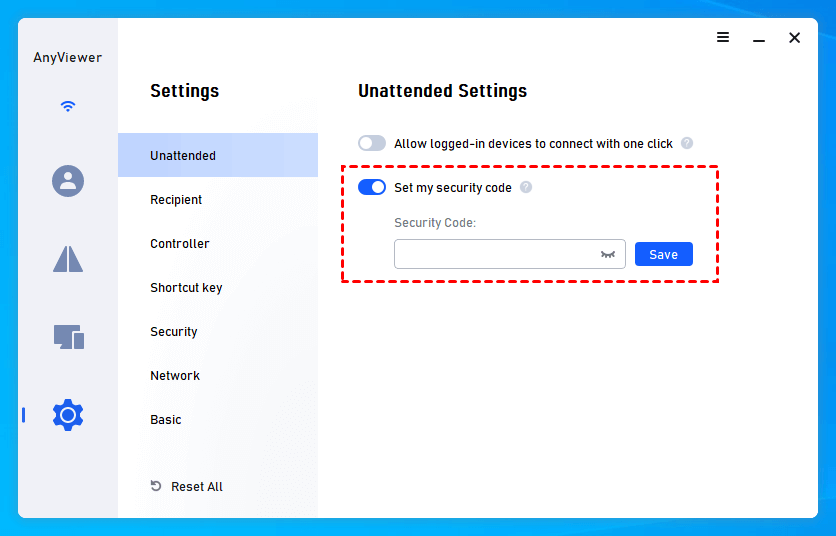 Step 2.  In the Windows 10 Home computer,  install and run AnyViewer, enter the device ID of the office computer and then click  "Connect".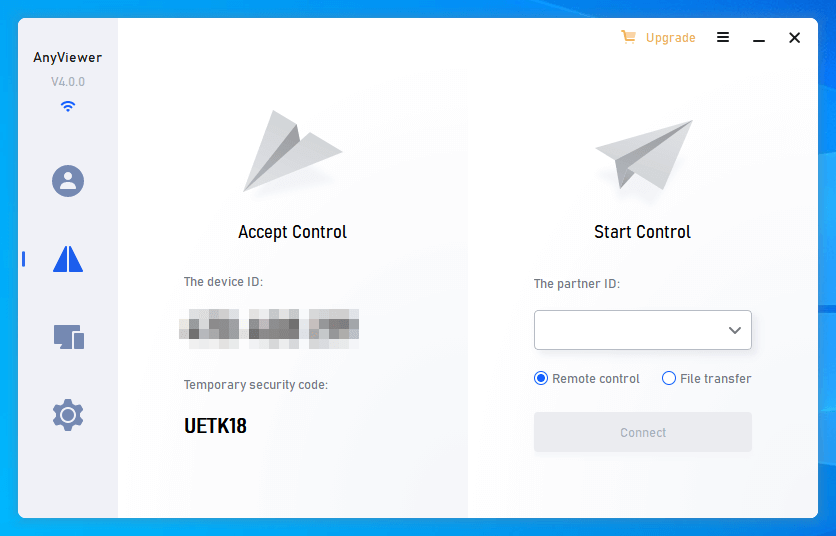 Step 3.  Choose "Input security code" and type the security code that you have set for the office computer. Finally, click "OK".  And you can access work computer from Windows 10 Home computer directly.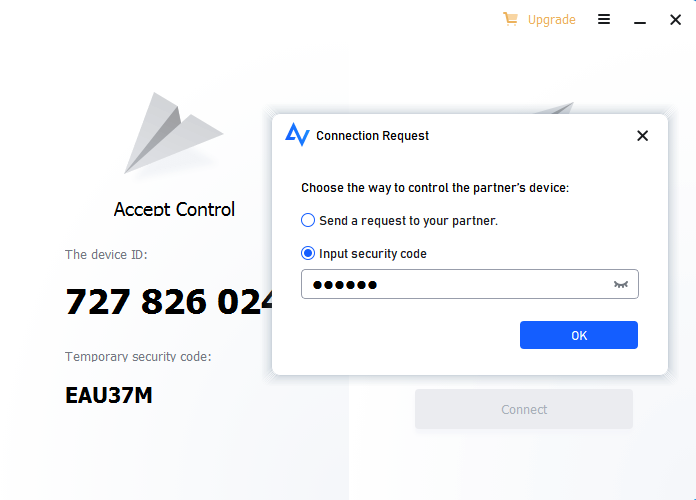 Note: If there is someone sitting in front of your office computer, you can choose "Send a control request to your partner" and your partner need to allow the control request. 
Once remote connection is established, you can open Windows Explorer, Task Manager, and Command Line of the office computer from the client computer.