How can I access files on my PC from my Android phone over wifi?
"Sometimes, I need to view and use files on my computer desktop when I'm not in front of the PC. Is there a tool that enables me to access computer files with my Android phone over wifi rather than USB cable? Any advice will be appreciated!"
Two utilities to access PC files from Android phone or tablet
PC and Android phone are popular electronic devices. Usually, your Android phone is handy while PC not. If you have synced your necessary files from PC to cloud services, you can access those PC files from anywhere, including your Android device. If you don't want to do so and want to remotely access computer files from Android, remote desktop software for Android can be helpful! Next, we'll introduce how to access files on computer from Android over internet using two secure and free apps: Microsoft Remote Desktop and Chrome Remote Desktop.
Access files on Windows PC from Android using Microsoft Remote Desktop
To access files on a PC with Windows Professional or Enterprise installed from Android wirelessly, you can use Microsoft Remote Desktop. Here are the detailed steps:
Step 1. In the host PC, click "Start" > "Settings" > "System" > "Remote Desktop". Then, drag rightward to enable Remote Desktop.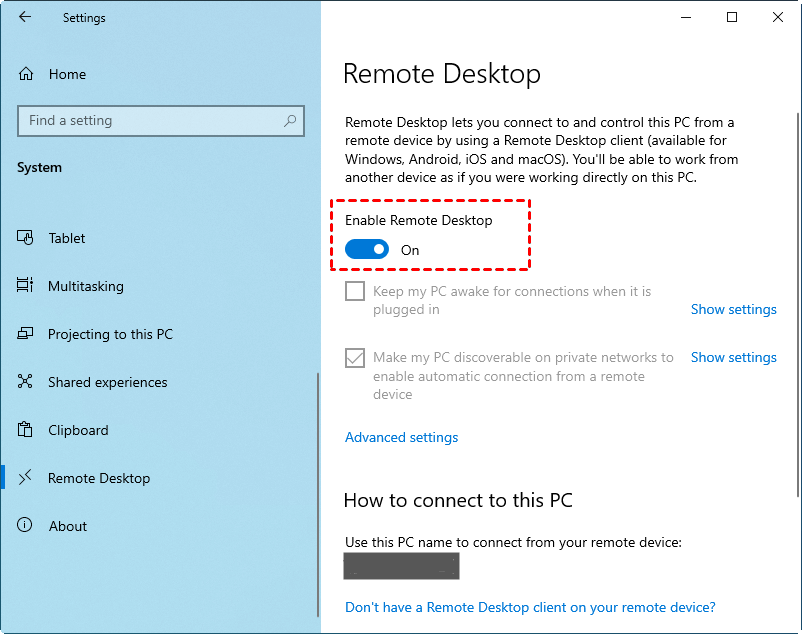 Notes:

Bear the name of the computer in mind as it is necessary when setting up the connection.
Originally, a user who has an administrative account on the host PC can access it. When you need to remotely sign in using the administrative account. You can click "Select users that can remotely access this" PC and do the onscreen instructions to enable remote access to a different account.
Step 2. After set up Microsoft Remote Desktop on the computer, you can perform remote access configuration on your Android device. Download the remote access tool from Google Play, install and run it.
Step 3. Tap "+" icon and wait for the app to scan for the remote PC. Then, choose the one that holds that essential files.
Step 4. If there is no PC appearing, tap "Add Manually". Then, you'll in a window that is labeled as "Add desktop".
Step 5. You can type the computer name or IP address of the host PC under PC name. Under user name, type the username and password after choose "Add user account".
Step 6. Expand "Show additional options" and you can change settings or leave them alone. Then, click "Save".
Step 7. Choose the PC that you want to control and wait for the process to complete.
Access files on PC from Android using Chrome Remote Desktop
To access files on a PC that isn't featured with Remote Desktop, you can achieve remote access files from android to PC using Chrome Remote Desktop, which is offered by Google. Chrome Remote Desktop not only for Windows and Android but also for Mac, Linux, and iOS.
Now, see how it works:
Step 1. In the remote PC that holds the files, you want to view, run Google Chrome browser, navigate to Chrome Remote Desktop Access and add Chrome Remote Desktop extension.
Step 2. Input chrome://apps/ on the address bar and hit Enter and run Chrome Remote Desktop. Then, authorize your PC with Gmail ID and click "Get started" under "My Computers".
Step 3. Click "Enable Remote Connection", download the Chrome Remote Desktop Host Installer and run the app.
Step 4. Type "PIN" to access the PC to enable remote access.
Step 5. Download and run Chrome Remote Desktop on your Android smartphone or tablet.
Step 6. Make sure that you have signed in using the same Google account, you'll find a list of computers in the app.
Step 7. Tap the to-be-accessed computer and input PIN to connect to it from Android. Then, you will be able to access PC files from Android device wirelessly.