Unattended Access and Chrome Remote Desktop
With the development of technology, telecommuting becomes a more and more popular working model. Working in a relaxed home environment, employees are able to spend a day without feeling like someone is looking over their shoulder. This working model is actually able to improve employees' productivity, preventing employees from outside interrupt. To realize telecommuting, the first step to is set up unattended access to control your corporate computer to deal with work.
Chrome Remote Desktop, free and multifunctional remote desktop software, provides users with multiple functions which are able to satisfy all requirements from different situations. Supporting unattended access is one of the most helpful functions of Chrome Remote Desktop. With this function, it's possible to control company computer from home computer without other's help to realize telecommuting.
How to set up unattended access via Chrome Remote Desktop?
Chrome Remote Desktop, one of the most famous remote access software, can be seen as an extension of Google Chrome. As long as you download Google chrome browse, you can use Chrome Remote Desktop. It's very convenient that you don't have to download app to use it. Chrome Remote Desktop also supports Android and IOS devices, and it's possible for users to control a computer via phone.Let's see how to use Chrome Remote Desktop set up unattended access.
Step 1. In client computer and host computer, open Google Chrome and visit Chrome Remote Desktop website.
Step 2. Click the download icon and follow Google Chrome direction to add Chrome Remote Desktop to your extension.

Step 3. Log in to the same Google account on the two computers.
Attention: please log in to the same account.
Step 4. In client computer, stay on the Remote Access page. And in host computer, click turn on and change your computer name and click Next.
Step 5. In Choose a PIN window, enter your PIN twice and click Start. Please remember the PIN you just typed.It will be used in the later procedures.
Step 6. In client computer, the host computer's name will appear. Click it and type the PIN you set in the host computer. Then you can control the host computer from client computer. The host computer will be recorded, and you can control the host computer even you log out the Google account as long as the Remote Desktop website is opened.
A free alternative to Chrome Remote Desktop for unattended access.
If you encounter Chrome Remote Desktop not working problem when you use Chrome Remote Desktop and you may not solve this problem after a series of operation, you can choose a free alternative to replace Chrome Remote Desktop. AnyViewer, safe and stable remote access software, helps you control another computer anytime, anywhere. AnyViewer has a clean interface and is easy to use. You can use it connect to another computer with multiple connection methods, including unattended access of course. Please feel free to download it.
Follow these steps to set up unattended access via AnyViewer.
Step 1. Install and open AnyViewer on the host computer and the client computer.
Step 2. Before starting the unattended access, you have to change some settings in host computer.Go to Settings>Recipient, make sure"Allow to accept remote control" and "Set my security code" are allowed. Type your own security code into the entry bar and click OK. Remember the security code you just set.
Step 3. In client computer, enter the host computer's device ID which is automatically set by the system, and click Connect. Choose Input security code in the Request Control window, and then type the security code that you set in the host computer. After click OK, the connection will be successfully established. Then you can control the host computer without others 'help.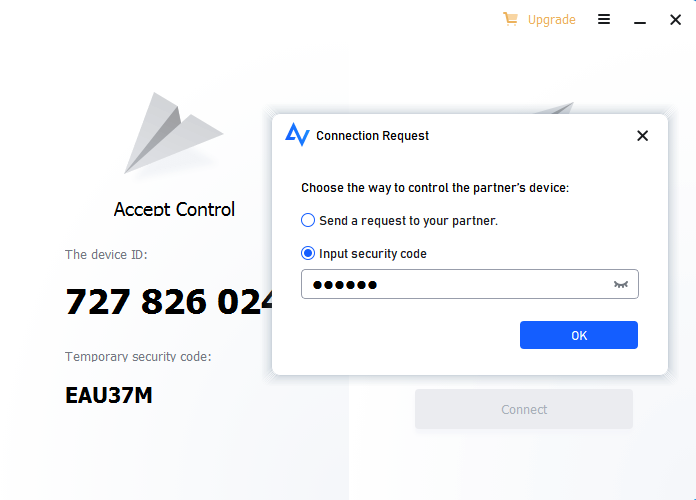 Conclusion
This post tells how to use Chrome Remote Desktop for unattended access to realize telecommuting. Although it's very convenient to connect two computers through Chrome Remote Desktop, you may encounter some problems that you can't solve by yourself. So here is a back-up to solve this issue. You can choose another free third-party remote access application to use as an alternative to Chrome Remote Desktop.