What is Wake-on-LAN used for?
What is Wake-on-LAN and what is it used for? Wake-on-LAN (WOL) is an industry-standard protocol for remotely awakening computers from a low-power state. Although the concept of "low power mode" has evolved through time, we may still use it to refer to a situation where the computer is "sleep, hibernate or shut off" but still connected to a power source.
It enables you to maintain access to your files and applications while keeping the PC in low-power mode to save electricity, which is helpful if you intend to access your computer remotely for any reason even if the computer is asleep, hibernate, or turned off.
How to enable and perform Wake-on-LAN
In this part, we will show you how to enable Wake-on-LAN on Windows computers and how to wake your computer with Wake-on-LAN Magic Packets.
Part 1. Enable Wake-on-LAN on Windows system
Before learning how to Wake-on-LAN, ensure that your network router is properly set up to allow you to access your PC, which includes configuring necessary firewall rules. For the majority of home routers, typing http://192.168.0.1or http://192.168.1.1 in your web browser will take you to the residential settings menu.
When your router is correctly configured, follow the next steps to enable Wake-on-LAN feature on your Windows PC. You'll have to set your network adapter to respond to the Magic Packet.
Step 1. Right-click Start menu and click Device Manager.
Step 2. Locate and open the Network adapters category. Right-click the network adapter that you are currently using and click Properties.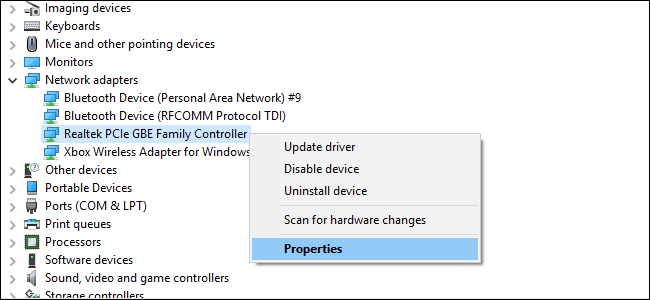 Step 3. Go to Advanced tab, select the Wake on Magic package option, and select Enabled from the Value drop-down menu.
Step 4. Switch to the Power Management tab, tick Allow this device to wake the computer, and press OK to configure your new settings.
Once you've saved the settings, your computer should be ready to be woken up by a Wake-on-LAN magic packet sent by another computer.
Part 2. Wake your computer with Wake-on-LAN Magic Packets
To remotely wake up your Windows computer, you need software on the local computer capable of issuing a WOL Magic Packet, here we will take NirSoft WakeMeOnLAN as an example. You can download it from the NirSoft website.
Step 1. Launch the software, search for WOL capable PCs by clicking File > Start Scanning, or manually add a PC by clicking File > Add New Computer.
Step 2. Then you can see the PC list, right-click the PC you want to power up and click Wake Up Selected Computers.

Step 3. Click Yes then your computer will be woken up.
How to remotely access the wake up computer
Now you can use remote access software like AnyViewer to remotely access your computer from anywhere. AnyViewer allows flexible methods for remote connection and file transfer.
You can also set Start AnyViewer with Windows and Prevent device from automatically sleeping when you are in a remote session, which is convenient for you to access an unattended remote computer at any time.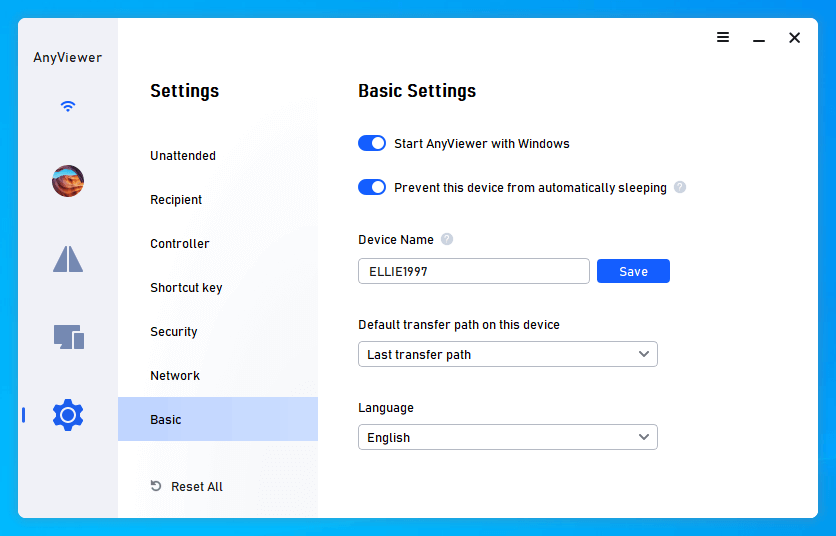 Download AnyViewer on your devices, and follow the next steps to start unattended remote access.
Step 1. Launch AnyViewer on remote computer, go to Log in, and click Sign up.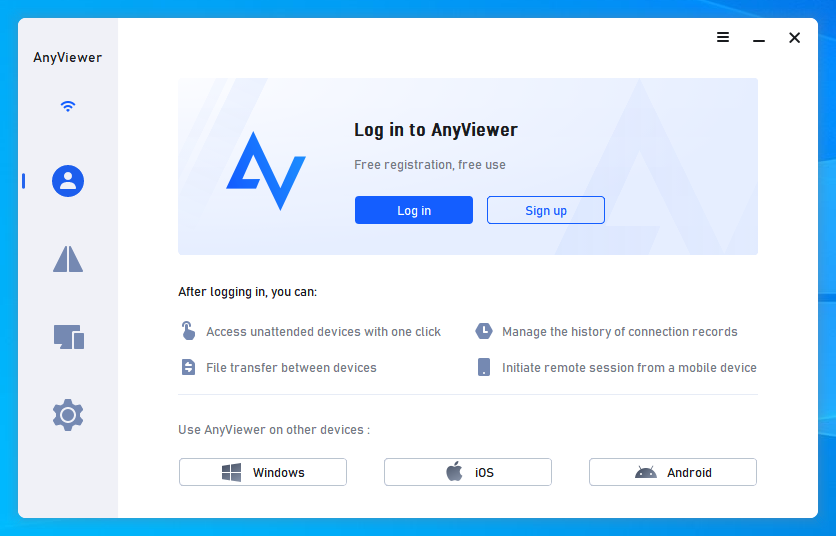 Step 2. Fill the information and click Sign up.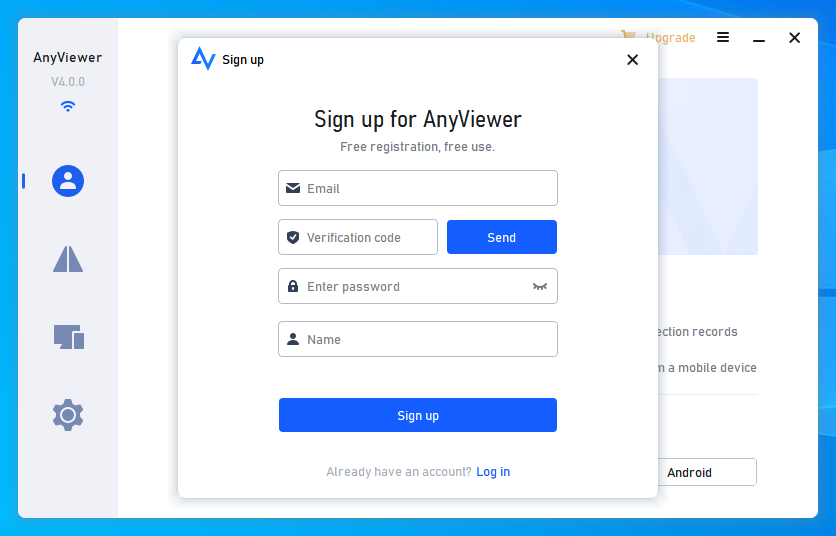 Step 3. Launch AnyViewer on local computer, log in to the same account, and here you can see the assigned devices.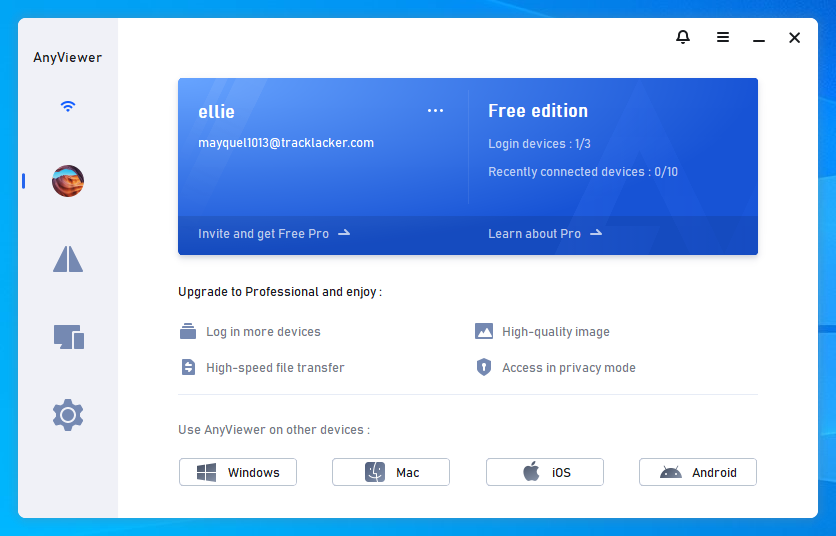 Step 4. Go to Device, select the computer you want to remote into, and click One-click control.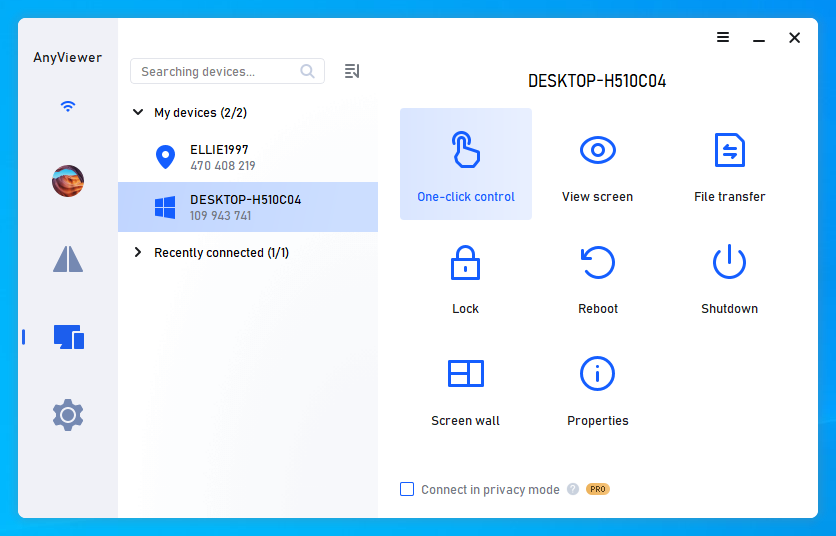 When you established the connection, there are a lot of built-in operations from the toolbar.
Notes:✎...You can also upgrade to a Professional or Enterprise plan then the following rights will thereafter be yours:

Assign more devices.
More concurrent connection channels for an Enterprise plan.
More simultaneous sessions.
Connect in privacy mode to strongly protect your privacy.
High-quality image.
...
FAQs:
Q1: Is Wake-on-LAN safe?
Wake-on-LAN is a commonly used service on local networks and does not pose a security risk if network security is adequately implemented. The WOL system can only turn on a computer, and the device's existing access privileges restrictions are still in effect, thus an intruder would also need a username and password for the account.
Q2: Does Wake-on-LAN work when the computer is off?
Wake-on-LAN can start up a computer even if it is fully shut down. The WOL function isn't just for when the computer is in Sleep mode.
Q3: Does Wake-on-LAN only work over WiFi?
For Wake-on-LAN to work, the computer must have an Internet connection and be plugged into power. Wake-on-LAN can be set up to use either Ethernet or Wireless.
Q4: How long does Wake-on-LAN take?
It will take about 45 seconds until the server wakes up.
Conclusion
This post introduces how to enable Wake-on-LAN on Windows computers and how to wake an "off" computer using Wake-on-LAN Magic Packets. In addition to WOL software, you may need remote desktop software to help you remotely access the woken-up computer. In this case, AnyViewer could be the best choice for you.