Can I remotely control one Windows 10 computer from another?
"Hi. I am unfamiliar with remote access technology. Now, I want to let my Windows 10 computer be controlled by my friend's computer, and then she can help me troubleshoot PC issues remotely. Is it possible to achieve remote control pc from another PC for free? What should I do?"
Employ PC to PC remote control remote software for Windows 
Actually, it's not tough to remotely access and control a PC from another over the internet, if you can find out an appropriate remote connection software. Here AnyViewer, specially designed for connecting one Windows computer to another computer, is highly recommended.
☞ It supports remotely access one computer within the same network and under different networks as well.
☞ It can not only with Windows 10/8.1/8/7 but also with Windows Server 2019/2016/2012 R2.
☞ It can remote into multiple computers with one computer.
☞ What's more important, it's fairly simple to use, without requiring complicated setting modification for your computer. 
Complete remote control PC from another PC over AnyViewer 
To remote into one computer from another computer, download and install AnyViewer on both devices at first. 
Step 1.  On the computer that should be allowed to be controlled for technical support, you can run AnyViwer and send the device ID to your partner.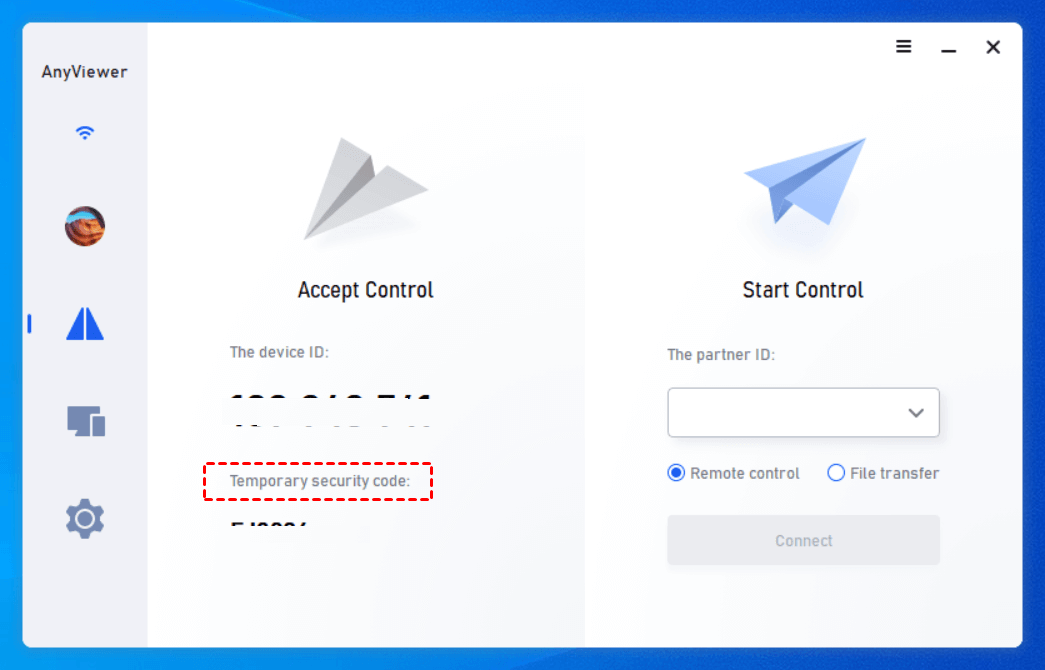 Step 2.  On the client computer, your friend should run AnyViwer and input the ID of your computer. Then, click "Connect". 
Step 3. Your friend can choose "Send a control request to your partner" and click "OK".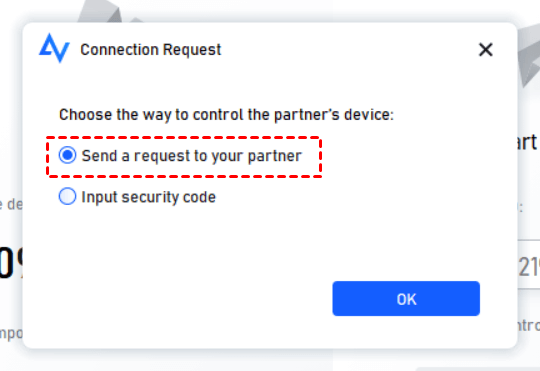 '
Step 3.  Then you'll get a message "Request to control your device". Click 'Allow' to accept the control request. Then your computer will be controlled by another comptuer. 
After that, your friend can view the screen of your computer and take measures like rebooting your computer, opening Task Manager, and so on. 
✍ Sending control request requires that there's someone to accept the control in the other end; when you need to complete unattended access to your work computer from home or to home comptuer from office, you can choose input security code. 
Further reading: remotely access a computer from another without third-party software
Though AnyViewer is a great tool for remote control PC from another, you can keep reading to realize how to use RDC (Remote Desktop Connection) to complete remote computer, if don't want to download third-party tool and your computers satisfy the following condition:
 The host computer should be running Windows 10/8.1 Enterprise or Pro Editon or Windows 7 Pro, Enterprise, Ultimate, and Windows Server after Windows Server 2008. 
The two PCs are within LAN; otherwise, more operations like setting up VPN can be necessary. 
First of all, you need to enable Remote Desktop on the host PC. 
Step 1. In the PC that you want to control, click "Start" button and go to "Settings" > "System" > "Remote Desktop". 
Step 2. Drag the slider to enable Remote Desktop. Then, click "Confirm".
Note: By default, any user who has an administrative account on the host PC is allowed to access it, thus you need to set a strong password for your administrative account.
Step 3. Type "Firewall" in the Search box, choose Windows Defender Firewall, and click "Allow an app through Windows firewall".
Step 4. Click "Change Settings" and Check Private and Public for Remote Desktop. Then, click "OK".
After enabling Remote Desktop and allowing the tool in firewall, you can control the PC from another one over the internet.
Step 5. In the PC that you use to control another PC, input "remote desktop connection", double click "Remote Desktop Connection" to open it.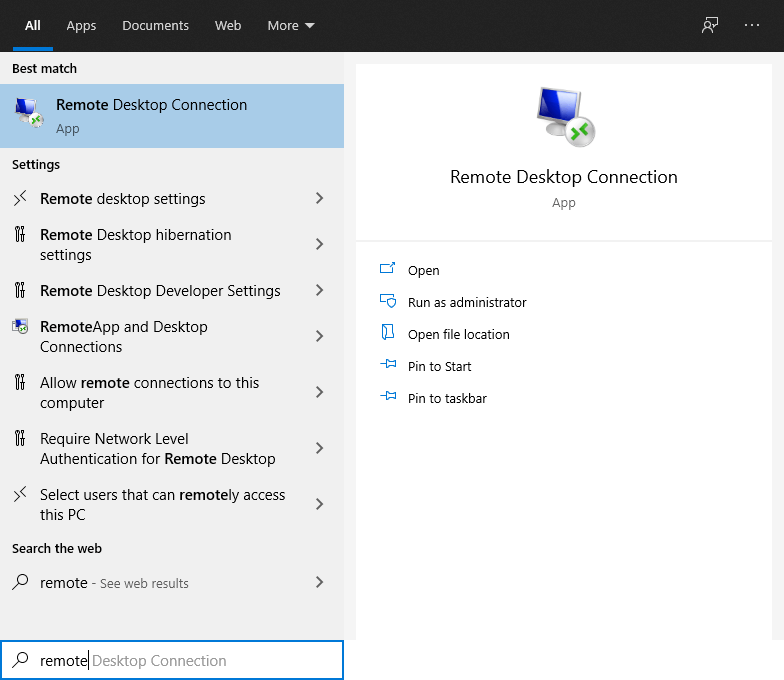 Step 6. Now, you'll in Remote Desktop Connection. Click "Show Options" and enter the computer name of the remote PC. Then, enter the username and click "Connect".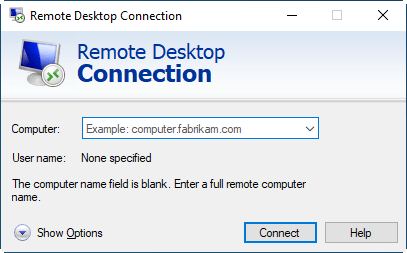 Step 7. You'll be asked to input the password and user name of the host PC to connect to it.
Step 8. There are chances that you'll be prompted by the message "The identity of the remote computer cannot be verified. Do you want to connect anyway? Click "Yes" to continue the operation. Then, wait patiently for the remote connection establishment.