What is port forwarding?
Have you heard about port forwarding and do you know what does port forwarding do? Actually, port forwarding is an application of network address translation that allows a PC to connect to a remote PC on a private local area network, which makes it possible for those who have the need to remotely access a PC over the internet with RDP. For example, if your friend needs to control your PC remotely, but 2 devices are not on the same LAN. Then he or she can perform port forwarding to establish an RDP connection.
Is port forwarding safe?
Many users are curious about the security of the port forwarding at the same time, worrying about the router will be accessed by the hacker and the specific external IP will be hacked. Is port forwarding dangerous? For the most part, port forwarding is safe.
The situation where your router permits outside machines to connect to a machine on your network is known as port forwarding. It doesn't provide you with any special access to the router's internals. And all it gives you is a link to your internal workstation, where you configure the router and feed it a certain port number.
Moreover, as long as your computer or network has a security firewall or a VPN connection, the entire operation of port forwarding is safe enough. And it relies on your network's security and the specific ports you're utilizing, so, port forwarding isn't that dangerous.
How do I perform port forwarding?
Having realized what is port forwarding and how safe port forwarding is, it's time to realize how to perform port forwarding. Follow me to know how to operate.
Preparation work:
◘1. Find the routers IP address (Default Gateway)
Step 1. Search "cmd" in the search box and then right-click and choose "Run as administrator".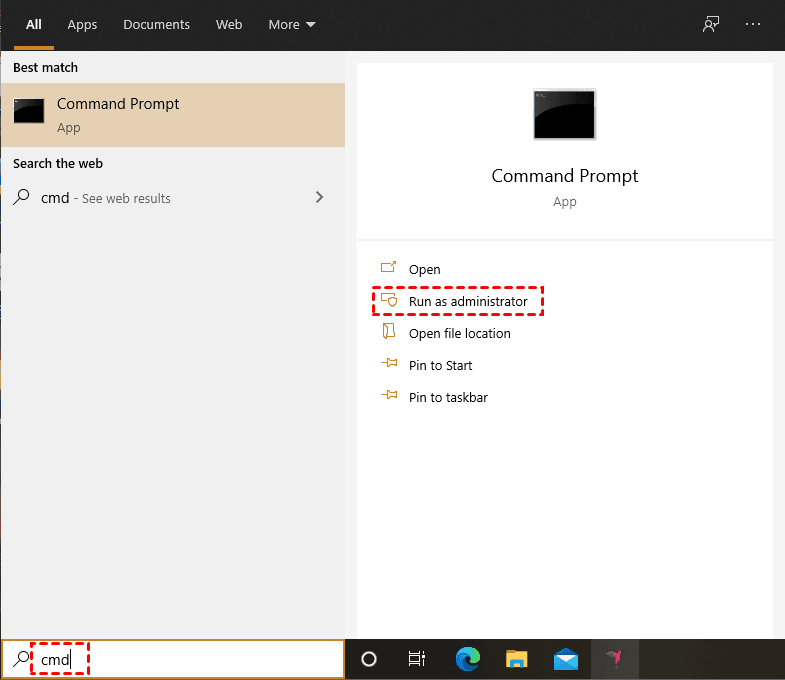 Step 2. Type "ipconfig" and then locate the Default Gateway line in the following picture and enter it into the browser.
◘ 2. Find the username and password
Method 1. Find the username and password behind the router.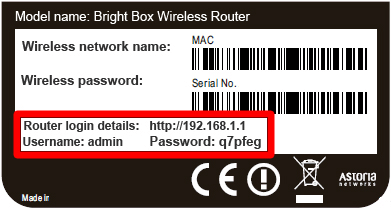 Method 2. Find the username and the password according to the following information.
Concrete steps for performing port forwarding
Step 1. Open a web browser. Then type your router's IP address into the address bar.
Step 2. A privacy warning will appear. Just click Advanced > Proceed to continue.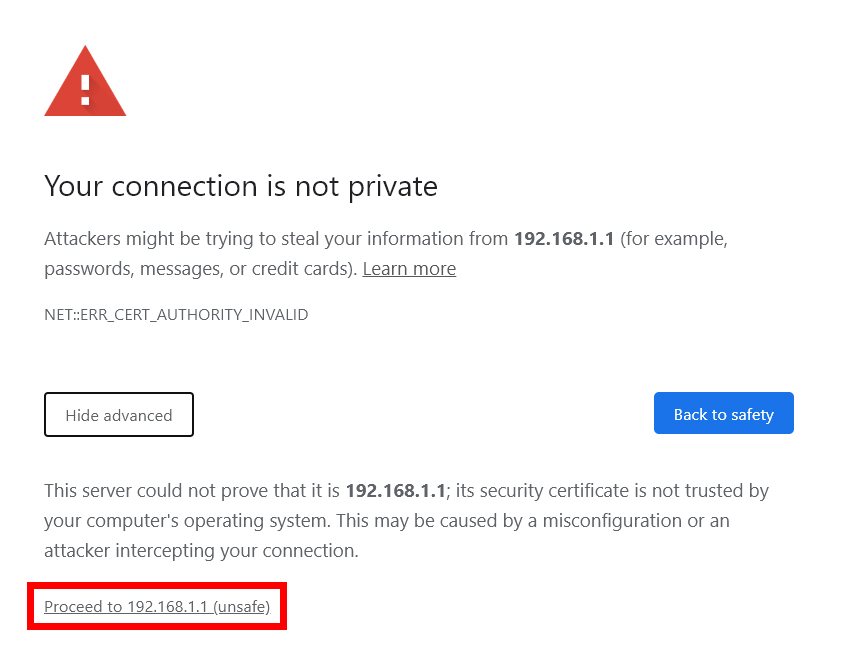 Step 3. Next, enter your router's username and password in the box. Click on "Log in".
Step 4. Click on "Port Forwarding/Port Triggering" on the left pane. Create a new port forwarding rule and click "Add", and choose "Add Custom Service".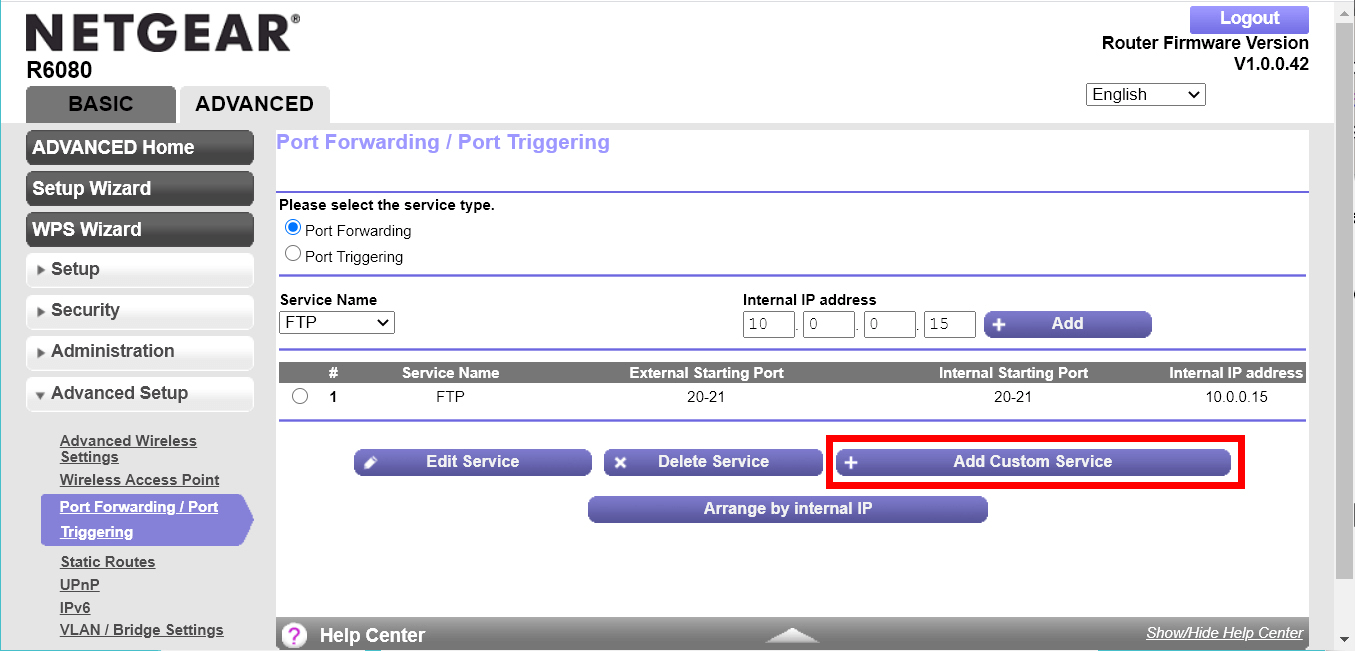 Step 5. In the Port Forwarding interface, give your device a name and enter the port number you wish to forward in the port field (if you're not sure which protocol to use, choose "TCP/UDP" or "Both" under Service Type).
Step 6. Then enter the internet IP address of the device you want to port forward, and then click "Apply" to save the changes.
Step 7. Finally, save your settings.
Remote access computer over the internet without the port forwarding
Is port forwarding safe? Absolutely! But aren't you feel too complicated to perform port forwarding for remote access over Internet? And we may meet with all kinds of issues when we port forward like users reflecting that they can't log in to the router, some RDP errors appear after changing the port number, and so on. If the purpose of port forwarding is to connect remotely without being limited on the same LAN, then why not choose a more useful and convenient remote access software-- AnyViewer.
★Tips:

AnyViewer actually allows you to realize remote control anywhere, anytime without being confined to remote access on the same LAN or finding the IP address and user name of the remote PC.
Furthermore, the easy operation of AnyViewer is fairly useful and effective. You can even get a remote connection with one click if you log the same AnyViewer account on 2 devices.
And you can control a PC with an iOS device if you try the iOS version of AnyViewer.
Step 1. Launch AnyViewer on both computers. Go to Log in, and then click Sign up.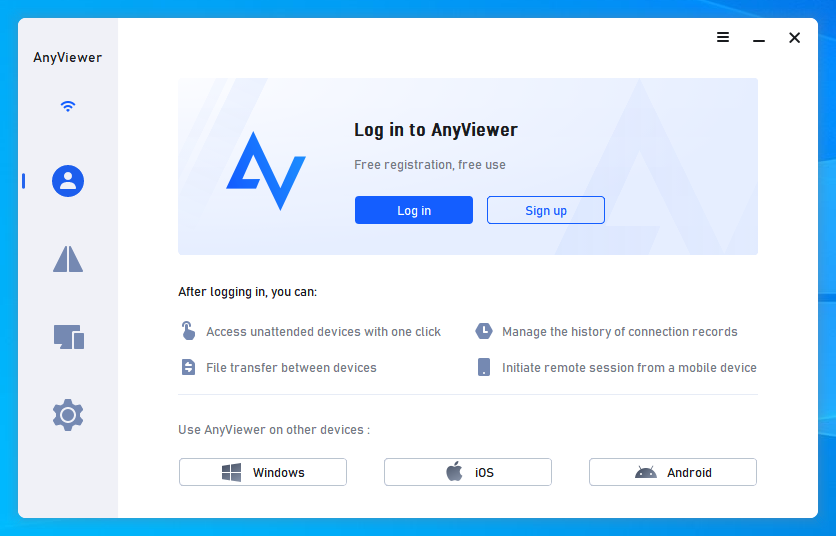 Step 2. Fill in the signup information.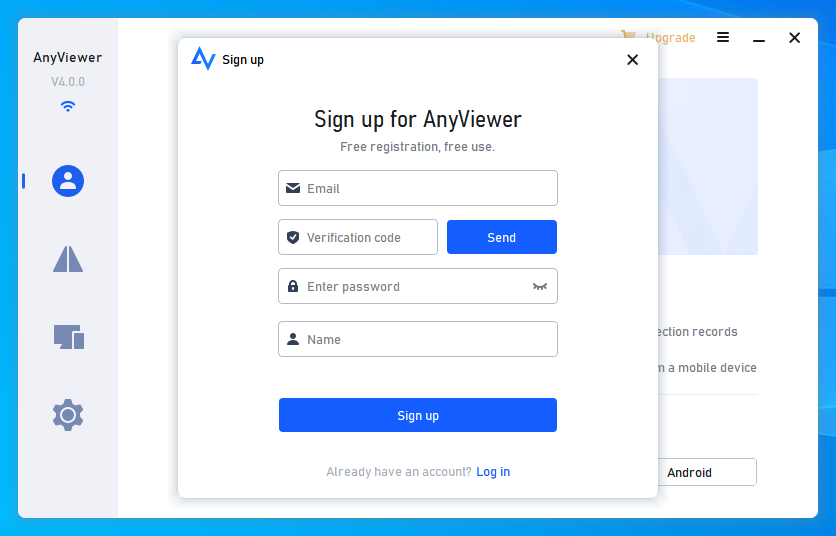 Step 3. Then you can see you successfully logged in to AnyViewer. Your device will automatically be assigned to the account you've logged in to.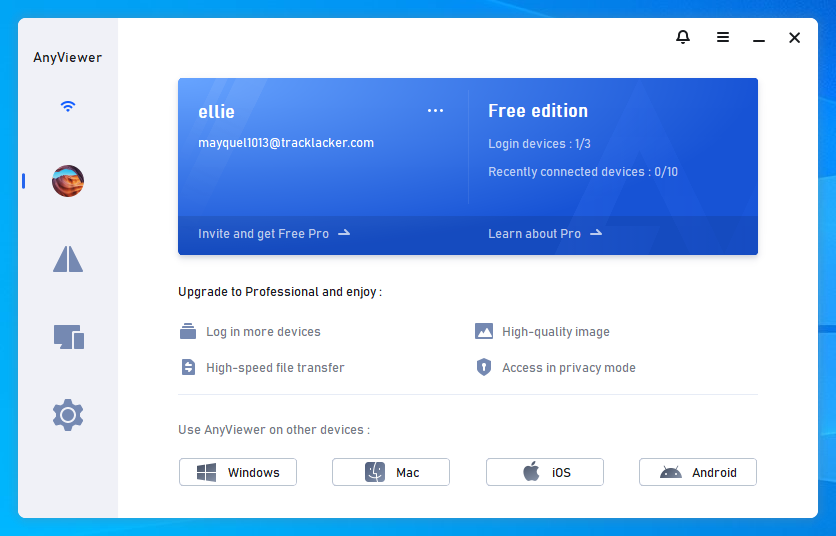 Step 4. If you have logged in to the same AnyViewer account on the two devices, then you can achieve a direct connection by clicking One-click control.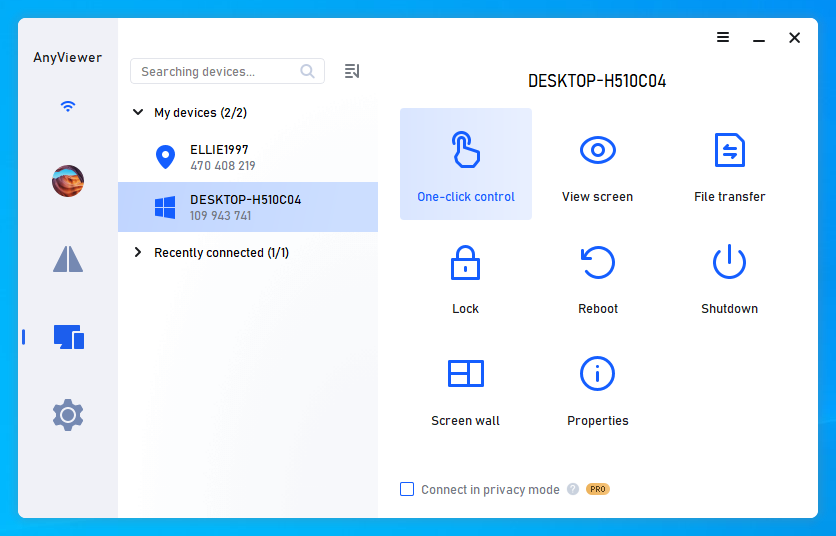 ★ Note: If you want to help your friends or family members with IT-related issues, you can give support via sending a control request.
Step 1. On your computer, go to "Connect", input the device ID of your friend's computer and click "Connect". If you don't want to sign in AnyViewer account, you can also use a remote access code to control to remote PC.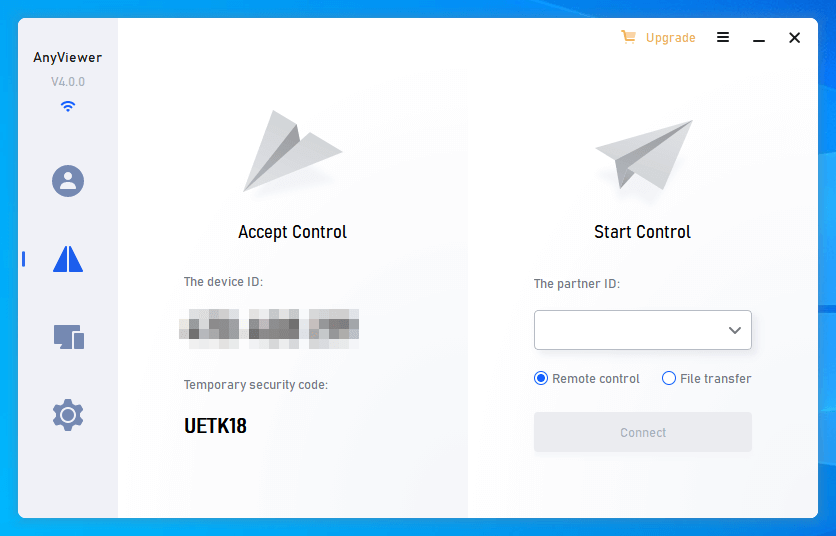 Step 2. Choose "Send a control request to your partner" and click "OK".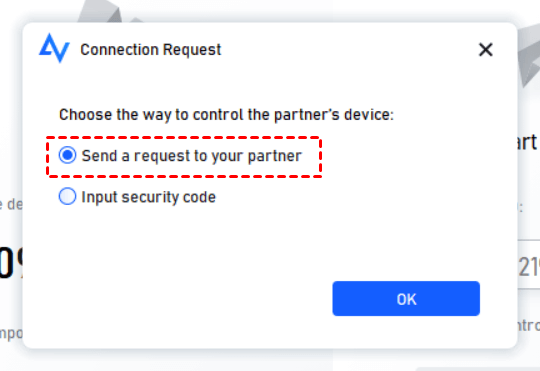 Step 3. A request message will pop up on another computer. Your friend needs to allow your request and you can control the remote computer.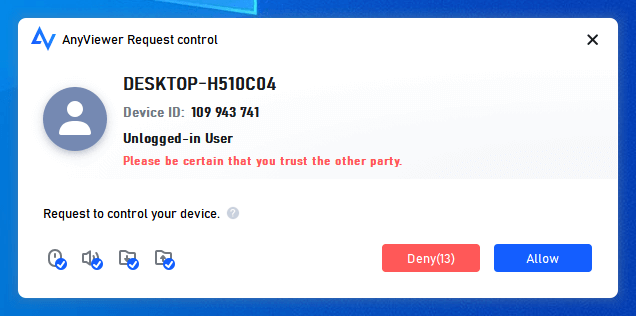 After remote into the host PC successfully, you can see the desktop of the remote computer on the client computer and help troubleshoot issues on the host computer.
Conclusion
Is port forwarding safe? From the post, we know that the answer to this question is safe. Apart from that, we also know what does port forwarding do. But after viewing the operation of AnyViewer, don't you think it's easier than RDP which needs to port forward if two PCs are without the same LAN? If you think so, try AnyViewer to let your remote access easier!