Can a computer be shut down remotely?
Hi. I recently encountered a situation where an organization required the ability to power down their computers remotely due to a critical security concern. It is possible to accomplish such a task without physically accessing each individual machine? Please tell me how to remotely shutdown a computer with IP address."
- Question from a user
How to remotely shutdown a computer with IP address Windows 10, 11 [3 ways]
It is convenient to shutdown or restart a computer remotely when your devices are connected to the same network and you need to remotely perform the tasks. Here, we will explore a stepwise tutorial on how to remotely shutdown a computer with IP address in Windows 10, 11.
Preparation work
Before operations, make sure all the computers are on the same network and they all should have one common administrative local account. Then you need to enable remote shutdown on the host computer and get the IP address.
◆1. Check the user account
Navigate to: Control Panel > User Accounts > User Accounts, then you can see your account. If it shows the Administrator or Local Administrator, then you are on the right path.
◆2. Enable remote shutdown on host computer
You need to turn on file and printer sharing, and change the Registry Key in this part.
Turn on file and printer sharing
Step 1. Launch Control Panel, change the view mode to Large icons, and click Network and Sharing Center.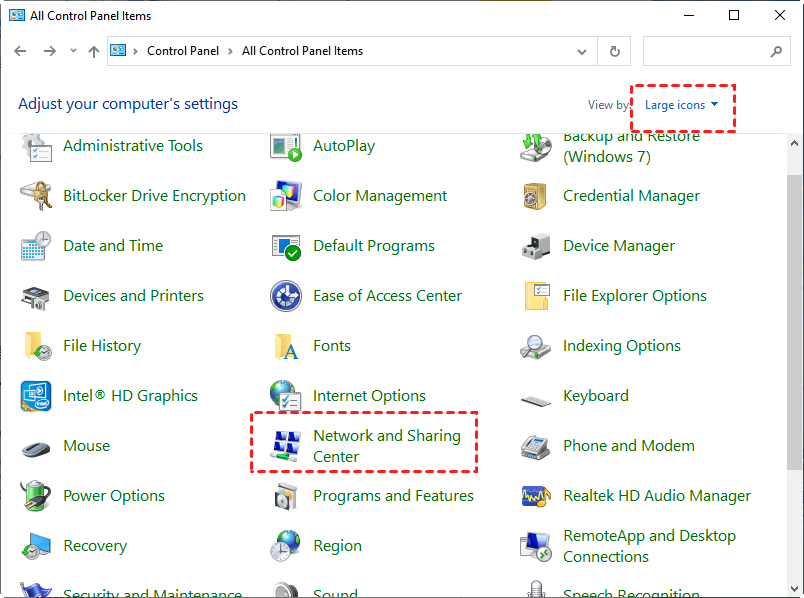 Step 2. Click Change advanced sharing settings, and then tick the following options. Click Save changes after that.
Step 3. Back to Control Panel and select Windows Defender Firewall.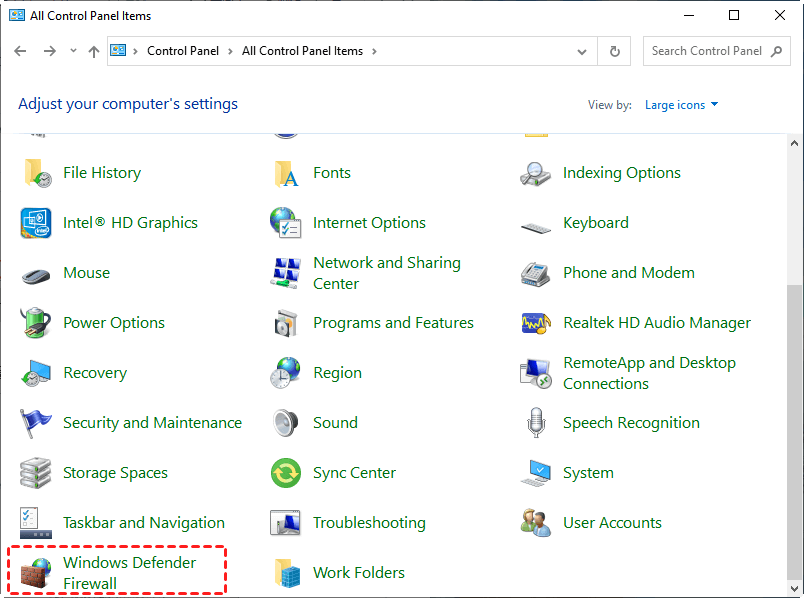 Step 4. Click Allow an app or feature through Windows Defender Firewall on the left panel.
Step 5. Click Change settings, tick File and Printer Sharing under Private.
Change Registry Key
Note: Improper modification of registry may cause computer issues such as system instability. We recommend you back up important data in advance if you are not sure about the steps.
Step 1. Press Win + R, type in "regedit"and hit OK.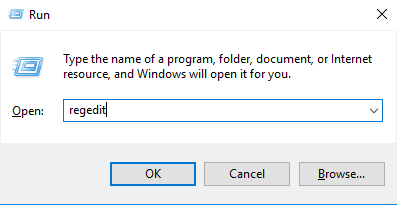 Step 2. Go to Computer > HKEY_LOCAL_MACHINE > Software > Microsoft > Windows > CurrentVersion > Policies. Right-click System, then click New > DWORD (32-bit) Value.
Step 3. Rename it as "LocalAccountTokenFilterPolicy". Then input 1in the Value data box.
◆3. Get the IP address of the host PC
On the host PC, open Command Prompt and enter "ipconfig". Note down the IPv4 address.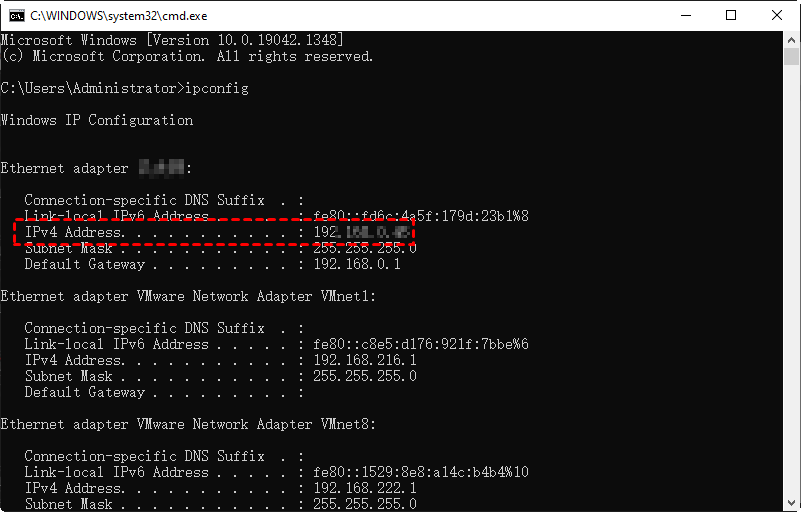 When you are well-prepared, read on to learn how to shutdown a computer remotely with IP address.
Way 1. Use CMD remote shutdown command
You can remotely shutdown the host PC easily by using CMD.
Launch Command Prompt from the Start menu and type in the following command:
shutdown -m \\[IP Address]-r -f (Replace [IP Address] with the host IP address.)
Press Enter and then you remotely shutdown the PC successfully.
Way 2. Use Remote Shutdown Dialog
Remote Shutdown Dialog allows you to remotely shutdown/restart PC easily.
Step 1. Open Command Prompt, enter "shutdown/i", and then you can see the program.
Step 2. Click Add, type in the IP address of the host PC, then click OK.
Step 3. Select Shutdown under "What do you want these computers to do". You can also change the warning time if desired. Click OK to perform the remote shutdown.
Way 3. Use Microsoft Remote Desktop
You can also remotely shutdown another computer in a Remote Desktop connection with an IP address.
Tips: RDP does not support Windows Home Standard as the server side.
Step 1. On the host PC, navigate to Settings > System > Remote Desktop, turn On Remote Desktop, and click Confirm.
Step 2. Launch Control Panel and navigate to System and Security > Windows Defender Firewall > allowed apps, then tick Remote Desktop.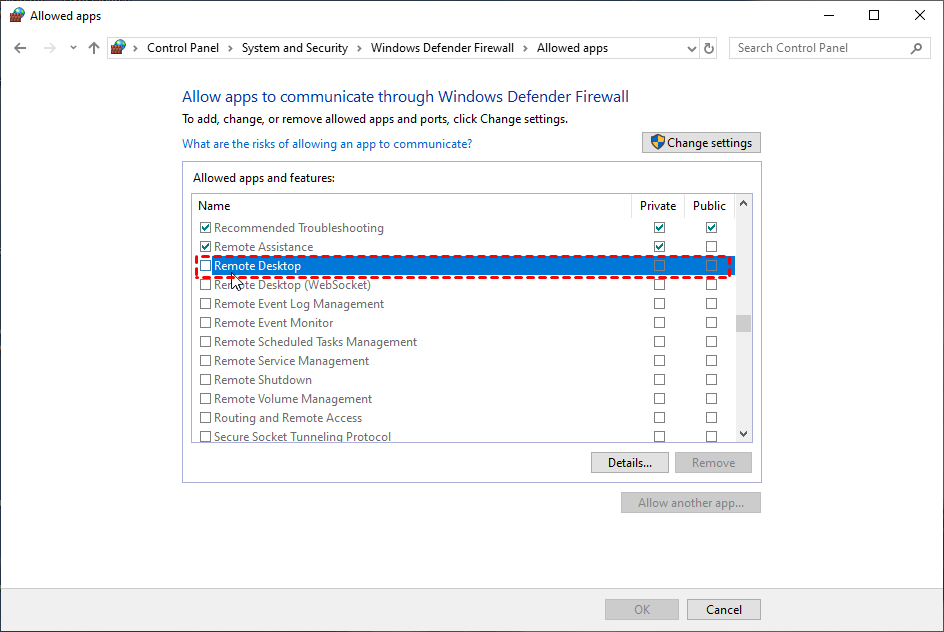 Step 3. On the client PC, open Remote Desktop Connection from Start menu.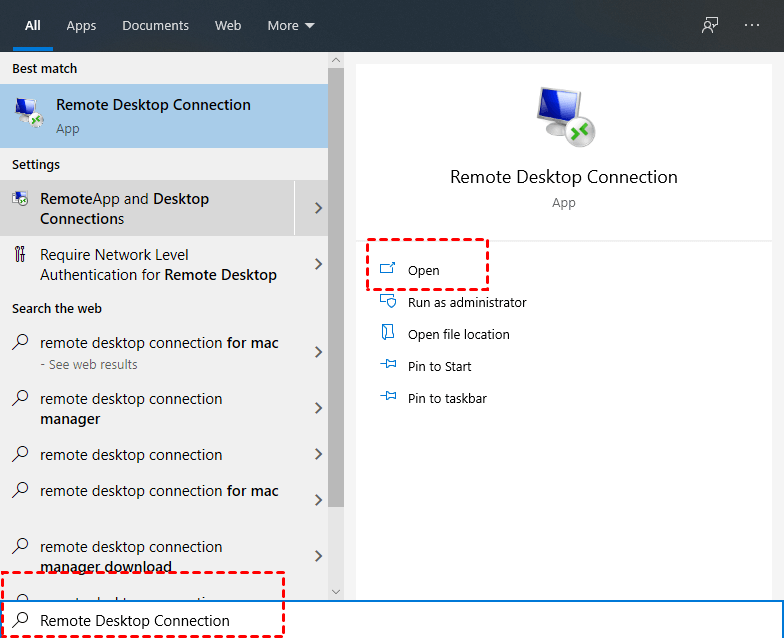 Step 4. Enter the host IP address to achieve a remote connection.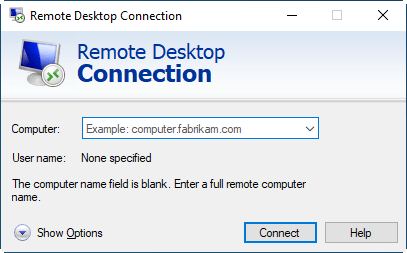 Step 5. Then you can remotely shutdown the PC by clicking Start > Shut down.
Instantly shutdown your PC with one click, no IP required! [from PC or Phone]
Tired of the hassle and complexity of learning how to remotely shutdown a computer with IP address? Look no further! Whether you're on your PC or phone, the professional remote access software AnyViewer empowers you with its innovative one-click remote shutdown feature, eliminating the need for IP addresses.
AnyViewer's user-friendly interface and intuitive design make remote shutdowns a breeze, revolutionizing how you take control. In addition to remote shutdown, AnyViewer supports several free features, including one-click unattended access, remote desktop file transfer, multiple sessions, real-time chat, and more.
Try AnyViewer today and witness firsthand the true meaning of efficiency.
Here is how you can one-click shutdown your remote PC from another PC or phone with simple steps:
Case 1. Remotely shutdown computer from your PC
Download and install AnyViewer on both your PCs.
Step 1. On the host computer, click Log in and click Sign up (log in directly if you have already signed up).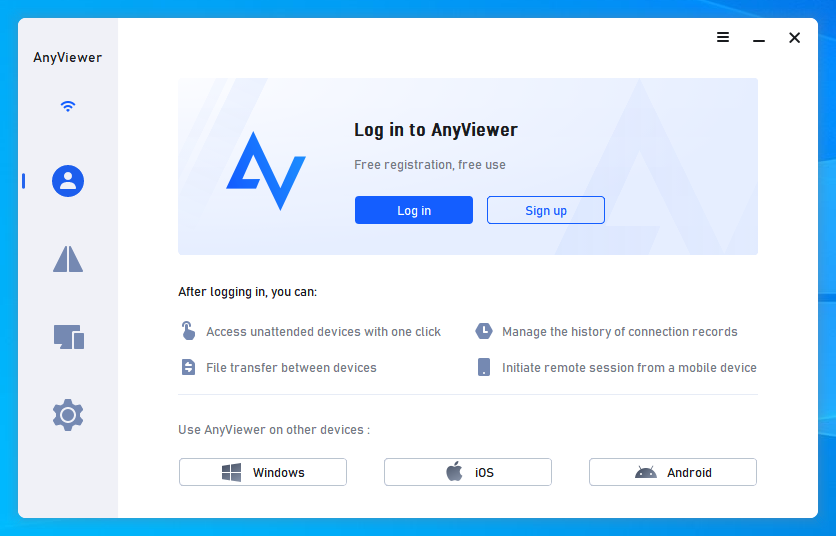 Step 2. Fill in the information to create an AnyViewer account and log into it.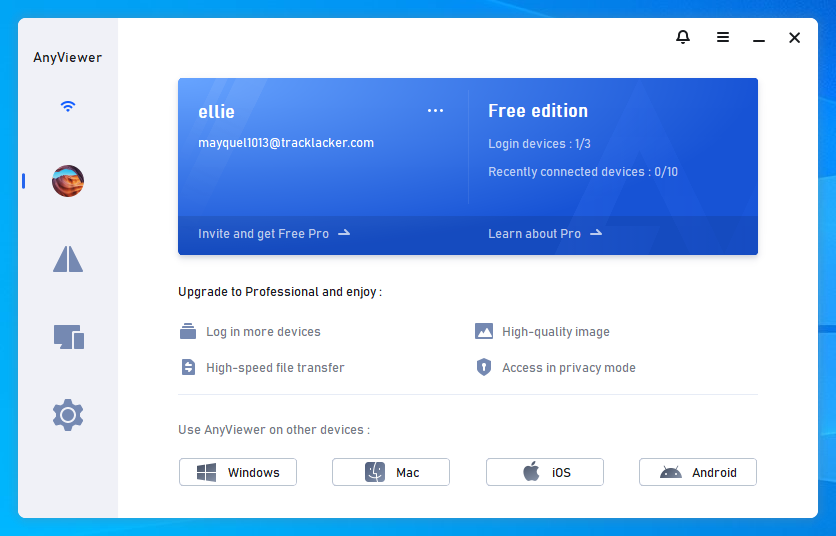 Step 3. Log in to the same account on the client PC. Go to Device to find the host computer, and click Shutdown.
You can also perform this task in a remote session by clicking One-click control > Operation > Shut down.

Notes:✎...If you possess more than two remote PCs, it's essential to be aware that AnyViewer presents a variety of flexible and economical licensing options that cater to diverse requirements. These licenses provide a range of benefits, including:

Simplified connectivity to a maximum of 100 devices with just a single click.
Effortless management and simultaneous connection to 10 devices.
Seamless transfer of large files without restrictions, supporting up to 1TB per file for smooth data exchange.
Heightened security through the privacy mode feature, which conceals the host PC screen and deactivates the keyboard and mouse, offering enhanced peace of mind.
Case 2. Remotely shutdown computer from your phone
It is also available to remotely shutdown computer from Android & iOS devices using AnyViewer. In this part, we will take iPhone as an example, you can also remote shutdown PC from Android with the similar steps below.
Step 1. Download AnyViewer for mobile on your phone.
Step 2. Sign in with the same AnyViewer account that you used on the remote PC.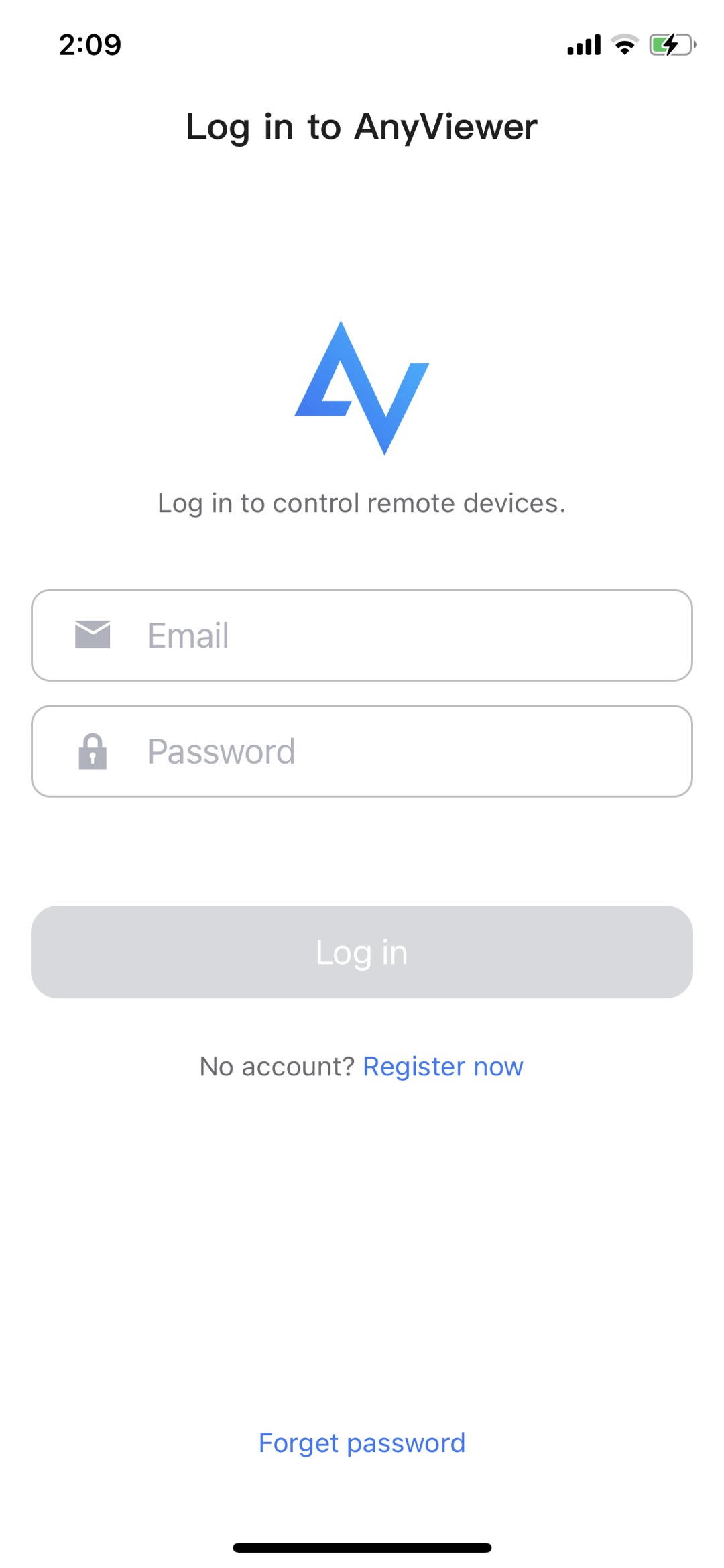 Step 3. Go to Device and tap the remote device.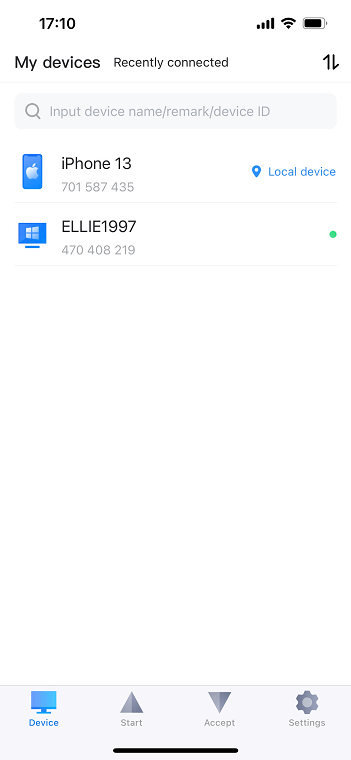 Step 4. Click Shut down to remote shutdown the computer directly.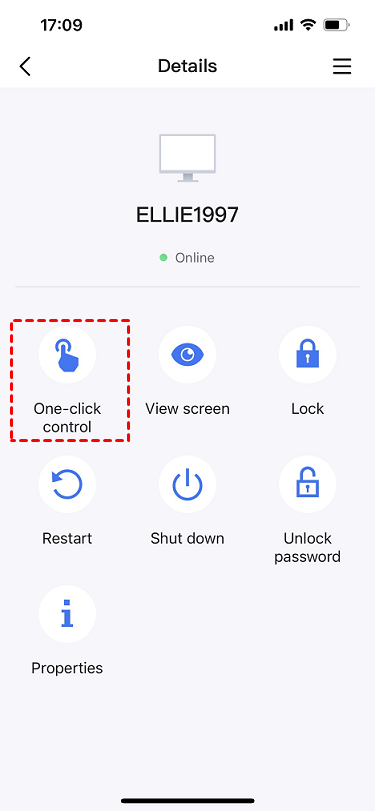 You can also perform the task in a remote session by tapping Remote control > menu icon> Power Management > Shut down.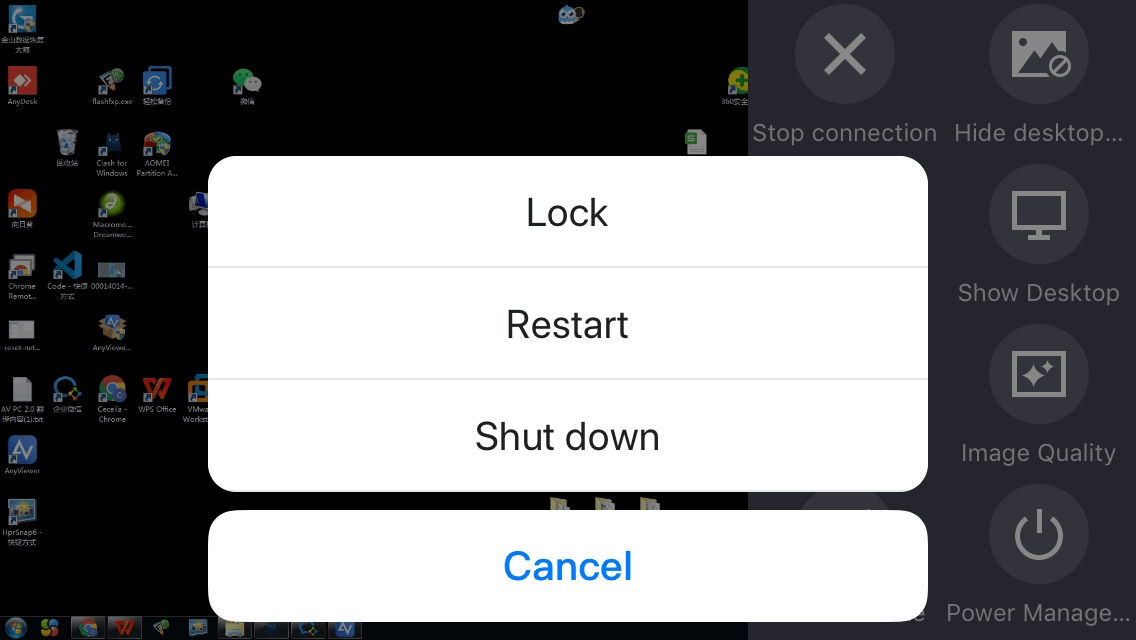 Conclusion
That's all for how to remotely shutdown a computer with IP address. You may have successfully shut down your remote PC using the methods outlined above. But why stop there? Take it a step further with AnyViewer's revolutionary one-click remote shutdown feature—no IP address required. Seamlessly power down any Windows PC from any device, simplifying your life and saving valuable time. Experience the future of remote shutdowns with AnyViewer today!