How do you restart a remote service using CMD?
I want to remotely restart service CMD but I don't know the command. Can anybody help me?"
- Question from a user
How to remotely restart service CMD
There are several ways to restart a remote computer, but not many people know how to restart service on remote computer CMD. In this section, we will offer you detailed steps to do this job. The procedures below must be followed after connecting your devices to the same network.
Part 1. Preparation work
To restart Windows service remotely CMD without establishing a remote connection like RDP, firstly you should configure the related settings properly.
Enable remote reboot
Step 1. Open Services by searching it in the search bar.
Step 2. Scroll down to Remote Registry on the left panel, then click Properties in the toolbar.
Step 3. In the Startup type option, choose Automatic from the drop-down menu. Click OK after that.
Allow remote reboot in Firewall
Open Control Panel and click System and Security > Windows Defender Firewall > Allow apps, click Change settings and tick Windows Management Instrumentation (WMI). On the right-hand side of this option, tick Private or Public according to the network your devices are connected to.
Now, remote access to the computer will no longer be blocked by the firewall.
Find the computer name
Step 1. On the remote computer, right-click This PC and select Properties.
Step 2. Then you will see the information about your computer, note down the Computer name.
Part 2. Restart service on remote computer CMD
When you configured all the preparation work above, now you can remotely restart service CMD with the following steps.
Step 1. On the client PC, press Win + R to evoke the Run dialog box. Enter "cmd" and then hit OK.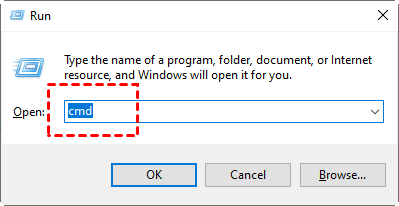 Step 2. Type the command shutdown /i and press Enter.
Step 3. Then a window will appear with the option to restart the remote computer. Click Add on the right panel.
Step 4. In the pop-up window, type the host computer's name and press OK.
Step 5. In the What do you want these computers to do box, choose Restart. Additionally, you may choose Warn users of the action and, if necessary, alter the time restriction. Click OK to apply the setting.
Bonus tip: An easier way to restart Windows service remotely without CMD
Are you confused about the method above to remotely restart computer using CMD? Is there any easier way to restart the remote computer in a different network? The answer is Sure! Here we recommend you use the professional remote access software AnyViewer to restart the remote PC with one click.
AnyViewer is high appreciated for the following advantages.
User-friendly. It is simple to set up, and if you are in the same account, you may restart the remote PC with only one click.
Secure. Your data is protected throughout the entire connection by Elliptic Curve Cryptography (ECC) encryption.
Multi-function. AnyViewer offers you comprehensive functionalities. In addition to restarting the remote PC, you can also achieve remote control, screen share, file transfer, etc. Besides, multiple remote sessions are also available in AnyViewer.
iOS supported. It also supports iOS devices, you can remotely access Windows PC from iPhone or iPad and restart it.
Install AnyViewer on your devices and follow the next steps to restart your computer remotely.
Step 1. On the client computer, click Log in on the left pane, and click Sign up (log in directly if you already have signed up).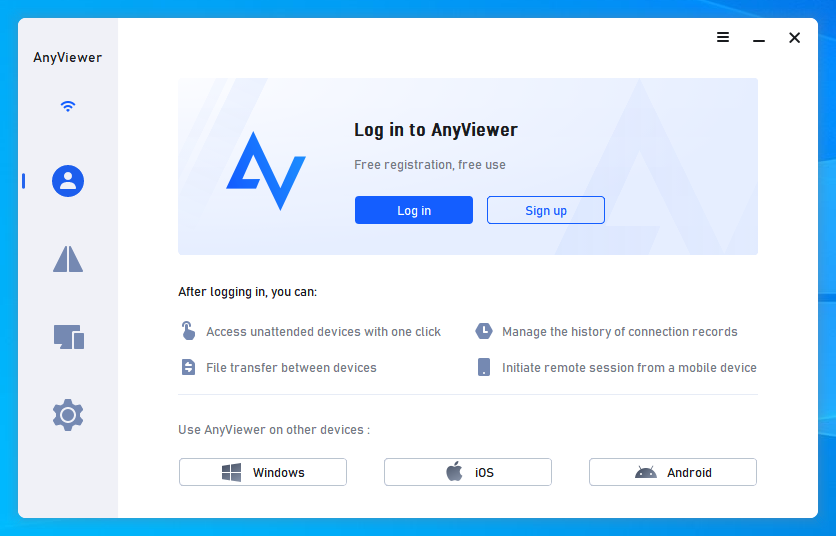 Step 2. Fill in the sign-up information.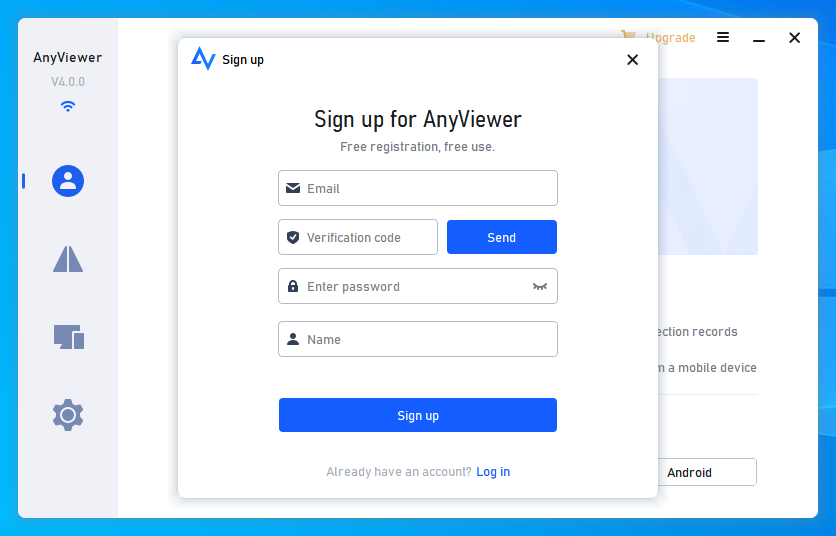 Step 3. When you successfully logged in to AnyViewer, your devices will automatically be assigned to the same account.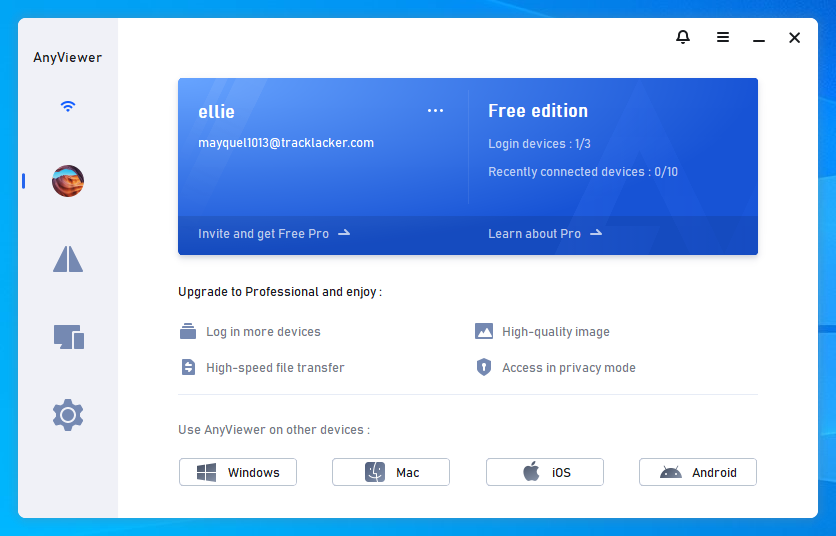 Step 4. Log in with the same AnyViewer account on the other devices. Choose the target device you want to restart, and click Other > Reboot.
If you want to first remotely manage some tasks on your computer and then restart it, you can use remote control functionality by the following steps.
Step 1. Select the target computer on Device interface and click One-click control to achieve unattended remote access.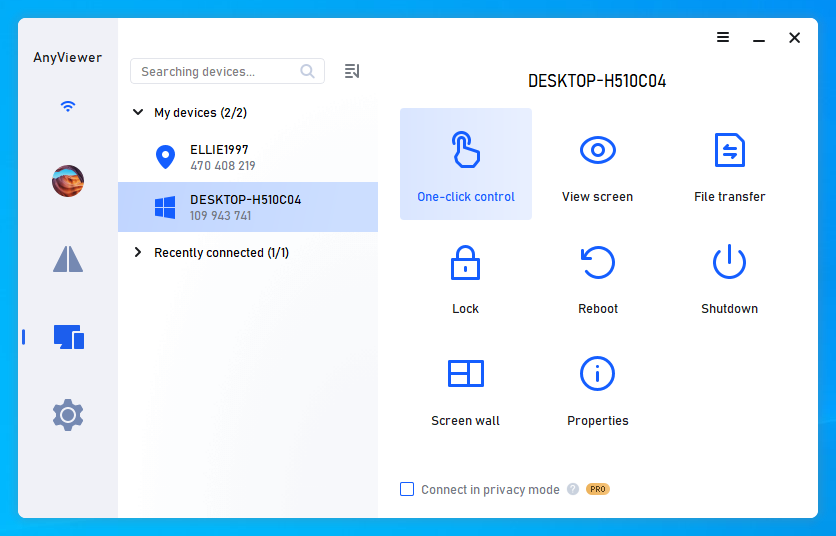 Step 2. Now you can successfully control the remote PC. When you want to restart it, locate the upper toolbar and click Operation > Restart.
Notes:✎...

You can also upgrade to a Professional or Enterprise plan then the following rights will thereafter be yours:

Assign more devices to achieve remote connections.
Enjoy more concurrent connections. Only 2 channels are allowed for free and professional use, therefore, we recommend you upgrade to the enterprise version to enjoy 10 concurrent connections.
Connect to other devices in privacy mode to protect your data and privacy during the connection.
Transfer unlimited files at once at a higher speed up to 10 MB/s.
Closing words
Now you must remotely restart service CMD successfully, but the limitation is that your devices should be connected to the same network and the process may be complicated for a green hand. Therefore, we recommend you use the remote access AnyViewer to restart the remote computer without complicated settings and the limitation of networks.