Brief introduction of remote connection software
Remotely accessing a computer from another location used to be a difficult process. But now, remote control has become easier and faster with the aid of remote connection software for Windows or any other operating system. Even if you are far away from another computer, you may quickly access files and programs on it.
Present remote connection software is of all kinds. We can simply divide it into two kinds: free and commercial remote connection software. Free software is more like an entry-level option while commercial software is more likely to provide users with professional and comprehensive services. Whether you choose free or commercial software can be greatly depending on your needs.
Two trusted remote connection software for Windows
In this part, one of the most famous remote connection software for Windows for free will be introduced, including directions for use and its pros and cons.
Windows Microsoft Remote Desktop
Microsoft Remote Desktop, as its name indicated, is developed by Microsoft. It is a remote connection software for Windows 10, which allows you to connect a Windows 10 device to Windows, Android, iOS and macOS. The most convenient thing about Microsoft Remote Desktop is that your Windows computer is equipped with this program already. You don't need to download it manually. You could check the preparation and operating process and then you can start to use it.
How to: use Microsoft Remote Desktop
Before you start our remote connection via Microsoft Remote Desktop, you need to do some preparation work. Follow the step listed below to set up your host computer
Step 1. Make sure you have Windows 10 Pro. To check, go to Control Panel > System and Security > System and look for Edition. If it's not Windows 10 Pro, you can go to Upgrade Windows 10 Home to Windows 10 Pro.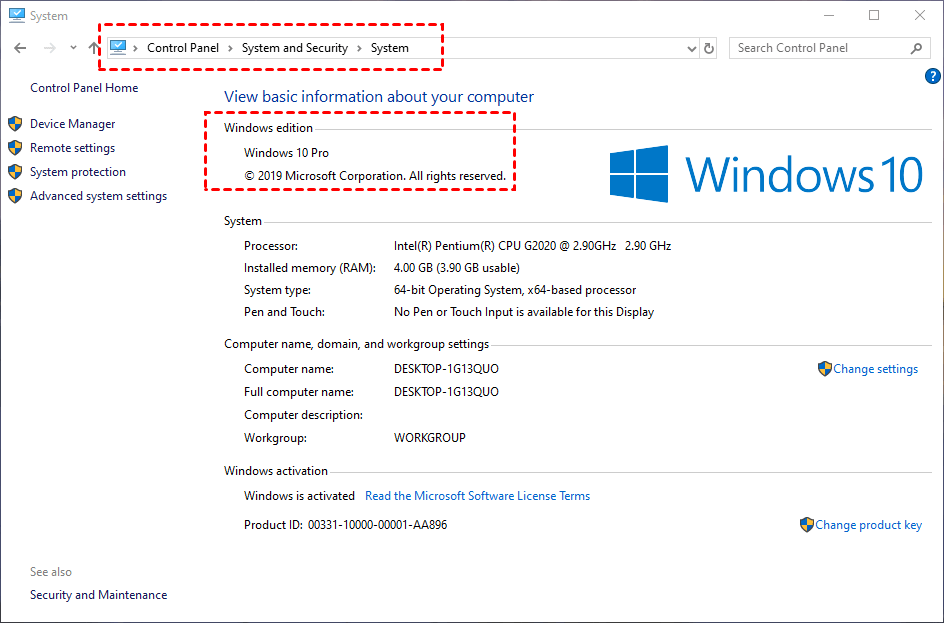 Step 2. Then select Start > Settings > System > Remote Desktop, and turn on Enable Remote Desktop.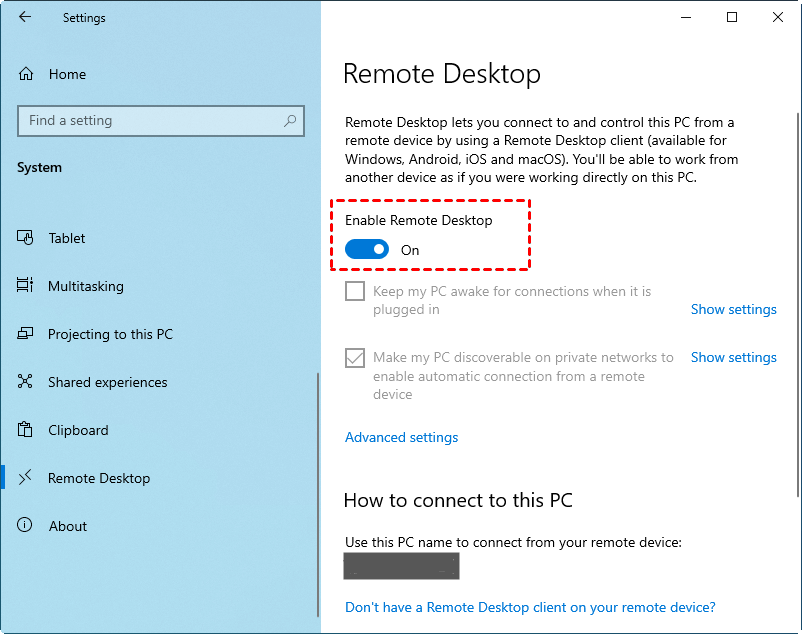 Step 3. On the same page, find How to connect to this PC and remember the PC name below.
Until now, you've finished all the preparation process before you ultimately use Microsoft Remote Desktop. Now follow the steps bellow on your client computer to start your remote control.
Step 1. Search for Remote Desktop Connection in the Search box. And then open it.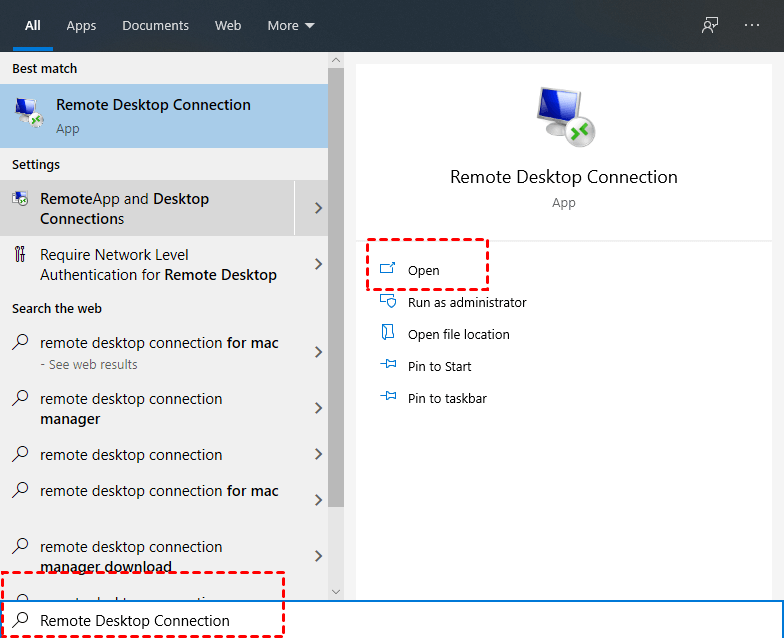 Step 2. In Remote Desktop Connection, type the name of the PC you want to connect to in the box (introduced above), and then select Connect.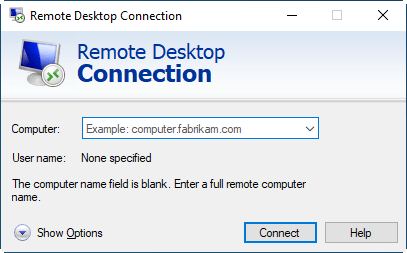 What are the pros and cons of Microsoft Remote Desktop?
Microsoft Remote Desktop has been very popular for many reasons, like:
It's completely free. Remote Desktop is a free built-in Windows service that uses the Remote Desktop Protocol.
It's simple to set up. Although Windows Remote Desktop is turned off by default in the operating system, it is quite simple to enable.
Despite the fact that Microsoft Remote Desktop is well-liked by many users, it does have certain drawbacks. Consider the following scenario:
It is only available in a few Windows editions, including Pro, Business, and Ultimate. Windows 10 Home can connect to and control other computers, but it cannot be controlled by others.
You must set up the remote network to allow incoming connection requests if you want to utilize RDP outside of your corporate network. Aside from that, you'll need to know the IP address of the server as well as the login credentials for the remote device to which you're connecting.
Off-site access from a separate network is extremely risky unless a VPN is utilized.
Professional third-party remote connection software: AnyViewer
As mentioned above, Microsoft Remote Desktop has several downsides. Thus, you may want to try another free third-party remote connection software. Here we recommend you AnyViewer. As a professional remote desktop solution, here are what AnyViewer can offer you:  
It allows you to log into your work PC remotely and establish a remote desktop connection over the internet from anywhere in the world, whether you're at home or on vacation.
It supports you to control one or multiple PCs at once from the client computer, making it's easy to offer technical support to your customers.
It supports various Windows versions, including Windows 10/8.1/8/7 and Windows Server 2019/2016/2012 R2.
It is secured by Elliptic Curve Cryptography (ECC) encryption, protected your data from leakage during a remote connection.
It provides you with flexible connection modes: security code, temporary security code, and remote control request.
It is totally free, without any extra charge.  
Now you've learned enough about AnyViewer, download and try it yourself.
Step 1. Install and run AnyViewer on the PC you want to connect to. Remember the device ID on the interface. Then select Settings > Recipient. Tick all three options. Then set a security code in the box.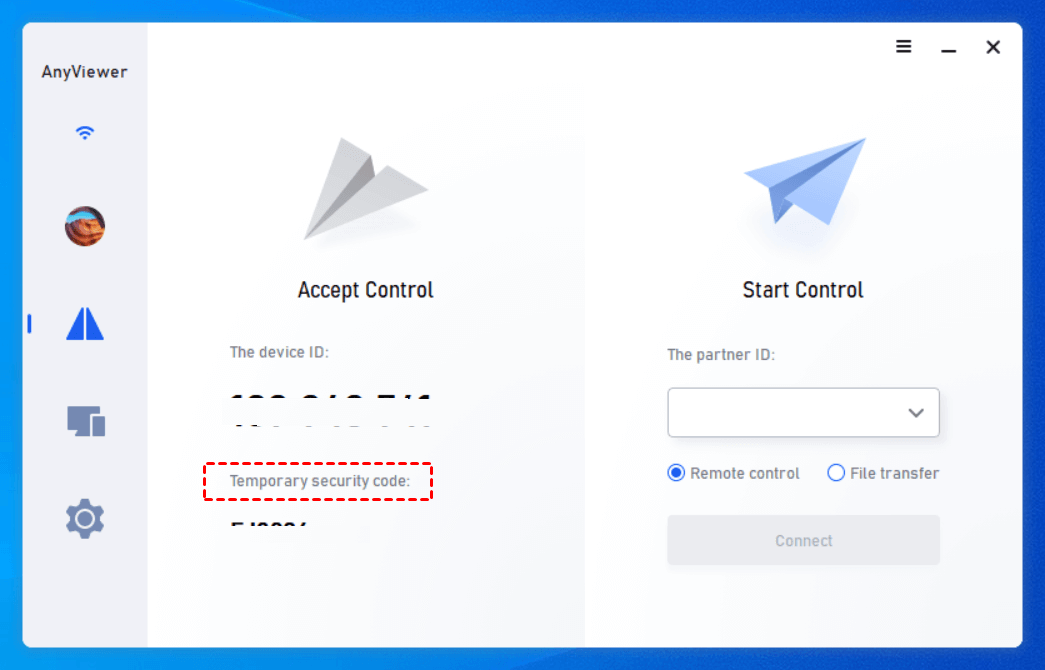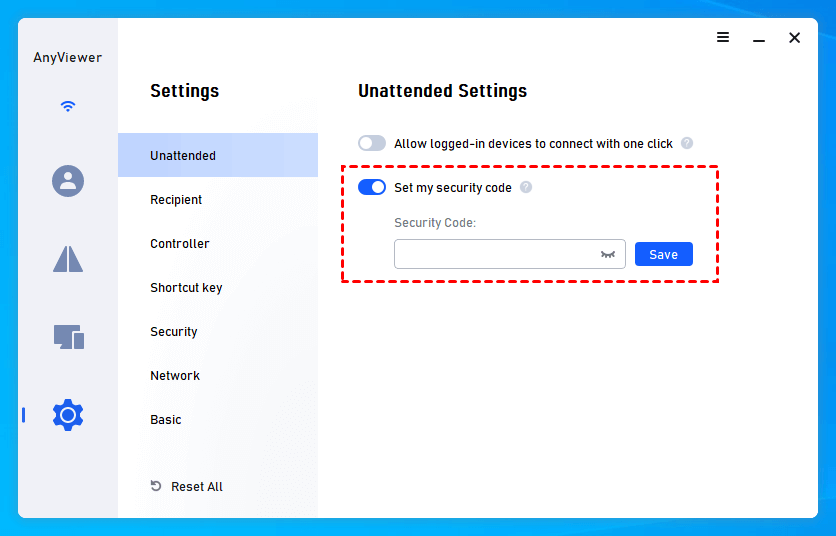 Step 2. Install and run AnyViewer on your computer. Ask for the device ID of the PC that you want to connect to and enter it in the box. Then you'll have three options to achieve remote access.
Option 1. Input a security code set above to start instant control.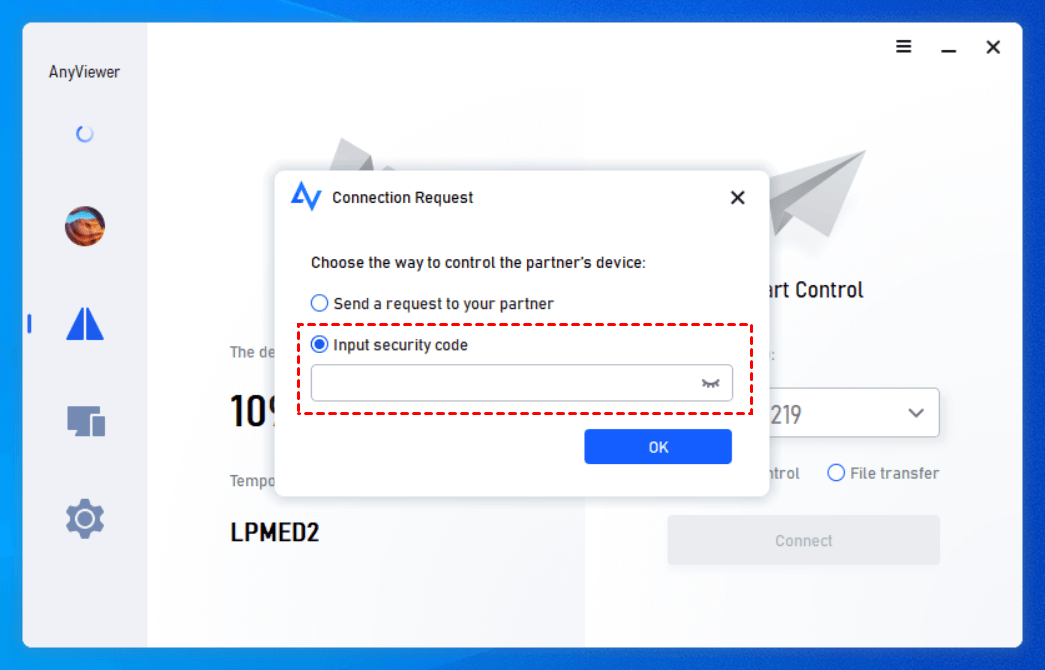 Option 2. Input the temporary security code on the interface of the PC you want to connect to. This will also allow you to start instant control.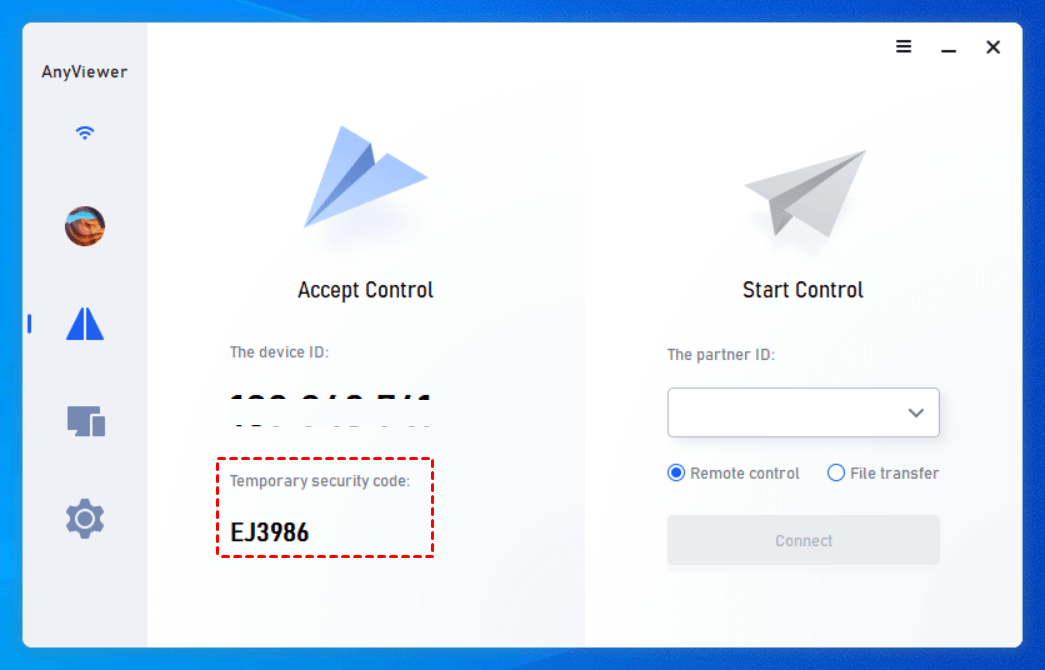 Option 3. Send a control request. Then the PC will receive a pop-up request to control it. The person sitting in front of the PC can either allow the request or deny it.