What is remote access software?
Remote access software is a technological marvel that allows users to access their computers from anywhere in the world. It bridges the physical gap between employees, clients, and business resources, enabling seamless connectivity. This technology is not only essential for remote work but also for IT support, data management, and collaboration.
What are the benefits of remote access software for business?
What are the benefits ofremote access software for business? As a tool to both provide workers with convenience and at the same time, ensure work productivity, remote access software has a large user group. It mainly has the following benefits for business.
Enhanced productivity
Remote access software empowers employees to work from the comfort of their homes or while traveling. This flexibility leads to increased productivity as it removes the limitations of traditional office spaces. Employees can work during their most productive hours, resulting in better output.
Cost savings
Running a traditional office comes with substantial expenses, including rent, utilities, and office equipment. By adopting remote access software, businesses can significantly reduce these costs. Moreover, companies can tap into a global talent pool, potentially saving on employee salaries and benefits.
Improved collaboration
Collaboration is crucial for business success, and remote access software facilitates seamless teamwork. Teams can access files, share documents, and hold virtual meetings in real-time. This fosters innovation and ensures that projects progress smoothly, regardless of geographical boundaries.
Enhanced security
Security is a top concern for businesses when it comes to remote work. Reliable remote access software offers robust security features like encryption, two-factor authentication, and access controls. These measures protect sensitive data and prevent unauthorized access.
Business continuity
Disasters and unexpected events can disrupt business operations. With remote access software in place, employees can continue working from secure locations even in challenging circumstances, ensuring business continuity.
What is the best remote access software for business?
If you're looking for the best remote access software for small businesses and big corporations, AnyViewer is highly recommended. AnyViewer offers fast and secure remote access, making it an excellent option for businesses looking for performance.
Why choose AnyViewer?
AnyViewer offers many incredible features that make it the best remote access software for business. Let's take a look.
Security measures. AnyViewer offers strong security features to protect your company's data. It employs robust end-to-end encryption to ensure that your data remains private and secure during transmission. Besides, two-factor authentication is also employed for enhanced account security.

Advanced performance. AnyViewer is characterized by low latency and an impressive frame rate of up to 60 FPS, ensuring a faster and smoother remote access experience.

Ease of use. With its intuitive interface, AnyViewer is regarded as user-friendly software that reduces training time and ensures that your employees can quickly adapt to the new tools.

Rich features. AnyViewer offers a multitude of valuable features for both remote work and remote support. These include unattended remote access, file transfer capabilities, screen sharing functionality, privacy mode, and remote sound, among others.

Group management. AnyViewer offers the convenient capability for users to input team deployment codes to add devices to various teams. This feature greatly enhances management efficiency, especially when dealing with a large number of devices.

Affordable prices. AnyViewer's free version makes it an ideal choice as the best free remote access software for small businesses. Additionally, AnyViewer provides Professional and Enterprise plan pricing options at $42.96 and $199.00 per year, respectively, which stands as a highly competitive offering when compared to other competitors in the market.
How to use AnyViewer for unattended remote access
In this part, detailed steps on how to access a remote PC via the free remote software for business, AnyViewer are given. It provides you with two connection methods: security code and remote control request. Let's see how it works.
Step 1. Download, install, and launch AnyViewer on both computers. Go to Log in, and then click Sign up. (If you already have signed up on its official website, you can log in directly.)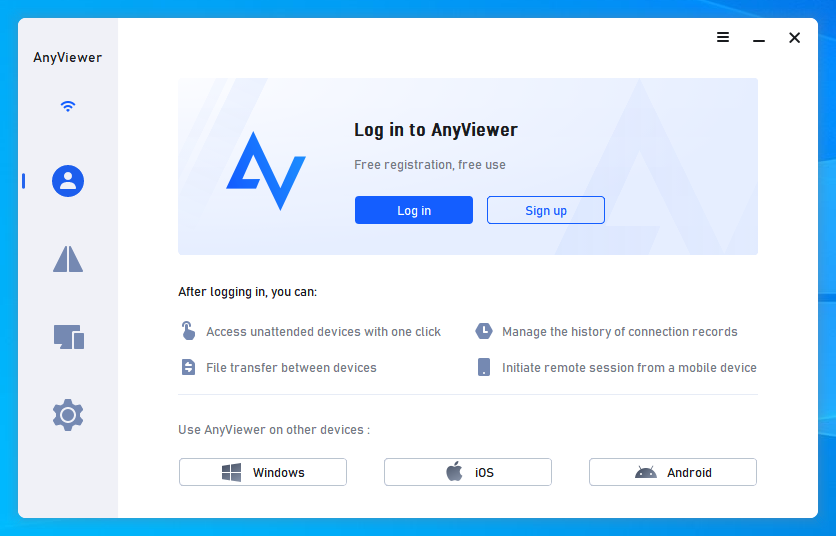 Step 2. Fill in the signup information.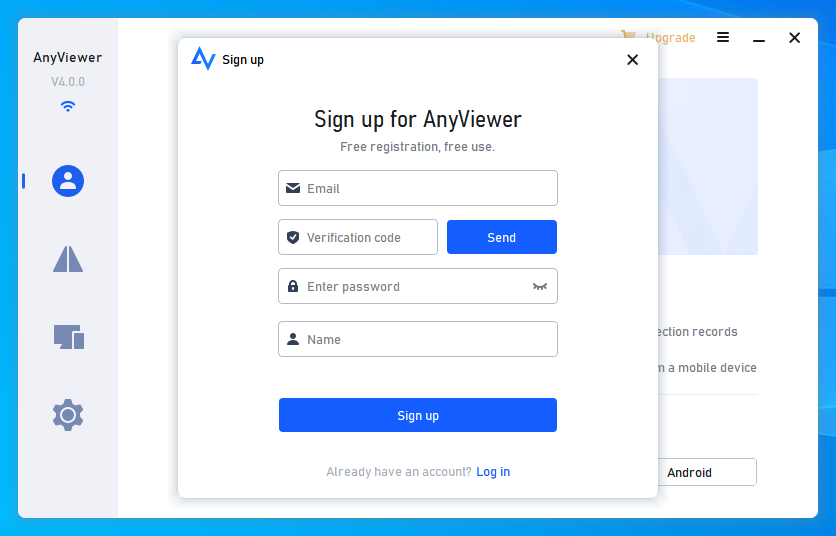 Step 3. Then you can see you successfully logged in to AnyViewer. Your device will automatically be assigned to the account you've logged in to.
Step 4. Log in to the same AnyViewer account on other devices, then you can achieve a direct connection by clicking One-click control.
Step 5. Furthermore, by logging into the AnyViewer webpage and navigating to Device Management > Device List, you can create groups and categorize devices into distinct teams or categories, thereby facilitating more efficient management practices.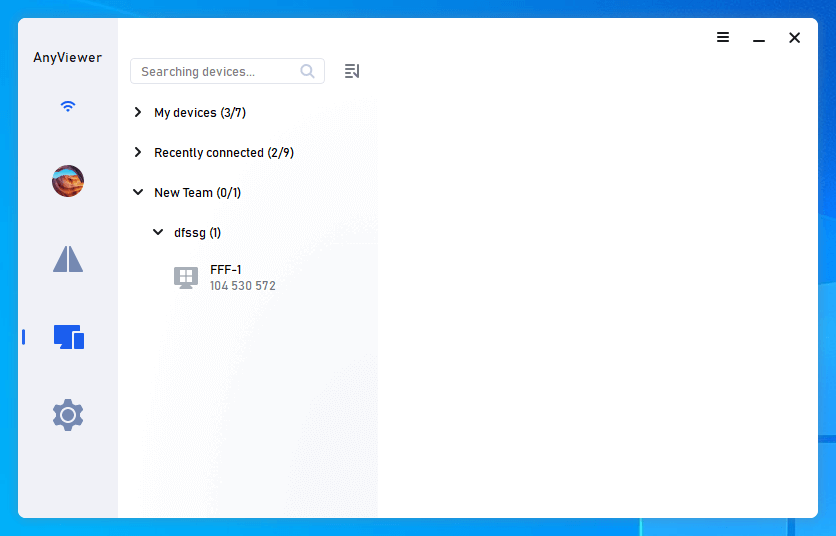 Conclusion
this post presents AnyViewer as the best remote access software for businesses, both small companies and large corporations. Whether you're a business owner or an employee, AnyViewer offers a fast, stable, and secure remote desktop solution to enhance the efficiency of your business operations.