Why access a personal computer remotely?
Actually, there are various occasions where you need to access a personal computer remotely. Here are two examples.
✔ Example 1: You want to view and manage the files saved on their work computer when they are at home. Then you can choose to access the PC on the office from home using a remote connection utility rather than go to the office.
✔ Example 2: You're asked to offer instant technical help to your friend who lives far away. Then you can remotely access your friend's PC via remote access software and then you can offer remote assistance.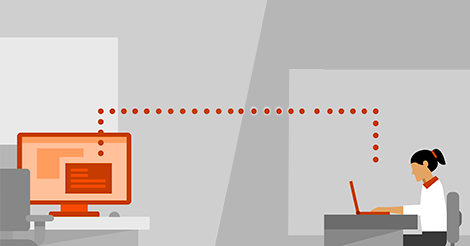 Obviously, remote access computer enables you to save your time & energy and improve your efficiency. To complete the operation, you have to ask for the help of remote desktop software.
Three best free remote access software for personal use
Next, I'll introduce the three best remote desktop software for personal use and all of them are free and reliable. You can pick up one after reading the pros & cons of them and how they work.
☞ AnyViewer --- Easy to set up and has three connection modes
AnyViewer is the first free remote desktop software that I want to recommend. It can be the best program to remote access Windows computers for personal use. Let's see what makes it outstanding.
▶ Perfectly work under Windows environments: Whether you are using Windows Home edition or Professional edition, you can use it.
▶ Use a strong algorithm to encrypt: It employs the Elliptic Curve Cryptography algorithm (It is stronger than AES in the same length) for end-to-end encryption to protect your remote session.
▶ Multiple remote connection modes: You can achieve 1 click unattended remote access with the same account or security code for remote work, and attend remote access by sending a control request for one-time remote assistance.
▶ Helpful features: Apart from remote access, AnyViewer enables you to transfer files between remote computers, offers shortcuts to essential apps, and allows chat in session.
Of course, it has its drawback: it doesn't support to accessing Linux and Mac now.
Free download the app and see how to use the tool to access an unattended computer for remote work.
Option 1. Log into the same account
Step 1. Install and run it on both computers. On one of the two computers, click Sign up on Log in tab to create an AnyViewer account. And then log into the same account on the other comptuer.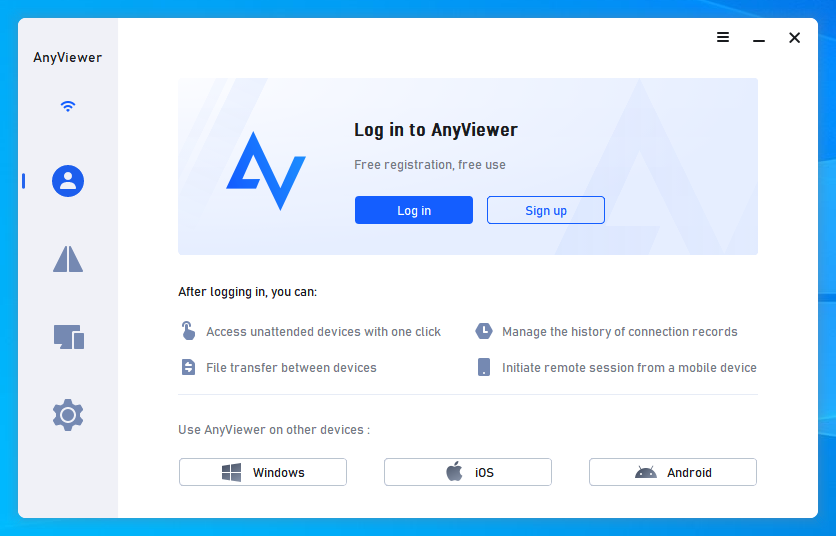 Note: Once a device is logged into an account, it will be assigned to the account automatically and the device will show on My devices list for unattended remote access, view screen, and so on. Free account allows assign 3 devices, to assign more devices, you can upgrade to Professional or Enterprise plan.
Step 2. On the personal computer that you want to start a remote session, go to Device, locate the remote PC on My devices list, click it and choose One-click control.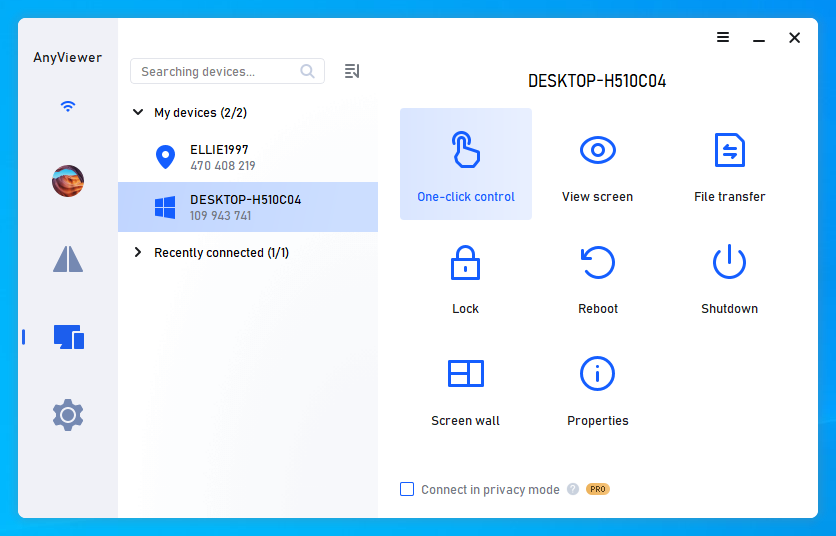 There are other options for you to choose from:
View screen: Only view the screen of the remote computer.
File Transfer: Launch the file transfer window to transfer files from one computer to another.
Lock: Lock the remote computer within 1 click.
Properties: Check the properties like the Device Name of the remote computer.
Other: Reboot or shut down the remote computer.
Immediately, you can see the desktop of the remote computer and do whatever you want to do.

Option 2. Without logging into the same account
Step 1. Install and run AnyViewer. On the PC that you need to start remote control, sign up for an AnyViewer account and log into it.
Step 2. Go to Connect and input the partner ID of the remote PC, choose Remote control and click Connect.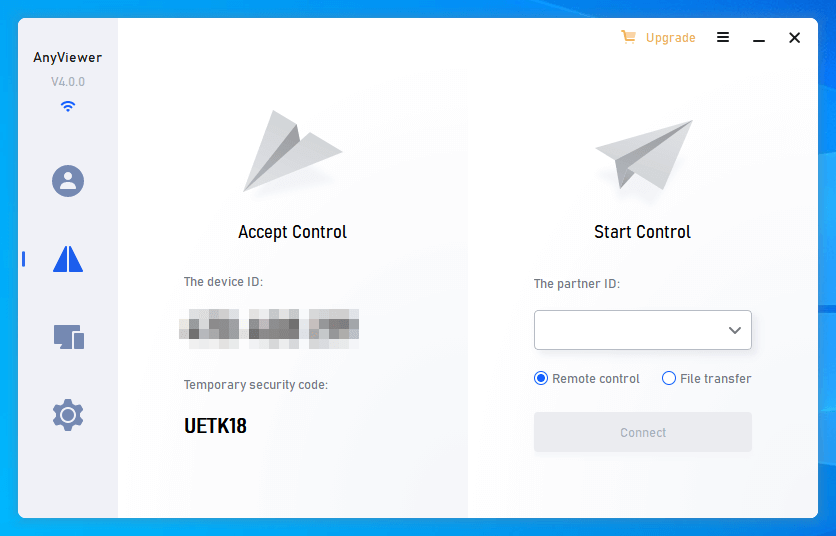 Then, choose Send a control request to your partner if there is someone on the other end to accept the request, or choose Input security code if you have a security code.
Note: To access a personal computer from iPhone or iPad, you can go to Apple Store to download AnyViewer.
☞ 2. Chrome Remote Desktop ---- web client available
If you are a Mac or Chromebook user, AnyViewer isn't suitable. You can try Chrome Remote Desktop (unofficially called Chromoting). See why it can be one of the best remote access software for personal use.
▶ Cross platforms: It is free of charge and can exist as an extension of Chrome browser. That is to say, if the device support Google Chrome, you can use Chrome Remote Desktop. It allows you to access PC or mobile devices effortlessly.
▶ Unattended access: It enables you to access another computer via PIN , thus you can access your unattended office computer easily.
What you need to pay attention to is that Chrome Remote Desktop doesn't offer advanced features, like rebooting the remote host computer, text chat, and so on. And sometimes you may find Chrome Remote Desktop not working.
Here are the detailed steps on how to use Chrome Remote Desktop for remote computer access.
Step 1. On the two computers, go to Chrome Remote Desktop download page and click the blue icon to download the extension.
Step 2. Click Add to Chrome to follow the prompts to complete Chrome Remote Desktop installation.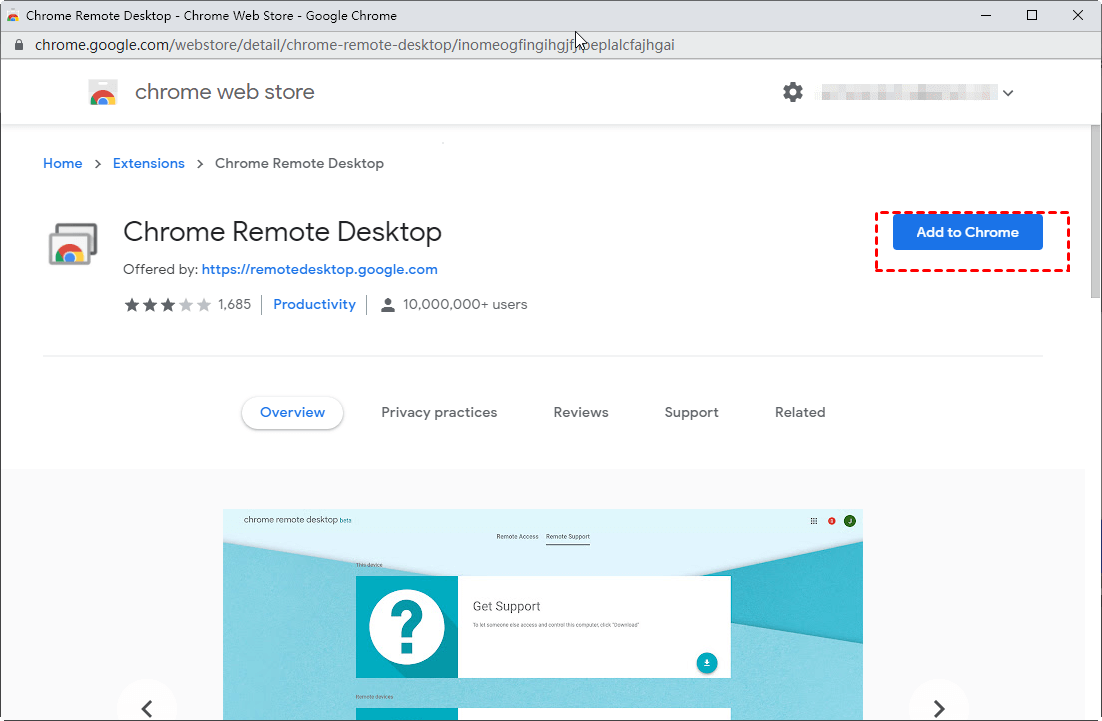 Step 3. On the host PC, enter a name and click Next.

Step 5. Double-Enter a PIN for this computer. Keep it in mind as you need it for access to this computer.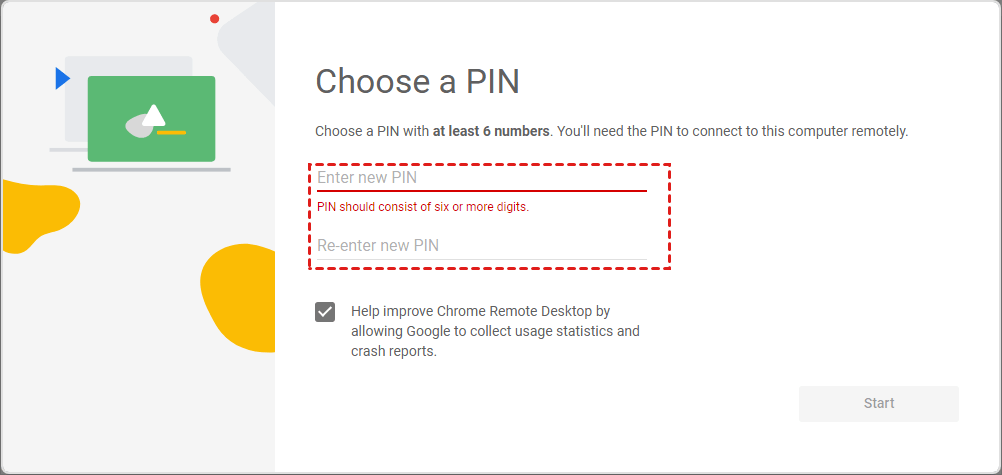 Step 6. On your local personal computer, you can see the remote computer under Remote devices. Click it and Enter the PIN of it to access it from a far place.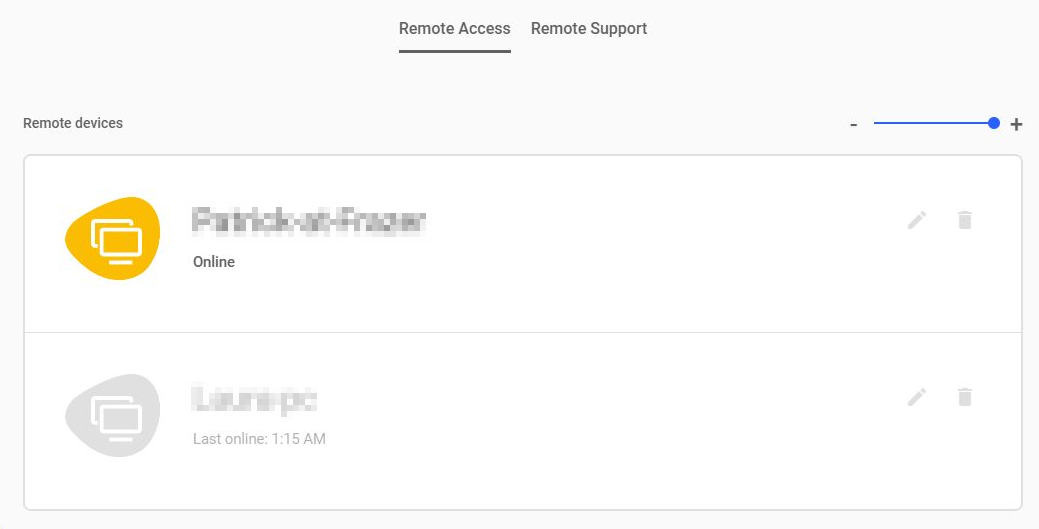 3. Windows Remote Desktop - without downloading the third-party tool
If Chrome Remote Desktop is not your preference and you need to program to access a computer on the same network, Windows Remote Desktop is recommended. It allows remote access to a computer with a Remote Desktop client app. See its highlights.
▶ Without downloading extra tools: Windows computer comes with Remote Desktop and you don't need to download and install a third-party remote access software.
▶ Copy and Paste supported: You can copy files from the remote computer to your local PC/ from the local to the remote computer over a Remote Desktop session.
However, it's unavailable to use a Remote Desktop client app to access Windows Home computer as your Windows Home edition doesn't support Remote Desktop.
Step 1. Enable RDP on the host computer (Windows 11/10/8.1/8/7). Press Windows + R, input sysdm.cpl, click Remote, and click Allow remote connections to this computer. Then, click OK.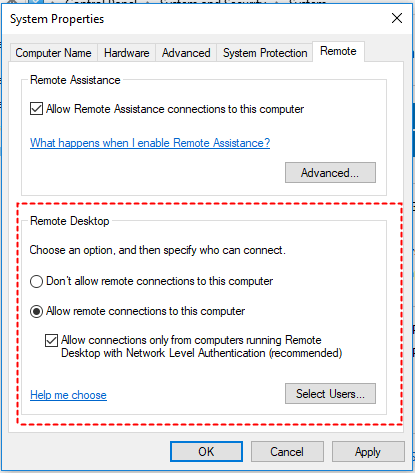 Step 2. On the client computer, press Windows + R, input mstsc.exe to open Remote Desktop Connection.
Step 3. On the pop-up window, type the IP address of the host computer and click Connect.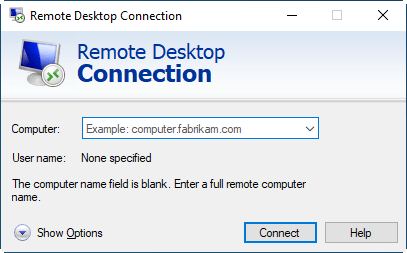 Step 4. Input the user name and the password of the host computer account. Then click the OK button. And you can remotely access the PC.
Conclusion
All in all, the three aforementioned utilities are easy and secure remote access software for personal use. If what you care about is powerful and comprehensive functions and easy setup even if the devices are not using the same network, AnyViewer is suitable for you. If your PC is installed with Google Chrome, Chrome Remote Desktop is worth trying. When you want to access Windows PC without a third-party tool, Microsoft Remote Desktop isn't a bad choice.