How can I access another computer using IP address?
I know the IP address of a computer. But I have no idea how can I access that PC by using an IP address when the computer is connected to the internet. Can anyone please tell me?"
- Question from Tom'sHardware
The Remote Desktop is a great invention in the world that allows us to remotely access or control a PC over the Internet. And the prerequisite to achieving the connection is to know the IP address, computer name, and password of the host PC.
How can I remotely access another computer through IP address?
Here in this part, we'll talk about how to access another computer through IP address in light of whether 2 devices are on the same network. But before the operation, setting up Remote Desktop on the host computer is necessary.
Part 1. Checking the permission of remote connections
Step 1. On the host computer, press Win + R, input "sysdm.cpl" and press Enter.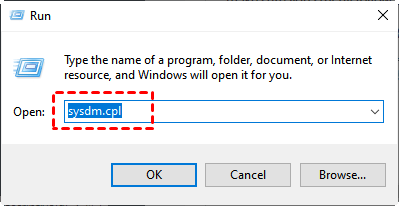 Step 2. Go to the Remote tab, and ensure that "Allow remote connections to this computer" is checked. And then click OK.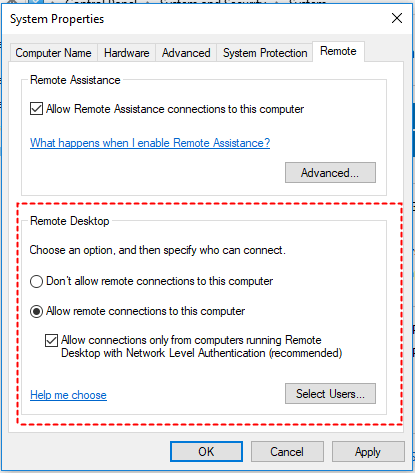 Part 2. Changing the Windows Firewall settings
Step 1. On the host computer, select: Control Panel > System and Security > Windows Defender Firewall.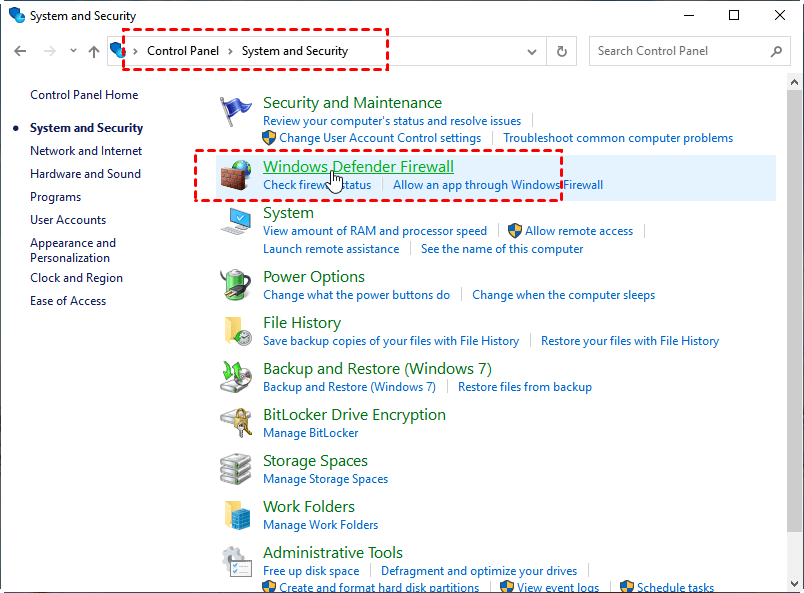 Step 2. Click Allow an app or feature through Windows Defender Firewall on the left navigation.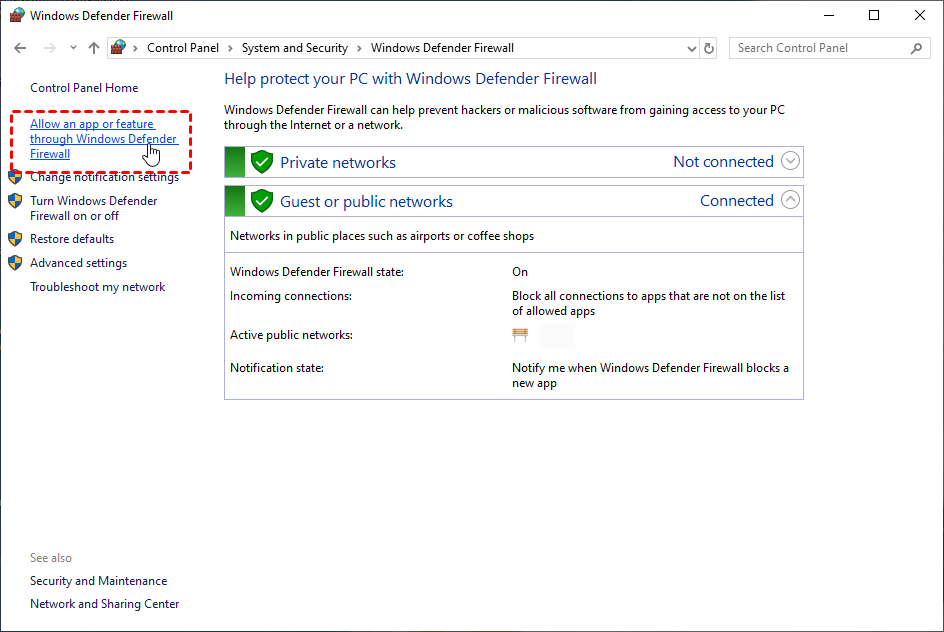 Step 3. Check Remote Desktop and hit OK.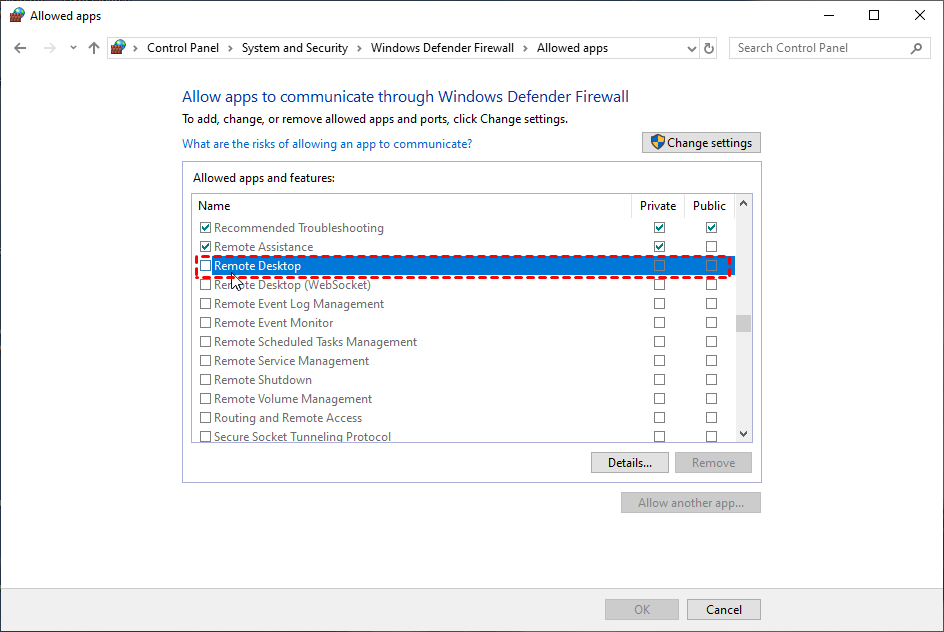 Part 3. Assigning a static IP address
The IP address in the local network is another thing we require. Later, we can configure the client computer using the IPv4 address. However, the router has set this IP, not the public IP address. In most local networks, it varies each time a PC connects to the network. Therefore, Remote Desktop Connection will only sometimes work. Consequently, we're going to give this PC a Static IP Address.
Step 1. To launch Command Prompt, press Win + R again, type "cmd," and press Enter. To get the IP for Remote Desktop, type "ipconfig" and hit Enter. You can now see a collection of IP addresses.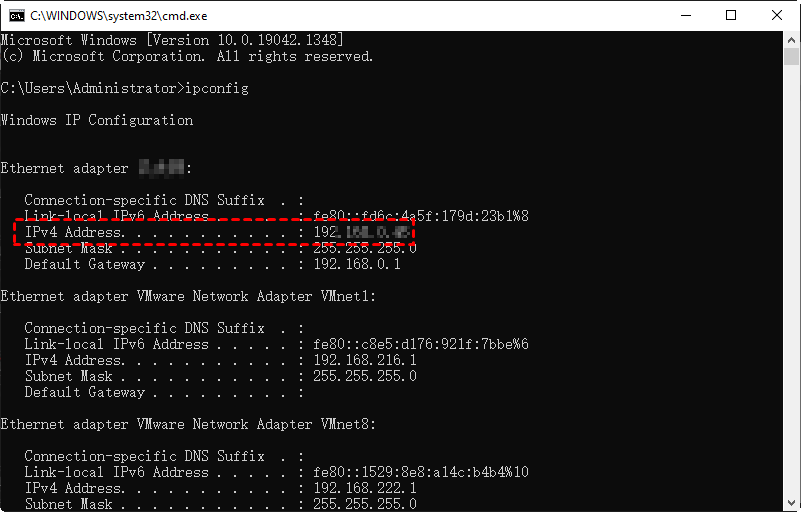 Step 2. Click Start and then click Settings. Find Network & Internet and then click it.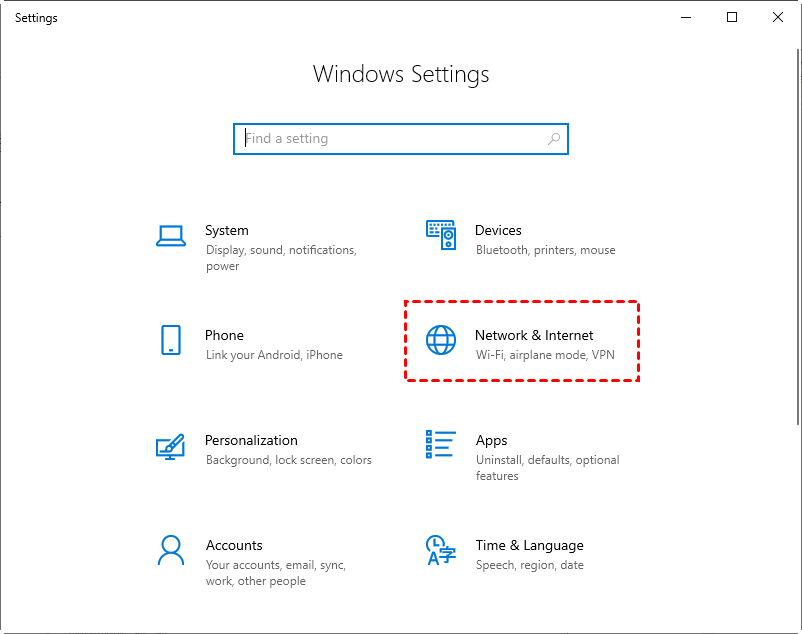 Step 3. On the Network & Internet interface, find Advanced network settings, and click Change adapter options below.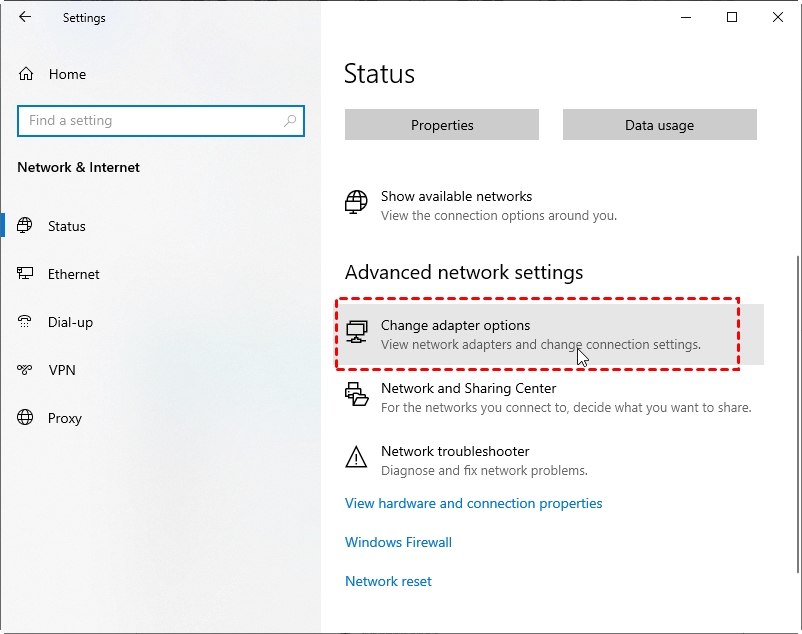 Step 4. Right-click your network and then click Properties.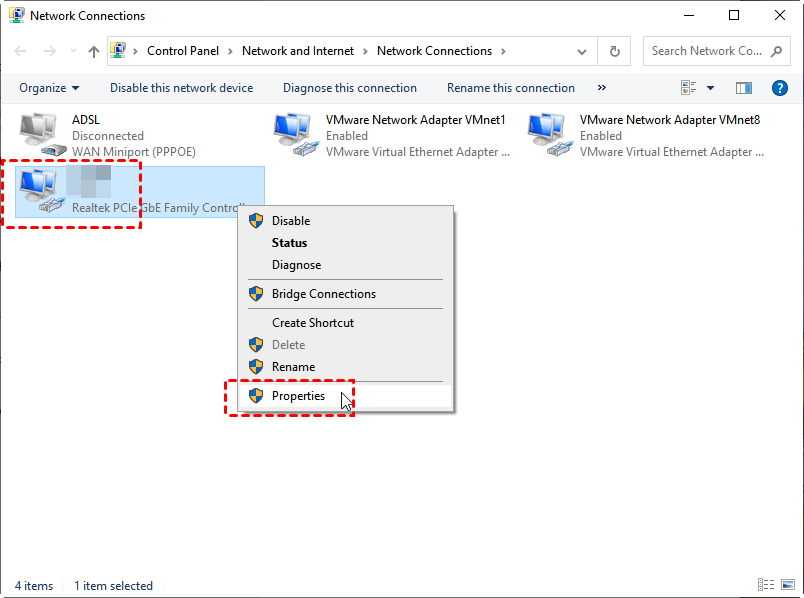 Step 5. Tick Internet Protocol Version 4 (TCP/IPv4), and click Properties.
Step 6. Turn on Use the following IP address in the General tab, and change the IP address to a Static IP address. For example, if your router IP is 192.168.0.1, your usable IP is from 192.168.0.2 to 192.168.0.254. You can use 192.168.0.45 as your Static IP.
Set the Subnet mask to the default values, 225.225.225.0.
Set the Default gateway to the Default Gateway address noted down above.
Then turn on Use the following DNS server addresses, set the Preferred DNS server to the same Default Gateway address, and set the Alternate DNS server to Google DNS, 8.8.8.8.
Click OK to apply changes.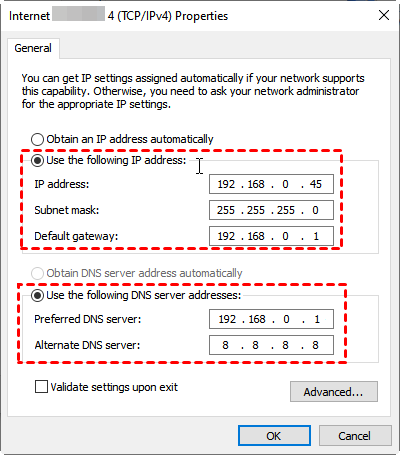 Part 4. Getting the remote PC name
Open the Command Prompt again, and type in "query user" to get the PC name.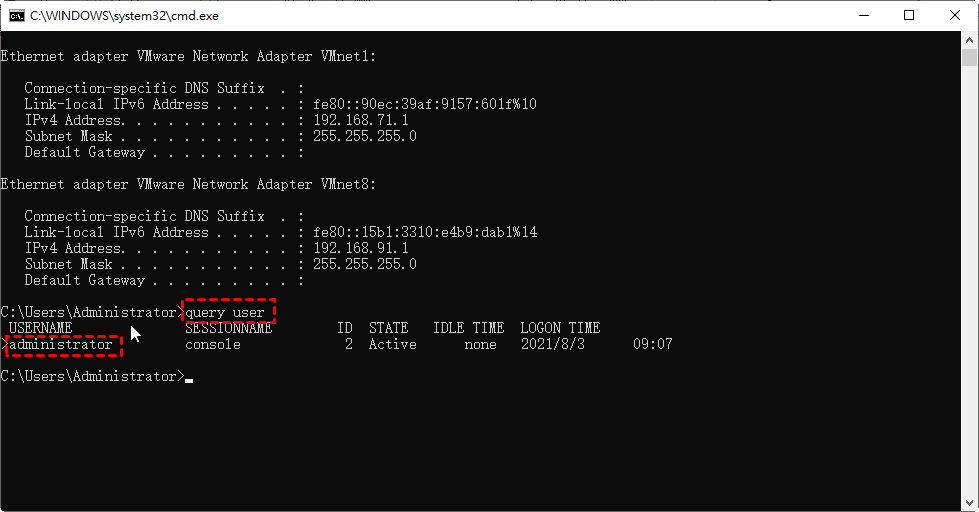 Part 5. Gaining access to the remote desktop
Now everything is ready. You can start to access the remote computer. Let's see how to access computer with IP address on the local network and over the internet.
Connection over local network:
Step 1. On the client computer, press Win + R, and type "mstsc" in the Run Dialog box to open the Remote Desktop Connection.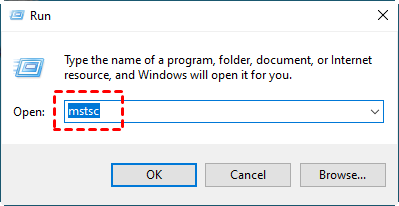 Step 2. Click Show Options, type in the IP address and name of the host computer and then click Connect.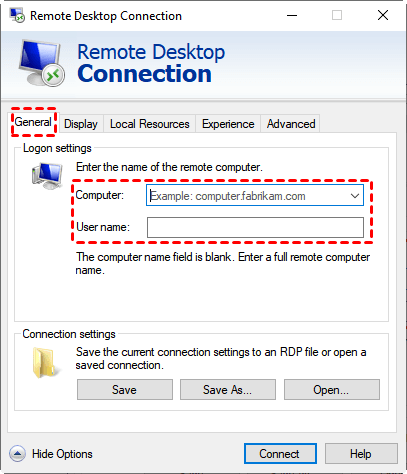 Step 3. Input the password of the client computer in the pop-up window, and press OK.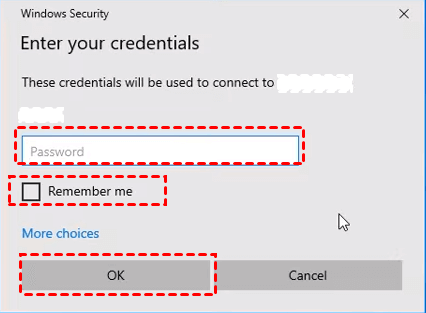 Connection over the internet:
Connecting Remote Desktop over the internet requires an additional step, port forwarding. You'll have to switch port 3389 to the IP address of your computer in your router, and then connect to the public address of your router specifying this port.
Step 1. Enter "what is my ip" into the search bar of the browser, then write down your public IP address (not to share it with anyone else in case of security issues).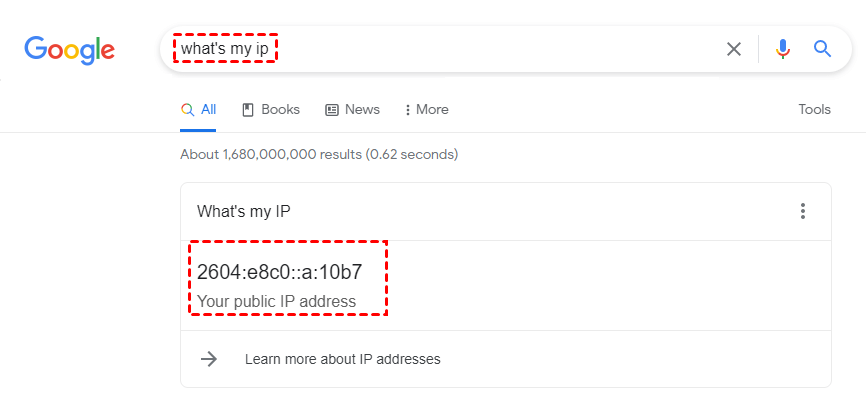 Step 2. Enter the IP address of your router in a web browser once it is open. Then a privacy warning will appear. To proceed, select Advanced > Continue.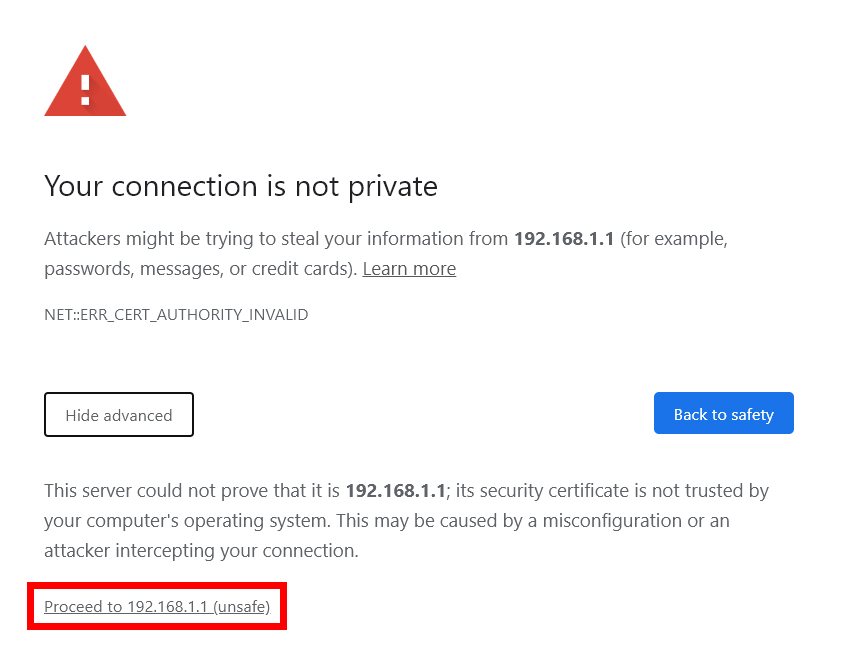 Step 3. Enter the username and password for your router in the box, then click Login.
Step 4. From the left pane, select Port Forwarding/Port Triggering. To add a new port forwarding rule, click Add and select Add Custom Service.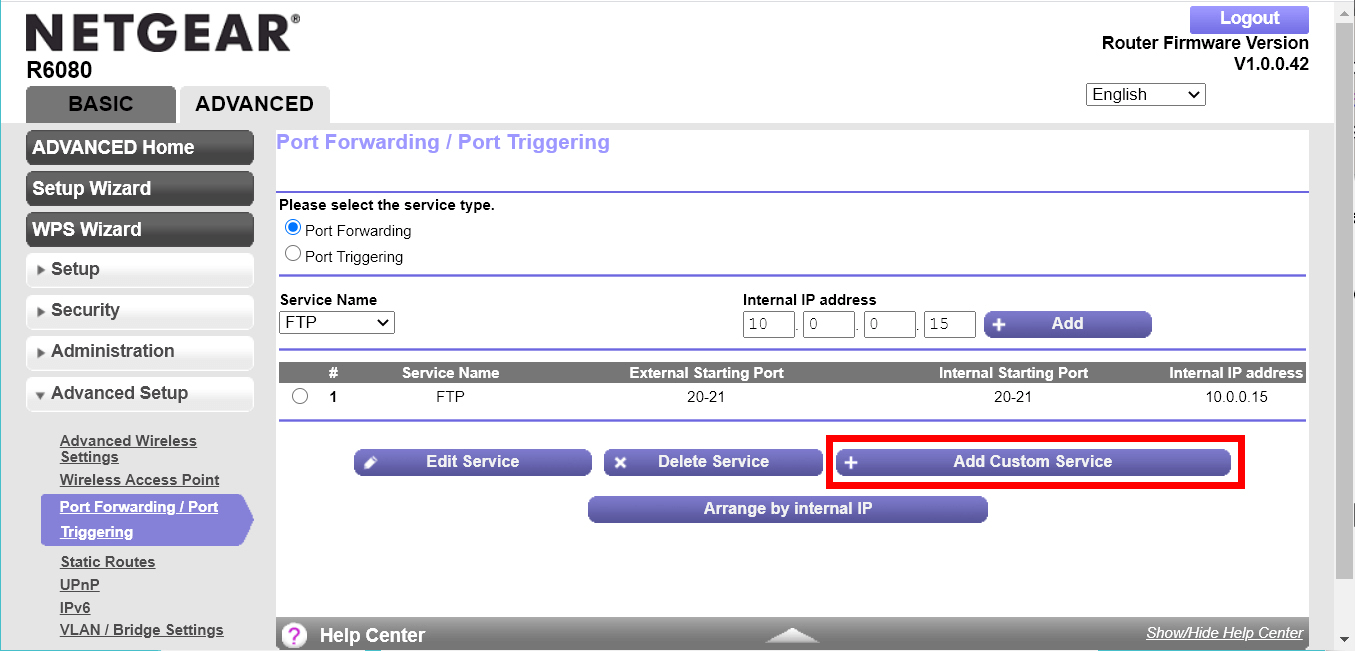 Step 5. In the Port Forwarding interface, choose the port you want to forward (if you are unsure of the protocol being used, choose TCP/UDP or Both under Service Type). Click apply after selecting the IP address of the device you want to port forward.
Step 6. Follow the same steps on how to use Remote Desktop Connection over LAN, you can connect to a remote desktop over the internet now.
AnyViewer: Get remote access anywhere and anytime
By following the ways above, you must know how to access another computer using IP address. The operations seem not too complicated if 2 PCs are on the same network. But if you encounter issues like "RDP stuck on Please Wait" or the port forwarding is too difficult for you, why not choose a free & professional remote access software-- AnyViewer, with which you won't be limited by the same or different network.
With AnyViewer, you can enjoy the following advantages:
★Tips:

Fast connection speed and easy operations. Once you log into the same AnyViewer account on 2 devices, you could get a 1-click remote control with AnyViewer, and the whole connection speed is fast.
Multiple compatibilities. AnyViewer supports Windows 11, 10, 8, 7, and Windows Server, including Windows 10 Home edition. Not being restricted from a PC, AnyViewer also allows you to remotely access a PC from iPhone or iPad.
High-security. For remote connection activity, security can be the first thing that users are concerned about. AnyViewer is secured by Elliptic Curve Cryptography (ECC) encryption, protecting your data from leakage.
What are you waiting for? Get one and take it into practice.
Step 1. Install and launch AnyViewer on both computers. Go to Log in, and then click Sign up.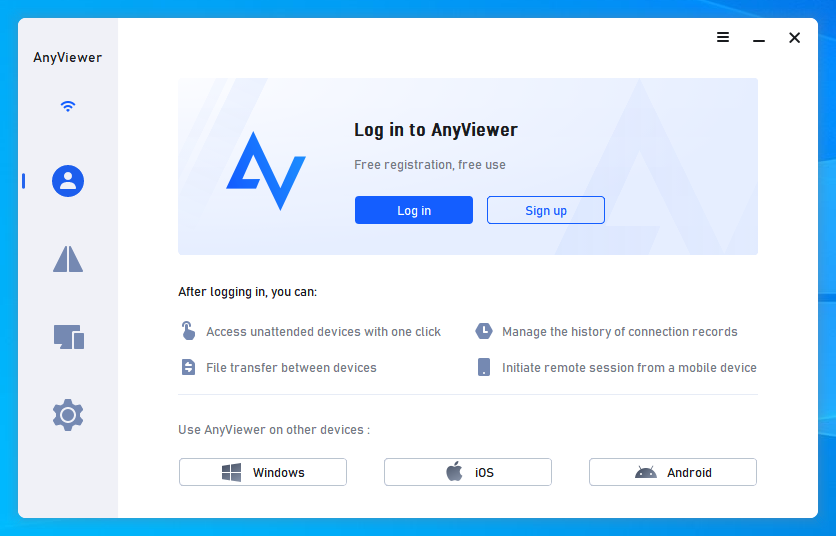 Step 2. Fill in the signup information.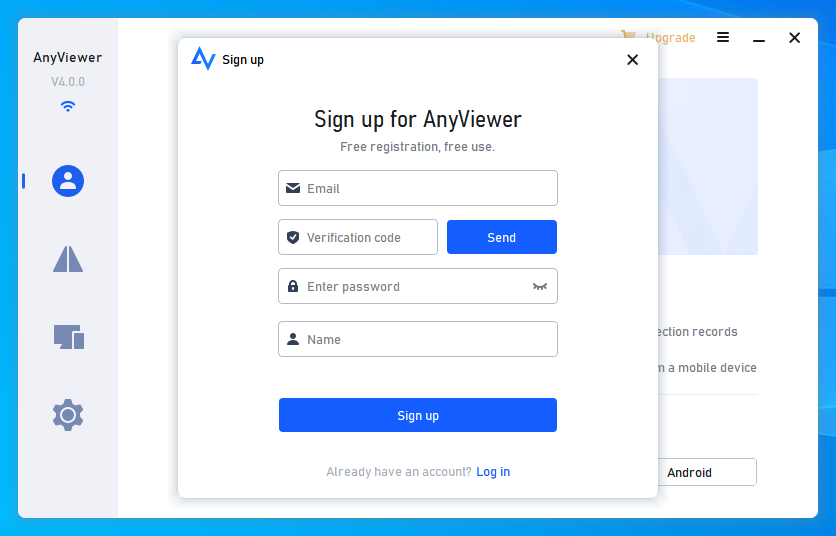 Step 3. Then you can see you successfully logged in to AnyViewer. Your device will automatically be assigned to the account you've logged in to.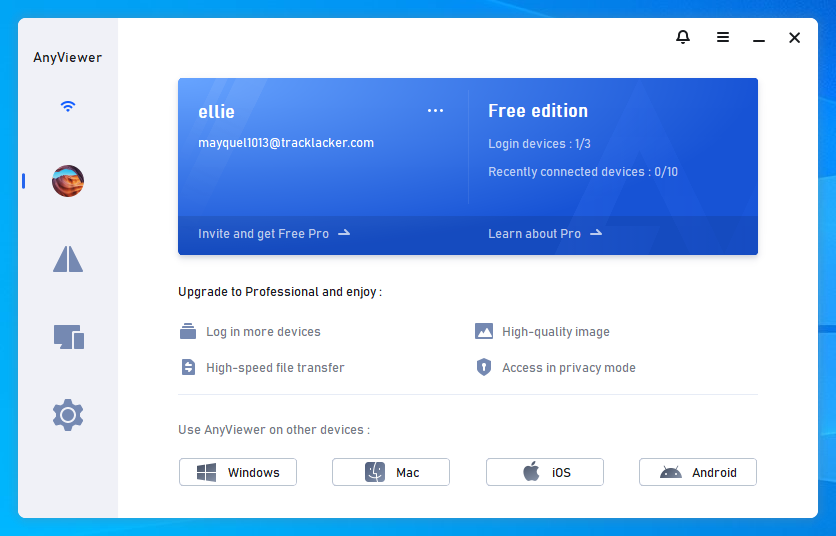 Step 4. Log in to the same AnyViewer account on the two devices, then you can achieve a direct connection by clicking One-click control.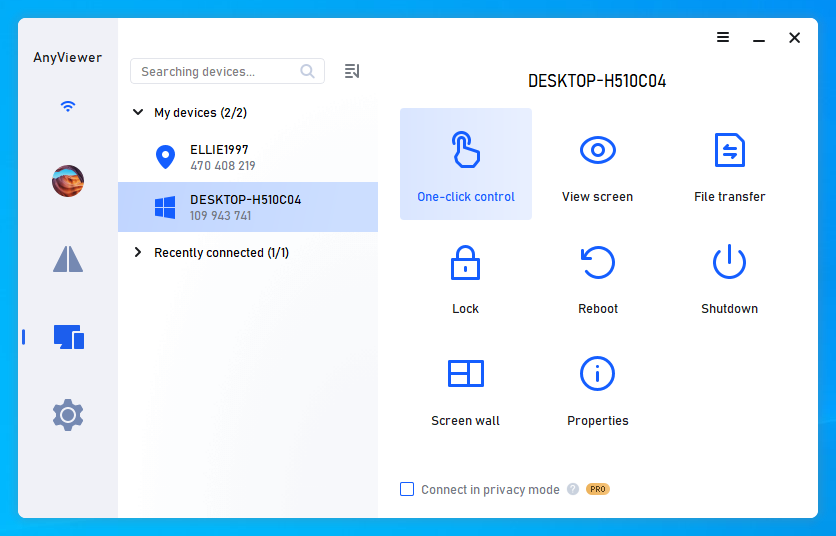 Note: You can also upgrade your account to a Professional or Enterprise edition to assign more devices, get faster file transfer speed, and connect to another computer in privacy mode, etc.
Conclusion
Here in this post, we illustrate the ways to access another computer through IP address in aspects of whether 2 devices are on the same network. However, if you encounter the issue when RDP to a server or port forwarding is too complicated for you, why not choose a remote access software-- AnyViewer, which can give you a huge comfort.