The case: Remote Desktop Connection has stopped working
"I updated from Windows 10 Home to Windows 10 Pro and immediately ran into this issue. My work requires that I remote into a server using an RDP file our EHR provides. Since upgrading RDP files open their server for a second then I get the vague error "Remote Desktop Connection has stopped working. Is there someone who can help me?
It's frustrating to encounter the "Remote Desktop Connection has stopped working error". Absolutely, we can't use Remote Desktop under the circumstance, which prevents from you remotely dealing with the working stuff or something else in a hurry. Don't worry. I'll provide you with some effective and easy solutions to work it out.
Why did Remote Desktop Connection stop working?
Before getting how to fix Remote Desktop Connection has stopped working, we have a general understanding of the possible causes.
▪ Reason 1. Blockage of Firewall
Most of the Windows systems with Remote Desktop Connection function can facilitate the user remote control of other computers, but sometimes encounter a situation like Remote Desktop Connection has stopped working, so it is likely to be blocked by the firewall.
▪ Reason 2. Wrong settings of Dependency Services
If the name with the "Remote" term in Dependency Services is set as Disabled, you may also meet with the problem that RDC has stopped working.
▪ Reason 3. Corrupt printer drivers
It is relatively usual for printer drivers to be corrupted. And the issue, to a large degree, is caused by a printer driver where the affected printers are redirected as part of the RDP session. It can happen at any time without any warning, which also can influence the process of Remote Desktop Connection.
▪ Reason 4. Certain configurations within the RDP applications
A common reason for this could be a conflict with audio drivers on the workstation. For example, the audio playback settings are by default "play". So, make sure that you disable audio redirection so that it could not damage the connection in any situation.
▪ Reason 5. Software installed on the computer
It's not rare that some of the apps have trouble with Remote Desktop Connections. So, when we meet with a problem like "Remote Desktop has stopped working", we can analyze if the recently installed apps influence it. Therefore, we can fix it through uninstall the apps.
5 Solutions to fix Remote Desktop Connection has stopped working
Now, I guess you must desire to know how to fix the issue. The solutions are listed as follows, and you can choose one of them that is suitable for you.
Method 1. Disable Windows Firewall
To a large degree, it is partly because of the blockage of the Firewall if Remote Desktop Connection has stopped working. So we need to disable it.
Step 1. Press Windows + R, input control panel, and then click "system and security", choose Windows Defender Firewall, then  "Allow an app or feature through Windows Defender Firewall".
Step 2. Go to the Allowed apps screen, click Change settings and then scroll down to check Remote Desktop in this list. Make sure that you've allowed this app for Public. Click OK.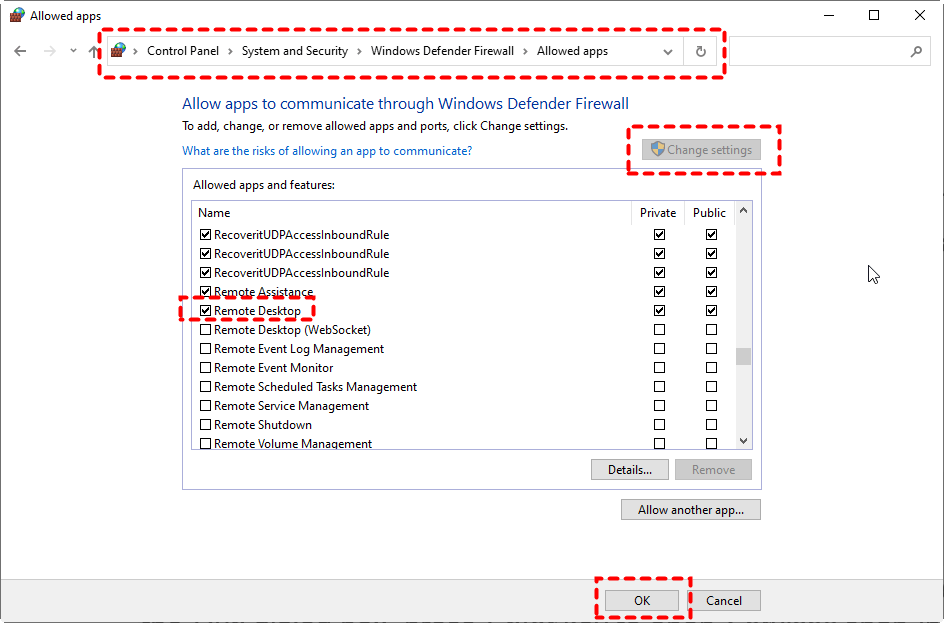 Step 3. After finishing the above steps, reboot the machine.
Method 2. Check Dependency Services
Actually, it's also necessary to check if Startup Type of all the names with "remote" terms are set "manual" or "Automatic", not "Disabled".
Step 1. Press Win+R to run box, and then enter "services.msc" in the box
Step 2. Scroll down the Services and then find all the names with the "Remote" term, and make sure the "Startup Type" of all those names are set as "Manual" or "Automatic". Then your Remote Desktop can be running normally.
Method 3. Disable Printer redirect on RDP settings
After trying the above solutions, you may have been solved your problem. But if it's not, try to disable Printer redirect on RDP Settings.
Step 1. Search "Remote Desktop Connection" in search bar and then click "show options".
Step 2. Choose "Local Recourses" tab and you can see "Local Devices and Resources" at the bottom of the screen. A "Printers" option is shown there. Now, uncheck this option and click "Connect"
Method 4. Disable Audio Playback in Settings
There's no doubt that Audio Playback also influences the RDC process. So, this solution is suitable for this reason.
Step 1. Search Remote Desktop Connection in "Search box". When the Window appears, click show options.
Step 2. Choose "Local Resources" tab, and you can see "Remote audio" and click on "Settings"
Step 3. In the "Remote audio playback option", choose "Do not play" and then click OK to apply.
Method 5. Uninstall apps
Because of the installation of the new app, the feature of Remote Desktop may have a conflict with it. Therefore, you should uninstall the new apps if it has trouble with the Remote Desktop Connection. However, uninstall the apps may cause the missing of some important data or there will be some garbage left in the computer. So, it's wiser to use 3rd party remote access freeware.
An alternative solution: resort to 3rd party remote access freeware
If none of the above solutions can address your problem, or you think it's too troublesome to try those ways one by one, you can resort to the third party software, AnyViewer, to help you connect to computer remotely. As a free remote desktop software for Windows 11/10/8.1/8/7 and Windows Server 2019/2016/2012 R2, AnyViewer can give you a greater experience.
Step 1. Download and install AnyViewer on the client computer and the host computer.
Step 2. Open and run AnyViewer, and then you can see the device ID, temporary security code, Settings and so on.
Step 3. On the client computer, input the device ID of the host computer in a blank box, then click "Connect".
Step 4. You have 2 options in this step.
Option 1.  Send a request control. If there is someone sitting in front of the host computer, you can do in this way and you can control successfully if you are allowed.
Option 2. If there is no one sitting in front of the remote computer to allow a request, choose "Input a security code"; type the security code and click "OK" to connect to the remote computer directly.
Security code: It is set manually and won't change after you reboot the software.
Temporary security code: It is generated by the software and it changes each time when AnyViewer is turned on.
Conclusion
Now, you must have a thorough understanding of the reason that Remote Desktop has stopped working and reliable solutions to solve the problem. Of course, if you still feel they are a little bit difficult for you or they aren't worked for you, just try the third party software—AnyViewer, which can definitely satisfy your necessity.