Why did Remote Desktop Connection stop working?
"For the work reason, I need to use Remote Desktop to transfer files. However, after updating from Windows 10 Home to Windows 10 Pro, I run into the error "Remote Desktop Connection has stopped working". I don't know what's going on and why it happens. Is there someone who can help me?"
It will be frustrated enough for every user when they remote into a server. It is said that the error mainly results from the blockage of the Windows Firewall, wrong settings of dependency services, corrupt drives, and antivirus software.
5 solutions to fix Remote Desktop Connection has stopped working on Windows 11, 10, 8...
In this part, we introduce 5 solutions with detailed steps for you on how to fix Remote Desktop Connection has stopped working. Follow me to know how to operate.
Method 1. Disable Windows Firewall
To a large degree, it is partly because of the blockage of the Firewall if Remote Desktop Connection has stopped working. So we need to disable it.
Step 1. Search Windows Defender Firewall in the search box and then open it.
Step 2. Choose Allow an app or feature through Windows Defender Firewall.
Step 3. Go to the Allowed apps screen and click Change settings. Scroll down to check Remote Desktop in this list. Tick Remote Desktop for the Private and Publick options. Click OK.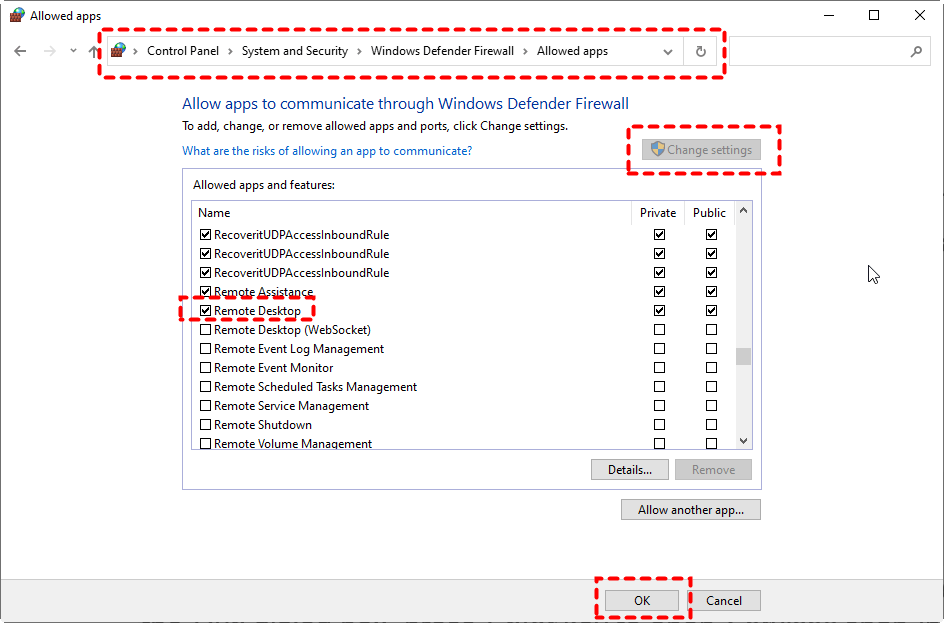 Step 3. After finishing the above steps, reboot the PC
Method 2. Check Dependency Services
If the name with the "Remote" term in Dependency Services is set as Disabled, you may also meet with the problem that RDC has stopped working.
Step 1. Press Win+R, and then enter "services.msc" in the box. Hit "OK".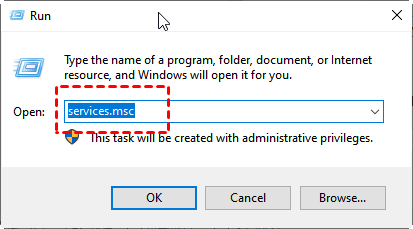 Step 2. Scroll down the Services and then find all the names with the "Remote" term. Make sure the "Startup Type" of all those names is set as "Manual" or "Automatic". Then your Remote Desktop can be running normally.
Method 3. Disable Printer redirect on RDP settings
According to the feedback of some users, disabling Printers can fix the issue.
Step 1. Search "Remote Desktop Connection" in the search bar and then click "Show Options".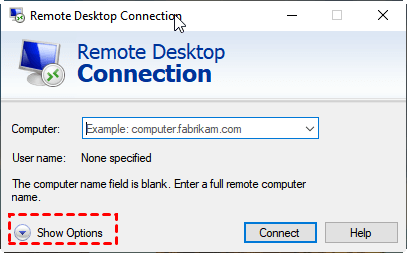 Step 2. Locate on the "Local Recourses" tab and you can see "Local Devices and Resources" at the bottom of the screen. A "Printers" option is shown there. Now, uncheck this option and click "Connect"
Method 4. Disable Audio Playback in Settings
There's no doubt that Audio Playback also influences the RDC process. So, this solution is suitable for this reason.
Step 1. Search Remote Desktop Connection in the Search box and open it. When the Window appears, click Show options.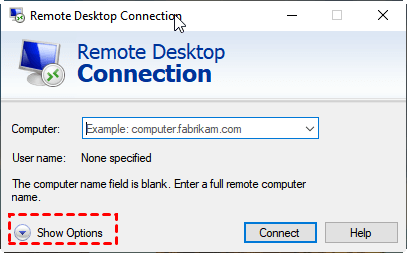 Step 2. Choose the "Local Resources" tab, and you can see "Remote audio" and click on "Settings".
Step 3. In the "Remote audio playback option", choose "Do not play" and then click OK to apply.
Method 5. Uninstall antivirus app
Because of the installation of the new app, the feature of Remote Desktop may have a conflict with it. Therefore, you could uninstall the antivirus apps if it has trouble with the Remote Desktop Connection. However, the point that needs to be mentioned is that uninstalling the apps may cause the missing of some important data or there will be some garbage left on the computer.
An alternative solution: resort to 3rd party remote access freeware
If none of the above solutions address your problem, or you think it's too troublesome to try those ways one by one, you can resort to the third-party software, AnyViewer, to help you connect to the computer remotely without any mistake. The advantages of AnyViewer can be listed as follows:
★Advantages:

Compared to Remote Desktop, AnyViewer won't be limited by the same LAN, which lets you remotely access a PC anywhere and anytime.
AnyViewer is easy to set up, and the easy operation and fast connection speed are also appraised by many users.
As a free remote access software, AnyViewer not only supports multiple Windows versions like Windows 11/10/8.1/8/7 and Windows Server 2022/2019/2016/2012 R2 but also works for the iOS client version.
Don't wait, click on the button to have a try.
To connect to a remote computer from an iOS device like iPhone 13, you can download AnyViewer for iOS from Apple Store.
Step 1. Install and launch the remote connection software on the host computer (the remote computer) and the client computer.
Step 2. Sign up for an AnyViewer account and log in to the same account on the two computers. After login, the PC will be assigned to the account automatically.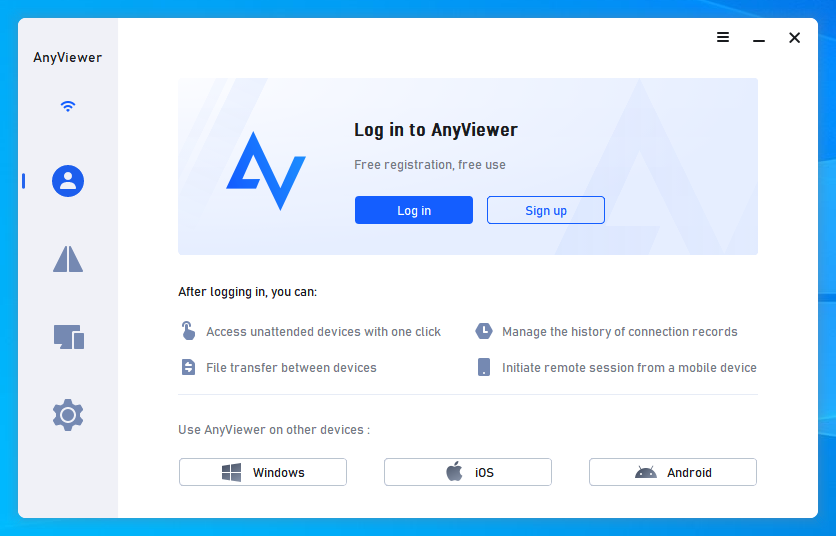 Step 3. On your local computer, click "Device", right-click the PC that you need to access, and choose "One-click control".Then, you can connect to the remote computer with one click. Isn't it easy?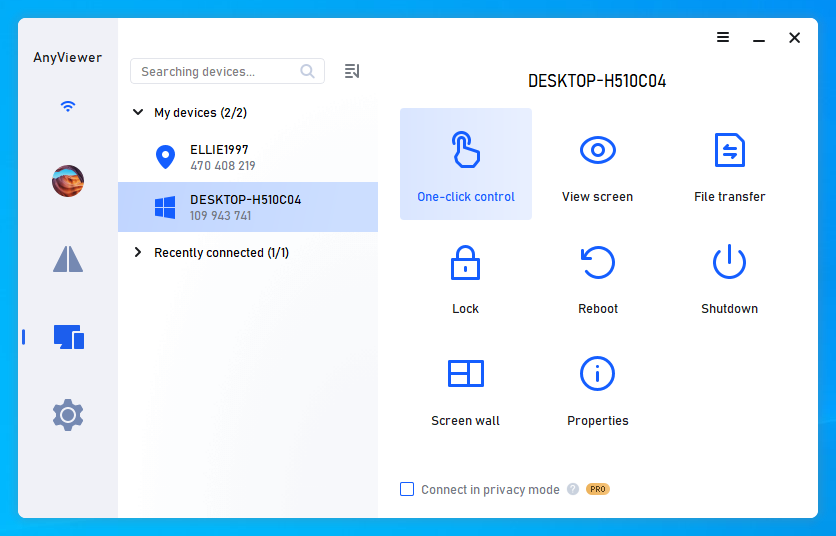 Step 4. Then you can remote into the computer over the internet for free and you can see the screen of the remote computer and run apps on it.

Conclusion
Now, you must have a thorough understanding of the reason that Remote Desktop has stopped working and reliable solutions to solve the problem. Of course, if you feel time and energy-consuming for you to fix the issue or those workarounds aren't working for you, just try the third-party software—AnyViewer, which can definitely satisfy your necessity.