Why remotely control PC from iPhone?
When you are walking home after work or you are on a trip, and suddenly remember that there are still important documents that need to be dealt with on the computer in the office, what should you do? The answer is simple, just control the office computer from home computer or mobile device like iPhone.
That saves your time and effort, allowing you to remotely process important documents, check e-mails and use applications anytime, anywhere. So how to control Windows PC from iPhone? After reading this post, you can do it easily!
How to remotely control PC from iPhone over Microsoft Remote Desktop?
Next, we'll show you how to set up and start remote control from iPhone over Microsoft Remote Desktop.
Step 1. Download and open RD Client on your iPhone.
Step 2. Click the "+" sign in the upper right corner of the interface, and select "Add Computer" in the pop-up window.
Step 3. Click PC name.
Step 4. Enter the hostname or IP address of the remote computer. (Note that if you specify a different remote desktop port for your computer than the default 3389, you need to specify it as "host:port" or "192.168.1.156:specified port").
Step 5. Click User Name.
Step 6. If you often need to remotely control PC from iPhone, it is recommended that you select Add User Account. If you are not, you can choose the default Ask When Required.
Step 7. In the General column, you can choose whether to set a Friendly Name if you want. If the remote computer you are connected to is a Windows Server 2003 or later server, you can choose Admin Mode to manage sessions. If your remote computer is configured for left-handed mouse mode, you need to select Swap Mouse Buttons.
Step 8. In the Gateway column, the default setting is "No Gateway Configured". If you are only using it for home LAN connections, you do not need to configure a gateway.
Step 9. If you need to connect to a remote desktop in your company, you need to configure the gateway. Select Add Gateway below.
Step 10. In the Add Gateway interface, you need to enter the Gateway Name (Hostname or IP address), User Account (Use PC User Account), and you can choose whether to set the Friendly Name or not.
Step 11. In the "Devices and Audio Redirection" column, you can select according to your own needs, including Sound, Microphone, Camera, Clipboard, Storage. After confirming that all content settings are complete, click Save in the upper right corner.
Step 12. Back to the main interface and click the IP address icon just created, enter the user name and password of the controlled computer in the pop-up Enter Your User Account window, and click Continue to successfully establish the connection.
Step 13. Then you can control PC from phone.
After learning the detailed steps to control Windows 10 from the iPhone, some of you may have the same question: how to find the hostname, password, and IP address of the computer?
How to find the hostname and IP address of the computer?
Step 1. Press Wind key + R to invoke the Run dialog box. Type in "cmd" and press OK. 
Step 2. Then type "ipconfig" and press Enter. Now you can see a group of IP addresses, of which the IPv4 address is the one you need.
Step 3. Then type "query user" to see the username.
The steps to remotely control PC from iPhone seem simple, but in fact, it is easy to encounter unexpected errors during the connection process, of which "Unable to connect" is the most common problem. Next, we'll show you the solution to this problem.
How to fix "Unable to connect" problem?
The problem of "Unable to connect" occurs frequently due to the need to set up a gateway for remote control. What can you do about it? First, connect your iPhone to WiFi, make sure your computer and iPhone are in the same network environment, then look for the default gateway and confirm that it is not blocked.
There are currently two ways to find the default gateway, one is through the console, just like the way you use to find the IPv4 address; the second is through network connection. Here is a detailed description of the second method.
Step 1. Click Start and then click Settings. Find Network & Internet and then click it.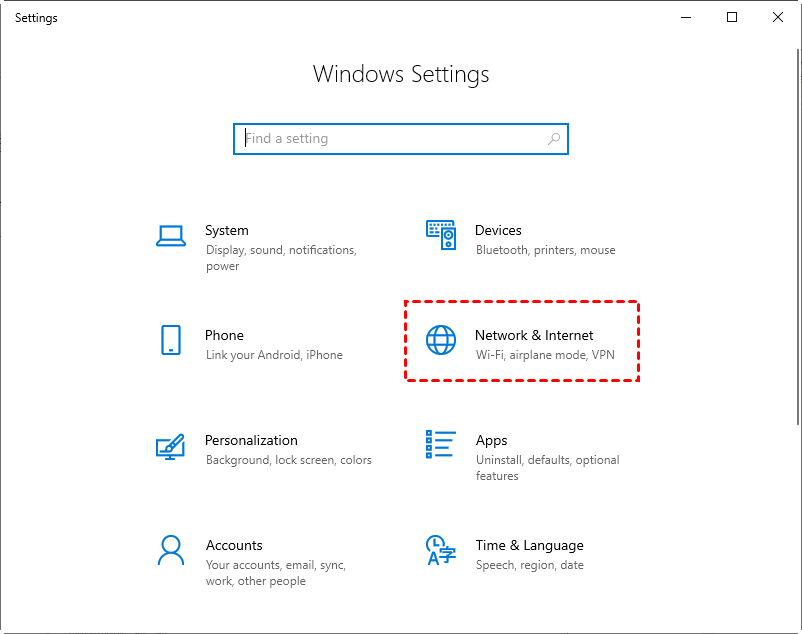 Step 2. On the Network & Internet interface, find Advanced network settings, click Change adapter options below.
Step 3. In the automatically pop-up Network Connections window, find your network and double-click it.
Step 4. On the General tab, find Details.
Step 5. In the Network Connection Details, find IPv4 Address.
Step 6. Open the command prompt on another computer, enter the Default Gateway IP address of the former computer, wait for the operation result and record it. If the TTL value appears, it means the pinging is successful, which also means that the IP address of the default gateway can be accessed. If not, it means that the Default Gateway IP address is not accessible.
Remotely controlling PC from iPhone makes life more convenient, but its functionality is subject to limitations and is not easy enough to operate. It is only suitable for temporary emergent situations. If you need long-term remote control, it is recommended that you choose computer-side remote control solutions. Here is a better third-party free remote control software for Windows, AnyViewer.
Free third-party remote control software: AnyViewer
AnyViewer has an advantage when you want to use PC to remotely control PC. As a comprehensive solution for remote access, remote control and remote support, AnyViewer can be controlled remotely without a host name or IP address and is perfectly compatible with multiple Windows versions, including Windows 11/10/8.1/8/7 and Windows Server 2019/2016/2012 R2. It also provides you with unattended remote access, you can remotely control another device even there's no one sitting in front of it. 
 Preparation work:
Connect the client computer (the controller computer) and the host computer (the controlled computer) to the Internet.
Download and install AnyViewer on the client computer and the host computer respectively.
Set up AnyViewer
Step 1. Run AnyViewer on both computers.
Step 2. On the host computer, click on Setting and then Recipient. Tick the third option. Then set the security code you want in the box. Then click OK to finish the set-up process.
Remote control over AnyViewer
You've already configured it for remote control. On the client computer, enter the device ID of the host computer. After entering the device ID, you'll be given two options:
Option 1: You can send a control request; then the host computer will receive a pop-up request. People sitting in front of the host computer could either allow it or deny it.
Option 2: You could also input a security code of your home PC to achieve remote assistance directly. You can either input a permanent security code or a temporary security code.
Tip: A permanent security code is set by you in advance. A temporary security code is automatically generated and will change every time. Both security codes allow you to establish the connection directly.
Conclusion
Remotely controlling PC from iPhone allows you to handle your work with ease. But because RD Client is subject to operational and functional constraints when using it, it is only suitable for short-term emergent situations. If you need long-term remote control in your office, it is more recommended to use remote control on the computers.
The third-party remote desktop software AnyViewer can be used without hostname or IP address. It is perfectly compatible with multiple Windows system versions. It is more stable and suitable for long-term use.