Why need remote access software for Android devices?
Android devices, like Android smartphones, have been indispensable for our daily life. And there are many occasions that we need to remotely access another Android phone or computer with an Android device.
For example, you are asked by your family member to troubleshoot some issues on the phone when you are not in the same place. At that time, if you can control his/her Android phone, you can easily solve problems as you were there. All in all, the Android remote access app brings much convenience to life.
Safe and easy-to-use Android remote access software recommendation
It's not an easy task to get proper Android remote access software as there are various tools in the market. Now, take further reading to look at three secure & easy-to-use tools to remotely control Android phone or tablet. 
1. TeamViewer
As an all-inclusive and multiple-platform remote access software, TeamViewer helps you to remotely control mobile Android device from a computer or mobile effortlessly. It is highly recommended out of those reasons:
It is free for non-commercial use.

Apart from basic remote access, it is featured with many advanced functions, such as drag-and-drop, multiple monitors, etc.

It is secured using RSA public/private key exchange and AES session encryption.
2. AirDroid
AirDroid is developed by Sand Studio. For accessing files, folders, receiving messages on Android device using PC or control Android from PC, it will be my preference. What's more, it is featured with screen mirror function (Some apps, like WhatsApp, are not supported to be mirrored). You can free download the tool on App Store. Once installed, all you need to do is sign in using the same account on both Android and PC. Then, you can view the text, message, etc. on Android from Windows computer from Mac with USB cable.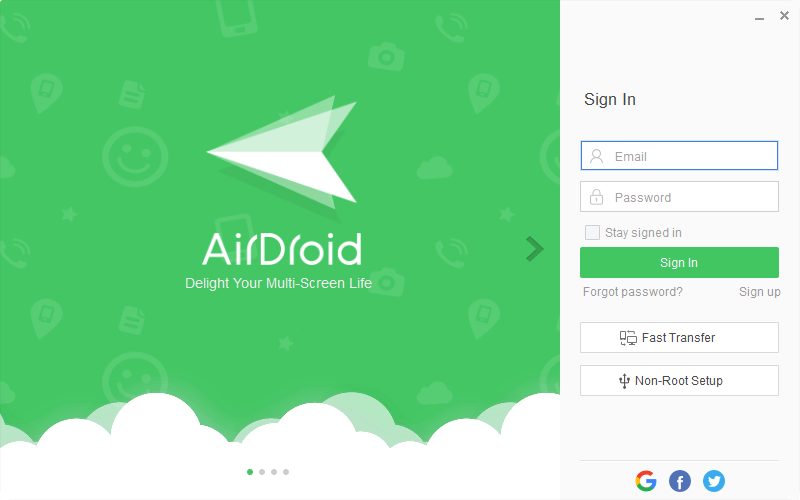 The reasons to choose the tool are given below:
You can remotely control Android without root.

It offers considerate guides during operation.

It is encrypted with TSL during data transfer.
3. Microsoft Remote Desktop
To remotely access a computer that holds Windows Professional or Enterprise edition from Android, Microsoft Remote Desktop isn't a bad choice. You can free download the remote access tool client for Android from Google Play Store. In the host PC, you need to enable Remote Desktop. It is a built-in service in Windows Professional/ Enterprise edition, saving the process of installing third-party on the host computer. However, it is a lit bit complicated for non-technical persons to use it to remote into device if the two devices are not within the same network. And it locks the remote screen, then the remote user can't view what you're doing on his/her PC.