About Chrome Remote Desktop
Chrome Remote Desktop is well-known remote desktop software. On October 8, 2011, it is released by Google. It enables you to remotely access files on a pc or control another computer to deliver IT-related support. It is fairly easy to run Chrome Remote Desktop for remote connection. The remote desktop tool is on devices with multiple operating systems, covering Windows, Mac, Linux, iOS, and Android. Obviously, with it, you can connect to a computer and view its content from Android mobile or tablet.
How to use Chrome Remote Desktop for Android?
As aforementioned, you can use Chrome Remote Desktop to access remote PC from Android device using Chrome Remote Desktop. To complete the remote connection, the two devices should have a Chrome browser; you should own a Google account and sign in to the same Google account on both PC and Android. Now, take a look at how to use Chrome Remote Desktop on Android to access computer.
Step 1. Install Remote Desktop extension on your PC
Open Google Chrome browser, google chrome remote desktop website, and go to Chrome Remote Desktop Access interface. Then, click the download icon and click "Add to Chrome" to install the Chrome Remote Desktop extension.

Step 2. Enable remote connection for the computer
After installation, go to chrome://apps/, locate Chrome Remote Desktop and click it to fire up it. You'll be required to authorize the computer with Gmail ID. Then, click "Get started" under "My Computers". Click "Enable Remote Connection", download the Chrome Remote Desktop Host Installer and run the app. Finally, you'll be asked to input a secure six digits "PIN" to access the PC to enable remote access.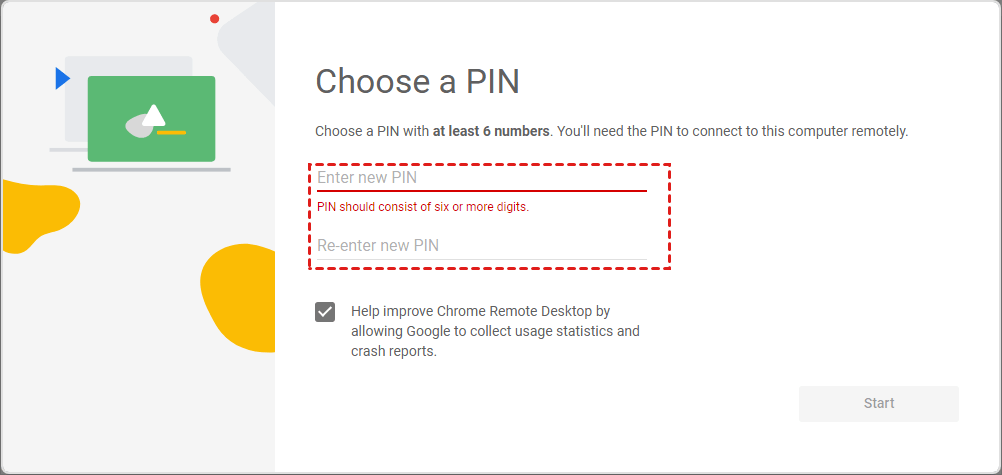 Step 3. Access computer from Android device
Having set up Chrome Remote Desktop on PC, it's time to download the app from Google Play and run it. On your Android device, after you signed in to the same Google account you used on your computer, you can see the computer name on Chrome Remote Desktop. Tap the computer and input the PIN of the remote computer and then you can connect to your PC from Android device using Chrome Remote Desktop.
Notes:
To disable remote connection, go to Chrome Remote Desktop extension and click "disable remote connection".

To remove a PC from the list, select and hold the computer that you want to remove, tap "Delete" and "OK"
Sum up
Obviously, it's not tough to use Chrome Remote Desktop for Android devices to access computer. Though Chrome Remote Desktop doesn't offer further functions, such as drag-and-drop file transfer, live chat, etc., it's free of charge and easy to set up. For basic remote access computer from Anroid, undoubtedly, the app is a nice choice.