How can I remotely access my PC from an Android phone?
"Hello, guys! I need some advice. Now, I want to access my Windows 10 desktop files and apps from my Android smartphone. Can you give me help on how to connect Android Phones to PC over the internet when the two devices are not in the same place? Thanks in advance."
Reliable remote access software for PC and Android is necessary!
When your PC and Android phone are not physically in the same place, you can resort to a remote desktop app to access and control your PC over the internet. Here I would like to recommend Microsoft Remote Desktop. It is a free remote access software but powerful enough to offer basic functions, like accessing files on the remote PC. What you need to pay attention to is that the controlled PC should be installed with Windows Professional or Enterprise Edition.
Detailed steps to remotely access PC from Android device
To use Microsoft Remote Desktop to access PC from Android phone or tablet, enable Remote Desktop at first.
Part 1. Enable Remote Desktop on Windows PC
By default, Remote Desktop is disabled. Thus, you need to enable Remote Desktop at first. (Go to "Start" > "Settings" > "System" > "Remote Desktop", drag the slider to the right, and click "Confirm" to allow remote access to this PC).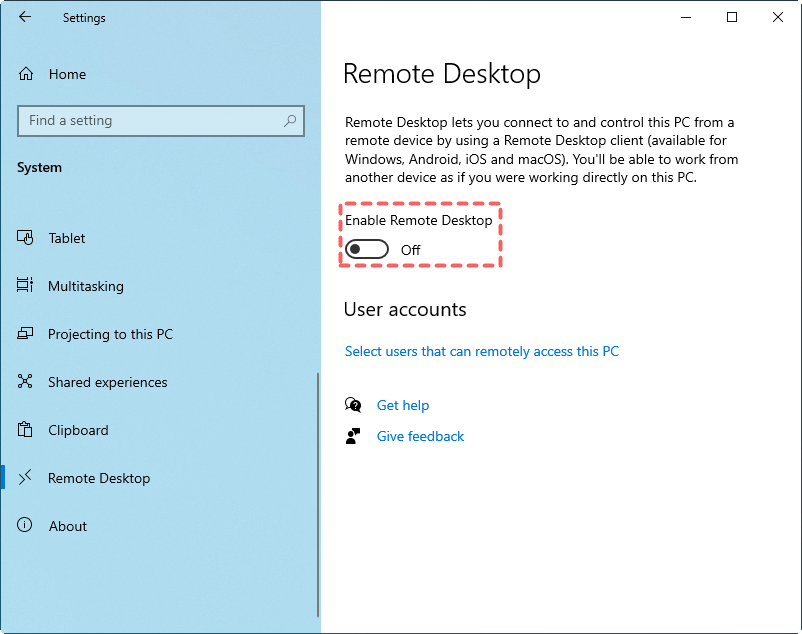 Part 2. Access PC from Android device
After enabling Remote Desktop in Windows PC, free download Microsoft Remote Desktop app on an Android device and connect to your PC.
1. Go to Google Play store, find out Microsoft Remote Desktop, download and install it.
2.Run the remote access tool. In the Connection Center, tap on "+" button and tap "Desktop".
3. In the pop-up windows, enter the name of the PC (computer name or IP address) that you want to access.
4. Then, choose "User name" that you use to access the PC and choose "Add user account" to save an account (User name can be one of these formats: user_name, domain\user_name, or [email protected]).
5. Tap "Save" to connect to the PC.
Further reading: How to find out computer name?
To locate the computer name of the PC that you want to access, type "Computer" in Search box, right-click "This PC" in Windows 10 and choose "Properties". Then, you can see its computer name in the pop-up window. In Windows 7/8/8.1, click Start, right-click "Computer" and choose "Properties".