Can I play games on a remote PC?
"I'm using Windows 11 computer and want to control my Windows 10 computer to play a game on the Windows 10 PC. The two PCs are on the same network. Can I use Windows built-in feature Remote Desktop to play Windows 10 games?
Play games on Remote Desktop without downloading an app
Can you play games on Remote Dekstop? Absolutely Yes! It's easy to access a remote computer and then play games on it from another device the tool, which saves you from the trouble of downloading and installing a third-party app. What you need to know is that the two devices should be on the same network (if not, you need to perform port forwarding) and the latency may drive you crazy.
Now, check out the detailed steps on how to remotely play games using Remote Desktop:
Step 1. On the host computer (the computer with the games installed), press Windows + R, input "sysdm.cpl" and click "OK" to open System Properties.
Step 2. In the System Properties window, select "Allow remote connection to this computer" and click "OK" to enable remote access on this computer.
Note: If your host computer is running Windows 10/11 Home Edition, you'll find there is no "Allow remote connection to this computer". And you can turn to a free & reliable alternative to Remote Desktop for Windows 10 Home Edition.
Step 3. On the client computer (the computer that you are working on), press Windows + R, input "mstsc" and click "OK" to open Remote Desktop Connection.
Step 4. In the pop-up window, type the IP address of the host computer and click "Connect".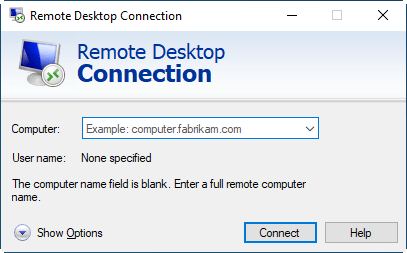 Step 5. You need to input the password of the host computer and click "OK". After a while, you can connect to the host computer successfully.
Step 6. Then, you can access the desktop of the remote computer. Locate the game on the remote desktop that you want to play and run it.
See? It's simple to remotely play games on PC with Remote Desktop.
Play games remotely with a free & quick remote desktop app
If RDP is slow or you need to play games on a remote computer from a different network, it's recommended to switch to a third-party remote desktop app, AnyViewer. It enables you to access a remote computer with a quick connection and low latency; you don't need to set up VPN or perform port forwarding when the two PCs are in different networks and use ECC end-to-end encryption to protect the data safety. Now, download it and see how to use the remote desktop program to access a remote computer and play PC games.
Step 1. Install and run AnyViewer on two devices. Create an AnyViewer account and logged into it on both devices.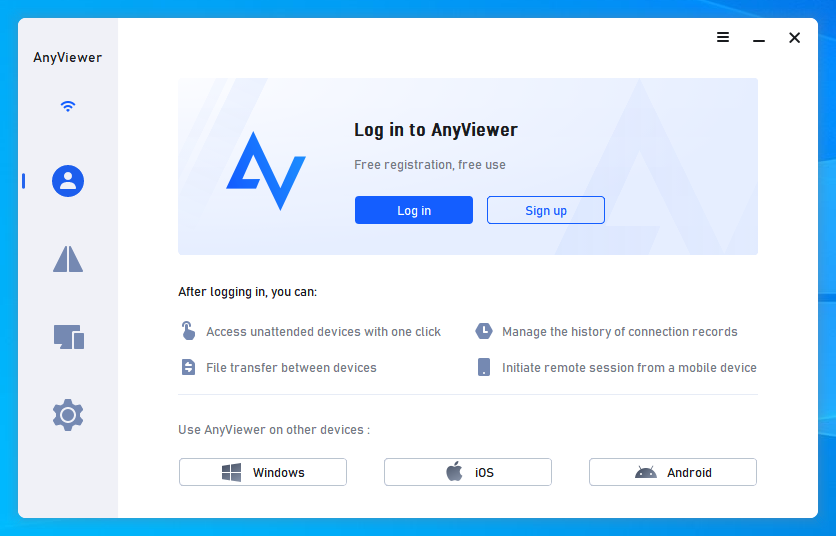 Step 2. On the device on your hand, go to "Device", locate the remote PC where the games are installed, click it and click "One-click control".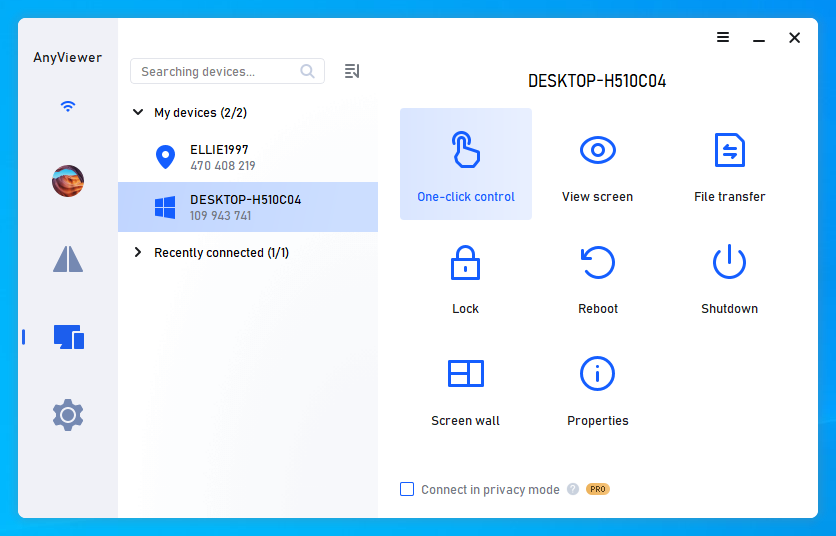 Step 3. Immediately, you can see the screen of the remote computer and then run the games on it.
Note: To play PC games from iPhone/iPad/Android device, download AnyViewe for mobile devices and start a remote session.
Play games on remote computer via game streaming tool
If you only want to play games remotely, you can choose a professional game streaming utility, Rainway. It has many highlights presented as follows:
It has an intuitive interface and is easy to set up even if you are new to the tool.

It is free and without additional purchases.

The web client enables you to play PC games from many devices, like a mobile phone, pad, etc.

There is an ultra-low lag while you use Rainway to stream games from the host PC to the client browser.
All in all, simple, free and low latency make me pick up Rainway. What you should realize is that the host PC should be Windows PC.
Here are the detailed steps for playing games on a remote computer from another device via Rainway:
Step 1. Download and install Rainway on your host computer. Then, fire up the remote control tool. In the main interface, log into a Rainway account. If you don't have an account, sign up first.
Step 2. On your mobile device, go to Google Play Store to download the tool.
Step 3. Install and run Rainway. Then, log into the same Rainway account.
Step 4. In the home interface, you can view all games from Steam and so on. Choose the game that you want to play.
Step 5. Now, you can play your game remotely on your mobile device.
Note: For iOS phone or tablet, go to App Store to download the software. If you don't want to download the tool on your client device, you can open your browser, go to play.rainway.com; log in to your Rainway account and play a game.
Conclusion
It's OK to play games on Remote Desktop session. However, if you are unsatisfied with RDP performance or need to play games remotely on a device without the same LAN, you can use AnyViewer. If you are looking for a professional game streaming tool, Rainway is a nice choice.