How to access my desktop from my laptop?
Currently, I need to work from home for several days. The problem is that some apps and files that are necessary for my work are stored on my office desktop and I don't want to install these apps on my laptop. Are there any apps that allow me to remote access desktop from laptop? The office PC is running Windows 10 Pro and my laptop PC is Windows 11. "
- Question from Quora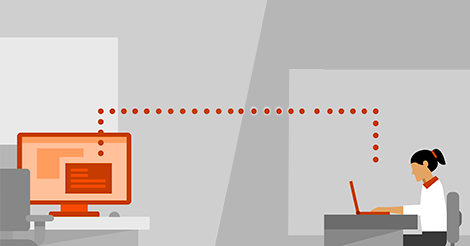 How to remotely access your desktop from your laptop for free
Compared with desktop PC, laptop PC is more lightweight and portable. Thus you can use a laptop as a tool to access your desktop during a trip or at home. All you need is a reliable remote desktop program for laptop-to-desktop remote access. Keep reading and learn how to complete the operation.
Remote access desktop PC from laptop over the internet with AnyViewer
The first way to access desktop from laptop is to use professional remote desktop software, AnyViewer. It enables you to remotely access a desktop computer from a laptop without port forwarding even when the two devices are located in different networks. Whether the desktop that you want to access is running Windows 11 Home or Windows 7 Standard, AnyViewr can work smoothly. Have a look at its other highlights.
▶ Easy to set up. You don't need to figure out the IP address of the host computer and don't need to perform port forwarding even the two computers under different networks.
▶ Secure: The whole remote connection via AnyViewer is secured by 256-Bit ECC encryption, which is very strong.
▶ Flexible: It offers three connection methods: one-click control, security code, and remote request, satisfying different demands.
▶ Built with File Transfer: It is featured with File Transfer, enabling you to transfer files easily between two connected computers.
▶ Chat is supported: Once a remote session is established over AnyViewer, you can chat with the one on the other end.
Now, free download AnyViewer, install and keep it running on the desktop and the laptop. Then see how to use it to access the desktop from the laptop.
Importance: If you need to access a desktop remotely from an iPhone/iPad o Android device rather than a laptop, you can use AnyViewer mobile edition.
Step 1. On the desktop PC that you want to control from your laptop, click "Log in" and click "Sign up" to create an AnyViewer account.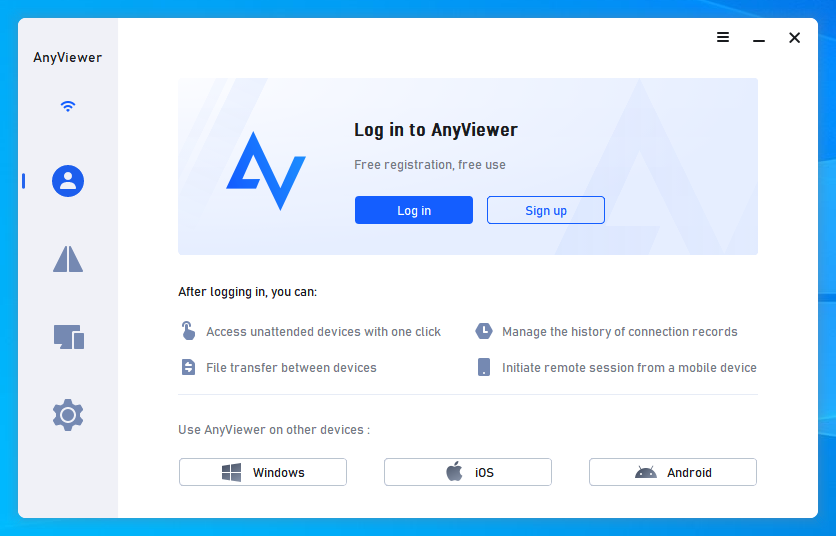 Step 2. Make sure that you have logged into the same AnyVeiwer account on the desktop and the laptop PC.
Step 3. On your laptop, go to "Device" and locate the desktop that you want to access. Click it and click "One-click control".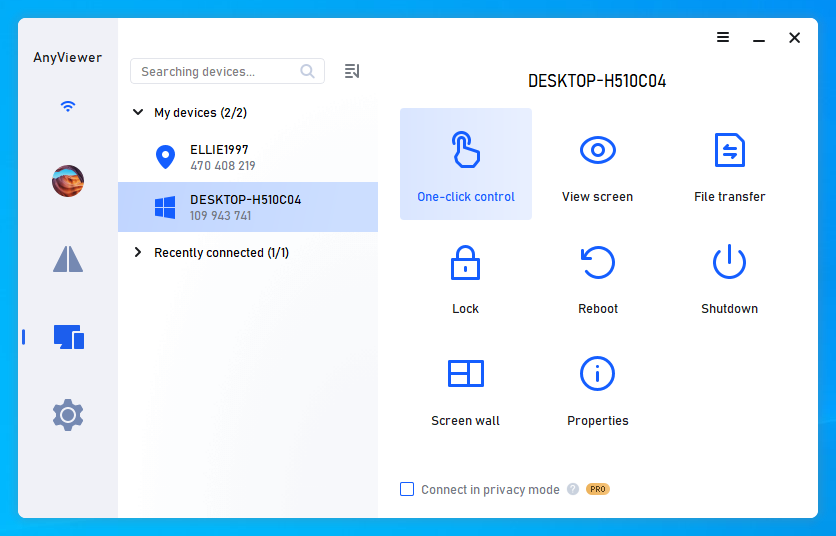 PS.:
To connect in privacy mode, you can upgrade to Professional or Enterprise. After the upgrade, other privileges like assigning more devices for secure one-click remote access, high-quality image, etc. are available.
This way is for regularly accessing your own unattended remote computer; if you don't plan to access your computer often, you can log into an AnyViewer account only on the computer where you start the remote session and access the remote PC via security code.
To offer one-time remote support to your clients or friends, you can choose to send a remote control request and the other end needs to accept your request.
Remotely access desktop from laptop over LAN using Remote Desktop Connection
Once Remote Desktop has been enabled on the remote computer, you can access it from your laptop with Remote Desktop Connection (RDC) over LAN.
Notes:
Step 1. Press "Windows" +"R", input "mstsc" and press "Enter" key to open RDC on Windows 11/10/8/8.1/7 laptop.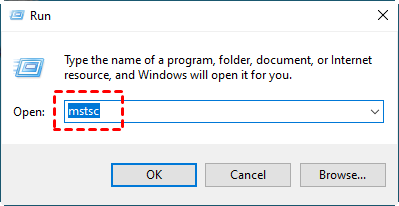 Step 2. In the "Remote Desktop Connection" window, input the IP address of the remote desktop and click "Connect".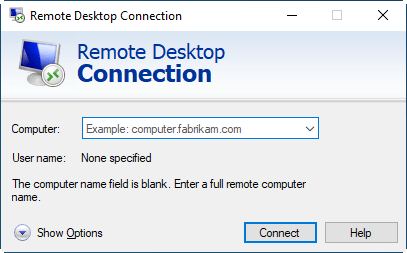 Step 3. Type in the user name and the password of the account of the remote computer and click "OK". After a while, you can connect to the desktop from a laptop in a success.
Wrap things up
If you want to access a desktop from a laptop in a different network securely and easily, you can use AnyViewer. If you need to access a desktop with Remote Desktop enabled from a laptop in the same network, it's easy to use Remote Desktop Connection, which doesn't require you to download a third-party app.