Can I use a LAN cable to transfer files between two computers?
I bought a new laptop recently, so I wanna transfer the files from the old laptop that is running Windows 10 to the new one. Can I connect two computers using a Lan cable? Can anyone tell me how to share files between two computers using Lan cable in Windows 10 with detailed steps?"
- Question from Reddit
Stepwise tutorial on how to share files between two computers using LAN cable
USB drive is a common media for users to transfer files between computers, which is suitable for small-scale file transfer. To share huge files between PCs effectively, it's recommended to use LAN/Ethernet cable. Now, see how to share fiels between two comptuers with LAN cable.
Part 1. How to: Conenct two comptuers using LAN cable for file sharing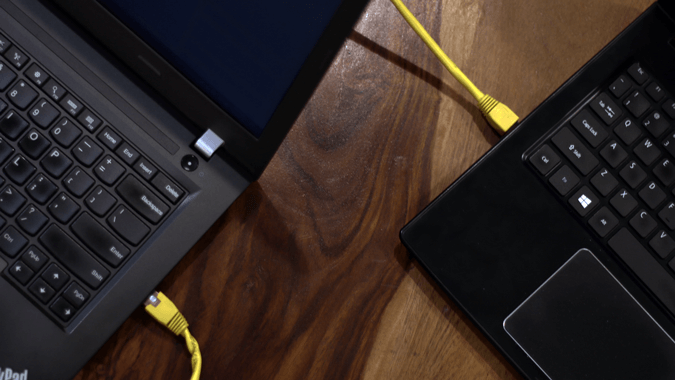 Part 2. How to: Enable network sharing on both computers
2.1 Go to Control Panel > Network and Internet > Network and Sharing Center, and then click Change advanced sharing settings on the left pane.
2.2. Click on the drop-down icon next to All Networks.
2.3 Check the following settings and then click Save changes to enable network sharing. Both two computers should have enabled network sharing.
Turn on sharing so anyone with network access can read and write files in the Public folders
Use 128-bit encryption to help protect file sharing connections (recommended)
Turn off password protected sharing
Part 3. How to: Set static IP
3.1 Go to Control Panel > Network and Internet, and then click Change adapter settings on the left pane.
3.2 You can see a list of Network connections, right-click on the Ethernet network, and select Properties in the context menu.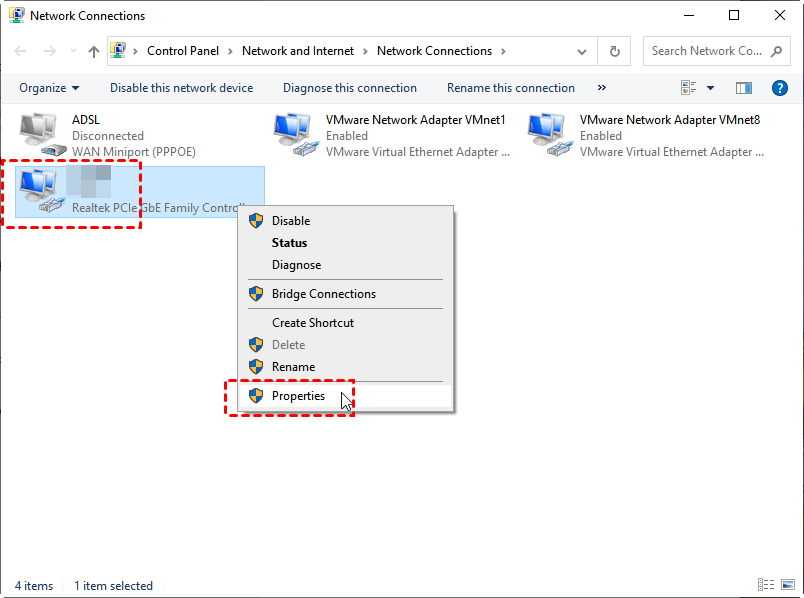 3.3 In the pop-up window, select Internet Protocol Version 4 (TCP/IPv4), and then click Properties at the bottom.
3.4 On the first computer, check Use the following IP address and type in the following IP address.
IP address: 192.168.1.1
Subnet mask: 225.225.225.0
Default Gateway: 192.168.1.2
3.5 Do the similar steps above on the second computer and type in the following IP address.
IP address: 192.168.1.2
Subnet mask: 225.225.225.0
Default Gateway: 192.168.1.1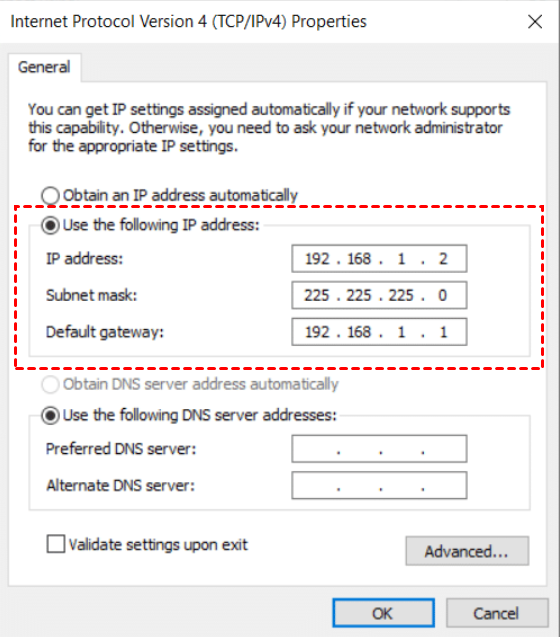 Note: What we are doing is keeping the subnet mask the same and changing the IP address on both computers. It is not necessary for you to use the above IP address so that you can use any Class A or B IP address. But we suppose you use the provided example in case you are unsure what this all means.
3.6 If everything is configured correctly, you can see two computer names under the Network menu on your computer.
Part 4. How to: Share files from one computer to another
Note: Before learning how to share files between two computers using LAN cable, you are suggested to create a new folder to store all the files you want to share, which is an efficient way to transfer the files at once.
4.1. Right-click on the folder you want to transfer, hover on Give access to, and then select Specific people.
4.2 In the sharing window, choose Everyone from the drop-down window, click Add button, and click Share.
4.3 The next time, you will be asked if you want to enable file sharing for public networks. Depending on your requirements, select No to transfer files for a private network or Yes to send files for all public networks.
3.4 Once you share the folder successfully, you can see its network location of it.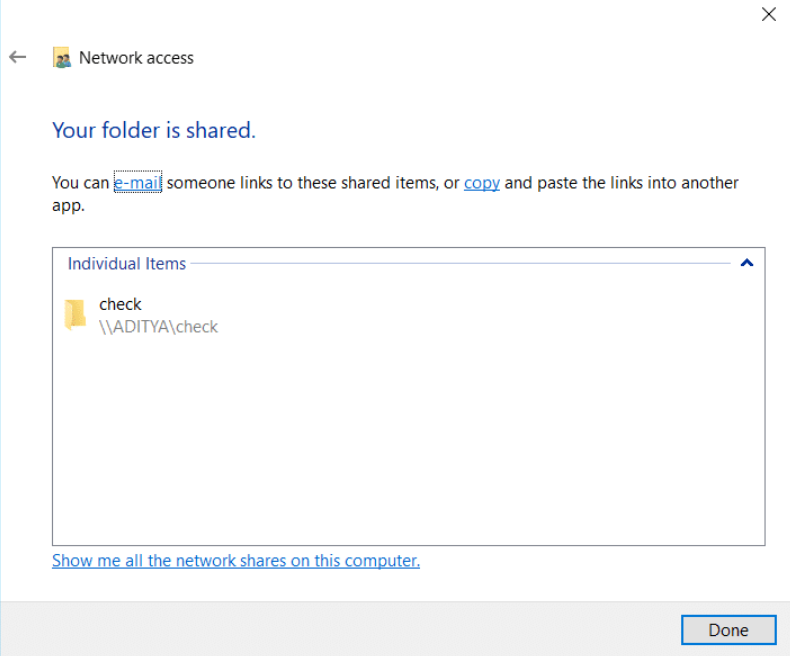 3.5 Now go back to another computer where you want to access the file. Open the Network panel and double-click the computer name to check the target folder. Then you can transfer the files by simply copying and pasting.
How to: Transfer files between computers easily and wirelessly
Undoubtedly, sharing files between PCs via a LAN cable is a nice choice. However, this requires the two computers to be put in the same place, and the process can be a little bit complicated for many users. AnyViewer is recommended when you want a simple and quick and safe way to transfer files between computers in Windows 11/10/8.1/8/7 and Windows Servers. See its other highlights.
Easy-to-use: You don't need to do extra work to configure Windows settings; the tool has an intuitive and concise interface. Thus, you can complete files transfer without effort.
No space limitation: AnyViewer supports file transfer over the LAN or the internet without cable connection. The two computers can locate in different places. That is to say, you can transfer files from your company desktop to your local laptop during a business trip.
Multi-function. In addition to file transfer, AnyViewer can help you complete unattended remote access to desktops, laptops, or servers without complicated settings for remote work and remote support. Then, you can use the remote PC without physical access.
Download, install and run AnyViwewer on both computers. Then, follow the next steps to transfer files between computers.
Step 1. Go to Log in on the left pane and then click Sign up (log in directly if you have already signed up) to create an AnyViewer account.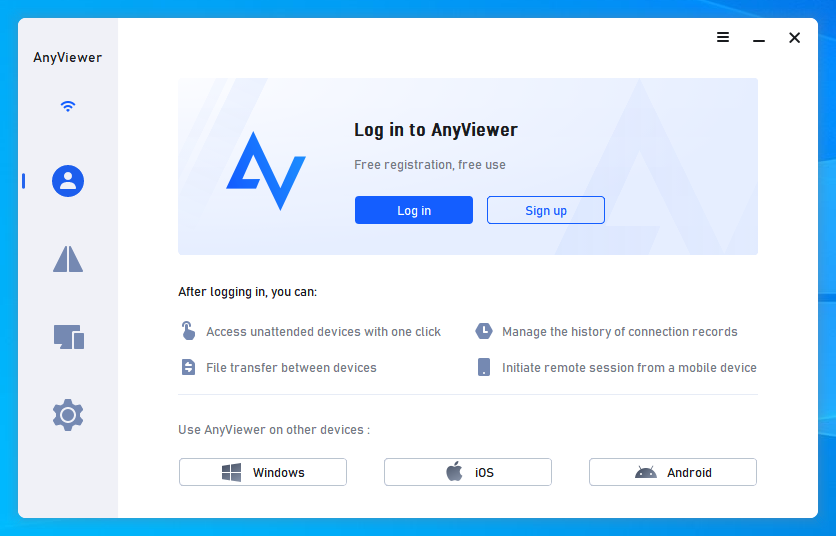 Step 2. Log in to the same account on other devices. Once logged into an account, the device will be assigned automatically to the AnyViewer account and displayed on My devices list.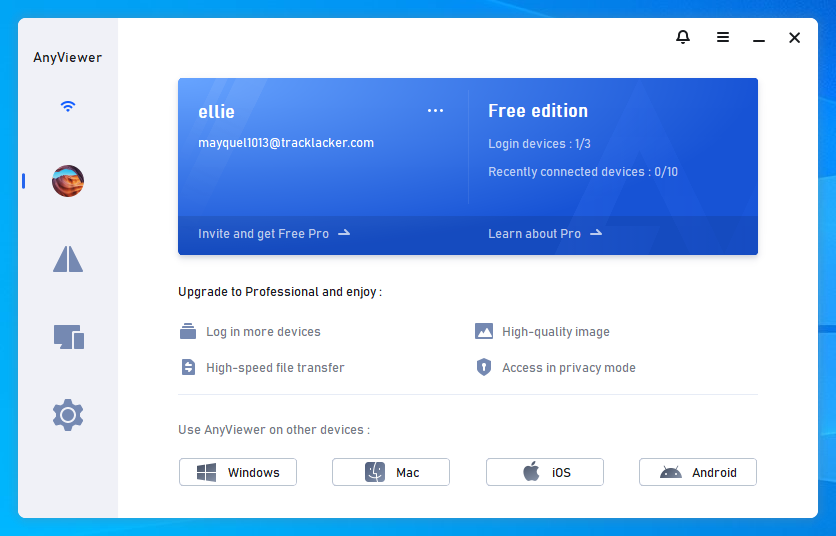 Step 3. On the computer that you want to start file transfer,go to the Device interface and click the other computer. And click File transfer.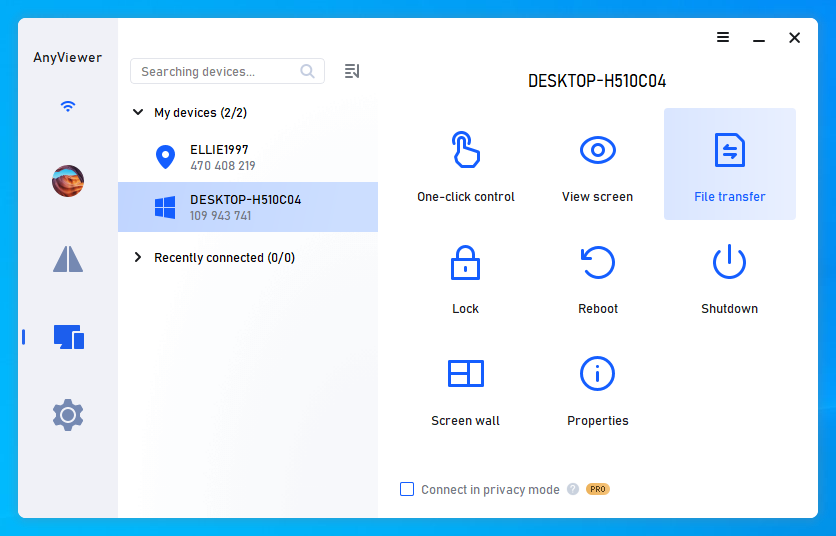 Step 4. A File Transfer dialog box for transferring files between the PCs is now available. The files on your local computer are displayed on the left panel. The files on the remote device are shown on the right panel. Just choose the files and click the triangle icon; then, you can transfer files from the remote device to the local machine or from the local device to the remtoe machine.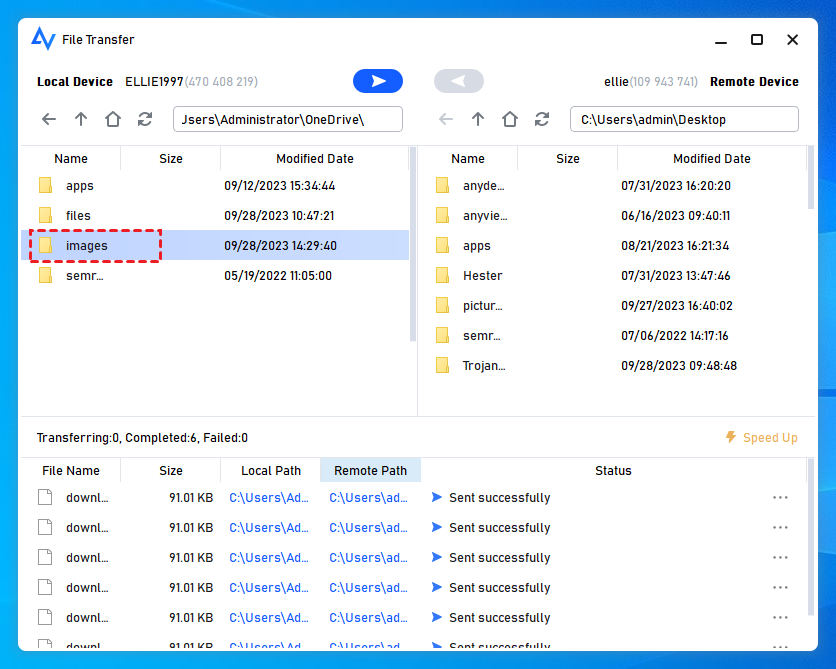 You can see the transfer status at the bottom of the box. Right-click to pause or remove the tasks.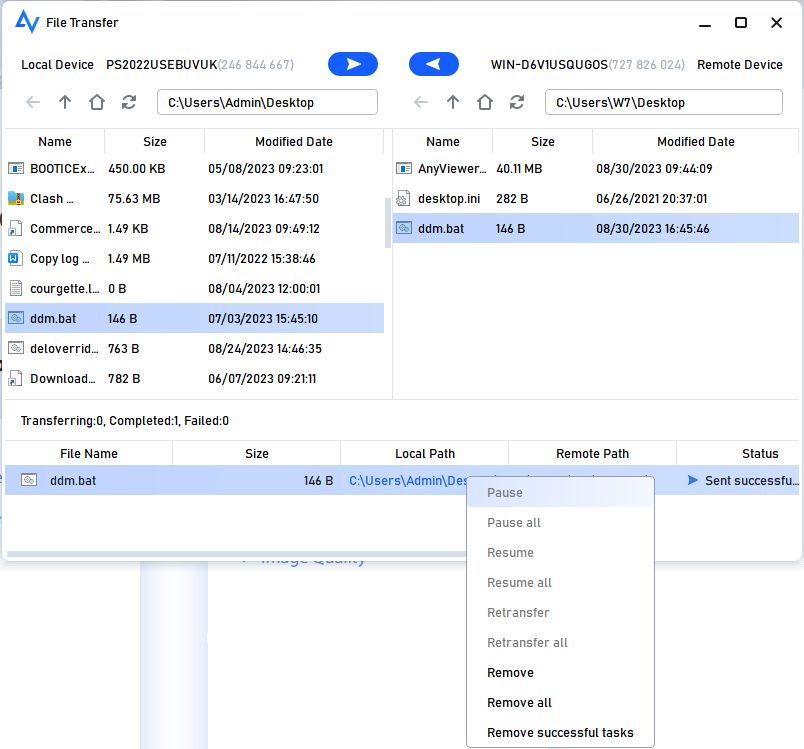 Notes:

File transfer function is limited in Free account. Max file transfer speed is 500KB/s, supports 2 threads, the max number of files that can be transfered at one time is 100, and the max size of a single file is 100MB. To remove the limitations, you can upgrade to Professioal or Enterpreise plan. Max file transfer speed is 10MB/s, supports 5 thredas, the number of files that can be transferred won't be limited and the maxi size of a single file is 1TB.
AnyVeiwer advanced plans also enjoy other privileges, like accessing in privacy mdoe, assigning more devices, high-quality image, etc.
Conclusion
This post introduces how to share files between two computers using LAN cable, hope the steps will work out for you to do this job. In the process you may feel confused about the complicated settings, so we also recommend you an easier way to transfer files betwwen two computers without space limitation.