How do I transfer files from desktop to laptop?
I always bring my laptop to work when I travel for business. The issue is that I occasionally need to handle work-related matters quickly, but the files are on my office PC, therefore I'm wondering whether I could transfer the information to my laptop. Can somebody provide some details?"
- Question from Reddit
How to transfer files from desktop to laptop wirelessly [5 ways]
Can I transfer files from desktop to laptop? The solution is very simple. You can transfer files to your laptop using the five techniques listed in this post. Choose the option that best meets your needs.
Way 1. Transfer files from PC to laptop using software: AnyViewer [free & fast]
AnyViewer is a free remote desktop software. It also supports file transfer with fast speed. We advise using AnyViewer for file transfers between PCs due to the following benefits:
Easy-to-use. It has easy operations to transfer files without restrictions, you can transfer files from PC to PC directly if you've logged into the same account.
Fast. It has a fast file transfer speed to improve your work efficiency and save time, it only costs about 20 seconds to transfer a 2 GB zip file from the local to the remote computer.
Compatible. It allows several Windows versions, including Windows OS and Windows Server OS.
User-friendly. It offers a chat box for text communication and it won't lock the host PC during connection.
Multi-function. In addition to file transfer, you can also use AnyViewer to get unattended remote access to desktops, laptops, or servers without complicated settings, then you can achieve screen sharing, remote game, or remote management whenever you want.
Step 1. On the client computer, go to Log in on the left pane and then click Sign up (you can log in directly if you have already signed up).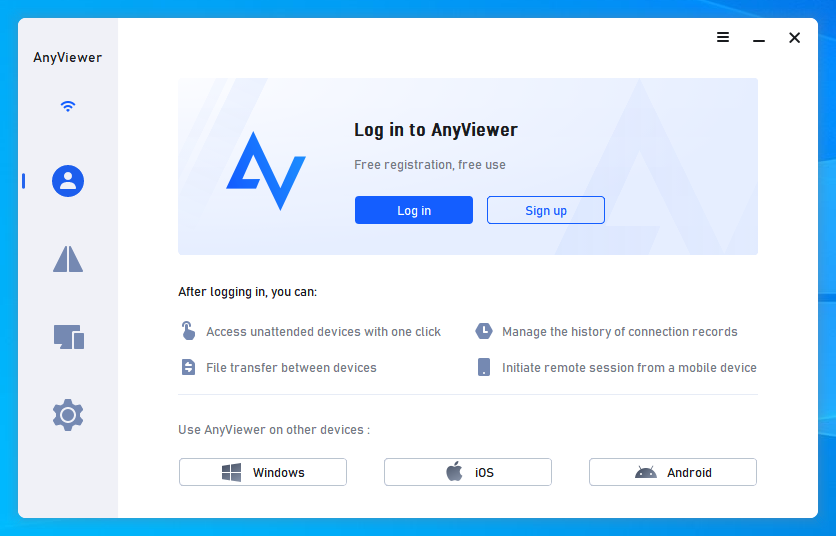 Step 2. Fill in the sign up information.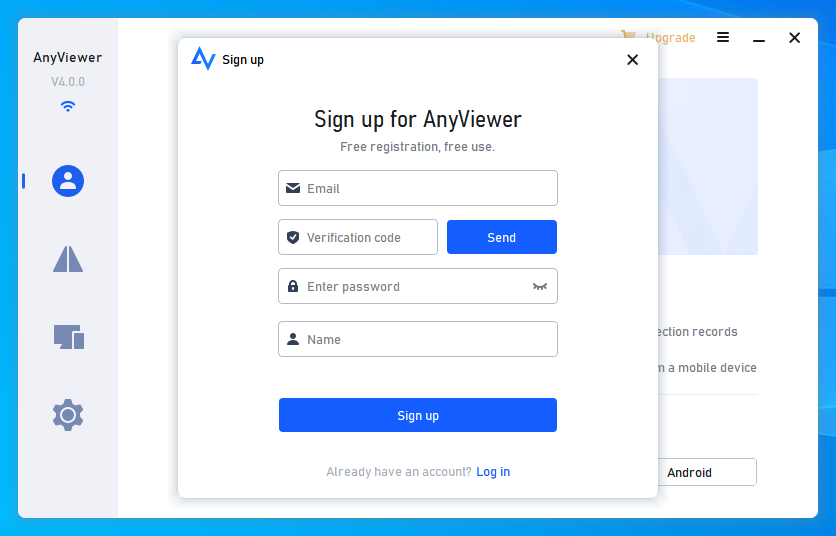 Step 3. Log in to the same account on other devices. Then you can see the assigned devices.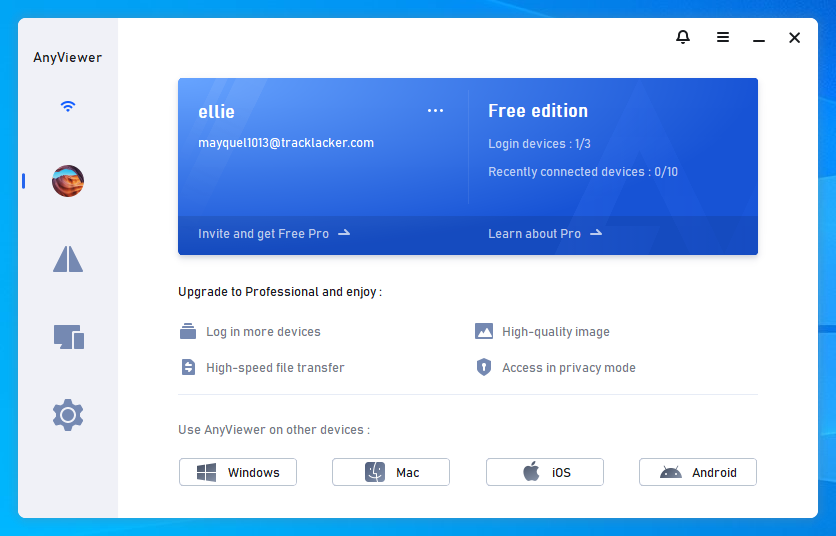 Step 4. Go to the Device interface to select the target device you want to transfer files to, and then click File Transfer.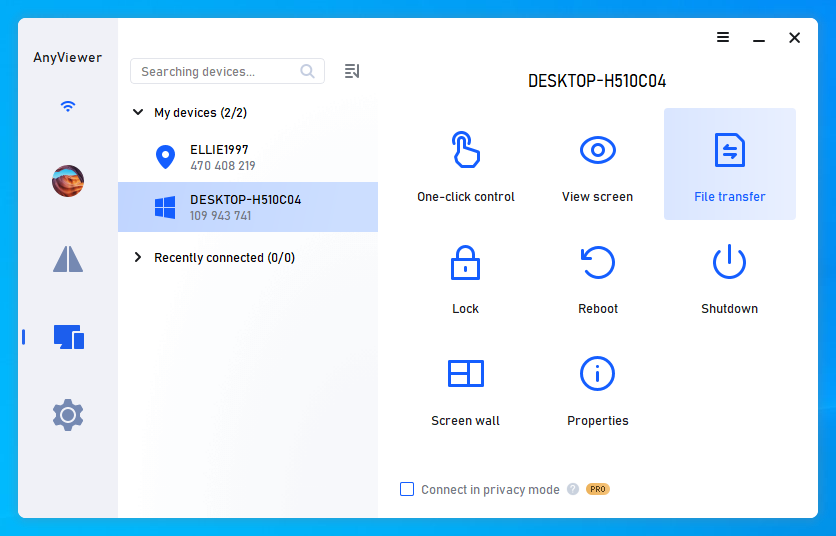 Step 5. A File Transfer dialog box for transferring files between the PCs is now available. The right of the box presents the client PC, and the host PC is on the left. Select the files and click the right arrow to transfer them to the client PC. Select the files and then click the left arrow to transfer them to the host PC.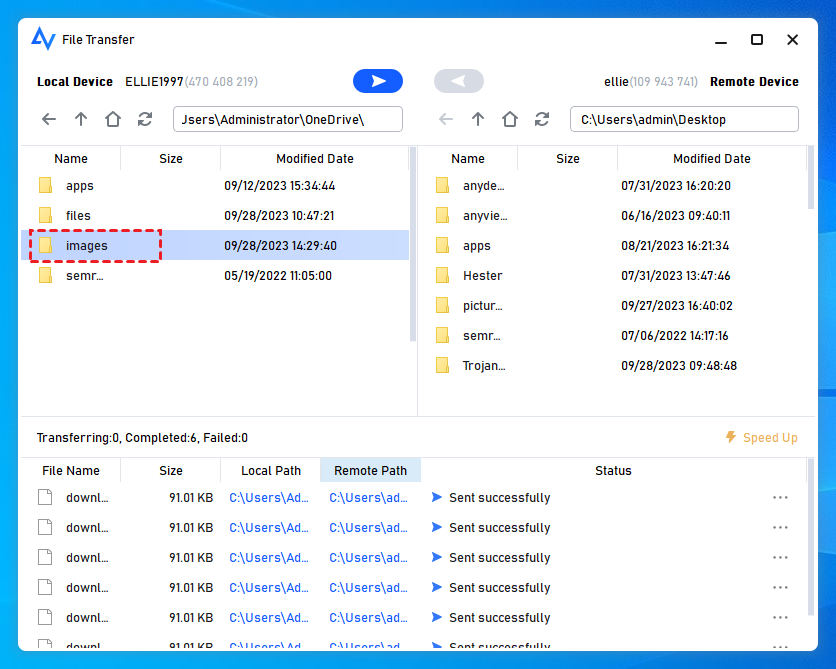 You can see the transfer status at the bottom of the box. Right-click to pause or remove the tasks.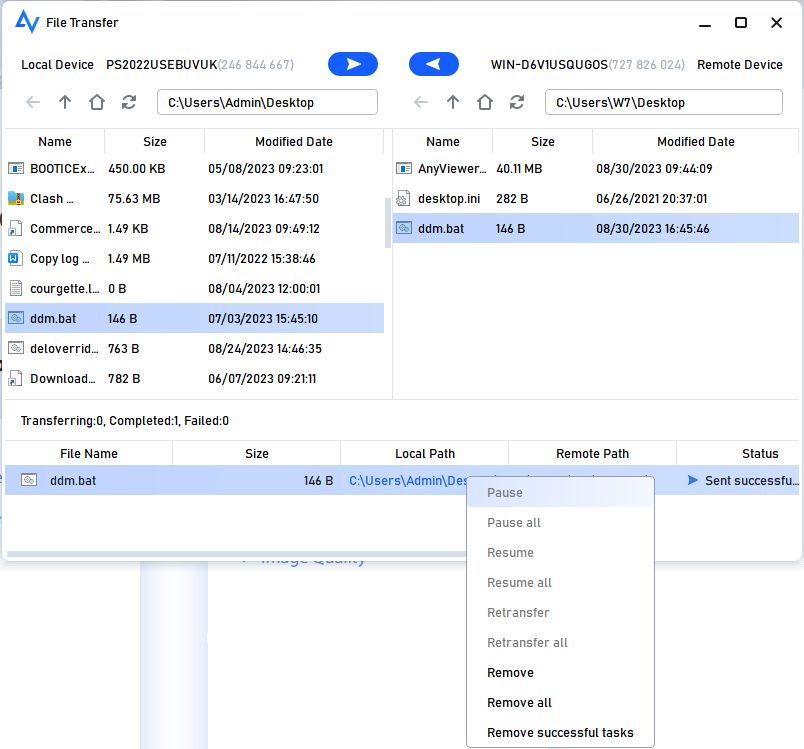 Notes:...

A single file smaller than 100 MB can be transferred using AnyViewer's free account, and you are only permitted to transfer up to 100 files at once. To transfer larger files, upgrade to a Professional or Enterprise plan. The following rights will thereafter be yours:

Transfer multiple files all at once. Speedier file transfer. Transfer speed for a free account is 500 KB/s, but it can reach 10 MB/s for a paid account.
Assign more devices to the same account to achieve direct file transfer.
Connect to the host computer in privacy mode so that you can block the remote PC's keyboard and mouse and black its screen.
Way 2. Share files between PCs with Google Drive
Users get access to free cloud storage using Google Drive. By keeping the data in cloud drives, you can access them on almost any device. Ensure you have a Google account before continuing to the next step.
Step 1. Open Google Drive, click My Drive in the left pane, and then choose Upload files or Upload folder from the context menu, depending on your needs.

Step 2. If you want to upload files, for example, click Upload files, and you will see a pop-up window. Click Open after choosing the file you want to upload.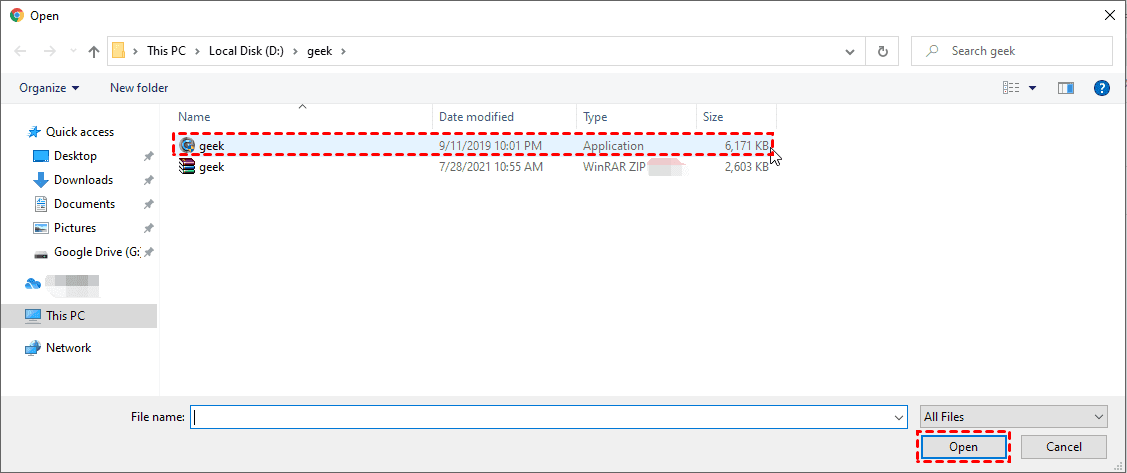 Step 3. The file upload progress is in the lower right corner. After the upload is completed, you can find the file in My Drive interface.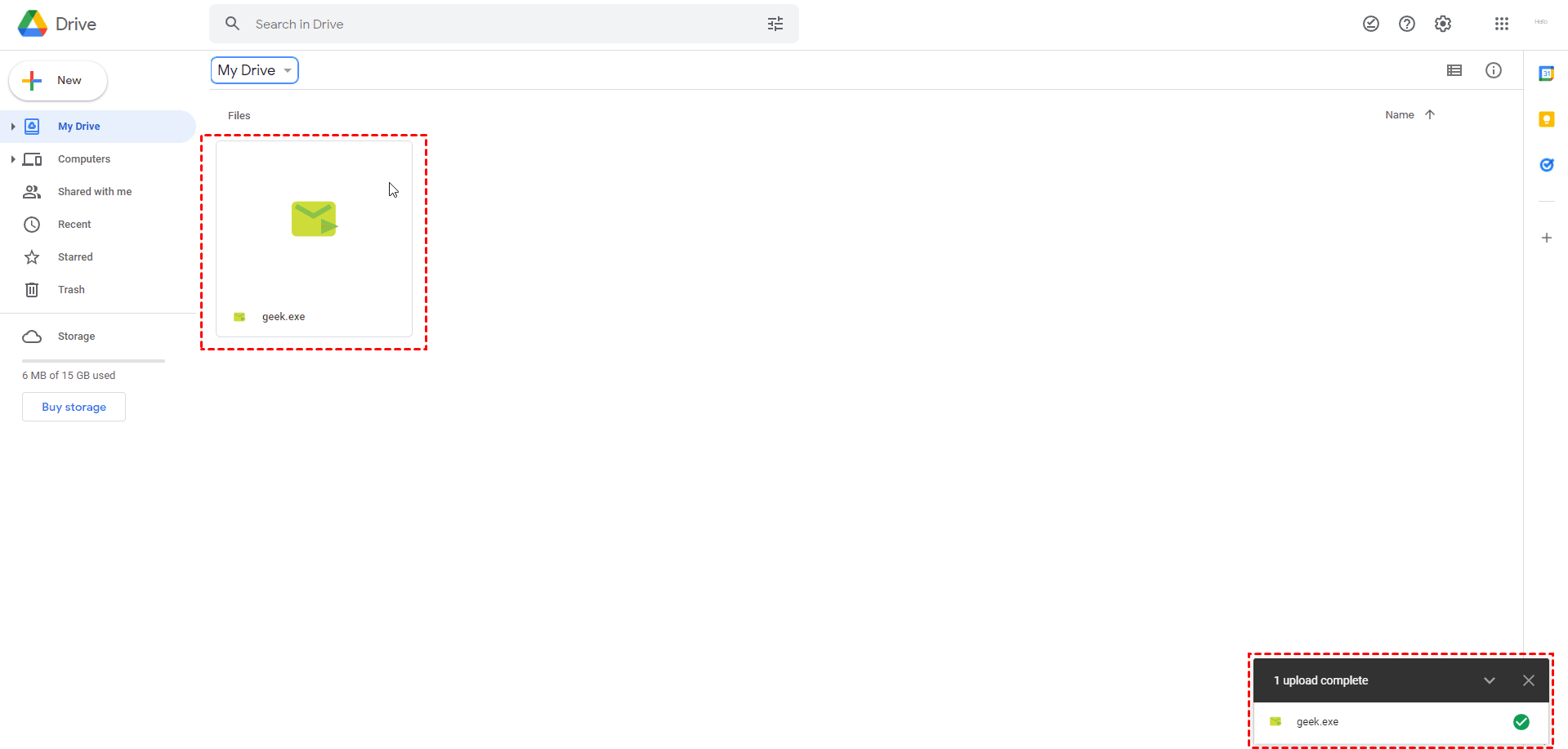 Step 4. Open Google Drive on the other computer and log in to the same Google account. Right-click the file you've uploaded, and then select Download to establish remote file transfer between different PCs.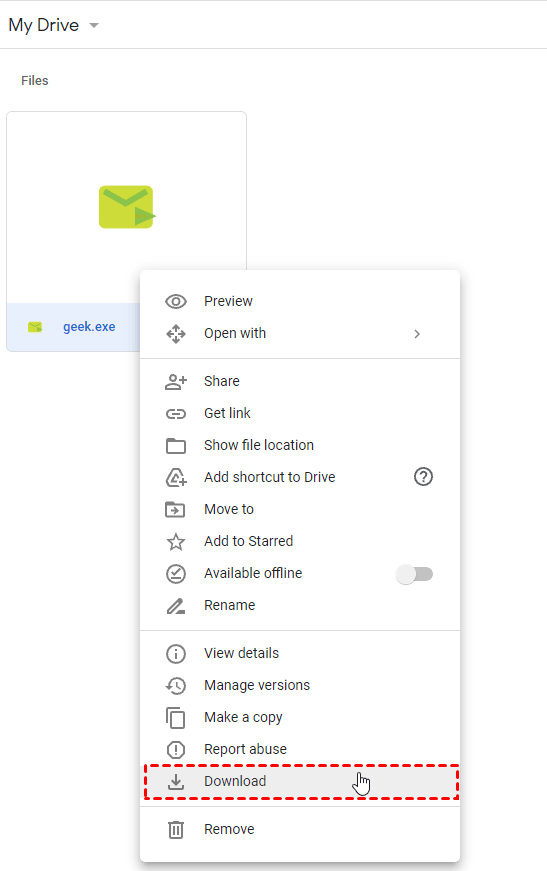 Way 3. Transfer files between PCs using Nearby Sharing
How can I transfer files from PC to laptop wirelessly? Nearby Sharing is equipped to do this duty. You should be informed before you begin that this method only works with Windows 10 and Windows 11, and that both devices need to be linked to the same network.
When you have done the preparation work bove, follow the next steps to learn how to access files from another PC.
Step 1. Navigate to: Settings> System> Shared Experiences, and turn on the Nearby sharing button.
Step 2. Select the sharing pattern based on your own need from the drop-down menu.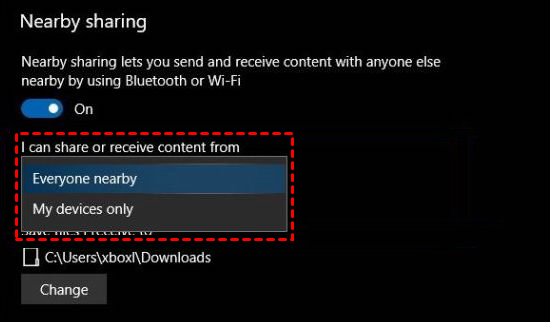 Tips:
Everyone nearby means your PC will share or receive content from all nearby devices.
My devices only means your PC will share or receive content only with devices using the same Microsoft account.
Step 3. Click Change to choose the folder location where you prefer to store the files being transferred to your PC.
Step 4. Go to the file explorer, right-click the desired file you want to transfer, and then select Share in the context menu.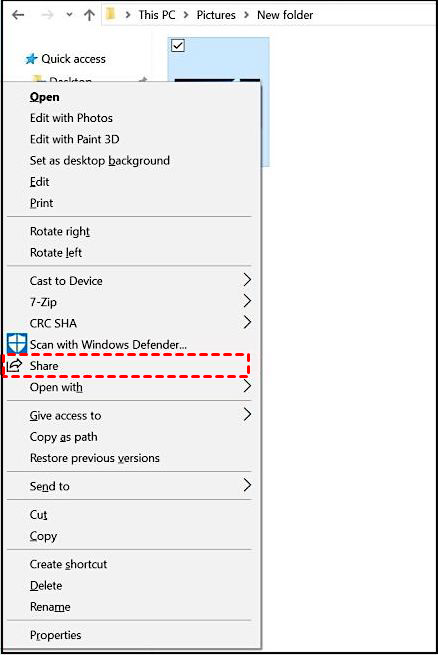 Step 5. Select the target device you want to transfer files to in the pop-up window.
Step 6. Then the target device will receive a notification. Click Save & Open to start the file transfer.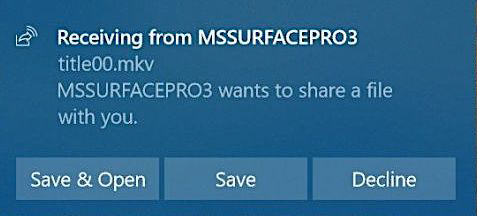 Way 4. Use external hard drive to copy and transfer files
Use external hard drive is a manual way to transfer files between PCs. To do so, you need to prepare an external hard drive and then follow the steps to copy and transfer files to your laptop.
Step 1. Connect your external hard drive to the source PC.
Step 2. Select and copy the files you need to the hard drive.
Step 3. Connect the external hard drive to the target laptop after unplugging it. Copy the files to your laptop by opening the hard drive.
Way 5. Transfer files to laptop through Email
The attachment of files is supported by almost all email service apps. Transferring files is possible with Gmail, Hotmail, Windows Mail, etc. However, sending files by email has some restrictions. For instance, Gmail allows you to send attachments up to 25 MB in size and receive files up to 50 MB in size. So take the following actions if you wish to deliver small files.
Step 1. Choose one Email service application and sign in with your email account.
Step 2. Establish a new mail and type in the email addresses of the source PC and target laptop respectively.
Step 3. Click the Attachment icon and select the files you need. Click Send to start sending files to another PC.
Step 4. On the target PC, open and sign in Email application to check and download the files.
Conclusion
You can wirelessly transfer files from a desktop to a laptop using any of the methods outlined above. The transfer of files might, however, have some disadvantages. Try AnyViewer if you wish to transfer files quickly and without restrictions.