About Chrome Remote Desktop PIN
Chrome Remote Desktop is a free remote control application with simple operation and high security which is suitable for Windows, Mac, Linux, and Chrome operating systems. You'll need a PIN code to achieve connection via Chrome Remote Desktop, but some users don't understand the role of the PIN code and often don't pay enough attention to it, resulting in forgetting the pin code from time to time and eventually affecting the use of Chrome Remote Desktop.
PIN refers to Postal Index Number, which is usually a passcode composed of a string of numbers. It is mainly used to identify the user's identity and authorize the user to enter the system. In Chrome Remote Desktop, PIN code is used as a password, and its main functions are:
Distinguish different remote-connected devices. Since there is more than one device connected through Chrome Remote Desktop, different PIN codes need to be set to correspond to different computers to realize the accurate remote connection.
Safety reasons. If there is no pin code, then your personal privacy and relevant sensitive information may be lost or leaked.
Grant the permission for remote connection to the equipment. For Chrome Remote Desktop, the pin code is indispensable, so that unauthorized personnel cannot connect to the device or perform any unauthorized operations.
If you have unfortunately forgotten your PIN code, don't worry, this tutorial provides you with four solutions in detail to fix the "How do I find my Chrome Remote Desktop PIN" problem.
How do I find My Chrome Remote Desktop PIN?
To retrieve Chrome Remote Desktop pin, you can check PIN in Chrome Personal Center
Step 1. Open Chrome browser, expand Personal Center in the upper-right corner and click the key icon.
Step 2. Click Autofill first and then click Password.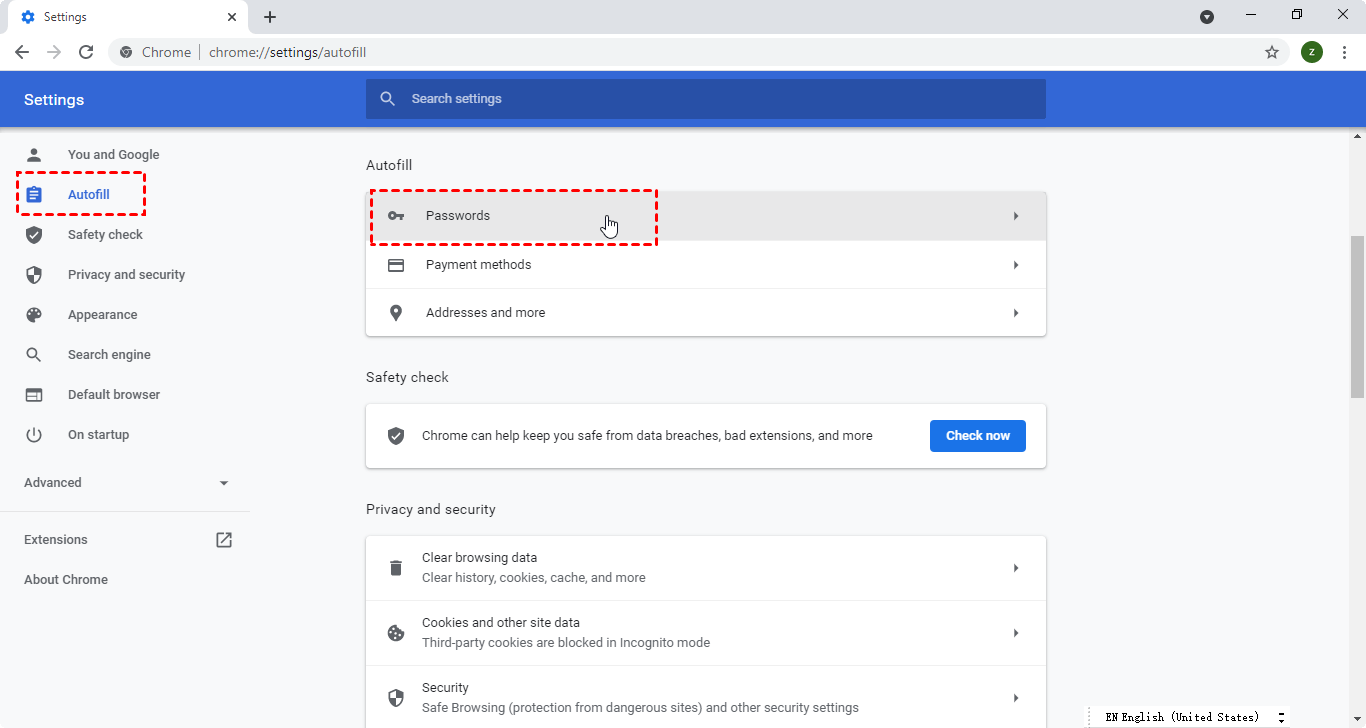 Step 3. Find Saved Password in the Password interface, you'll see the password you saved before. Find the Chrome Remote Desktop, then click the eye icon.
Step 4. Next, you're required to type your Windows password to allow you to see the Chrome Remote Desktop PIN.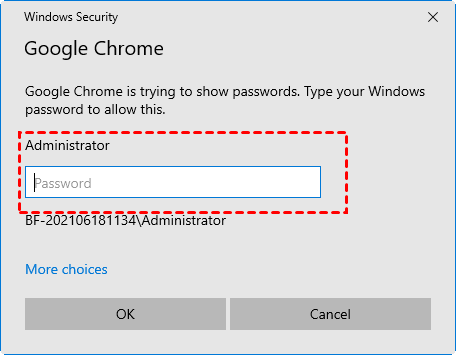 Step 5. Then you'll see your PIN appear here.
How to reset Chrome Remote Desktop PIN?
The above method can help you find Chrome Remote Desktop PIN, but if you didn't set the Chrome browser to automatically save your password, you may never find Chrome Remote Desktop PIN again. But don't worry, you can reset your Chrome Remote Desktop PIN with the following two solutions.
Solution 1. Change Chrome Remote Desktop PIN
Step 1. Enter Chrome Remote Desktop main interface, click the pencil icon in This device.
Step 2. Enter a new pin code under Change PIN, and click Save.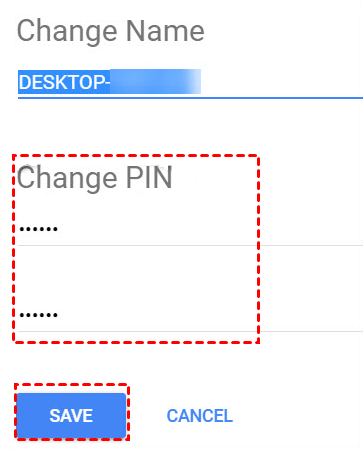 Solution 2. Uninstall and reinstall Chrome Remote Desktop
Since you can reset Chrome Remote Desktop PIN after reinstalling Chrome Remote Desktop, this method can help you solve this problem.
Step 1. Expand Extensions in the upper-right corner of the Chrome browser and click Manage extensions below.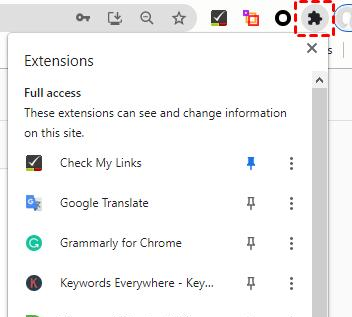 Step 2. In the main interface of Extensions, find Chrome Remote Desktop and click Remove.
Step 3. In the pop-up window, click Remove to confirm your removal.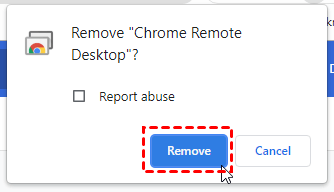 Step 4. Open Chrome Remote Desktop download page. Click Remote Access first and then click the blue download button.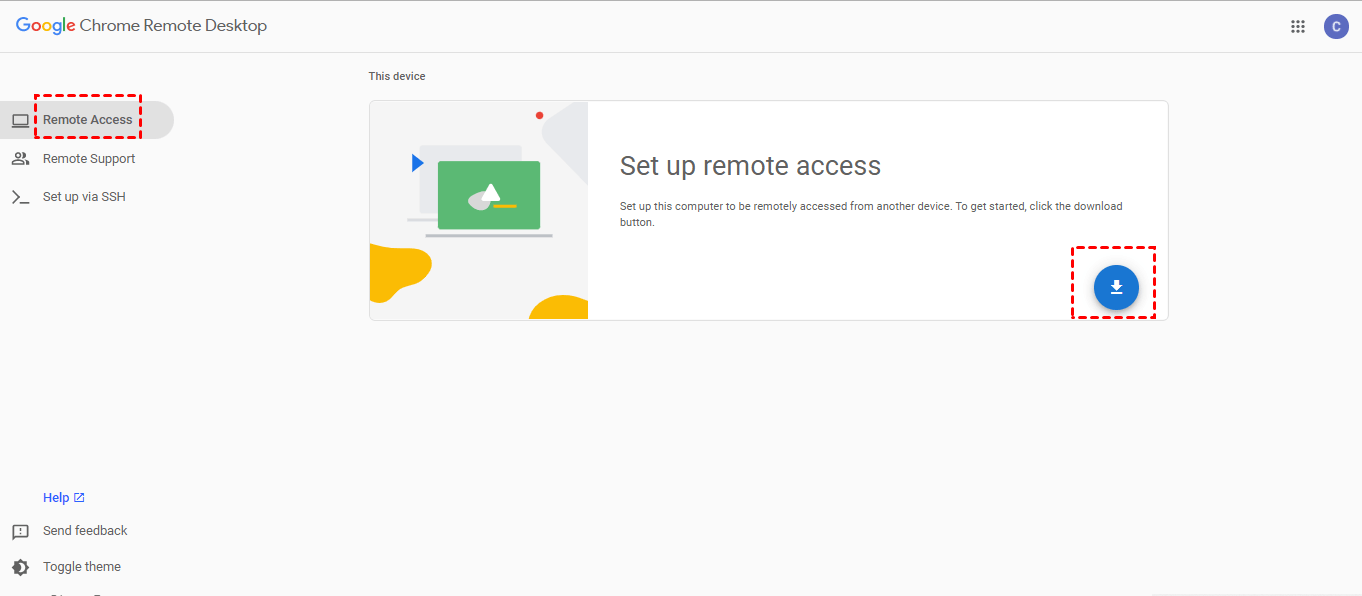 Step 5. After automatically jumping to the chrome web store, click Add to Chrome to download Chrome Remote Desktop.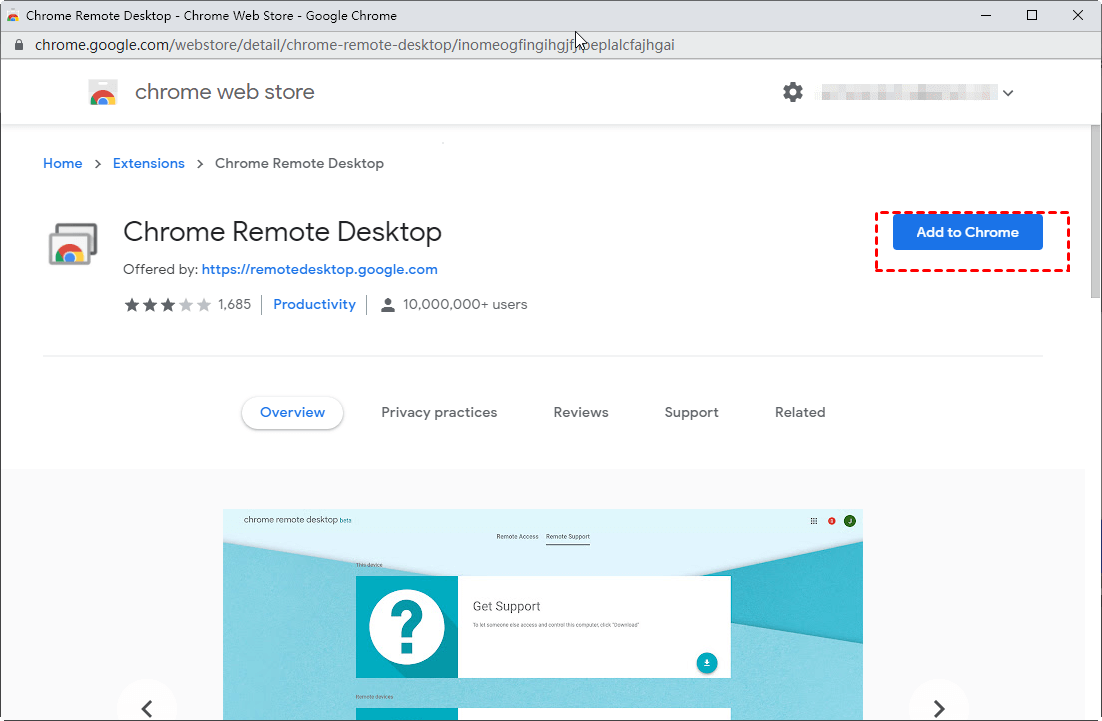 Step 6. Click Add extension to confirm the installation.
Step 7. Enter the name you want.

Step 8. Enter a PIN code you like and then click Start to finish the re-installation of Chrome Remote Desktop.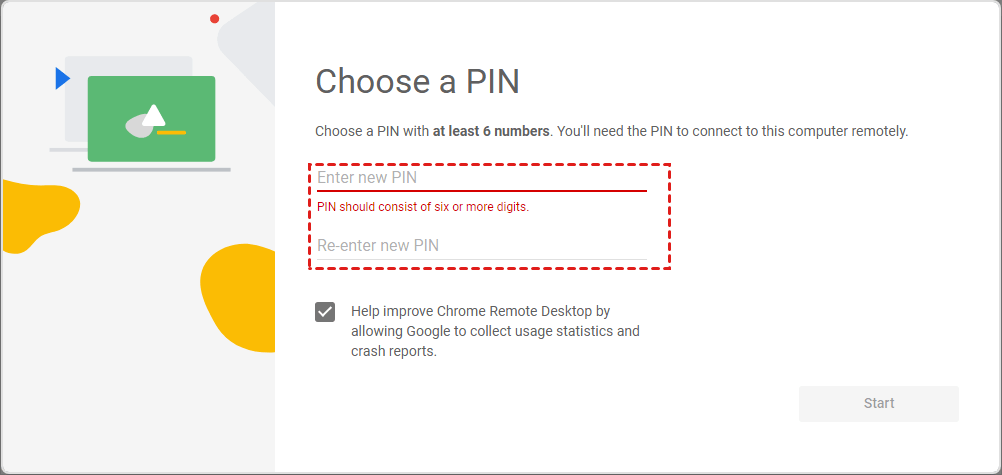 Or you can choose to use the temporary code for remote access over Chrome Remote Desktop.
Step 1. On the host computer, open Chrome Remote Desktop. Click Remote Support, and then click Generate Code.

Step 2. Remember the automatically-generated code. Note: the code is only valid for 5 minutes.

Step 3. On the client computer, find Connect to another computer on the Remote Support page. Input the automatically-generated code of the host computer. Then click Connect.

Step 4. On the host computer, there will be a pop-up window asking whether the host computer allows the control of the client computer. Click Share to establish connection.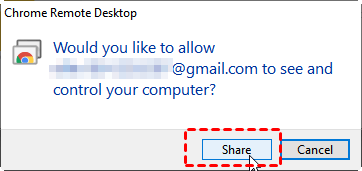 Best Chrome Remote Desktop alternative: AnyViewer
Chrome Remote Desktop has been reported by many users as unstable and laggy. If you would like a faster and more stable remote desktop tool, you can try AnyViewer.
AnyViewer is a great Chrome Remote Desktop alternative. It supports multiple Windows versions, including Windows 11/10/8.1/8/7 and Windows Server 2022/2019/2016/2012 R2. AnyViewer is easy to operate. You only need a few steps to achieve unattended remote access.
Preparation work:
Connect the client computer (the controller computer) and the host computer (the controlled computer) to the Internet.
Download and install AnyViewer on the client computer and the host computer respectively. To connect from mobile devices, download AnyViewer from App Store or Google Play.
Step 1. Launch AnyViewer on both computers. Go to Log in, and then click Sign up. (If you already have signed up on its official website, you can log in directly.)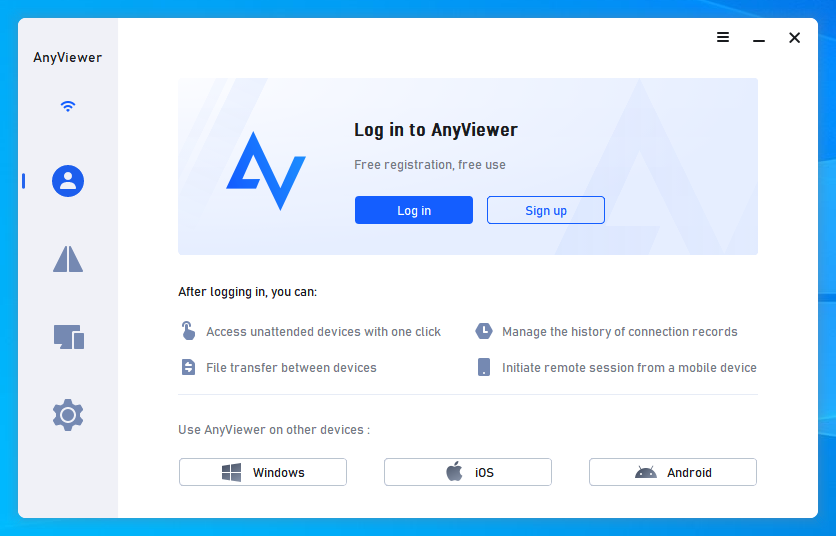 Step 2. Fill in the signup information.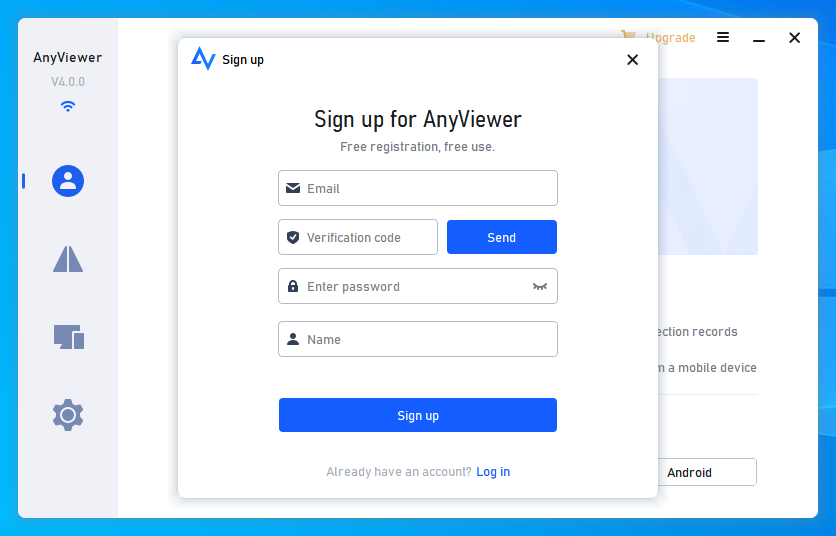 Step 3. Then you can see you successfully logged in to AnyViewer. Your device will automatically be assigned to the account you've logged in to.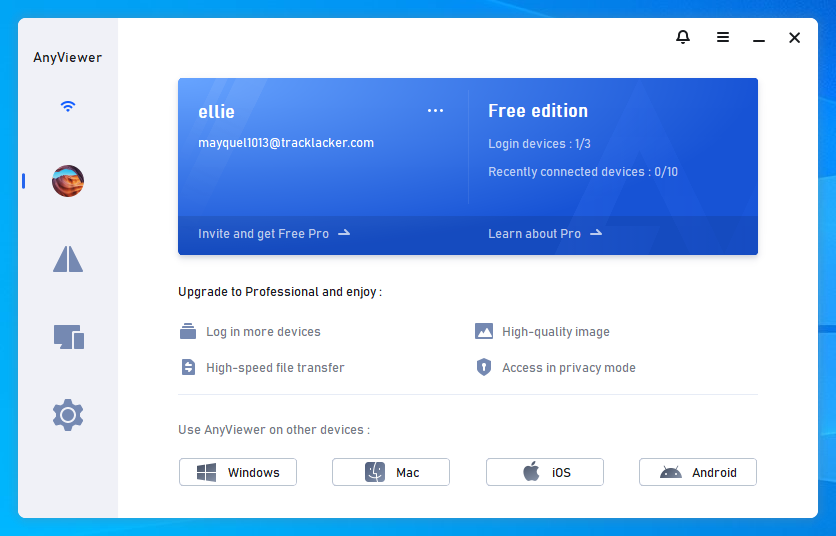 Step 4. Log in to the same AnyViewer account on the two devices, then click One-click control to achieve unattended remote access.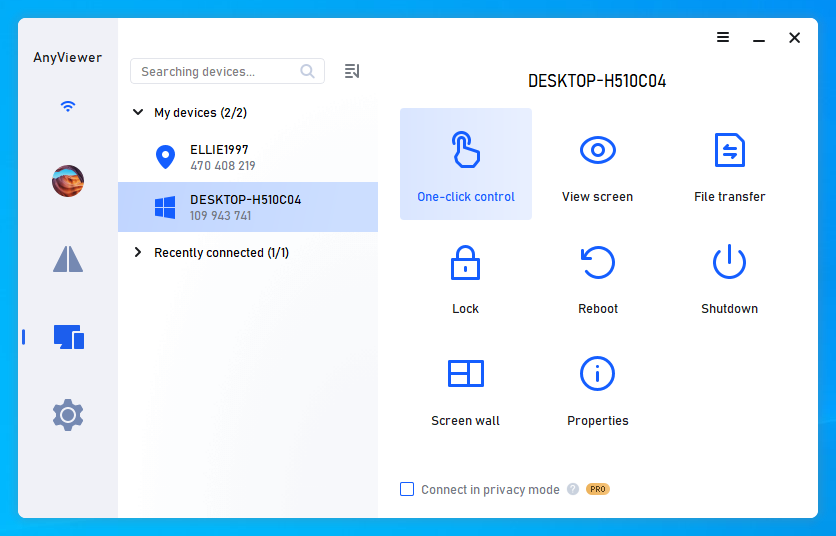 ✍ Upgrade your account to a Professional or Enterprise plan to enjoy more rights:
✔ Faster file transfer speed. Transfer speed for a free account is 500 KB/s, and for a paid account is up to 10 MB/s.
✔ More devices can be assigned to the same account for unattended remote access.
✔ Connect in privacy mode to protect privacy, to prevent the PC from being viewed or used by others via blacking its screen and disabling keyboard & mouse.
✔ ...
Conclusion
How do I find my PIN for Chrome Remote Desktop? When you forget your PIN, you can first follow Solution 1 to see if you can find it. If you can't, then you can try to reset it. You can also choose to use the temporary PIN to achieve remote control over Chrome Remote Desktop.
We also introduce a third-party remote control application to you. As the best alternative to Chrome Remote Desktop, AnyViewer is totally free and is much simpler to operatat. It is very suitable for novice users.