Why control home PC remotely?
We always restore all our important files and photos on our home PC. But sometimes, you may need to access these files and photos from another location. For example, when you need to edit a file stored on your home PC from work, or you want to show your classmates the photos stored on your home PC from school.
These won't be problems anymore if you know how to remote control home PC from work or anywhere else. That's where remote access software comes in. Remote access software allows you to fully control your home PC remotely. You'll feel like you are actually sitting in front of the real machine from afar. Of course, remote access software could also allow you to remote into work pc from home. In other words, you could remote into a PC located anywhere.
The simplest option for remote control home PC: AnyViewer 
Back in the dark ages of computing, remote control technology is not that common and popular. But nowadays, with more and more remote control software pouring into the market, our demand for these software as customers has also changed greatly. Customers not only want the software to be free, fast, stable, and safe, but also need the software to be simple to operate.
By far the simplest option for remote control home PC which at the same time meets all the above-mentioned features is AnyViewer. Next, you'll get to know what can AnyViewer do and how to use AnyViewer.
What can AnyViewer do?
AnyViewer is a free remote access solution that allows you to remote access home PC located anywhere. You can choose it for the following reasons:
It is easy to set up. you only need two steps to prepare your AnyViewer for remote control. No more tedious setup process anymore.
You don't need an account to start your remote control. All you need to do is to download AnyViewer, then you'll get an automatically generated device ID as the connection prerequisite.
It provides you with flexible connection modes: security code and remote control request. To provide instant remote support you can ask your send a remote control request and require your customers to accept the request. To establish unattended access to your work computer, you can use its security code connection mode.
It supports you to control one or multiple PCs at once from the client computer, making it's easy to offer technical support to your customers.
It is developed by a strong technical team, providing you with stable and fast connection.
It is secured by Elliptic Curve Cryptography (ECC) encryption, protected your data from leakage during remote connection.
It is a professional remote control software for Windows. It supports Windows 10/8.1/8/7 and Windows Server 2019/2016/2012 R2.
It is totally free.
How to take remote control of home PC over AnyViewer?
As mentioned above, it is very simple to remotely control home PC over AnyViewer. Just follow the steps listed below.
Set up AnyViwer
Step 1. Install and run AnyViewer on both computers.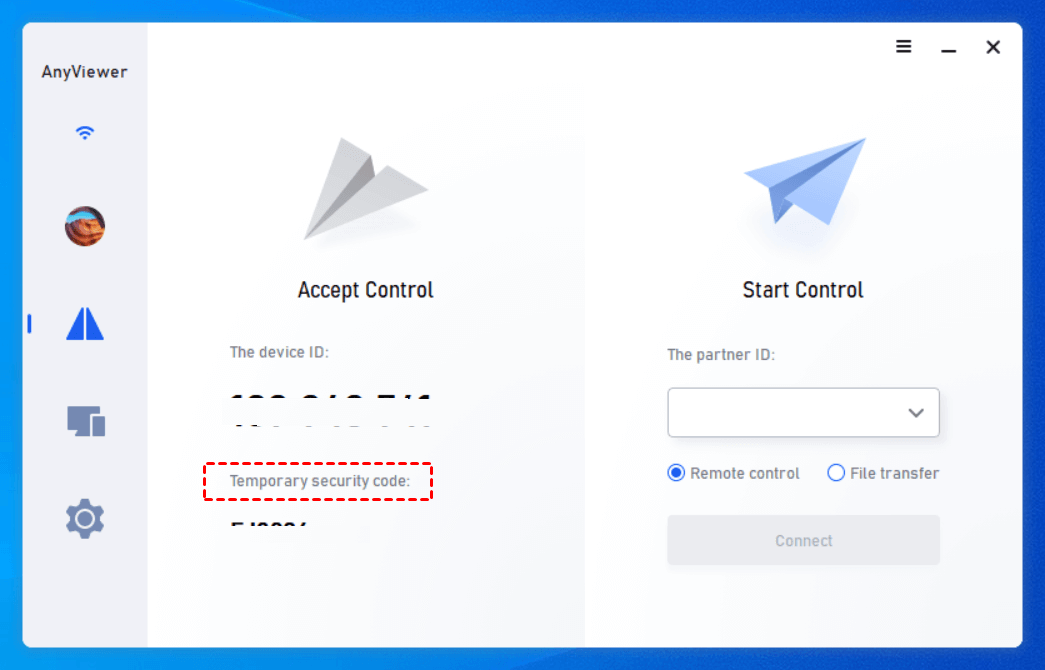 Step 2. On your home PC, click on Setting and then Recipient. Tick the third option. Then set the security code you want in the box. Then click OK to finish the set-up process.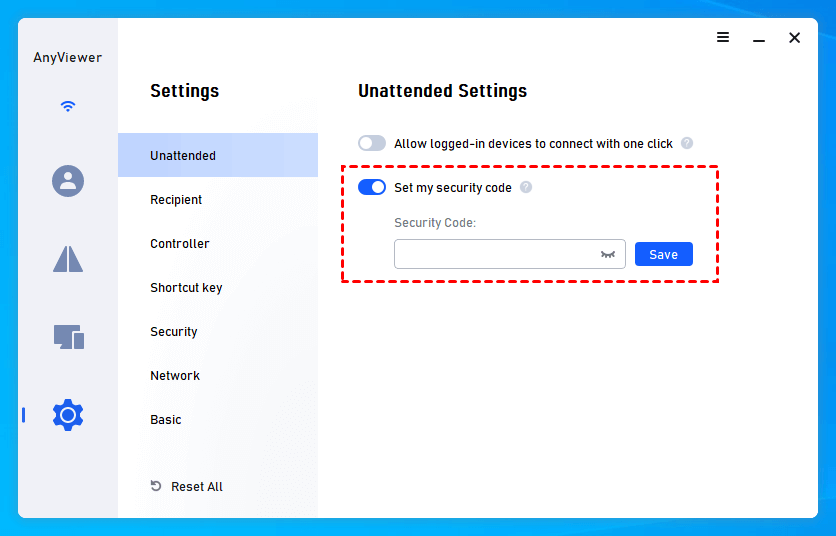 Remote control over AnyViewer
You've already configured it for remote access. If you want to remote control home PC, you must first remember its device ID. After entering the device ID, you'll be given two options:
Option 1: You can send a control request; then your home PC will receive a pop-up request to control it. You could ask your families to help you allow it.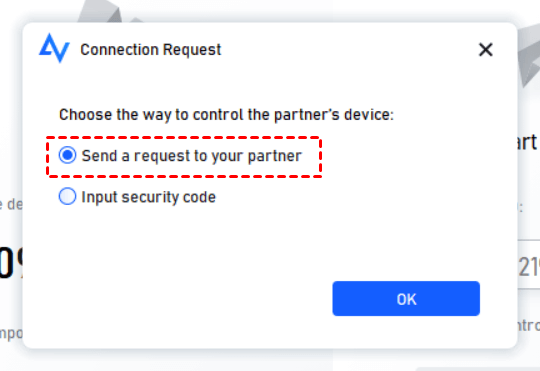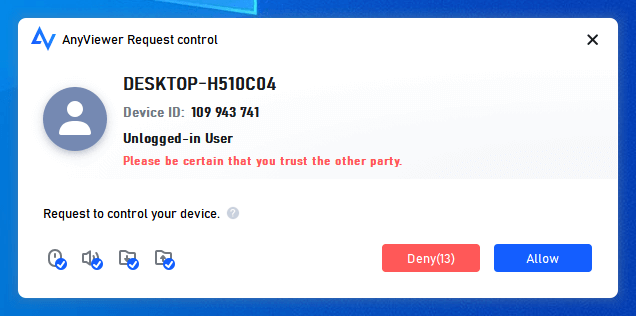 Option 2: You could also input a security code of your home PC to achieve remote connection directly. You can either input a permanent security code or a temporary security code.
A permanent security code is set by you in advance. A temporary security code is automatically generated and will change every time. Both security codes allow you to establish a connection directly.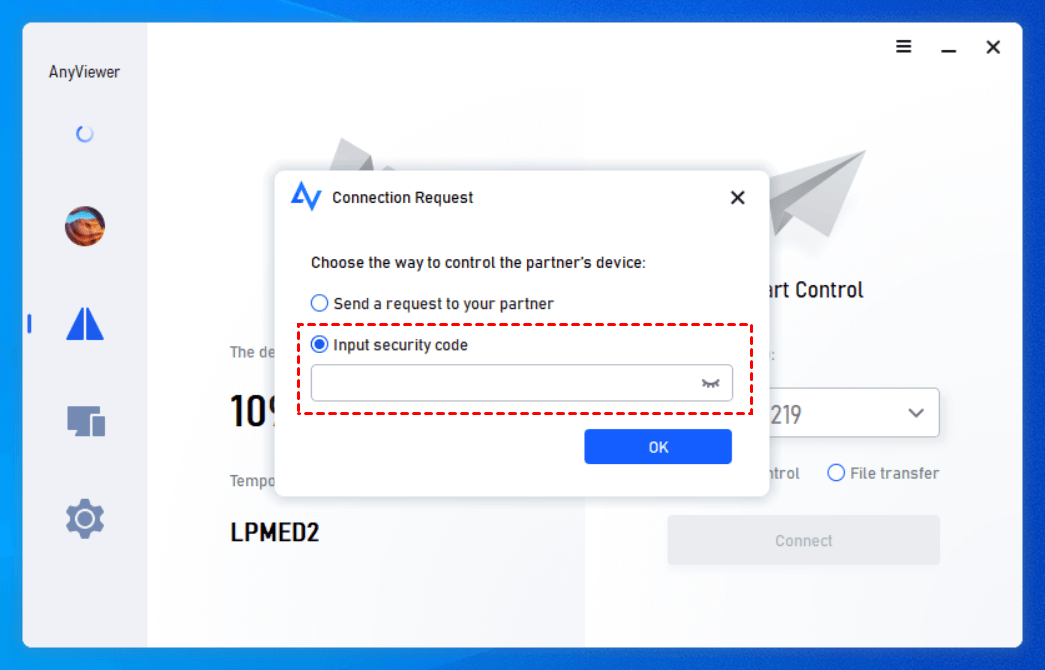 Other remote control software for remote control home PC
Of course, there are other options to control home PC remotely, such as the built-in Remote Desktop. It's one of the most popular free Windows remote control programs. However, the disadvantages are obvious.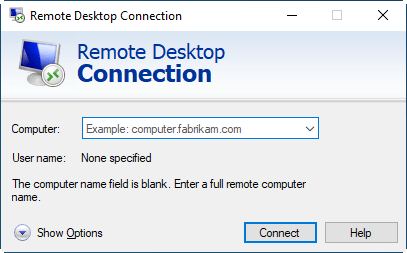 On the one hand, it's only included in certain versions of Windows, like Pro, Business, or Ultimate version. Windows 7 Starter Edition, Windows 7 Home Edition, Windows 8 Home Edition, Windows 8.1 Home Edition, and Windows 10 Home Edition do not support Remote Desktop. On the other hand, if the two computers are under different networks, the technical challenge will increase since port forwarding is required across various networks.
Chrome Remote Desktop also supports Windows. It is developed by Google, existing as a Google Chrome extension. Chrome Remote Desktop is less complicated in operation compared to RDP and can be well adapted to different network environments. But its shortcomings are also obvious.

On the one hand, you need to download the Chrome browser on both computers and you need to log in to the same Google account. On the other hand, the automatically generated access code will expire only in 5 minutes, making it more difficult for you to complete remote control if you are a novice user.  
In conclusion, AnyViewer is the easiest solution for remote control home PC when compared to the other two remote control software described in this post. AnyViewer will not disappoint you if you are seeking a free yet robust remote control program.