Need to access files on the home computer from work
"I have two Windows 8 computers. One at work and one at home. Yesterday I dealt with some work stuff in my home. However, I forgot to send the files to my work computer in my office. My question is whether I can access files on the home computer from work."
How do I access files from a home computer?
There are many scenarios in which we need to access files or transfer files on a home computer from work, for instance, the above example or the one who has multiple devices need to access files. In the next part, I will explain to you how to access files on the home computer from work or access home computer files from office.
Method 1. Desktop sharing software
To a large degree, resorting to third-party software is the best way how to access files on a home computer from work, which avoids a large number of troubles. For the user who has the necessity to access files, it's better to choose a third-party remote access software, like AnyViewer.
As free and secure software, AnyViewer is not only a screen-sharing software but also lets you access your computer's files remotely. Whether for personal use or commercial use, AnyViewer can give you an immersive experience. You can control the remote PC just like control your own PC. Furthermore, it's also workable for Windows 11/10/8.1/8/7 and Windows Server 2022/2019/2016/2012 R2, enabling you to remote into PCs or Servers, anywhere, anytime over the internet.
Step 1. On your work computer and the Windows 10 Home computer, install and run AnyViewer. Sign up for an AnyViewer account and log in to this account on the two computers. Once logged in, the computer will be assigned to the account automatically.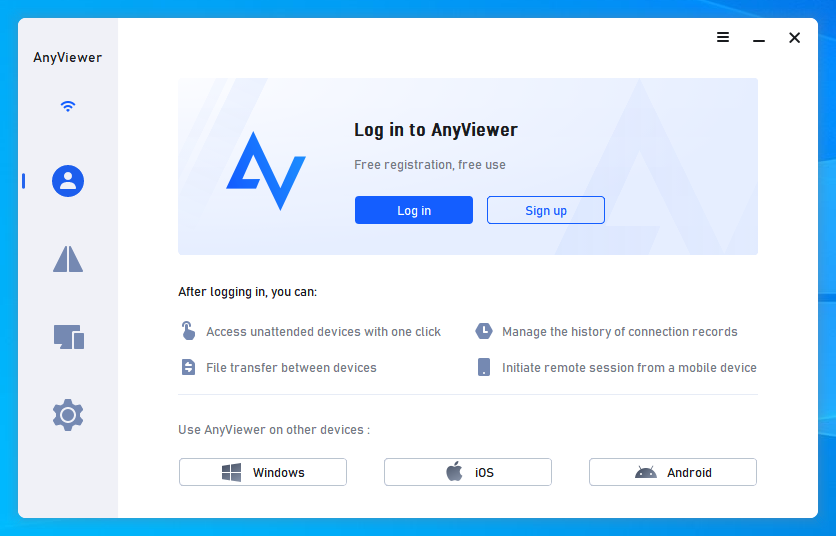 Step 2. On the work computer, go to "Device" and find the home computer; click it and choose "One-click control" to take full control of it.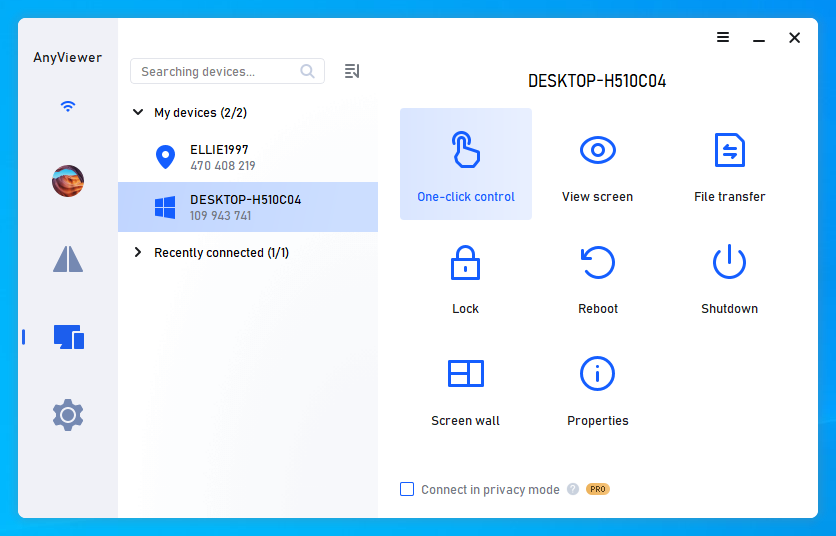 Once a remote connection is established, you can open Windows Explorer, Task Manager from the client computer.

Notes:
Method 2. Online Backup Services
In most people's perceptions, online backup just can protect you against data loss. Actually, it also can help you to access your files from a home computer. There are many platforms such as Google Drive, Dropbox, OneDrive, which can provide you with an easy way to backup and upload your files. Just create an account and then you can get free storage of about 10-15GB. After uploading your files, you can log into your account on your work computer whether in your web browser or app and then you can access your files.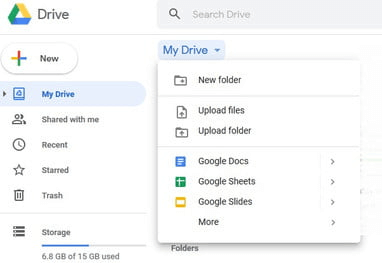 Method 3. FTP Servers
The goal of FTP (File Transfer Protocol) is to enable file sharing and provide remote access to files. It allows the users to upload and download files. In this way, you can remotely access your files on your home computer from work. However, FTP has a very high latency, which also means that the time between requesting and receiving data can be very long. Moreover, the time of login is also very long, which requires you to be super patient.
Method 4. Dedicated NAS Devices
Saying in a professional way, NAS(Network Attached Storage) systems are network-connected storage devices that allow authorized network users and heterogeneous clients to store and retrieve data from a centralized location. It is like a huge repository in which you can store all your files on the NAS no matter how many they are. Where large files or a large number of small files need to be accessed, the processor helps to speed up the process tremendously. Using NAS devices can offer you great convenience. However, for most people, the price of it is out of reach.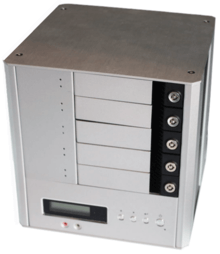 Conclusion
How to access files on the home computer from work? I guess you have already got the solution that's suitable for you. Dedicating NAS is effective and convenient, while it's too expensive. FTP server offers complete control to the user, but it takes a long time and is unsafe. The online backup service is secure, however, it needs to log in and upload each time. From the analysis above, it seems that third-party software, like AnyViewer, can simultaneously guarantee free charge, security, and easy operation for file access.