How do I transfer Microsoft Word from one computer to another?
"I need to transfer some important Microsoft Word documents from my office computer to my personal laptop. How can I do it?
- Question from Reddit"
4 options on how to transfer Word documents from one computer to another
In this section, we provide you with 4 options on how to transfer Word files from one computer to another.
Option 1. Remotely transfer Word documents via remote file transfer tool [recommended]
Sometimes, we may need to work from home outside of the company. At this moment, remote file transfer would be of great help to you. Here, we would like to suggest AnyViewer, a free remote file transfer tool that enables you to send files remotely between computers.
★ Benefits

Wide compatibility. It works with several Windows versions, including the newest Windows 11 and Windows 7.
High efficiency. You don't even need to appear in front of the computer which contains the Word documents you want to achieve file transfer with AnyViewer.
Fast speed. It allows you to transfer a batch of files at a really fast speed. For example, it only costs about 20 seconds to transfer a 2 GB zip file from the local to the remote computer.
Improved security. The file transfer process is secured by Elliptic Curve Cryptography (ECC) encryption, protecting your data from leakage.
Multiple features. As a remote desktop tool as well, it also allows you to easily control and manage another computer remotely. Besides, it is also a screen share tool.
Step 1. Download, install, and launch AnyViewer 3.0 on both Windows computers. If your version is lower, please upgrade first.
Step 2. On the Controller computer, go to Log in, and then click Sign up. (If you already have signed up on its official website, you can log in directly.)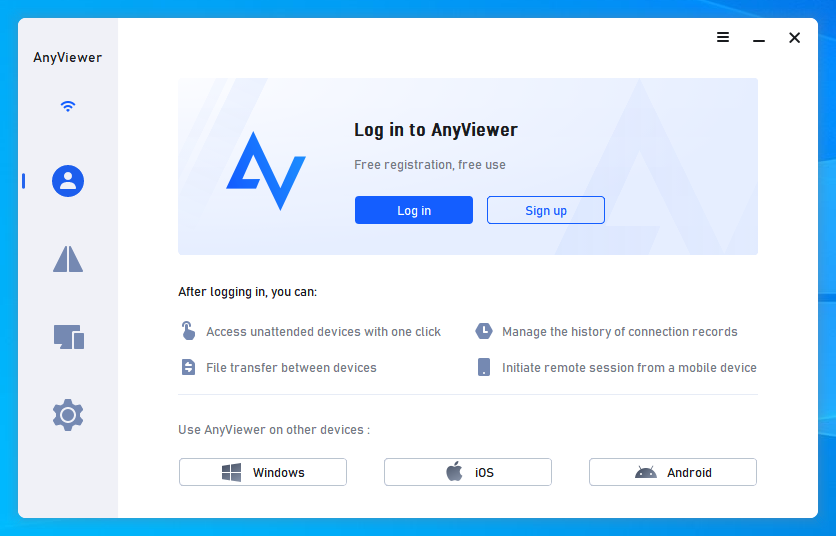 Step 3. Fill in the signup information.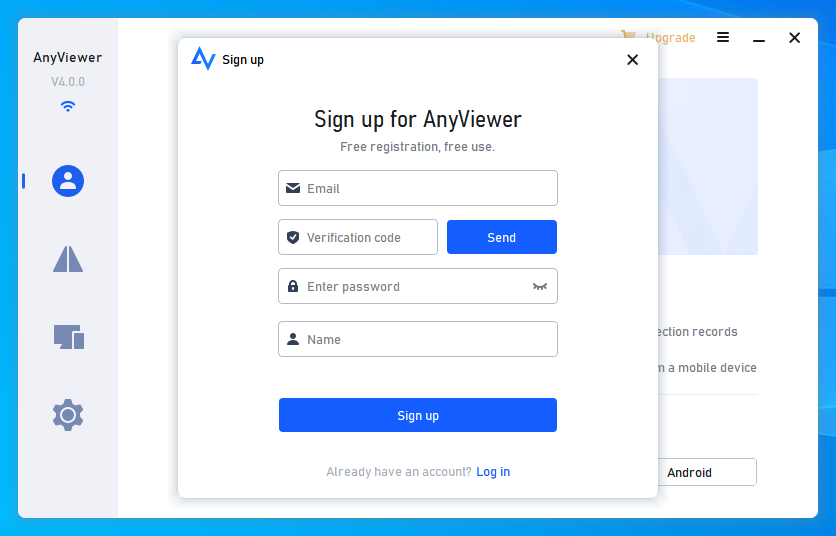 Step 4. Then you can see you successfully logged in to AnyViewer. Your device will automatically be assigned to the account you've logged in to.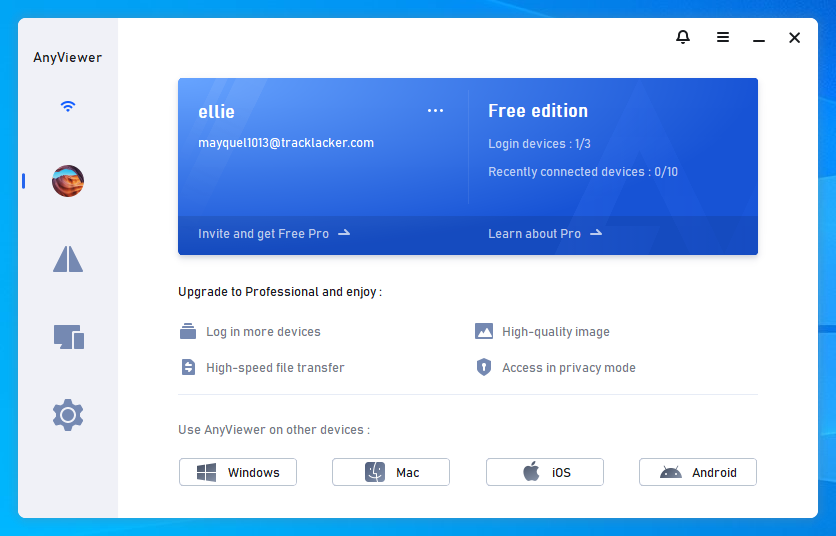 Step 5. Choose your target computer, and then click File Transfer.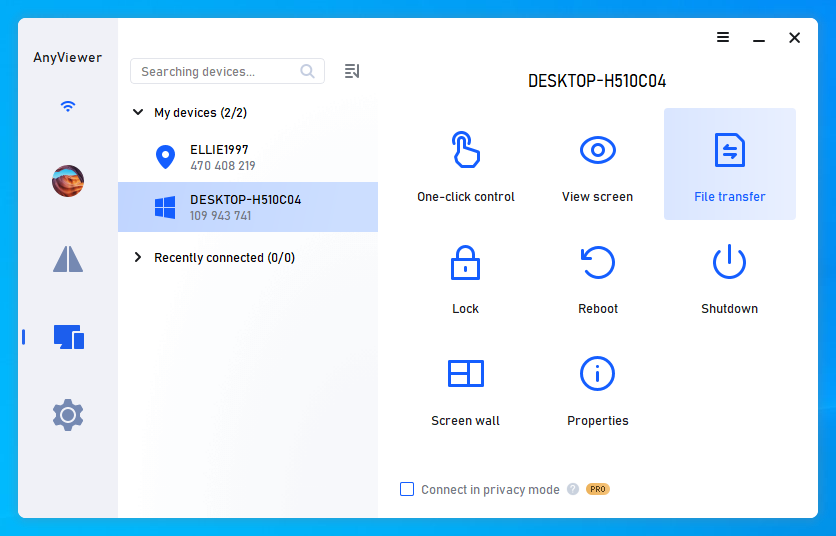 Tips:
You can also click
One-click control
to achieve
unattended remote access
to your office computer. Then you can completely control it just like you're sitting in front of it. After the connection is successful, you can also click the
Files
button in the menu bar to transfer files.

Step 6. Then a File Transfer dialog box will appear. You're able to transfer Word documents between devices freely by clicking the arrows after choosing the target files. You can also double-click the target file to achieve transfer.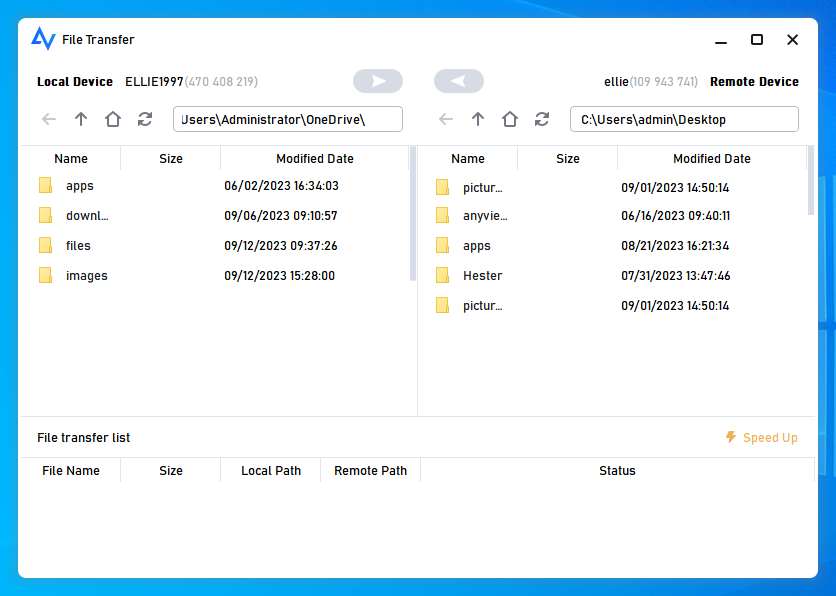 Notes:✎...

It is highly recommended to upgrade your account to a professional or enterprise plan. Here are what a professional or enterprise plan can bring to you:

Faster file transfer speed. Transfer speed for a free account is 500 KB/s, and for a paid account is up to 10 MB/s.
Larger size of a single file that can be transferred. The maximum size of a single file that can be transferred for the free account is 100 MB.
More devices can be assigned to the same account for unattended remote access.
More Currently connected devices are displayed for management.
Remote control in privacy mode to protect privacy.
Option 2. Transfer Word documents using cloud storage services
Cloud storage service is also an option to transfer files between computers. Technically, a cloud storage service is more like a backup tool allowing you to back up and sync your files to your cloud and then download it whenever and wherever you want.
★ Benefits

The cloud storage service app lets you view and edit your files.
You can also access your uploaded files from any computer by going to the cloud storage service website and signing in.
Your files will still be backed up and secured at the cloud storage service if your device is stolen or damaged after you have saved your files there.
There are lots of cloud service providers at present. Here we'll take Google Drive as an example to show you how to transfer word documents from one computer to another using cloud storage services.
Step 1. Open the main interface of Google Drive, find and click My Drive in the left sidebar, click My Drive again, and select Upload files or Upload folder in the expanded menu.

Step 2. For example, click Upload files, and a window will pop up automatically. Select the file you want to upload and click Open in the lower-right corner.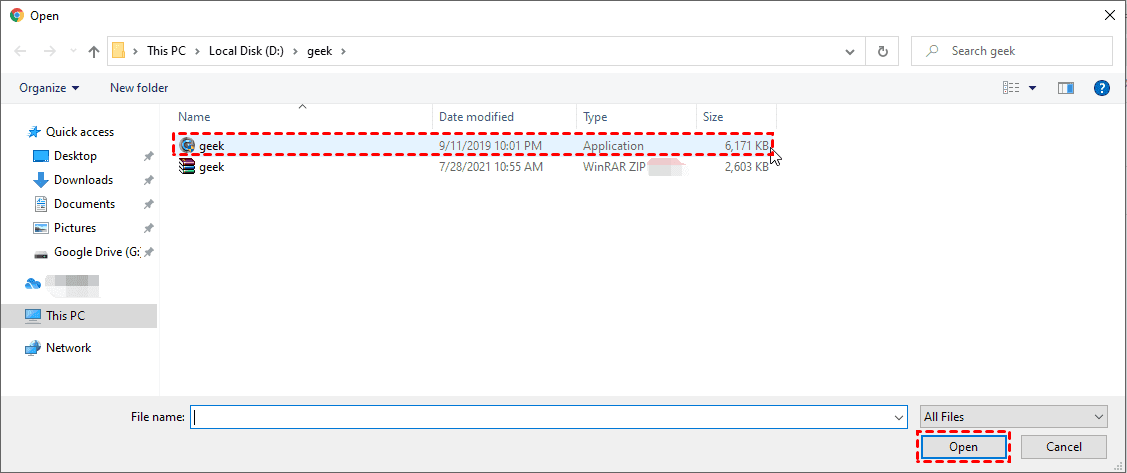 Step 3. You can see the file upload progress in the lower right corner. After the upload is completed, you can find the file in the main interface.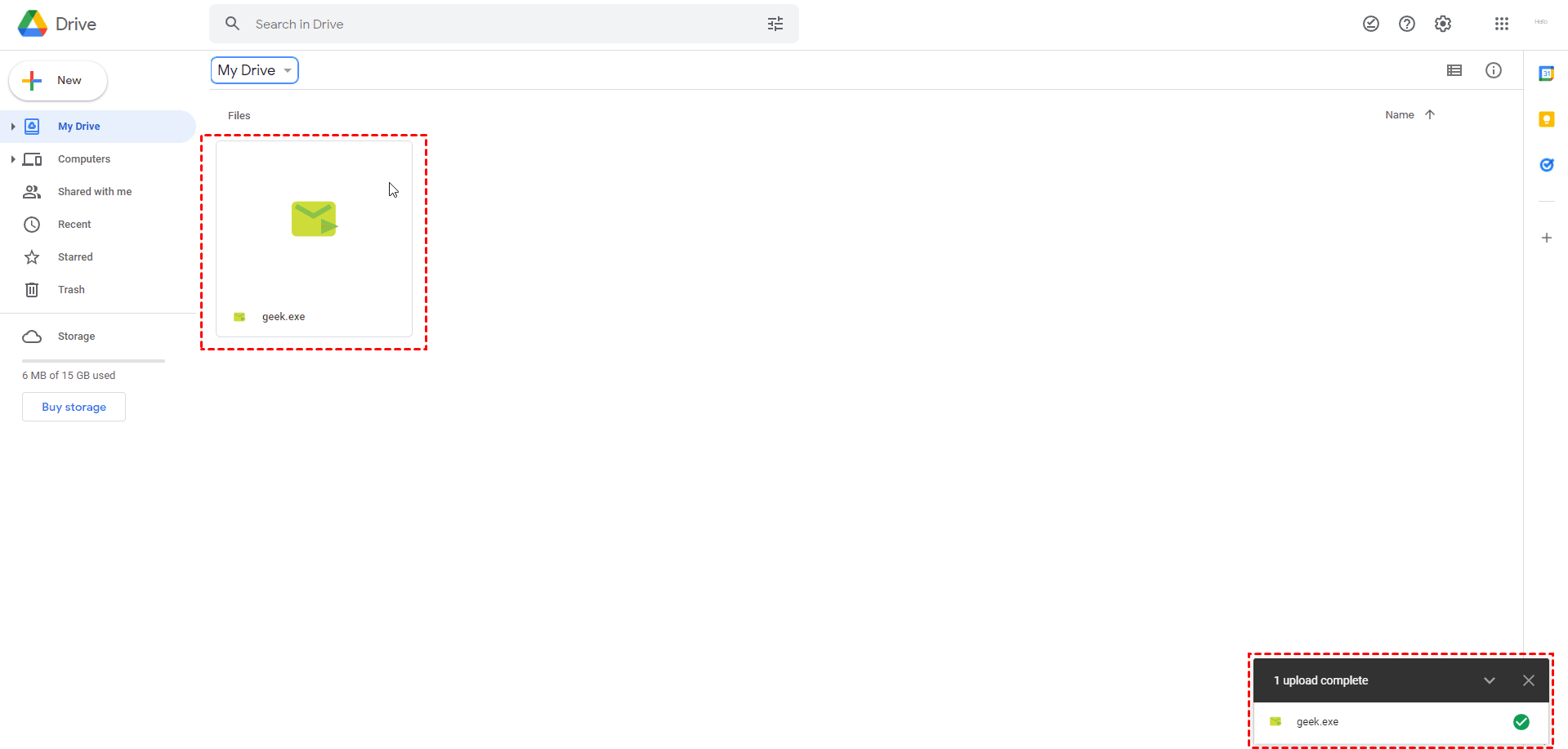 Step 4. Open Google Drive on the other computer and log in to the same Google account. Find the file you've transferred, right-click the file, and select Download in the expanded menu to realize remote file transfer between different computers.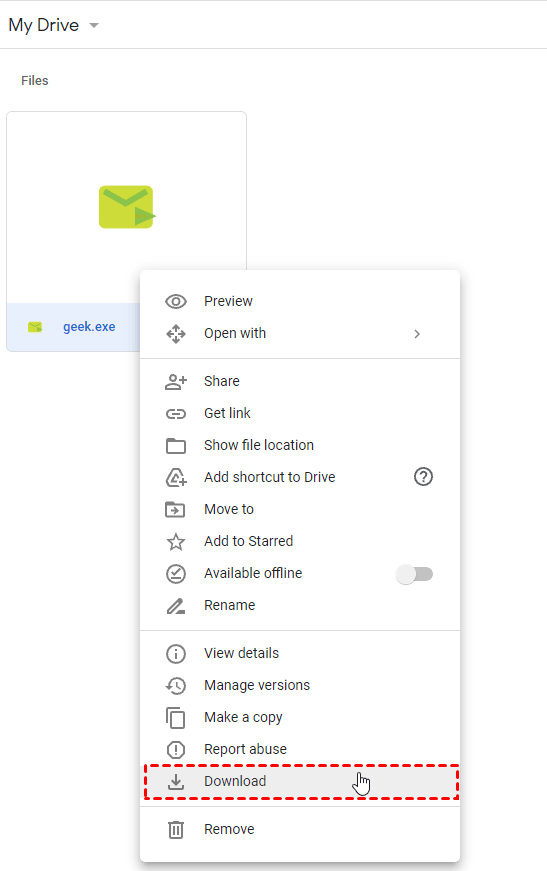 Option 3. Send Word documents between computers via email
The third option on how to transfer Microsoft Word documents from one computer to another is to use email.
★ Benefits

You can view your Word files before sending them through email.
You can almost transfer Word files to computers running any OS as long as you've logged into the email account on it.
You can transfer Word files between different email services, for example, Gmail, Microsoft Outlook, Hotmail, and so on.
Note: Please keep in mind that the size of a file that can be attached and sent via e-mail is limited. Gmail, for example, allows messages of up to 25 MB in size, including the message's text and any attachments. Outlook.com only allows 10 MB.
We'll take Gmail as an example to show you how to transfer Word files from one computer to another.
Step 1. Open Gmail official site on one computer, create and sign in to your email account. On the main page, click Compose.
Step 2. Then type in the email addresses that have been logged in to another computer behind To. Click the attachment icon below to choose the files you want to transfer. Click Send to start sending files to the other computer.
Step 3. On the other computer, open and sign in your email application to check and download the Word files.
Option 4. Move Word documents between computers via USB
You can also copy files to an intermediate storage device, such as a USB flash drive or external hard drive, and then move the device to the other PC to transfer the files.
★ Benefits

There is no need for internet access, additional software, or services.
External drives are portable, convenient, and secure because they can be encrypted.
Moving a large collection of files that require a lot of storage space via USB can be the quickest and most cost-effective option.
Conclusion
The main focus of this post is on teaching readers how to transfer Word documents from one computer to another. In particular, AnyViewer, cloud services, emails, and USB drives are introduced as 4 options. They are each listed according to their advantages. Choose based on your personal preferences.