Which software is best for file transfer?
Information sharing is getting increasingly important in today's information times. Fortunately, today we have file-sharing software to quickly transfer data from one system to another system.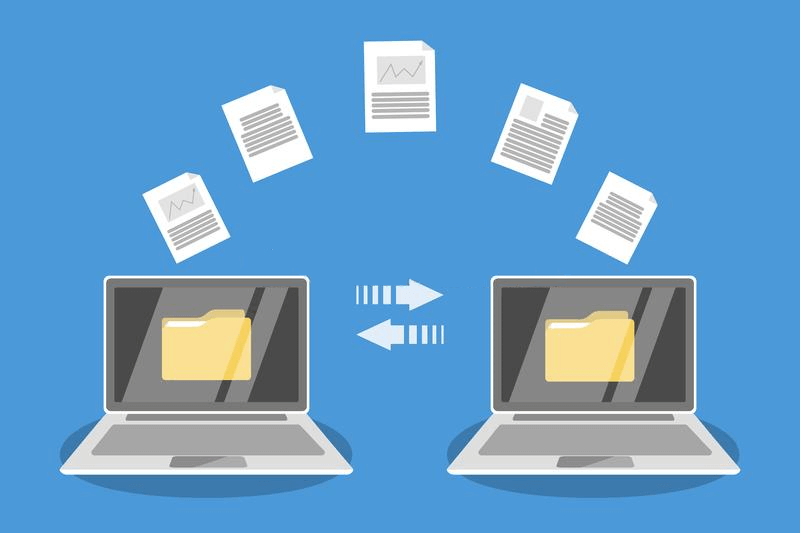 Among so many file transfer software, what is the best network file transfer software? Which should you choose? Here are some qualities that a good file transfer software should have:
Free
Easy to operate
Fast transfer speed
Less file size limit
Increased security
...
Best 3 network file transfer software
Here we'll introduce the top three free network file transfer software. Choose the one you like best.
Way 1. Remotely transfer files between computers via AnyViewer
The easiest and fastest network file transfer software is AnyViewer. It is one of the most popular remote file transfer tools for the following reasons:
★Benefits:

Wide compatibility. It works with several Windows versions, including the newest Windows 11.
Unattended remote transfer. You are allowed to share files with an unattended computer.
Fast speed. It transfers files at a really fast speed, even if transferring large files over the Internet. But if the two laptops are on LAN or WiFi, the transfer speed will be faster.
Improved security. The file transfer process is secured by Elliptic Curve Cryptography (ECC) encryption, protecting your data from leakage.
Multiple features. As a remote desktop tool as well, it also allows you to completely control and manage another computer remotely. Besides, it is also a screen share tool.
Step 1. Download, install, and launch AnyViewer 3.0 or above on both Windows laptops. If your version is lower, please upgrade first.
Step 2. On one laptop, go to Log in, and then click Sign up (if you already have signed up on its official website, you can log in directly).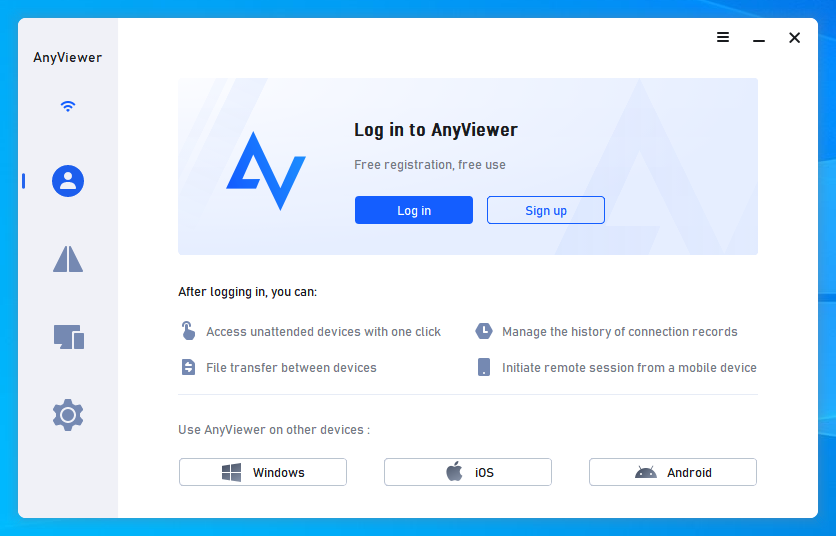 Step 3. Fill in the signup information and you can see you successfully logged in to AnyViewer. Your device will automatically be assigned to the account you've logged in to. After this, log in to the same account on the other laptop.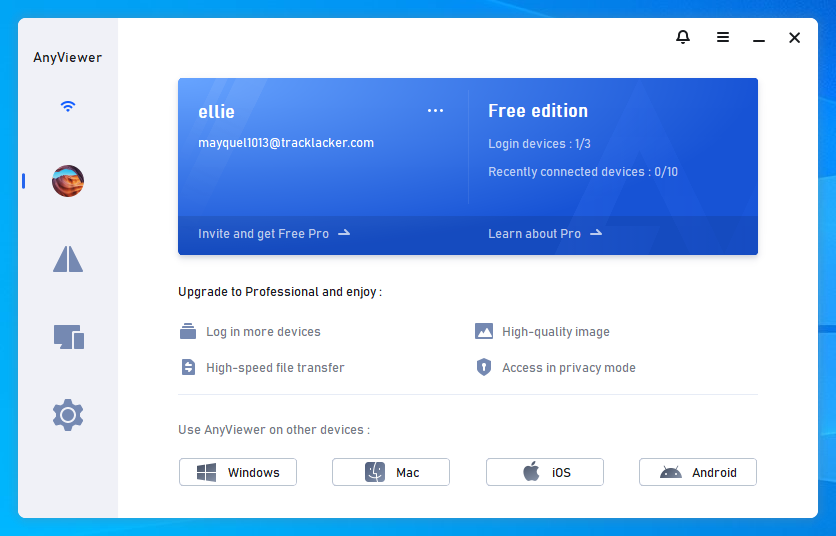 Step 5. Choose your target laptop, and then click File Transfer.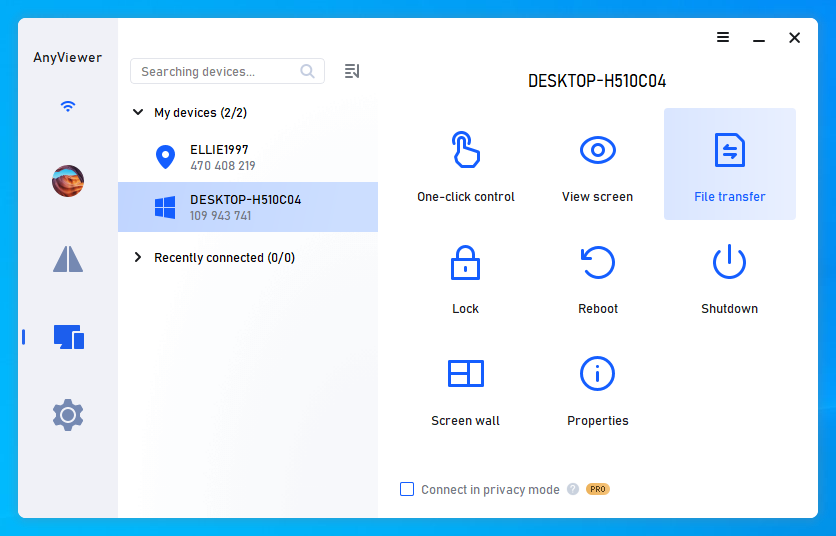 Tips:
You can also click
One-click control
to achieve
unattended remote access
to your target laptop. Then you can completely control it just like you're sitting in front of it. After the connection is successful, you can also click the
Files
button in the menu bar to transfer files.

Step 6. Then a File Transfer dialog box will appear. You're able to transfer files between devices freely by clicking the arrows after choosing the target files. You can also double-click the target file to achieve transfer.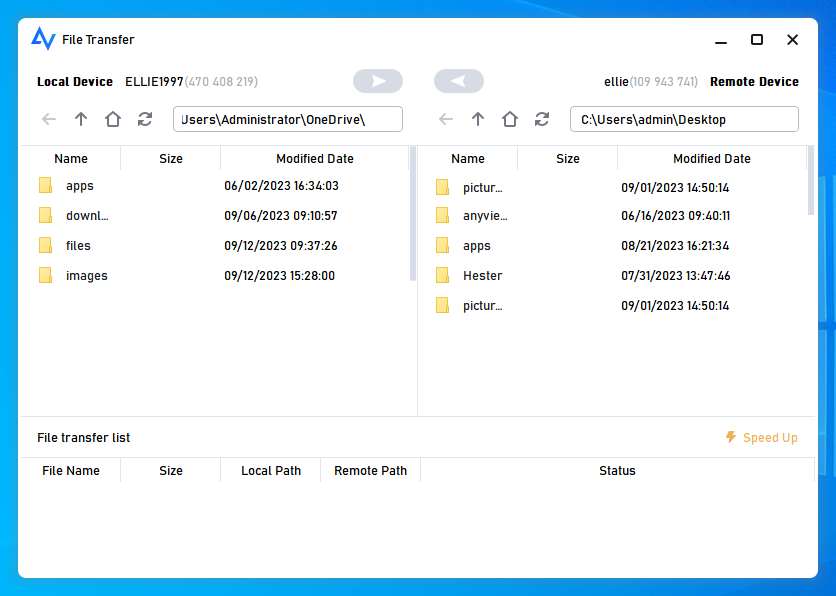 Notes:✎...

To transfer files freely, it is highly recommended to upgrade your account to a professional or enterprise plan. Here are what a professional or enterprise plan can bring to you:

Faster file transfer speed. Transfer speed for a free account is 500 KB/s, and for a paid account is up to 10 MB/s.
Increasing numbers of files are being transferred at once. For a free account, 100 files can be transferred at a time; for a paid account, this number is unlimited.
Larger size of a single file that can be transferred. The maximum size of a single file that can be transferred for the free account is 100 MB, and for a paid account is 1 TB.
Way 2. Sync files from computer to computer via AOMEI Backupper
The best free file sync software for Windows 11/10/8.1/8/7/Vista/XP, AOMEI Backupper Standard, can assist you with fast file transfer between computers over a network. It includes file sync, which allows users to transfer files to external/internal hard drives, cloud drives, NAS devices, and networks, among other things. And, best of all, it's completely free!
Step 1. Install and launch AOMEI Backupper Standard on the source computer. Click Sync, and then click Basic Sync.
Step 2. Add folders you want to transfer by clicking Add Folder.
Step 3. Choose the destination location. Here you can select Add Share or NAS Devices.
Step 4. In the Add Share or NAS Devices window, type the IP address of the source computer and click the blue button at the right. Type username and password if it prompts.
Step 5. After the IP address has been added, all network-shared folders on the computer will be listed. Choose one folder to store the folder(s) you plan to transfer and click OK.
Step 6. Then click Start Sync.
Step 7. Go to This PC > Network on the destination computer to access the synced files wirelessly.
Way 3. Computer-to-computer file transfer via cloud storage services
You are also able to share files from computer to computer using cloud storage services, for example, Google Drive and OneDrive. Here we'll take Google Drive as an example.Google Drive can provide you with 15GB of free online storage space as long as you have a Google account, and you can easily share any content you want, whether it's a single file or an entire folder.
Step 1. Open the main interface of Google Drive, find and click My Drive in the left sidebar, click My Drive again, and select Upload files or Upload folder in the expanded menu.

Step 2. For example, click Upload files, and a window will pop up automatically. Select the files you want to upload and click Open in the lower-right corner.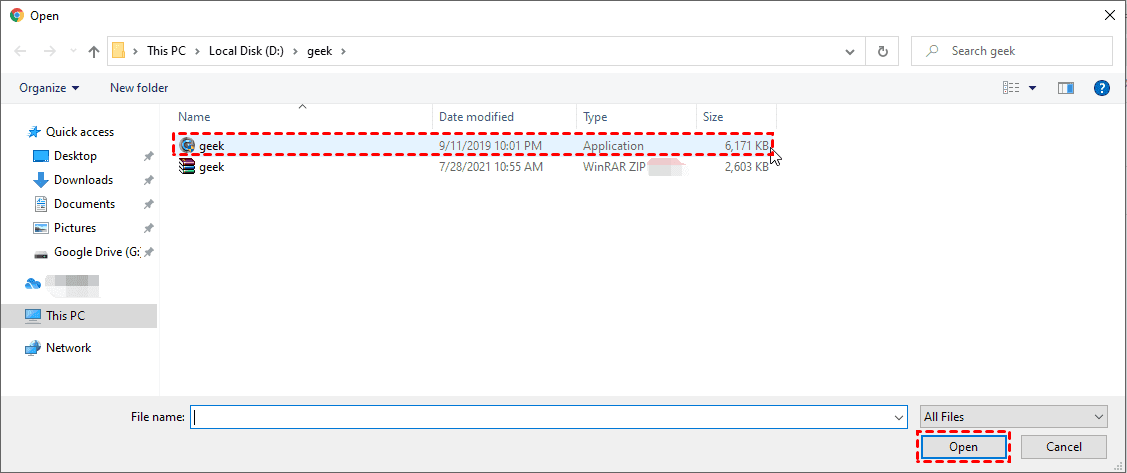 Step 3. You can see the file upload progress in the lower right corner. After the upload is completed, you can find the file in the main interface.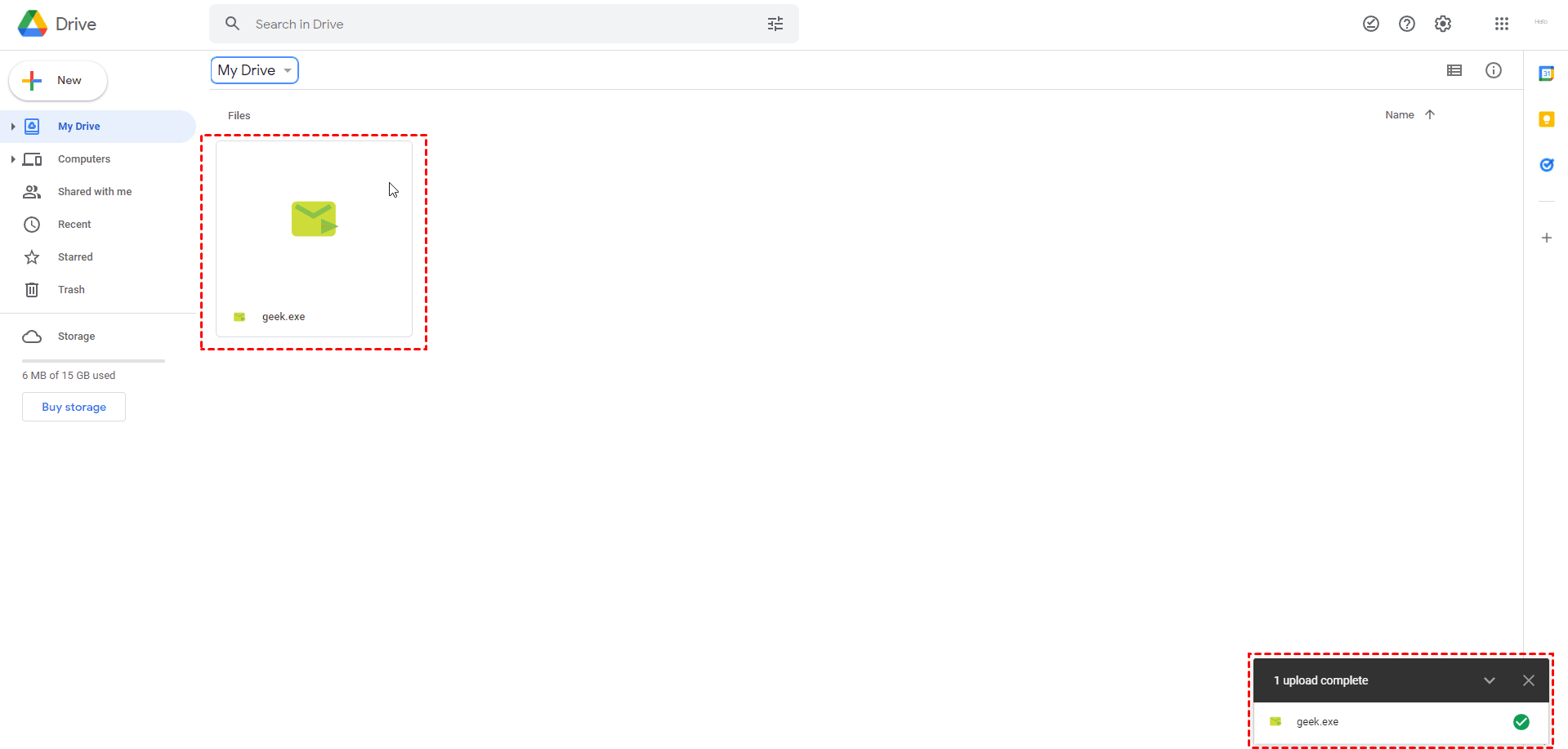 Step 4. Open Google Drive on the other computer and log in to the same Google account. Find the file you've transferred, right-click the file, and select Download in the expanded menu to realize remote file transfer between different computers.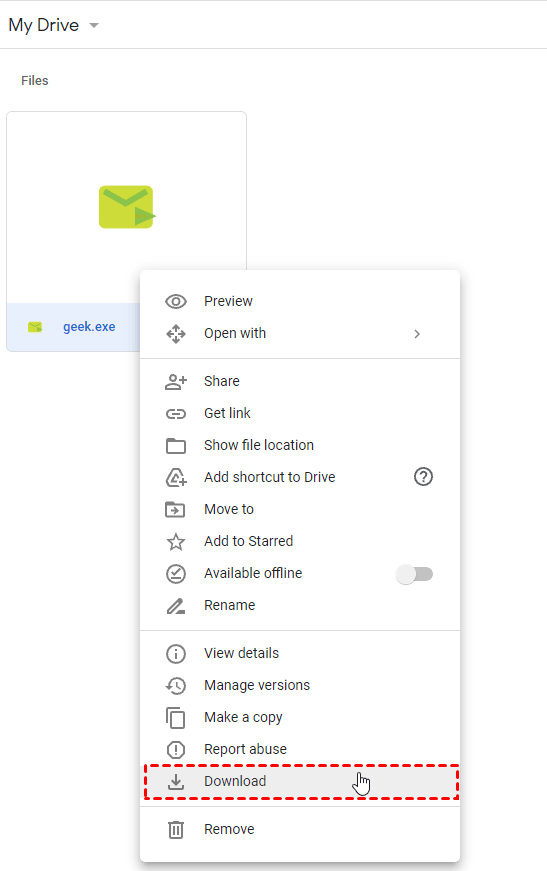 Closing words
This post primarily introduces the top 3 free network file transfer software. If you are looking for a free method to transfer files between computers, you can choose between these three tools.