Need to use Windows 10 Remote Desktop for file transfer 
"I have been using Windows 10 Remote Desktop for several days and I'm not very familiar with it. Now, I need to transfer files to my client computer during the remote session over RDP. But I have no idea about how to do it. Is there anyone who can tell me how to perform file transfer when connecting a remote computer?"
It's common if you need to transfer files from remote computer to the client computer or from the local PC to the remote PC  when using Remote Desktop in Windows 10. Actually, it's not difficult. In the next part, I'll show you step-by-step guides to do it and provide several fixes if it is not working.
How to transfer files with Remote Desktop on Windows 10
It's relatively easy to transfer files between two computers on the Internet. First of all, we should set up Remote Desktop. After that, here are the concrete steps to operate.
Step 1. Open Remote Desktop Connection by pressing Windows + R simultaneously, inputting "mstsc.exe" and clicking "OK".
(Or you can navigate here: Start > All Programs > Accessories > Remote Desktop Connection.)
Step 2. Click the Show Options button on the bottom of the left side
Step 3. Find options and click on the Local Resources tab, then choose the last section "local devices and resources" and click the button "more"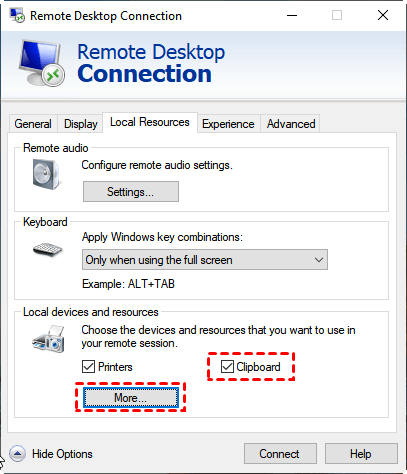 Step 4. The choice "Drive" is on the list. Click "+" beside "Drive" and then choose the specific files you need to transfer. When you are done you can click OK.
Step 5. Then you will come to a new interface. You can tick "Don't ask me again for connections to this computer if you are willing.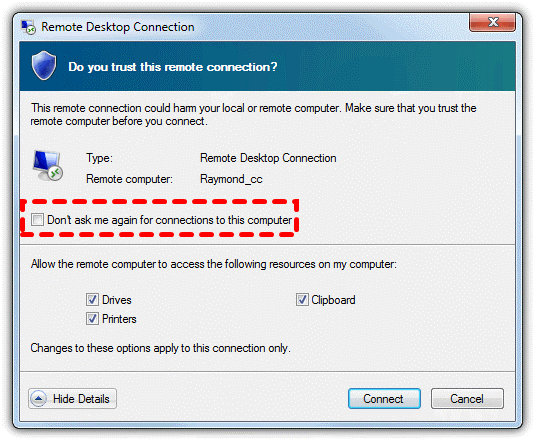 Now you successfully connect, you can go to the computer on the remote computer under "Other", then you can see your shared drivers and transfer files.
File transfer with Remote Desktop on Win10 not working (causes and solutions)
As is mentioned above, we know how to transfer files with Remote Desktop on Win10 by using Remote Desktop Connection. However, it's not working sometimes.
"I don't know what happened to my remote desktop. It totally not working for file transfer when I upgraded to Win10. The ways I did before are completely futile. What should I do to address my problems? It completely drives me crazy now." This is a complaint from the user of Win10 to transfer files.
So, what may cause Remote Desktop for file transfer on Win 10 to stop working, and how to fix the issue accordingly?
Cause 1: There's something wrong with your operation system
The solution: Reboot your RDP process
1. Load up Task Manager (Right-click taskbar and select Task Manager)
2. Go to the Processes Tab
3. Select rdpclip.exe
4. Go to the Application Tab
5. Click New Process
6. Type rdpclip
7. Click OK
If you can't find rdpclip.exe on your computer, just try the following way.
1. Create a new bat file and call it whatever you want to say, clipboard.bat.
2. Write the following two commands on separate lines in the new bat file
Taskkill.exe/im rdpclip.exe
Rdpclip.exe
3. Save the bat file and drag it into the toolbar quick launch section.
Note: Now whenever your file transfer fails, all you need to do is click this new batch file which kills rdpclip and restart it. Still a workaround but at least it's a quick procedure.
Cause 2: Clipboard redirection is probably disabled. (

If the clipboard is still not working after restarting the rdpclip process)
The solution: Enable Clipboard redirection
1. To enable it, type mmc in Search Box and open it; then go to "Add/Remove Snap-in".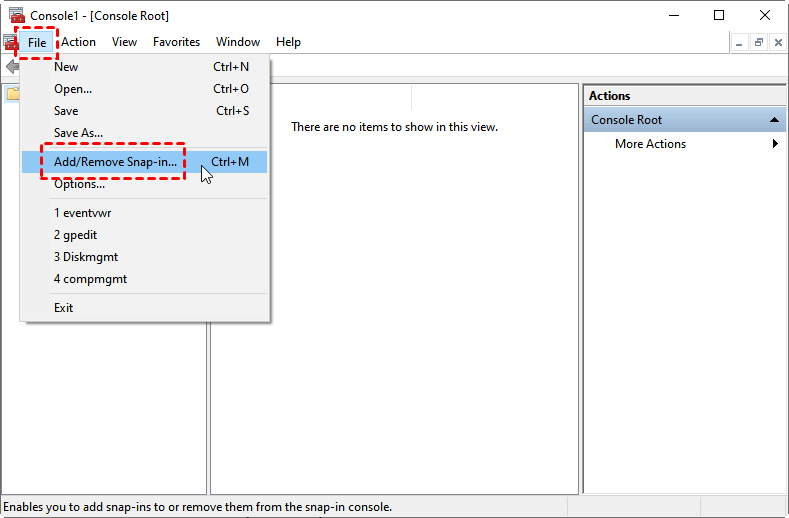 2. Choose "Terminal services configuration".
3. In there, under the "Connections" heading, right-click on the listed connection and choose properties. On the "Client Settings" tab, under the "Redirection" heading, *uncheck* "Clipboard" Click "OK"
4. Finally, log off/log on and clipboard should now work for you!
Cause 3: The failure of your I

nternet
The solution: Check your internet connection and make sure you connect to the internet.
Note: Transferring files with Remote Desktop on Win10 requires an internet connection to work, so if your computer is not properly connected to the internet, you won't be able to use this feature.
Conclusion
Now, you have known how to perform file transfer using Remote Desktop on Windows 10 and how to fix RDP file transfer not working, such as rebooting RDP, restarting clipboard or checking your Internet Sometimes, you even can't use Remote Desktop to connect to compute. Then, you can check host computer or resort to third-party,  like AnyViewer.