How do I transfer files from PC to PC wirelessly?
When thinking about transferring files between computers, the initial solution that comes to mind is using a USB flash drive. You simply move files from one PC to the USB drive and then from the USB drive to the other PC. However, this approach is impractical when the two computers are at a distance from each other. Then, how can you transfer files from PC to PC wirelessly? Now, let's explore alternative methods for internet-based PC-to-PC file transfer.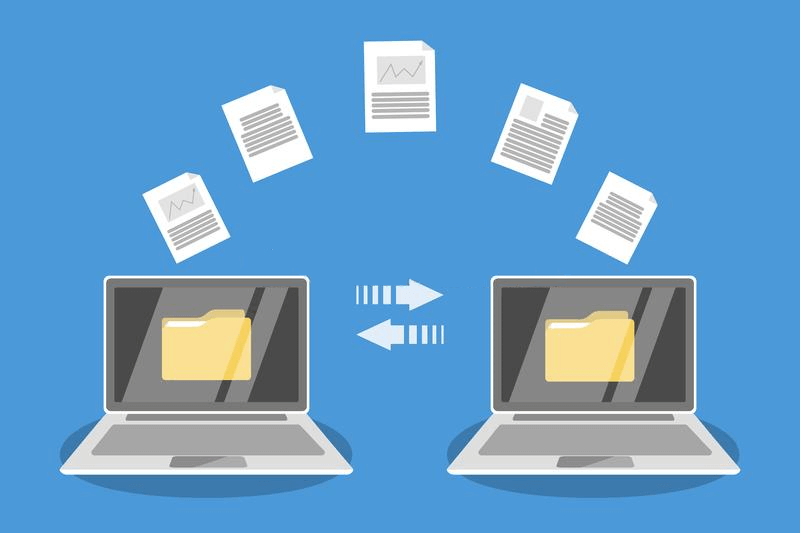 How to transfer files from PC to PC over the internet [4 ways]
Here are 4 options for file transfer from PC to PC over the internet. Feel free to pick your preference.
Way 1. Direct file transfer between PCs using a remote desktop connection tool
The first and highly recommended method for PC-to-PC file transfer is utilizing a remote desktop connection tool. You can opt for AnyViewer, a free yet comprehensive remote desktop software for Windows computers. AnyViewer enables speedy and secure file transfers between remote computers, whether they are on the same network or different networks.
In the free version of AnyViewer, users can concurrently upload up to 100 files, each file being limited to a maximum size of 100MB. Notably, it utilizes two file transfer threads, ensuring fast and smooth transfers that enhance the overall user experience.
Step 1. Download, install, and run AnyViewer on the two computers.
Step 2. Sign up for an AnyViewer account and log into it on the PC where you start the file transfer.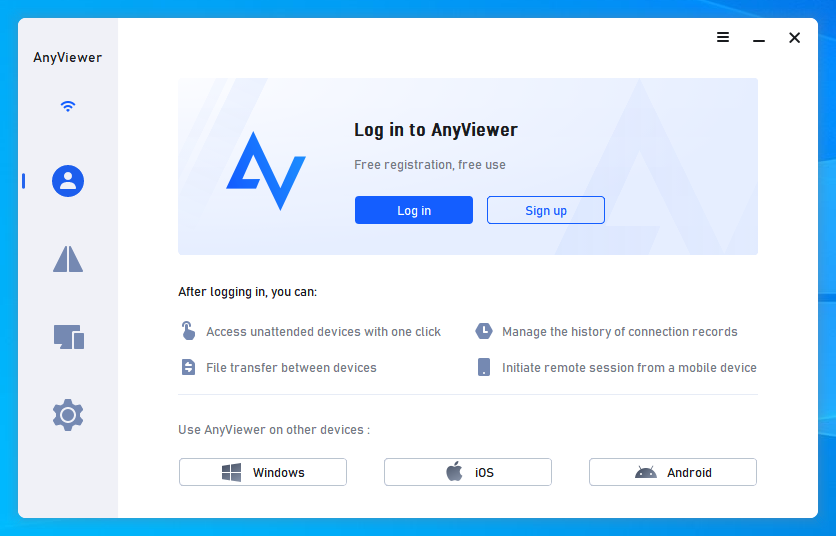 Step 3. Go to Connect, input the device ID of the remote PC, choose File Transfer and click Connect.
Note: If you want to take full control of the other computer, you can choose Remote Control.
Step 4. Choose the first way if there's someone on the other end to accept your request; choose the second way if you have (temporary security code) of the remote PC; Then, click OK.
Step 5. After your request is accepted or the security code is inputted, you'll be in the File Transfer window.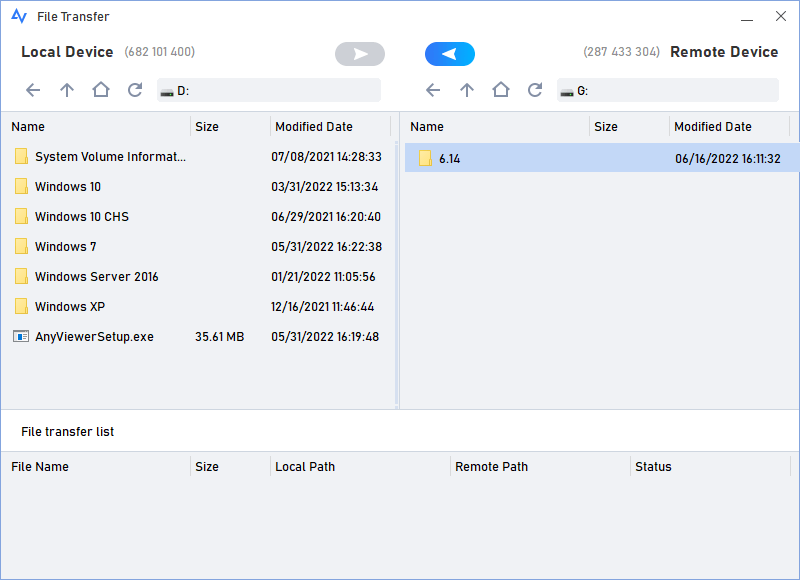 In this window, you can transfer files from your local PC to the remote PC or from the remote machine to your local PC by choosing the files and clicking the triangle button.
Note: Free account supports transfer a single file not larger than 300MB, to transfer a larger file, you can upgrade to an andvacned plan.
Way 2. Transfer files from PC to PC over internet using Email
If you just need to transfer several small files from PC to PC over internet, Email can be a nice choice. You just need to right click the file you want to transfer and choose Share. Then you can choose the email contacts.
Transfer files by sending Email, on the other hand, has several disadvantages. Apart from potential encryption issues, the biggest disadvantage is that email file transfer has some attachment size limitations. Most email systems won't let you send attachments larger than 10 megabytes, and while you won't be sending 1,000-plus pages of text, 10 megabytes is a pretty small file size for most media files.
Way 3. Transfer files between PCs over internet using cloud drives
There are many cloud storage services that can help us save and reach our files easily, such as Google Drive, Dropbox, Microsoft OneDrive, and so on. Once the file is stored or uploaded to cloud file storage, it is usually possible to transfer the file directly to another user or send that user a URL to download the file.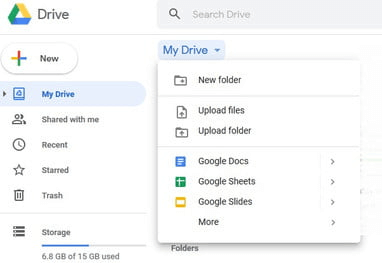 This is a quick and simple approach to transferring files from one PC to PC over the Internet, however, it has a tiny bottleneck. Unless you upgrade your membership, most cloud storage and transfer solutions have storage limits. Dropbox offers 2GB free storage; IDrive offer and Amazon Drive offers 5GB free storage and Box offers 10GB storage.
Way 4. Transfer files from computer to computer using SFTP
When it comes to transferring extremely important files, it is recommended to use SFTP tools. SFTP (Secure File Transfer Protocol), can establish a secure connection. By using the Secure Shell (SSH) data stream, SFTP protects file transfer at a high level, which means you can use it transfer files between a local computer and a specified remote computer securely.
And another tool, FTP (File Transfer Protocol), allows the users to upload and download files, by which you can realize file transfer. And FTP is encrypted so file transfer is secure, too. But it needs a long time to log in and transfer.
To use it, you need to start an SFTP connection with a remote host using the command line: sftp username@hostname, and then you'll be asked to input the password to the account that you're trying to log in into. After you input the password, the SFTP connection will be established. An SFTP prompt will appear, you can use a few basic linux-like commands to navigate both your directories of your local PC and remote computer. The command lines can be complicated the whole process is difficult for many users.
Way 5. Transfer files from PC to PC over internet by using VPN
Using VPN (Virtual Private Network) is also a valuable approach that can be used to transfer files. VPN allows you to avoid broadband traffic management restrictions placed by your internet service provider (ISP). Many ISPs control upload bandwidth to restrict the size of files that you can upload.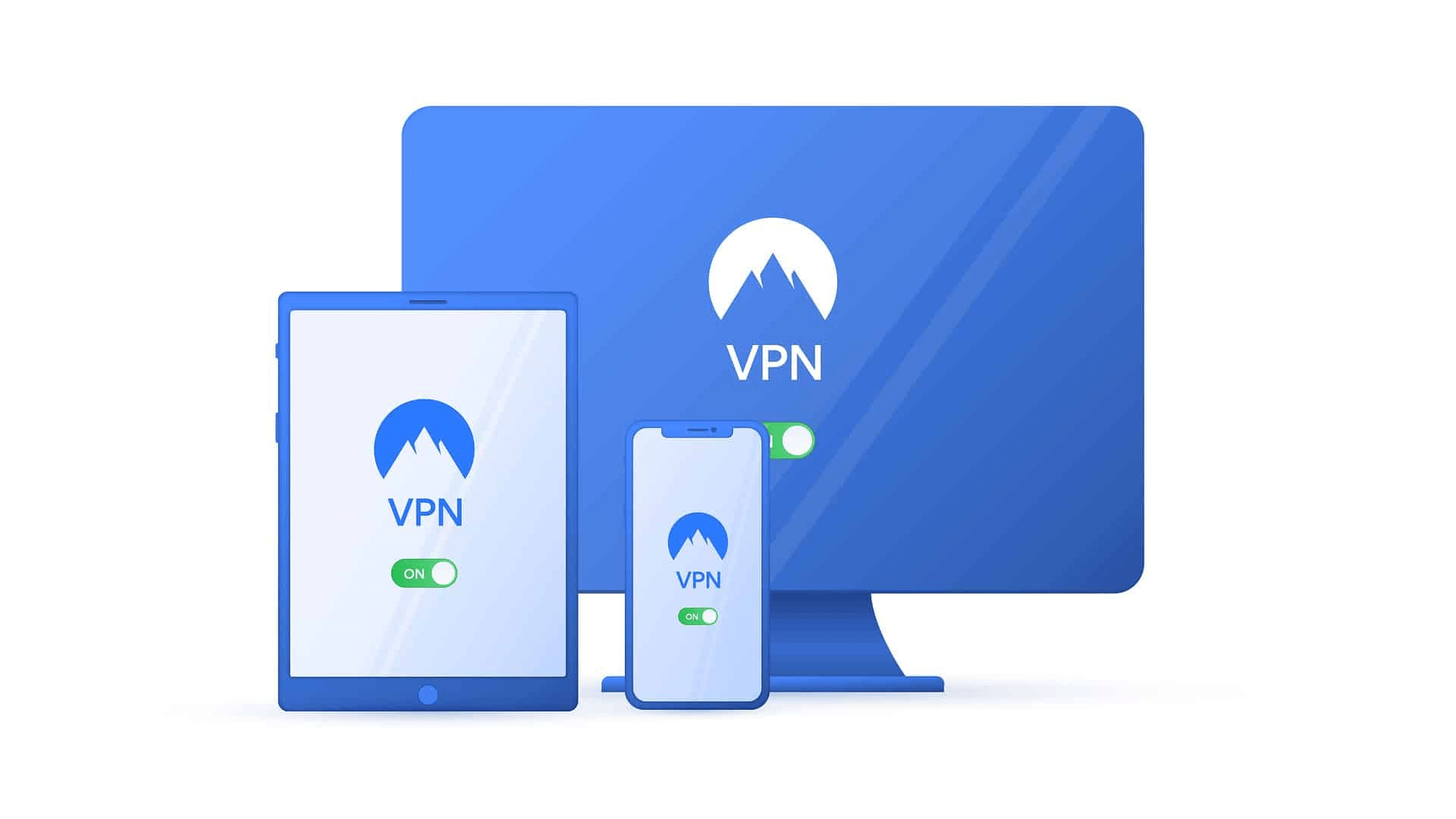 A virtual private network (VPN) encrypts your data and ensures that your internet activities remain private. Your ISP is unable to observe the contents of your web traffic when you use a VPN. When it comes to file transfer, this means that your ISP won't be able to tell how big the files are and hence won't be able to impose any limits.
Conclusion
From the analysis in this post, you must know how to transfer files from PC to PC over internet using different tools. You can choose the most suitable one based on your own situation. Of course, remote desktop software, AnyViewer is highly recommended out of its simple operation, high security, and fast speed.