What is better than LogMeIn?
Hello, I have been using LogMeIn to control my Windows PC in my business, and I recently learned that they were discontinuing the free service. I simply cannot afford it. I need another LogMeInalternative that is free and uses incredibly little memory and CPU. Additionally, it would be ideal if it had a cheap or free iOS app. Thanks!"
- Question from a user
With the help of the remote access utility LogMeIn, users can access remote devices from anywhere in the world.
However, some users reported the cons of LogMeIn as follows.
►

Very expensive.
As LogMeIn only provides a free 14-day trial, users claim that pricey is the biggest drawback of this program, meanwhile, the prices are raised repeatedly.
►

Blurry screen.
LogMeIn is not so effective when scaling different resolutions, some resolution pairings can result in slightly blurry rendering of some elements.
►

Inconvenient file transfer mode.
File transfer is not supported during a remote session, you need to back to the LogMeIn Control Panel to transfer files.
►

...
Due to the limitations above, you may look for a LogMeIn free alternative, and that's what we will talk about in this post.
AnyViewer: The best free LogMeIn alternative
Users and businesses find LogMeIn to be a less enticing option due to its steep learning curve and costly pricing. The professional remote access software AnyViewer might be your finest option if you have made the decision to explore beyond LogMeIn for a faster, more effective, or free LogMeIn alternative.
Why AnyVieweris the best LogMeIn alternative?
✍Free version. It offers a free version without any in-app payments. Every free account can assign 3 devices for unattended remote access.
✍High image quality. It offers high image quality for users to get a better visual experience.
✍Multiple file transfer options. You can transfer files via AnyViewer within or without a remote session.
AnyViewer has advantages over LogMeIn. Besides, AnyViewer has the following advantages:
✍Efficient & Stable. Developed by a strong technical team, AnyViewer provides you with a fast and stable remote connection.
✍Easy-to-use. AnyViewer offers an intuitive interface and is dead-simple-set-up, which means a green hand can get started with this tool within no time.
✍Multi-function. It supports remote access between PCs with various connection methods. Besides, multiple monitors, view screen, lock/restart/shut down computers, chat box, etc. are also available in AnyViewer.
✍Secure. It is secured by Elliptic Curve Cryptography (ECC) encryption, preventing your data loss during the whole connection.
✍Compatible. It supports multiple Windows systems, including Windows OS and Windows Server OS.AnyViewer also has an iOS app, which means you can remotely access Windows PC from iPhone or iPad.
Now, let's get started to perform remote access via AnyViewer.
Step 1. Download and install AnyViewer on your devices.
Step 2. Launch the software and go to Log in on the left pane, then click Sign up to register a new AnyViewer account.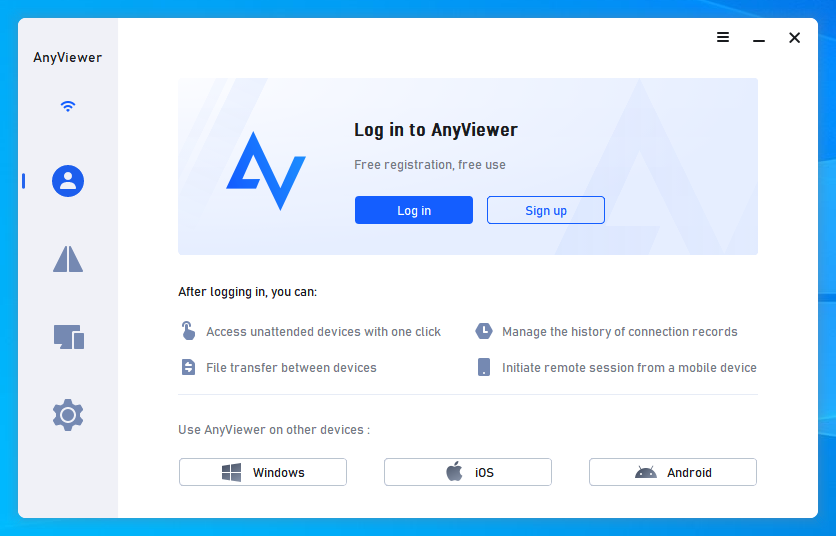 Step 3. Fill in the information and click Sign up.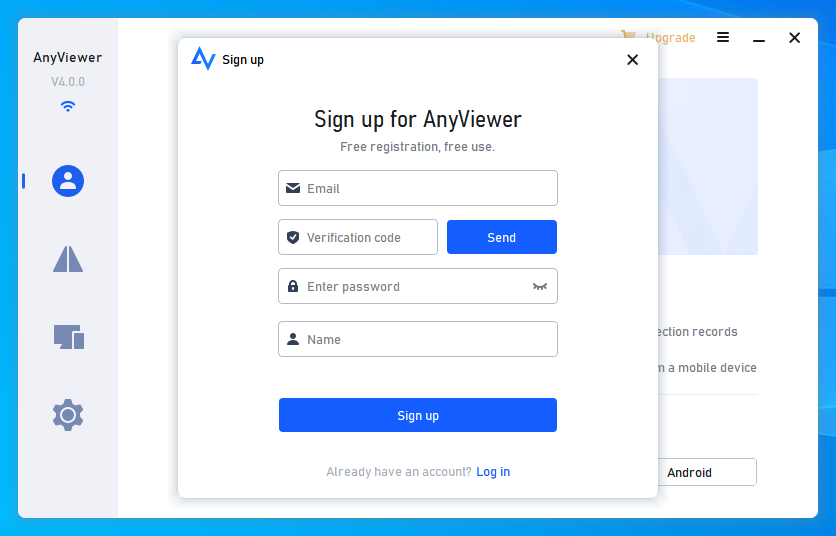 Step 4. Log in to the same account on your devices, and the assigned devices are visible.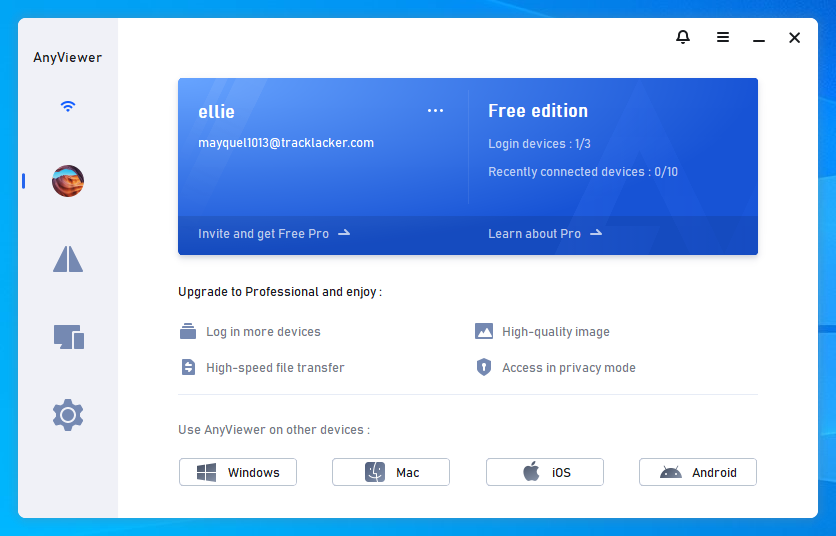 Step 5. On the client computer, go to Device, select the target computer and click One-click control to achieve unattended remote access.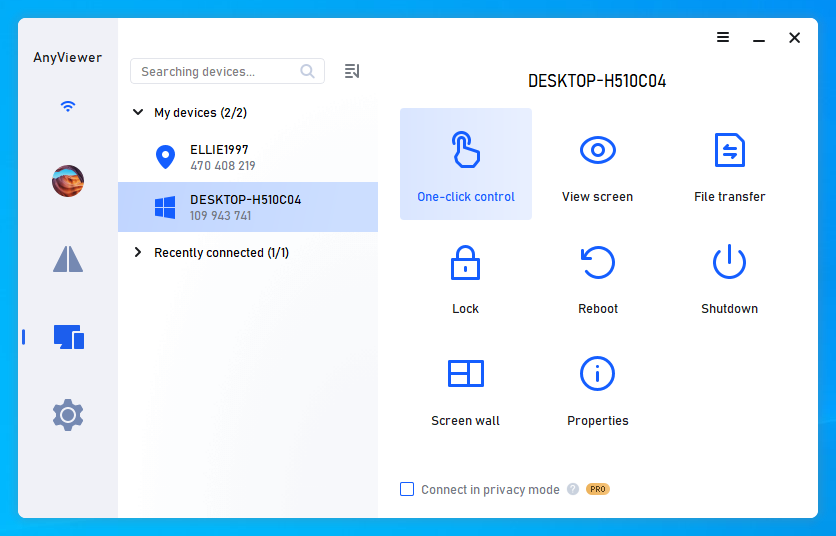 Now you can manage your device remotely like you were sitting in front of it. Besides, there are several functionalities you can choose from the upper toolbar, for example, resize resolution, transfer files, open Task Manager, etc.

Users can choose image quality according to network stability. Besides, you can Hide the desktop wallpaper to make the connection smoother.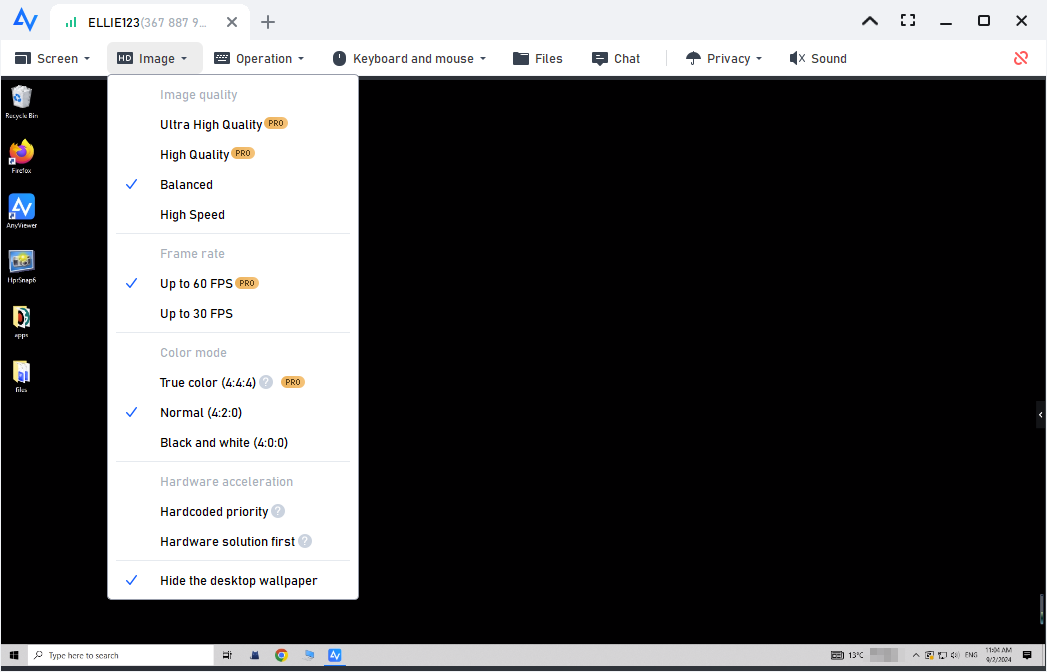 Bonus tip: How to transfer files via AnyViewer
As said before, AnyViewer also provides you with multiple file transfer options with the same AnyViewer account. Let's get started with it.
Method 1. Transfer files directly
On the client PC, go to the Device interface to choose the target device you want to achieve file transfer, and then click File transfer.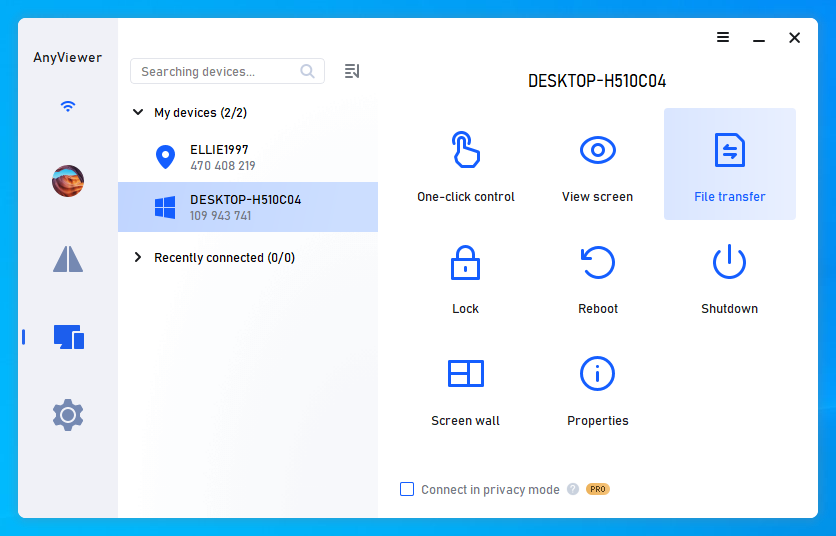 Method 2. Transfer files during a remote session
This method is advised if you want to remotely manage the target computer as well as transfer files across computers.
Step 1. On the client computer, select the target computer on the Device interface and click Remote control to achieve unattended remote access.
Step 2. Then you can click Files from the upper toolbar to transfer files.

No matter which option you choose, a File Transfer dialog box will appear. The host PC is displayed there on the left of the box, while the client PC is displayed there on the right. To send the selected files to the client PC, click the right arrow after selecting the files you wish to send. To transfer files to the host PC, select the files and click the left arrow on the opposite side.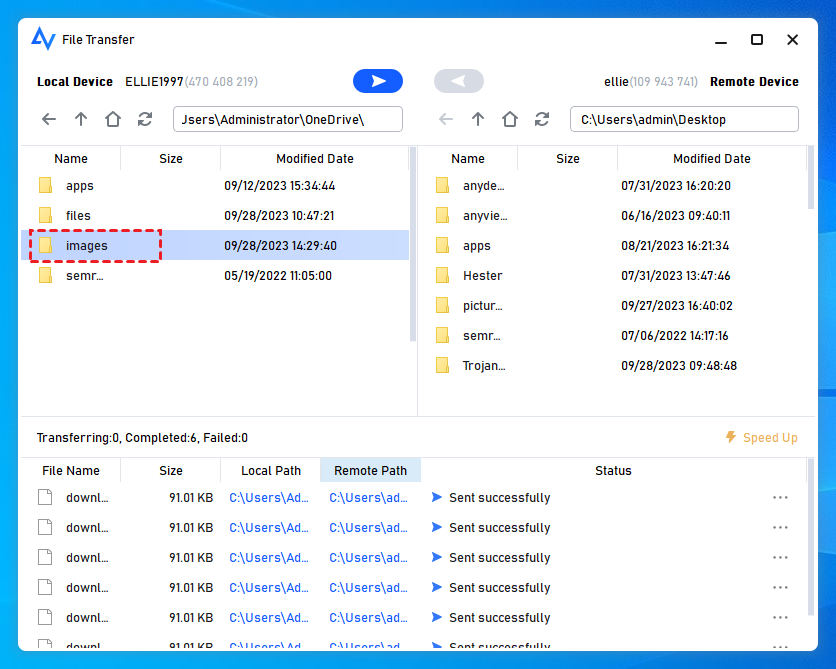 Notes:✎...

You can also upgrade to a Professional or Enterprise plan then the following rights will thereafter be yours:

Assign more devices to achieve remote connections.
Enjoy more concurrent connections. Only 2 channels are allowed for free and professional use, therefore, we recommend you upgrade to the enterprise version to enjoy 10 concurrent connections.
Connect to other devices in privacy mode to protect your data and privacy during the connection.
Transfer unlimited files at once at a higher speed up to 10 MB/s.
Wrapping up
This post talks about what is the best LogMeIn alternative. As LogMeIn becomes more and more expensive, many users are looking for another remote access software. In this case, AnyViewer could be the ideal option for you since it has a free version with several advantages listed above. Don't hesitate and get AnyVeiwer now.