Brief introduction of AnyDesk
With the development of technology and the increase of consumer demands, the remote control market is getting more and more thriving. AnyDesk, a totally free remote desktop software that allows you to remotely connect to a computer from anywhere at any time, has been highly praised by many users.
AnyDesk has given top priority to security. It offers a high level of security by default through encryption. AnyDesk can be used on all platforms on all devices. For example, Windows, macOS, Andriod, iOS, Linux, FreeBSD, Raspberry Pi, Chrome OS. It allows you to access all your programs, documents, and files from anywhere at any time.
However, although AnyDesk is free for individual users, its connection will be unstable and even out of service after a period of time. The disadvantage that can occur at work is if a meeting goes much longer than planned according to the reports of some users. Sometimes, it keeps on getting errors wherein after 15 to 20 minutes of connection and gets automatically disconnected which affects remote work output. Users are calling for a stronger Internet connection.
How to use AnyDesk
Here in this part, we'll introduce how to use AnyDesk in details.
Step 1. Download and install AnyDesk on the client and host computers respectively.
Step 2. Open it, then you can see your address which can be used for remote access. On the client computer, enter the address of the host computer in the blank box and then click Connect.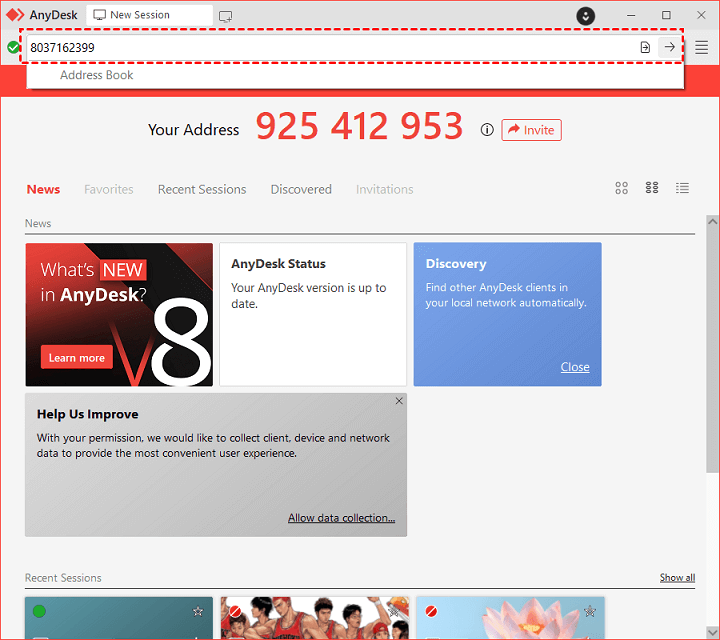 Step 3. On the host computer, the recipient will receive a pop-up window. Click Accept to establish the remote connection.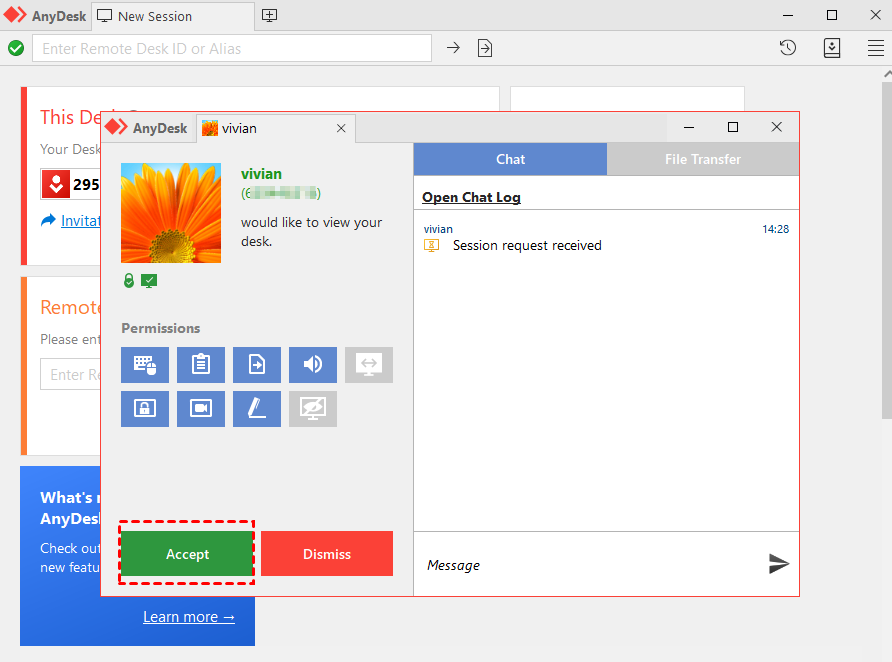 Note: AnyDesk also supports unattended remote access. You can enable it and set your password for unattended remote access in settings.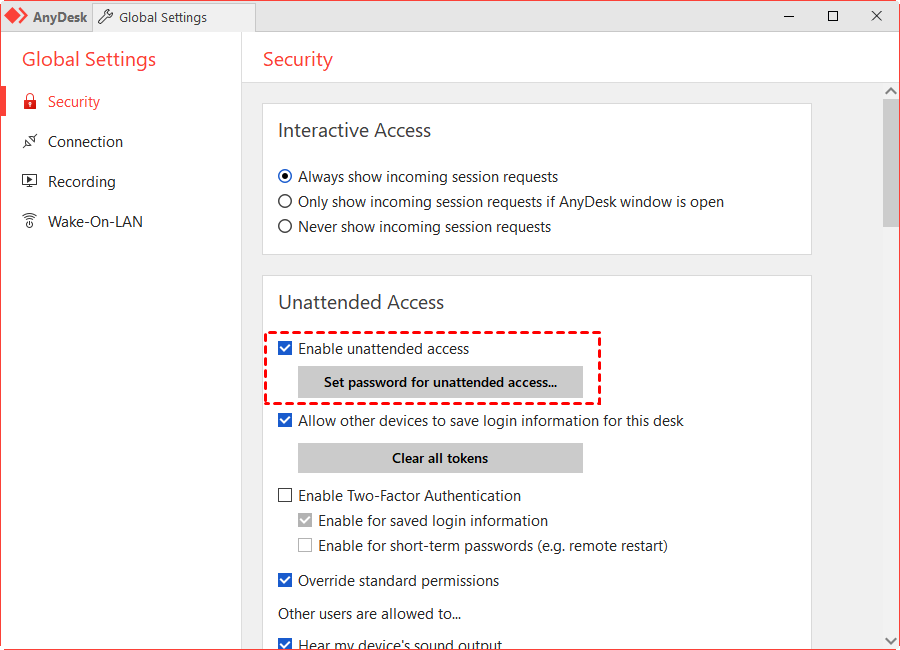 Two free AnyDesk alternatives
The above part explains the basics of AnyDesk and its pros and cons. Some users feel very depressed about the drawbacks of AnyDesk and hope to find an AnyDesk alternative for Windows. Here in this part, two free AnyDesk alternatives will be introduced. By providing a list of pros and cons for the available alternatives, users could choose the most suitable one according to their own demands.
Chrome Remote Desktop
Chrome Remote Desktop, a browser extension of Google, enables you to remotely control another computer or be controlled by another computer from different operating systems. It is fully trans-platform, supporting iOS, OS X, Chrome OS, Android, Windows, and Linux.
The biggest advantage of Chrome Remote Desktop over AnyDesk lies in that the former is an extension of the Google browser. It is available on the web on your computer. Thus, you do not need to download it on your desktop anymore. As long as you are using the Chrome browser, you are more than halfway there. Next, follow the steps below.
Step 1. Open the Chrome Remote Desktop web page and click on Remote Access first and then click on the download icon to set up remote access.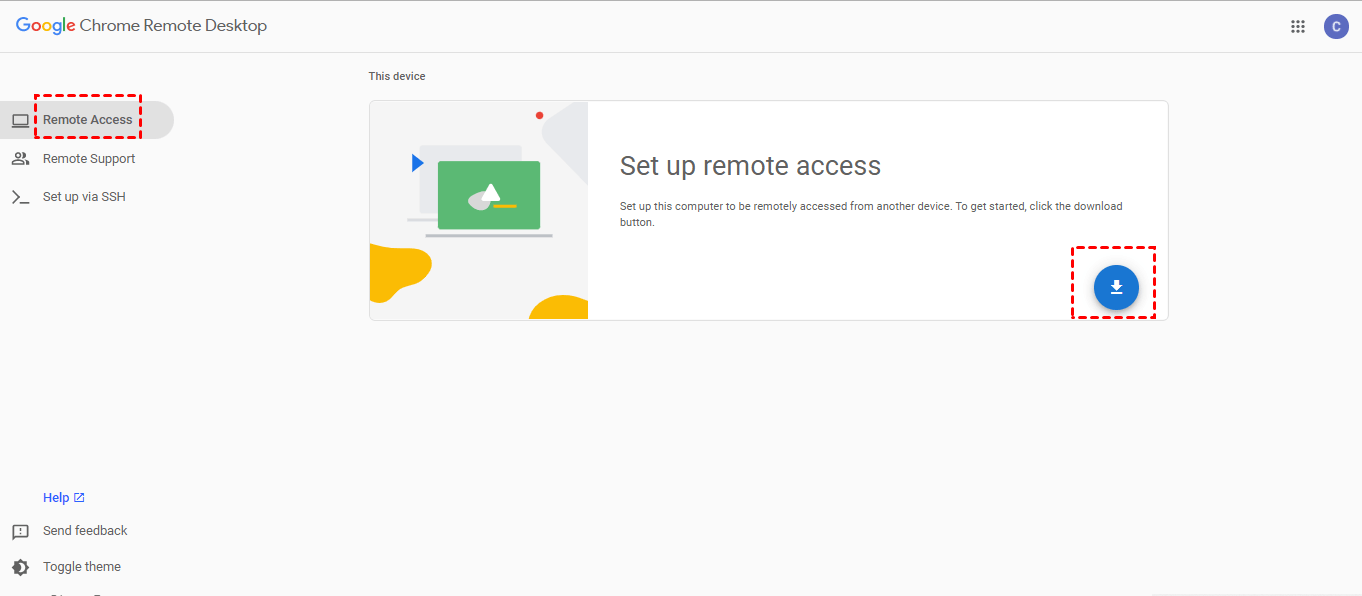 Step 2. Click on Add to Chrome to add the Chrome Remote Desktop in your Chrome browser.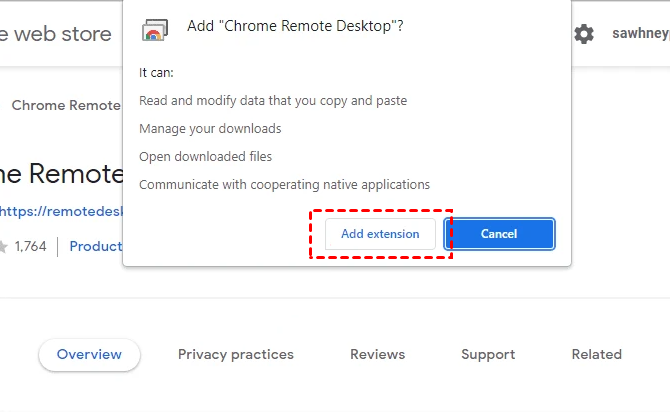 Step 3. Click on Accept & Install to install it.
Step 5. Enter a name for your computer and then click Next.

Step 6. Choose a PIN with at least 6 numbers, and then enter it twice to start the program.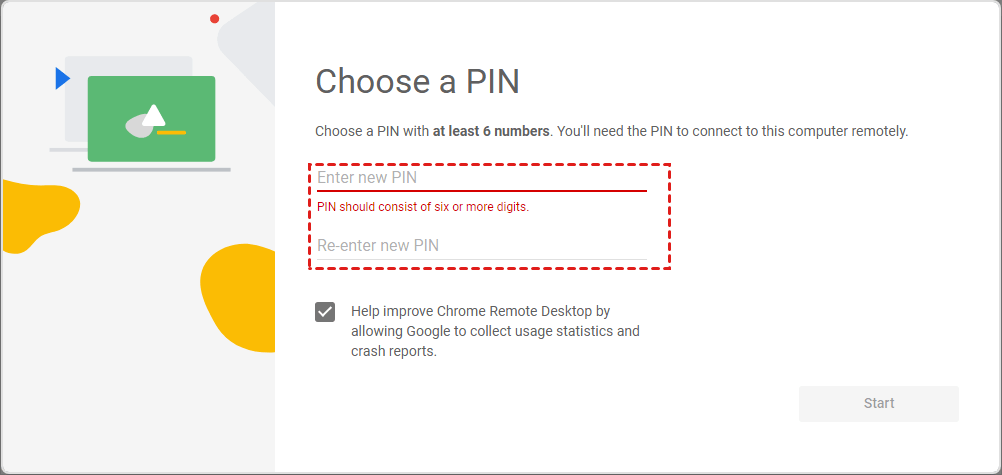 However, the shortcomings of Chrome Remote Desktop are also obvious. For example, users need to download the Google Chrome browser on both computers, which is not very user-friendly for non-google users.
AnyViewer
AnyViewer is a stable and fast remote access software for different versions of Windows. It allows you to remote into PCs or Servers and establish a remote desktop connection anywhere, anytime over the internet. Like Chrome Remote Desktop, it offers you remote access to the work computer and gives you chance to provide remote IT support for your friends or clients, saving your time and improving your work efficiency.
AnyViewer is also a highly safe and reliable software. It is secured by Elliptic Curve Cryptography (ECC) encryption, protecting your data from leakage. AnyViewer also offers you a stable connection. And most importantly, it's totally free of charge.
It's very easy to install. Its interface is quite concise and intuitive, making it easy for you to operate. Here are instructional steps to guide you through the installation and usage of AnyViewer.
Step 1. Download, install and launch AnyViewer on both computers. Go to Log in, and then click Sign up. (If you already have signed up on its official website, you can log in directly.)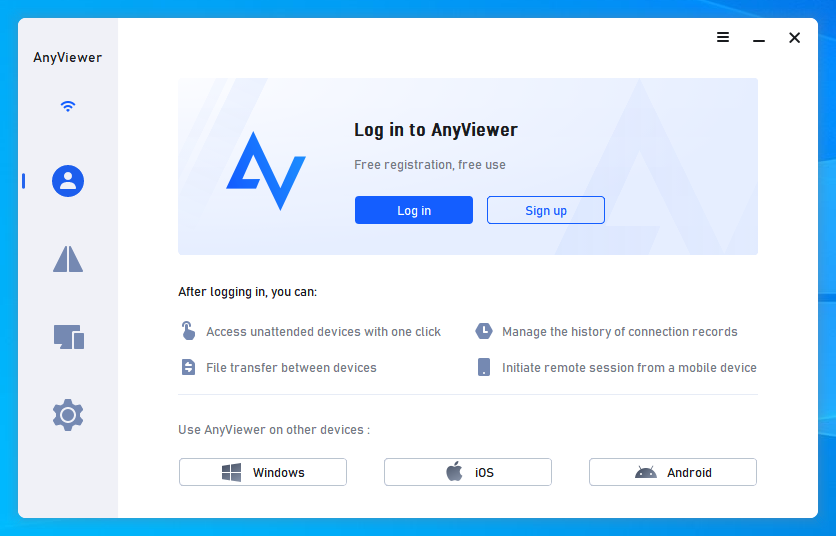 Step 2. Fill in the signup information.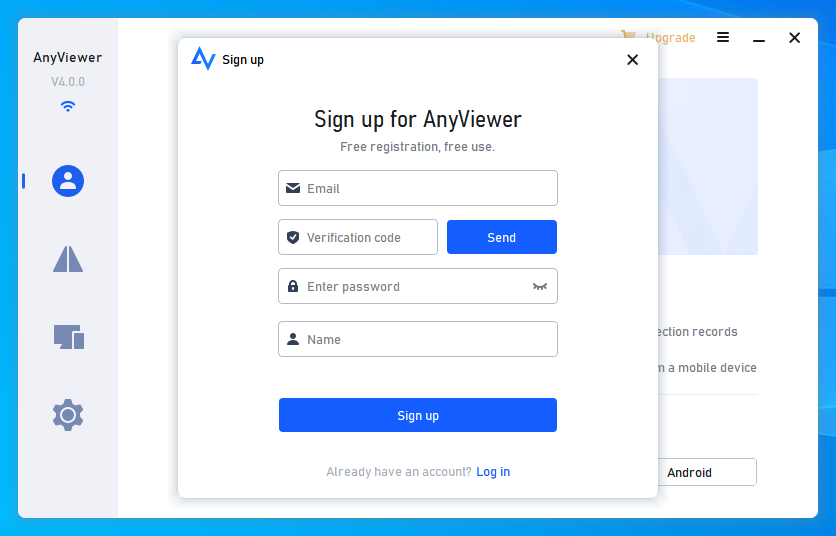 Step 3. Then you can see you successfully logged in to AnyViewer. Your device will automatically be assigned to the account you've logged in to.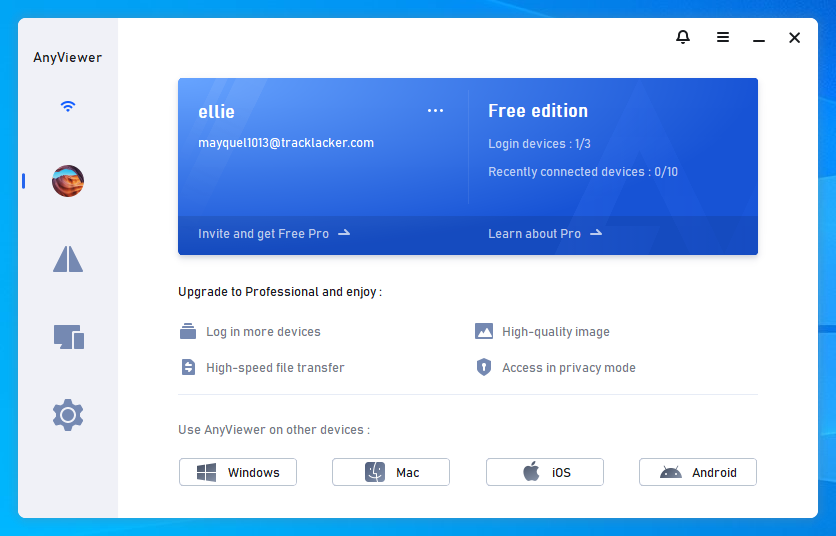 Step 4. Log in to the same AnyViewer account on the two devices, then you can achieve a direct connection by clicking Remote control.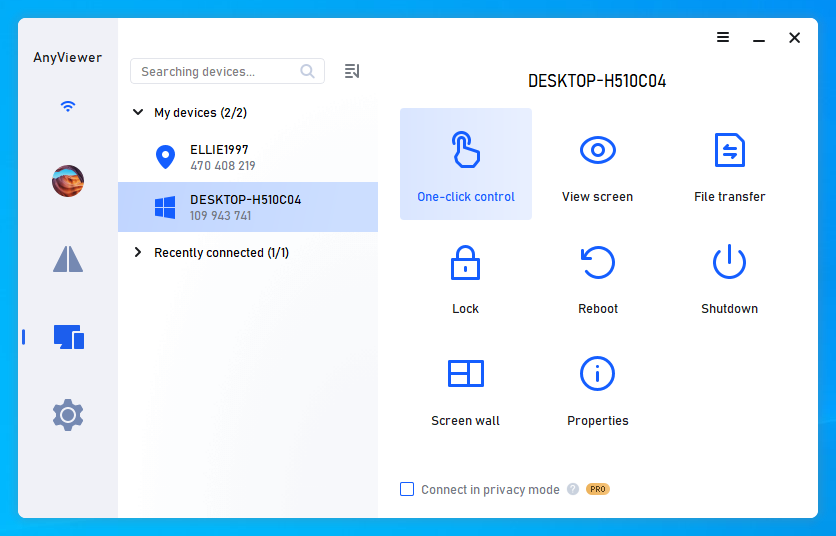 Note: If you upgrade your account to a Professional or Enterprise plan, then you'll have more rights. You can assign more devices. Also, you can connect to another computer in privacy mode, which means you can black the screen and block the mouse and keyboard of the remote computer.
Conclusion
In conclusion, Chrome Remote Desktop and AnyViewer are two free AnyDesk alternatives. Check the following table to see the pros and cons of the three software. Among the two, AnyViewer can adapt to more versions of Windows systems, there is no need to register any account, and the installation process is very simple.
You could also compare AnyDesk vs RDP, or AnyDesk vs TeamViewer, and then choose the remote desktop software you like best to use.