Is there any AnyDesk alternative recommendation?
Now, AnyDesk detects it being used for business use and literally gives 5 min or less to use it. Are there any free alternatives to AnyDesk? Thanks in advance.
- Question from https://community.spiceworks.com/
What is AnyDesk and why need alternatives?
AnyDesk is a popular choice for remote access solutions out of the following 3 highlights:
It gives top priority to security. It uses RSA 2048 asymmetric key exchange encryption to verify every connection, offering a high level of security.
It can be used on all platforms on almost all devices, including Windows, macOS, Andriod, iOS, Linux, FreeBSD, Raspberry Pi, and Chrome OS.
It is lightweight and only accounts for 3MB.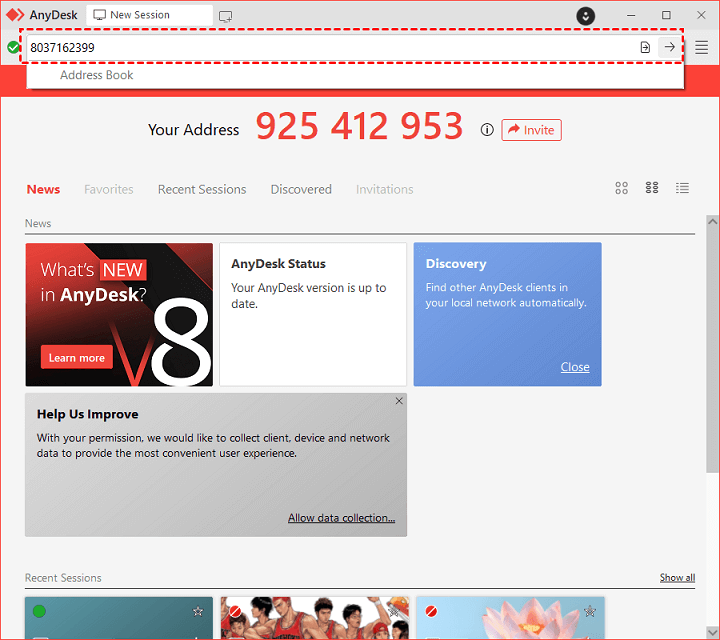 However, based on some users' feedback, sometimes, it keeps getting errors wherein after 15 to 20 minutes of connection, and gets automatically disconnected, affecting remote work output; AnyDesk may detect it being used for commercial purposes. For the reasons mentioned above, you may want to look for a free alternative to AnyDesk to access computers for remote work and remote support.
4 top AnyDesk alternatives for different platforms in 2023
It's not easy to get a suitable alternative to AnyDesk among various remote desktop utilities in the market. Fortunately, we list the 4 best alternatives to AnyDesk for different situations. All of the alternatives are free for use.
1. AnyViewer
AnyViewer, a remote access software, is perfect for individuals and small businesses. It has a really concise and user-friendly interface, allowing you to use it without any obstacles even if you are a newbie. And it is secured by Elliptic Curve Cryptography (ECC) encryption, protecting your data from leakage. See its pros and cons listed below:
✍ Pros
▪ Quick installation.
▪ Fast connection speed.
▪ One-click for unattended remote access.
▪ Chat is available in the remote session.
▪ File transfer support.
▪ Shortcuts of essential apps like Task Manager.
▪ Support controlling multiple computers at the same time.
▪ Mobile support is for both iOS and Android devices.
✍ Cons
▪ Copy and paste isn't supported.
Now, download the AnyDesk alternative, free remote access software - AnyViewr- and learn how it works.
▶ How to use AnyViewer for computer-to-computer remote access
Step 1. Install and launch AnyViewer on both computers. Go to Log in, and then click Sign up. (If you already have signed up on its official website, you can log in directly.)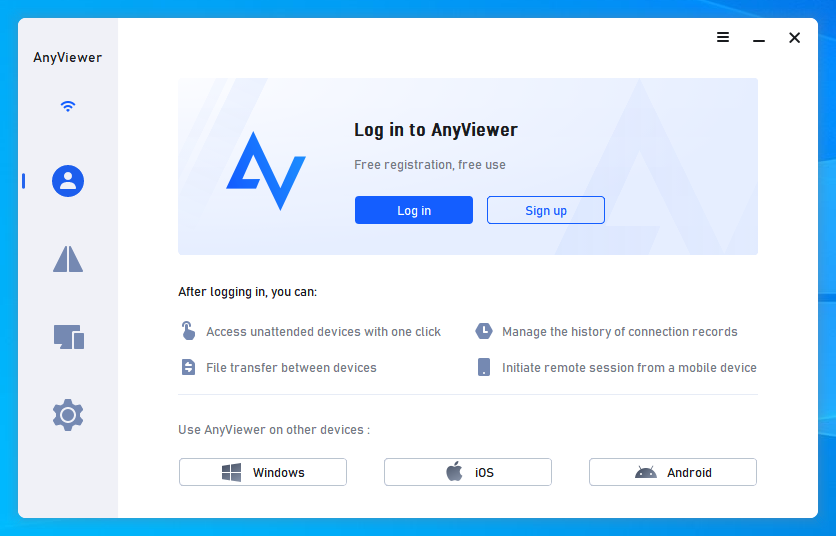 Step 2. Fill in the signup information and click Sign up to create an AnyViewer account.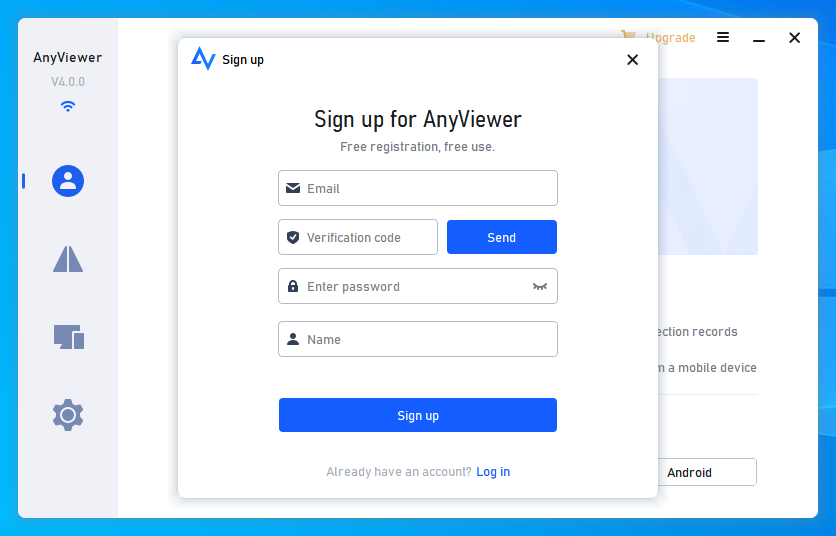 Step 3. Then you can see you successfully logged in to AnyViewer. Your device will automatically be assigned to the account you've logged in to.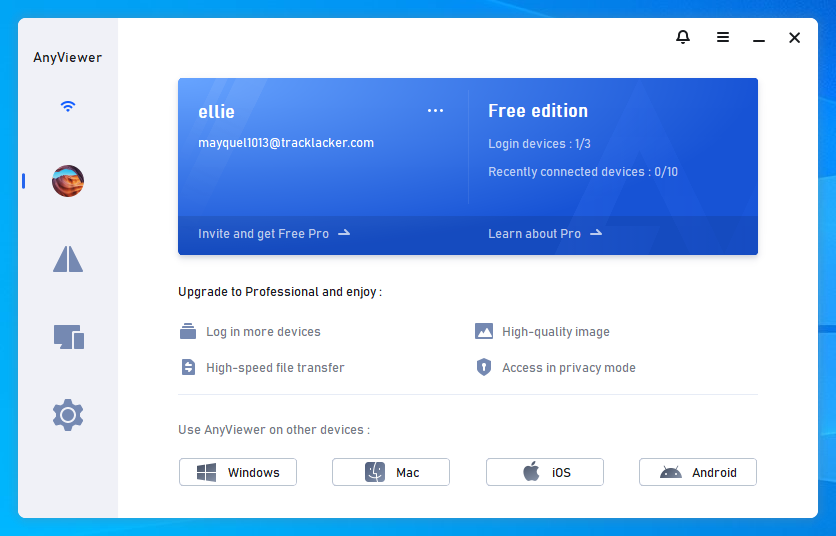 Step 4. Log in to the same AnyViewer account on the two computers. Then you can achieve a one-click connection by clicking One-click controlafter going to Device and clicking the computer that you want to access.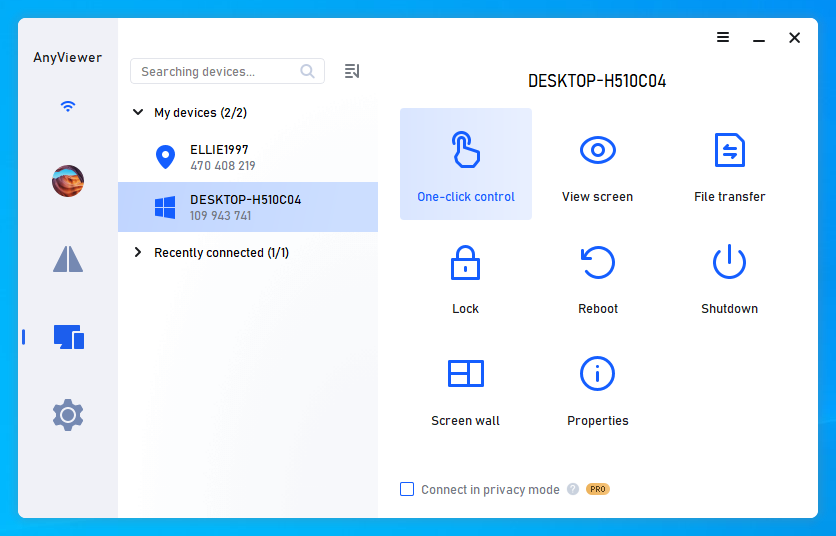 Note: If you can upgrade your account to a Professional or Enterprise plan, then you'll have more rights. You can assign more devices. Also, you can connect to another computer in privacy mode, which means you can black the screen and block the mouse and keyboard of the remote computer.
2. Chrome Remote Desktop
Chrome Remote Desktop, a browser extension of Google, enables you to remotely control another computer or be controlled by another computer from different operating systems. Have a look at its advances and disadvantages.
✍ Pros
▪ Fully free.
▪ Fully trans-platform, covering iOS, OS X, Chrome OS, Android, Windows, and Linux.
✍ Cons
▪ Unstable connection.
▪ No chat box in remote session.
▪ Need Google Chrome web browser.
▪ Consumes a lot of resources
▶ How to use CRD for remote access
Step 1. Open the Chrome Remote Desktop web page and click on Remote Access first and then click on the download icon to set up remote access.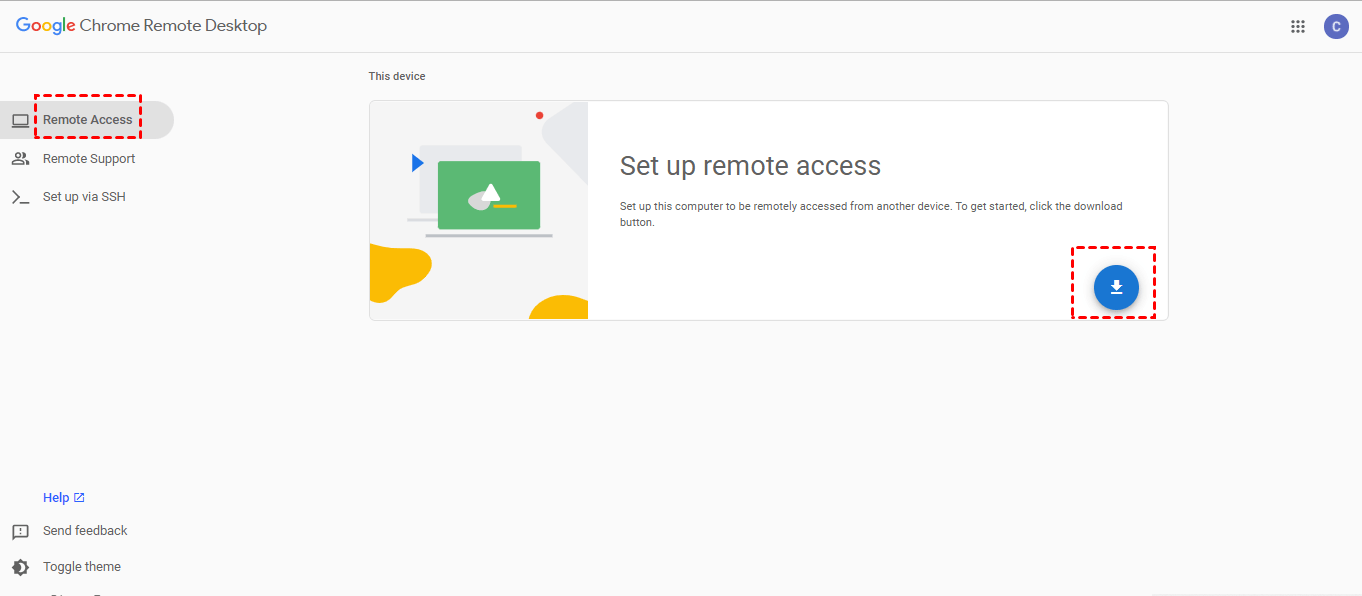 Step 2. Click on Add to Chrome to add the Chrome Remote Desktop in your Chrome browser.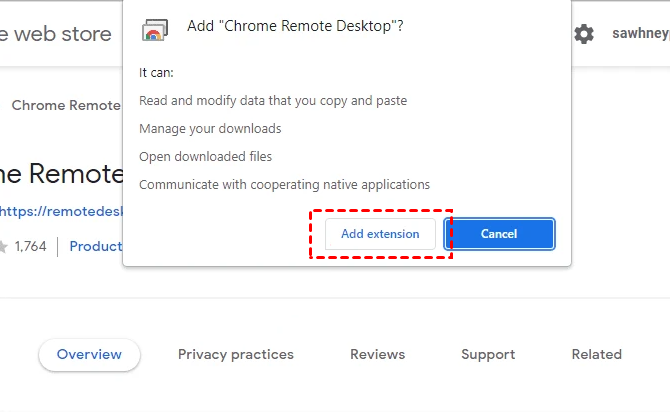 Step 3. Click on Accept & Install to install it.
Step 5. Enter a name for your computer and then click Next.

Step 6. Choose a PIN with at least 6 numbers, and then enter it twice to start the program. If you have unfortunately forgotten your Chrome Remote Desktop PIN, don't worry, you can find it back.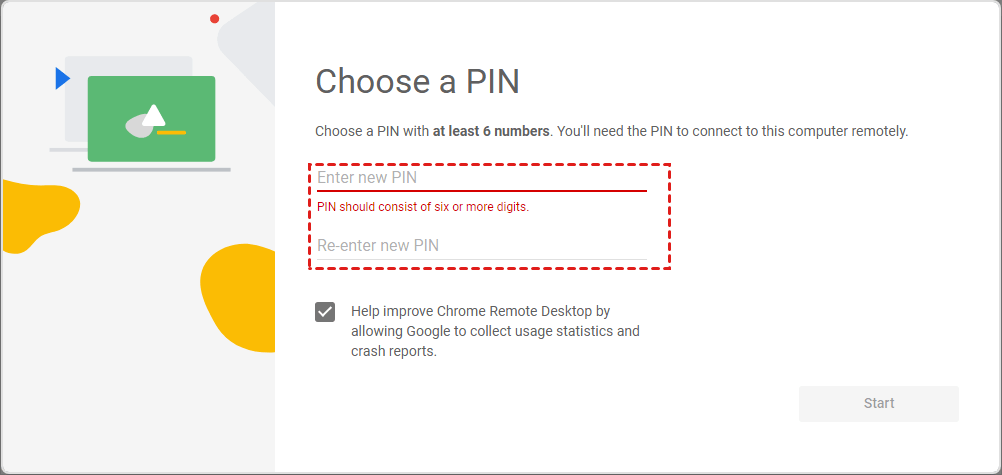 3. Microsoft Remote Desktop
Windows Remote Desktop, released by Microsoft, is very suitable for you to access PC on the same network. It is built in Windows computer and allow you to access Windows PC from Remote Desktop client apps on different devices, including Windows, Linux, iOS, Android and Mac. The pros and cons are listed below.
✍ Pros
▪ Completely free.
▪ Easy to set up when devices are on the same network.
▪ Copy and paste are supported.
✍ Cons
▪ Complicated setup when you access PC from a different network.
▪ The host computer must be running Pro, Business, or Ultimate versions of Windows.
▪ The remote screen is locked, and the user on the other end can't see what you are doing.
▶ How to use Remote Desktop to access computer?
Step 1. On the PC that you want to control, search "remote desktop settings" in the search box, and double-click it to open Remote Desktop Settings.
Step 2. Toggle the button to the On position to enable RDP. You'll be asked to confirm whether open the app; click Yes to confirm.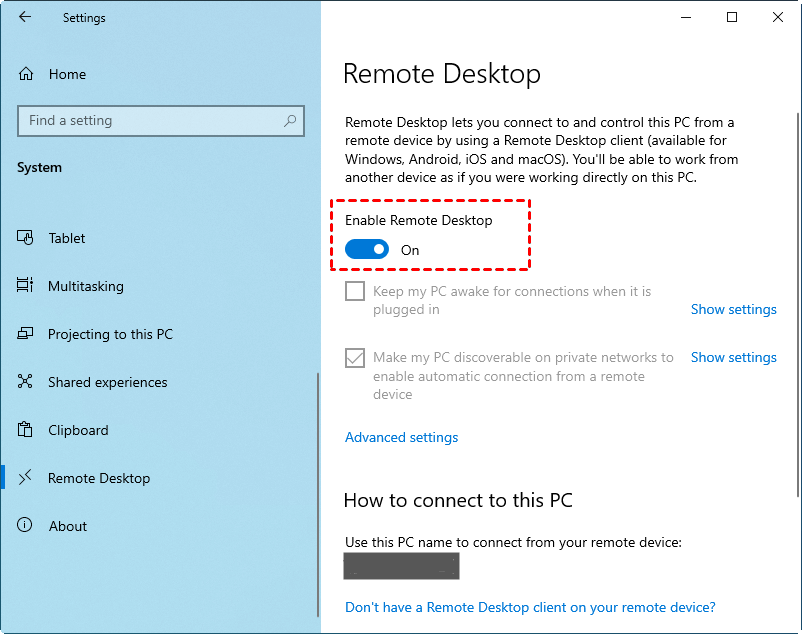 Step 3. After enabling Remote Desktop on the host computer. You can start a remote session from your local device. Press Windows + R at the same time, type mstsc to launch Remote Desktop Connection.
Step 4. Input the IP address of the target computer and then click Connect.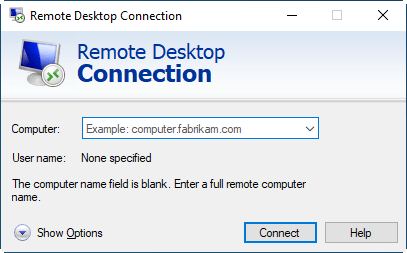 Step 5. Input the user name and the password of the remote computer account that you want to log in to and click OK.
4. AirDroid
If you are looking AnyDesk alternative for accessing and managing Android devices over the internet, you can use AirDroid.
✍ Pros
▪ Simple and easy to use.
▪ Support file transfer as long as smartphone and PC are on the same WiFi network.
▪ Support screen recording.
✍ Cons
▪ WhatsApp mirror isn't supported.
▪ Insecure link between PC and smartphone.
▪ AirDroid AirMirror attribute is very slow.
▶ How to use AirDroid to access and manage AnDroid from PC
Step 1. In your app store, download and install AirDroid on your Android phone or tablet.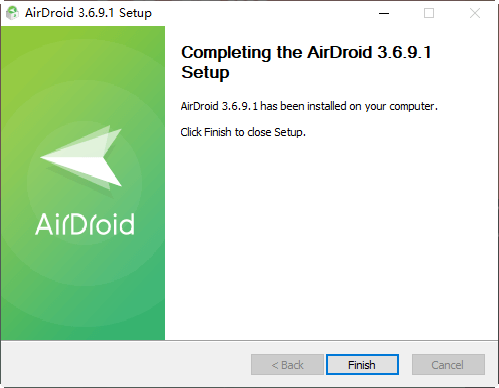 Step 2. Sign in to your AirDorid Personal account. Or you can sign up for an account first.
Step 3. Grant permission for AirDroid Personal on your Android phone.
Note: If your device is unrooted, you need to run Non-Root Setup first. When PC and Android device is not under the same network, please enable remote permission on AirDroid Personal.
Step 4. On your computer, open a browser, go to log in to the same account as the Android client.
Step 5. Click Binoculars and choose the Android device that you want to control. Then, click the Remote Control button and wait for a while to control your Android device.
Conclusion
We have listed 4 different and reliable AnyDesk alternatives. All of them are free to available, and you can choose one based on your own demands. For example, if you plan to access work computer that is running Windows 10 Home outside the office, it's recommended to use AnyViewer.