RemotePC vs TeamViewer
Whether you want to provide computer technical support for your family or work with colleagues to solve work problems, the remote control is of great significance to help you achieve these. However, many users still face a dilemma. RemotePC vs TeamViewer, which one is more suitable for them? Next, we will introduce the two software in detail for you, so that you can make a better choice.
How to use RemotePC?
RemotePC is a secure remote access software, which allows you to remotely access the computer all day, reading mail, viewing documents, or recovering important data. It supports remote printing, remote restarting, and multi-monitors viewing. In terms of the operating system, it supports Windows, Linux, Mac OS, iOS, and Android. Next, let's give you a detailed introduction to the use of RemotePC.
Preparation work:
Connect both the client computer (the controller computer) and the host computer (the controlled computer) to the Internet.
Download and install RemotePC on the client and host computers respectively.
Set up firewall settings on both computers to ensure the normal installation and use of RemotePC.
Step 1. Create a new email account, it is recommended to create a Google account.
Step 2. Run RemotePC and click Signup Now at the bottom of the main interface.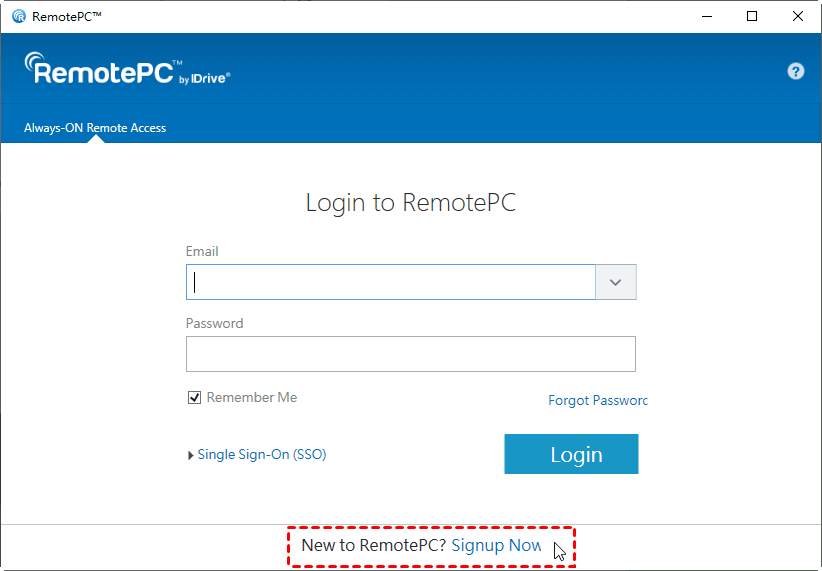 Step 3. Jump to the registration interface, select the item you want to purchase, fill in the corresponding information, and click Create My Account at the bottom.
Step 4. Run RemotePC again, enter the Email and Password on the main interface and click Login.
Step 5. Enter the computer name, key for the computer and confirm it, click "Enable Now!" below to activate the host computer.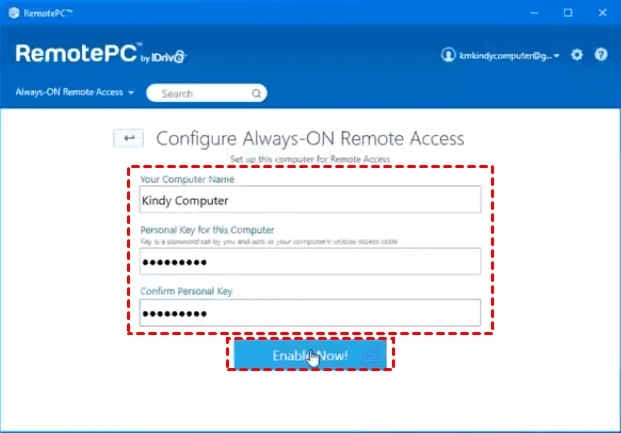 Step 6. Log in to the account on the client computer, find the activated host computer, click Connect, enter the key for the host computer in the subsequent pop-up window to achieve a remote connection.
How to use TeamViewer?
TeamViewer is an application that can be used for remote control in the background of any firewall and NAT agent. It has functions such as remote control, file transfer, unattended remote access. It can be applied to multiple operating systems such as Windows, Mac OS, Linux, Android, Chrome OS, iOS, and iPadOS.
Preparation work:
Connect both the client computer (the controller computer) and the host computer (the controlled computer) to the Internet.
Download and install TeamViewer on the client and host computers respectively.
Step 1. Select the purpose (commercial or personal) for downloading this software during installation. Here, take the free version of individual users as an example.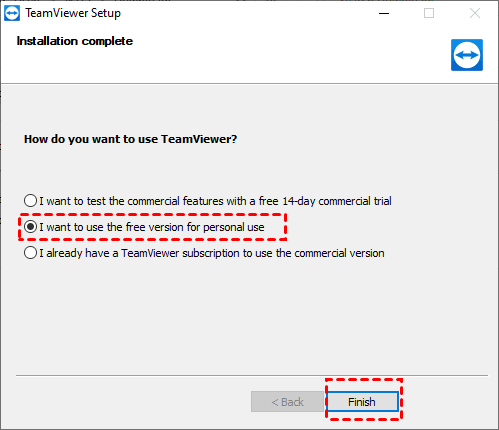 Step 2. Run TeamViewer on both computers. Select Login in the main interface. You need to create your own TeamViewer account for the first time. Click Next to complete account registration (you also need to verify the account before use).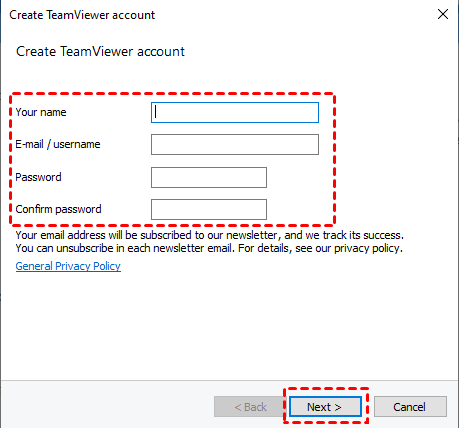 Step 3. Click Remote Control on the left side of the TeamViewer main interface on the host computer, enter the ID of the client computer under Partner ID, and click Connect.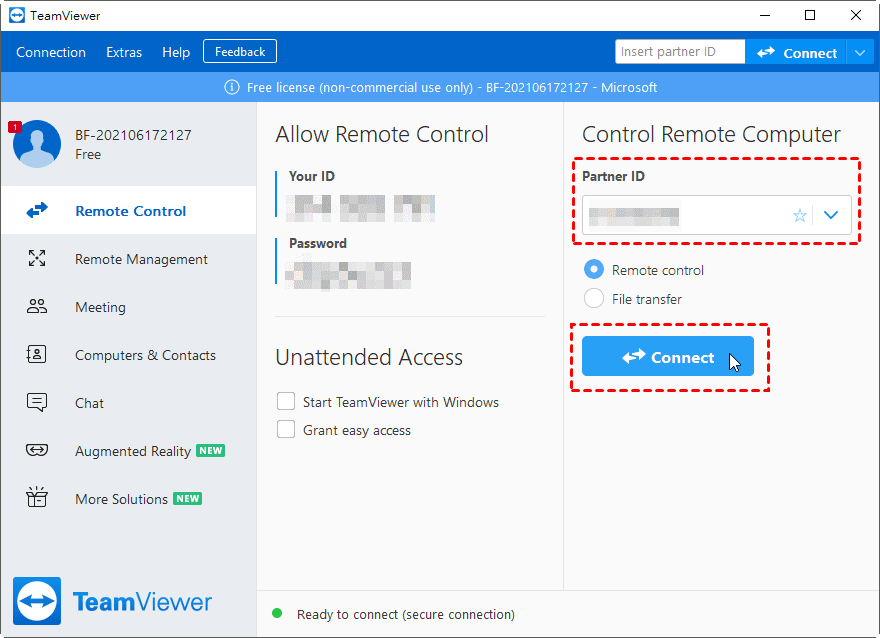 Step 4. Enter the password of the host computer in the TeamViewer Authentication window to realize the remote control.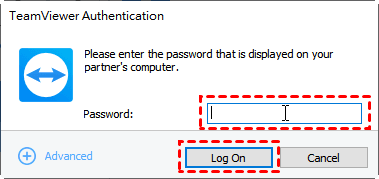 TeamViewer VS RemotePC: a detailed comparison
All versions of RemotePC are commercial. TeamViewer has free and commercial versions for different purposes. Many users are asking for a comparison of RemotePC VS TeamViewer on Reddit. Next, let's make a detailed comparison between RemotePC personal edition, TeamViewer free edition, and TeamViewer commercial edition.
It can be seen from the above table, the function of the free version of TeamViewer is not comprehensive enough. Although the commercial version of TeamViewer and the personal version of RemotePC are fully functional, they are expensive. They are only suitable for businesses that need a long-term remote control. For individual users, it is not only troublesome but also costly.
If the above two kinds of software are not satisfactory to you, you might as well try another free remote control software for Windows, AnyViewer.
Free remote control software: AnyViewer
AnyViewer is a totally free remote control solution for Windows, no matter you are using it for personal use or commercial use. It supports multiple Windows versions, including Windows 11/10/8.1/8/7 and Windows Server 2022/2019/2016/2012 R2. It has no limitation on the number of remote connection devices and allows remote technical support.
It is very easy to operate. It provides you with unattended remote access, you can remotely control another device even there's no one sitting in front of it.
Preparation work:
Connect the client computer (the controller computer) and the host computer (the controlled computer) to the Internet.
Download and install AnyViewer on the client computer and the host computer respectively.
Step 1. Launch AnyViewer on both computers.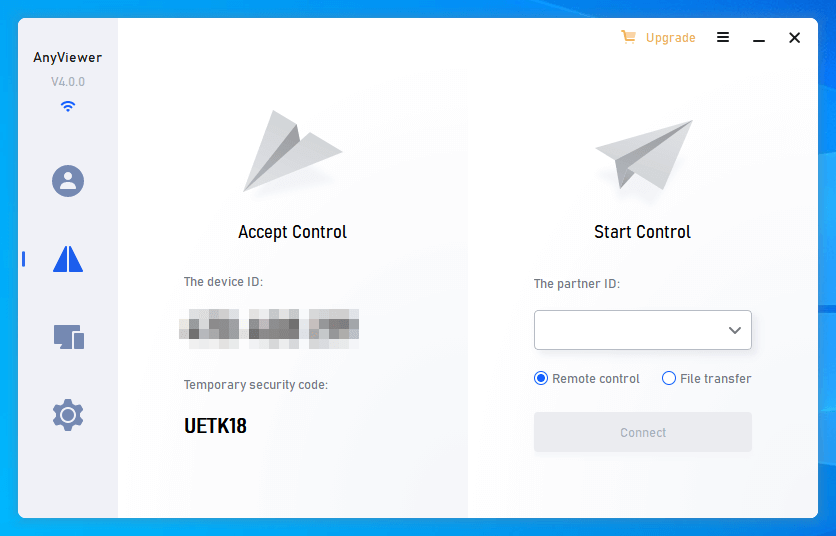 Step 2. Go to Log in, and then click Sign up. (If you already have signed up on its official website, you can log in directly.)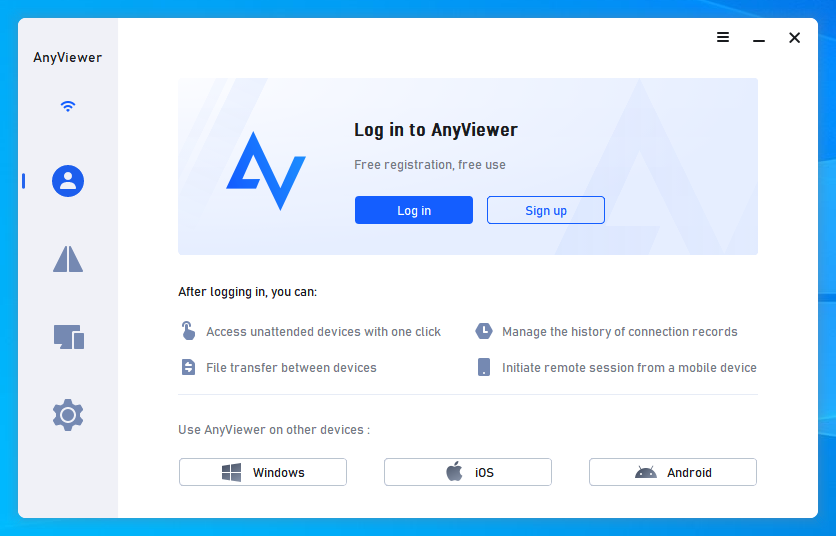 Step 3. Fill in the signup information.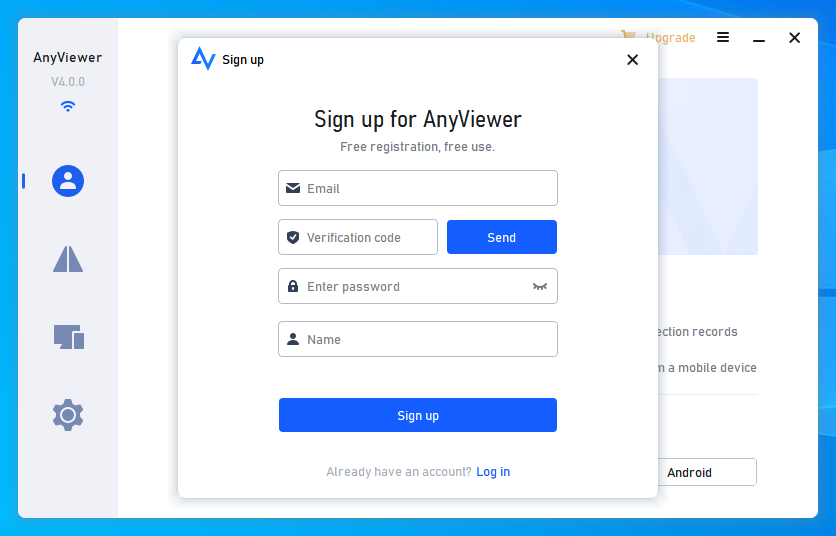 Step 4. Then you can see you successfully logged in to AnyViewer. Your device will automatically be assigned to the account you've logged in.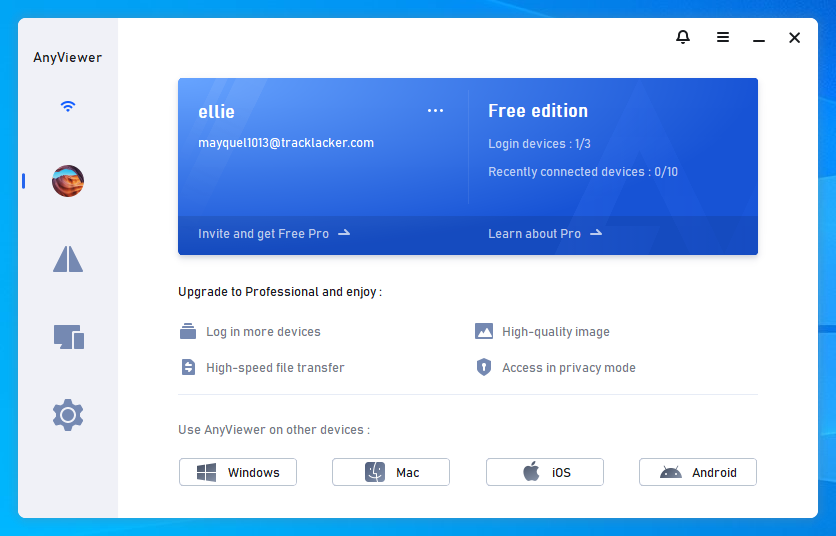 Step 5. Log in to the same AnyViewer account on the two devices, then you can achieve a direct connection by clicking Remote control.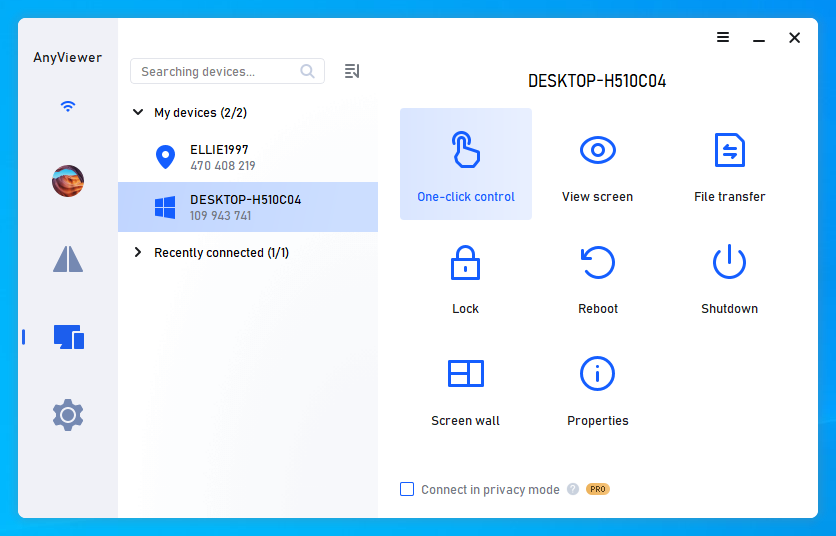 Note: You can also upgrade your account to Professional or Enterprise edition to assign more devices and to connect to another computer in privacy mode.
AnyViewer can also provide users with some practical functions for remote control after a successful connection. Such as lock, logout, restart, Command Prompt (CMD), etc.

Users can choose image quality according to the network connection speed. If the network connection speed is better, it can provide a higher image quality. The default wallpaper hiding function makes the remote connection smoother.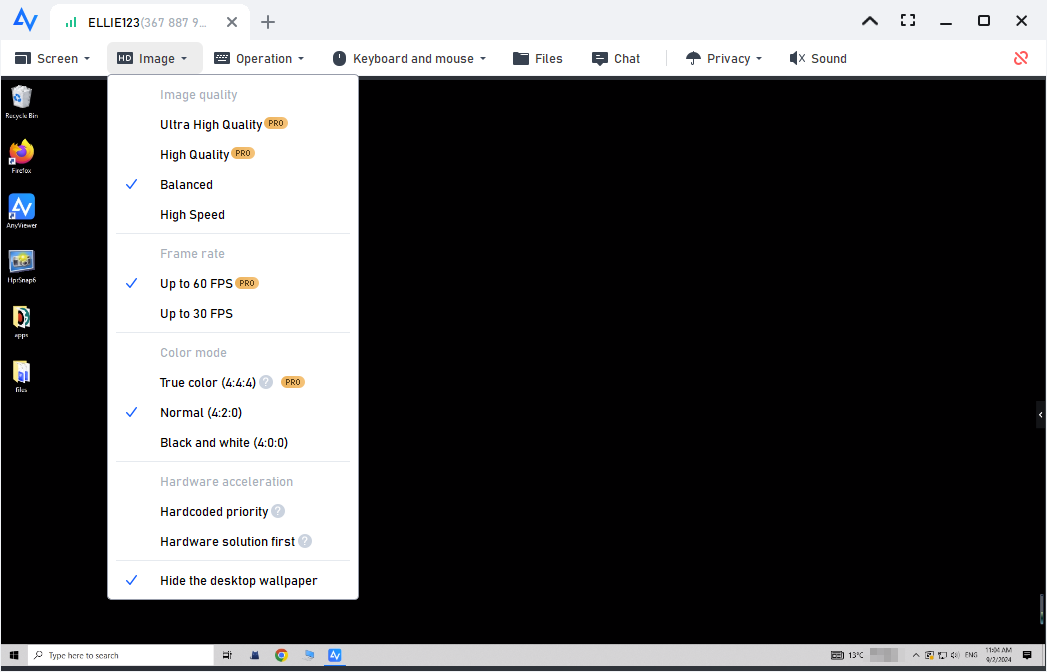 AnyViewer also provides users with different resolutions. Users can choose according to their preferences.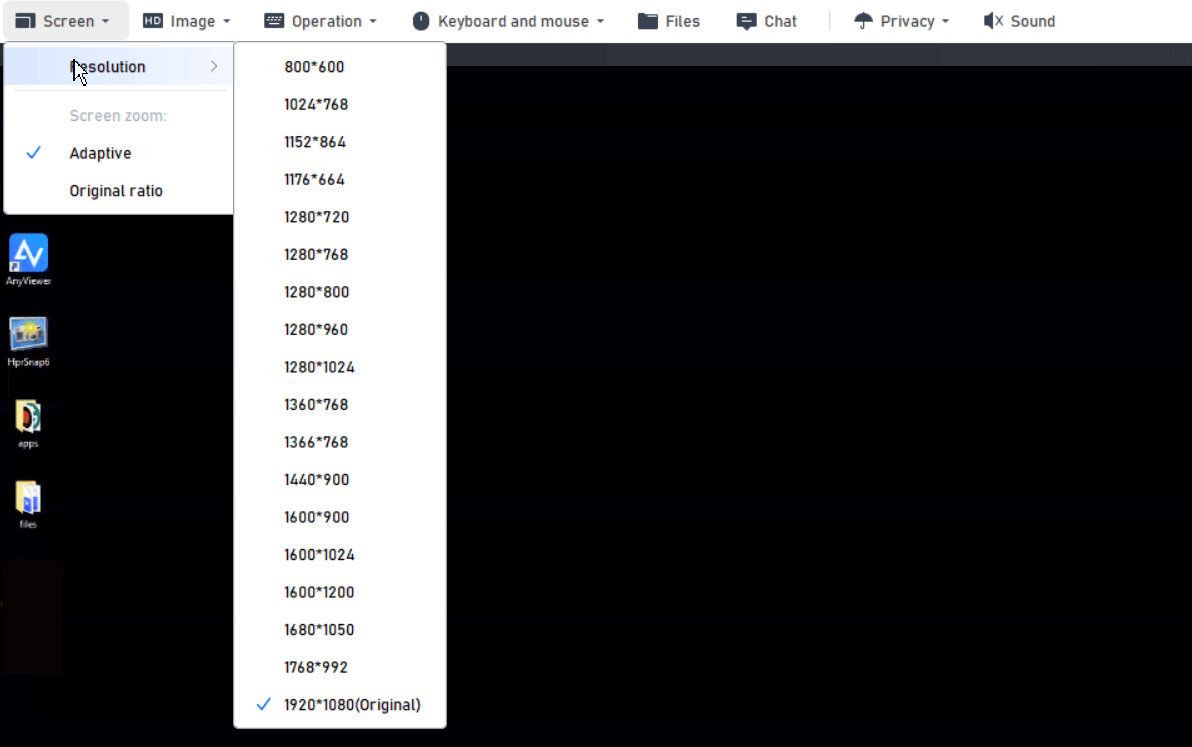 Conclusion
If you just want to remotely access another computer in the easiest way, then the free version of TeamViewer is worth a try; if you want a better remote control experience, then it is recommended to use RemotePC. RemotePC is much more cost-effective compared to TeamViewer commercial version.
If you want totally free yet professional remote control software, it is recommended that you try AnyViewer. Compared with the above two software, AnyViewer is not only completely free but also functionally perfect to make up for its shortcomings. There is no need to register an account. You can use it in a public network environment. It is the easiest way to remotely control a PC. With AnyViewer, you can have a better remote control experience.