Why do we need instant remote support?
When your clients encounter technical issues, how can you help them rapidly solve those problems and make your clients satisfied with your service? Arrive at the device? That can be time-consuming. Teach your clients the methods over the phone? Sometimes, it's hard to explain explicitly what to do.
Thus, remotely controlling your client's device can be a great solution. You can totally realize what happens to your customer's PC after establishing instant remote access to the computer and providing remote assistance effectively from anywhere at anytime.
How to offer/receive instant remote support [3 free utilities]
Reliable & safe remote desktop software is essential to take full control of another computer for quick remote support. 3 free remote desktop utilities are demonstrated in the next part and you can choose one based on your own need.
AnyViewer [with many operation shortcuts]
AnyViewer is reliable free remote access software, and it contains a clean interface that can help users use it easily. Once connected, it supports you to send "Ctrl+ Alt+Del" to the remote computer, open Task Manager, open CMD and etc. within one click. What's more, it enables you to provide both attended and unattended remote support with flexible connection ways. Download the free remote support software and realize how to use it.
To offer instant remote assistance from iPhone or iPad, download AnyViewer for iOS from Apple Store.
▶ How to use
Step 1. Install and run the tool on both computers. Then, click "Log in" and "Sign up" to create an AnyViewer account. (If you already have signed up on its official website, you can log in directly.)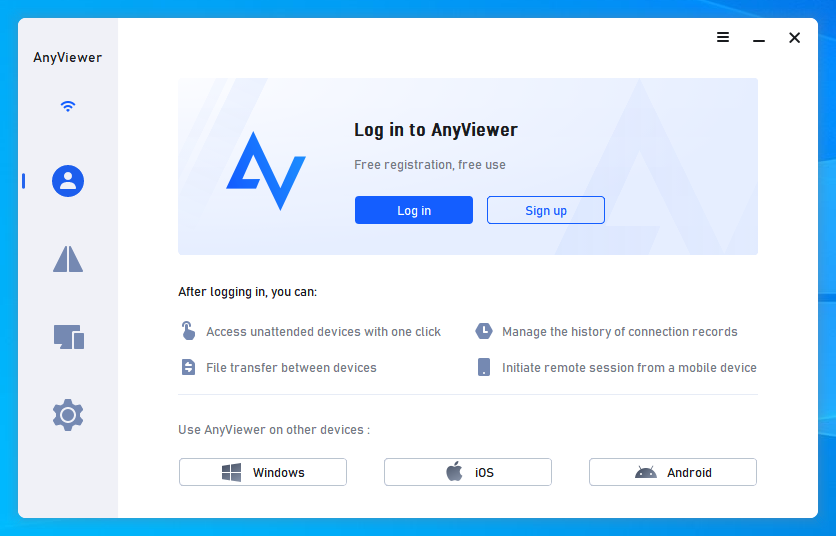 Step 2. Then you can see you successfully logged in to AnyViewer. Your device will automatically be assigned to the account you've logged in to.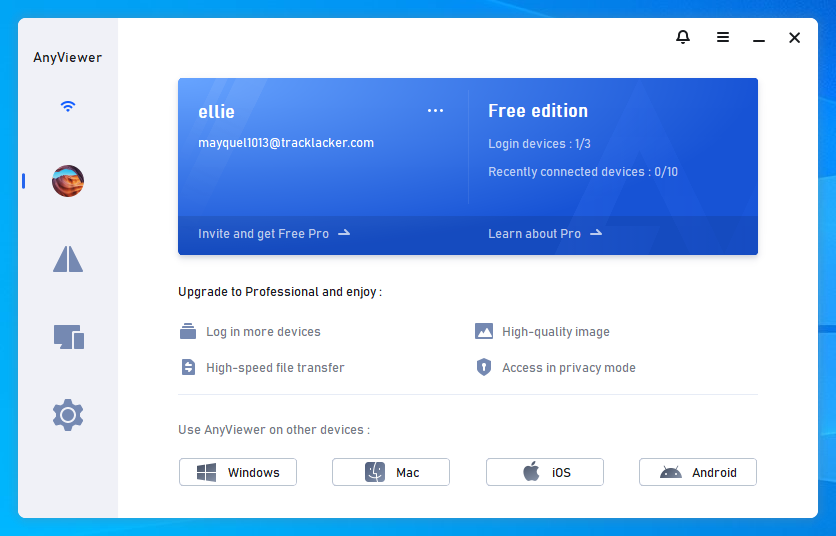 Step 3. Click "Connect" and type in the device ID of the remote computer. Then, click "Connect".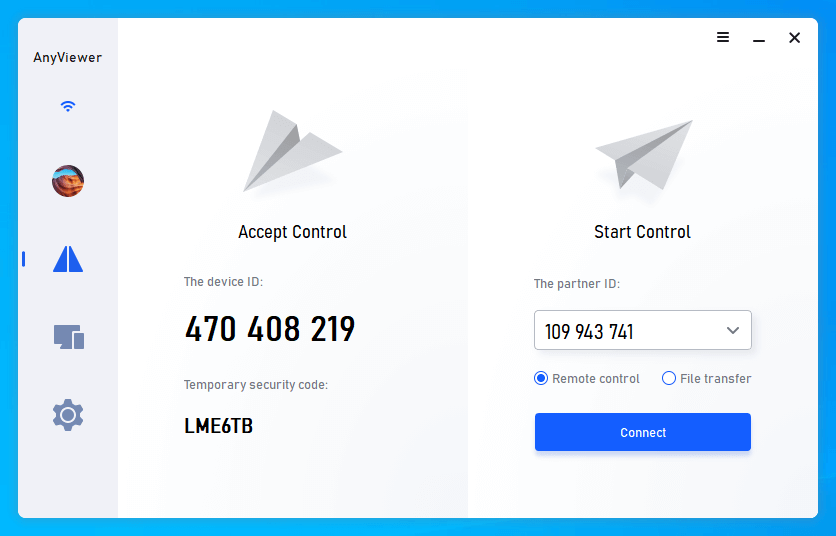 Step 4. Then, choose the first way and click "OK" to achieve attended remote support. After that, your client will receive a control request. Once "Allow" is chosen, you can get remote access to the computer.
Note: If your customers are not around the computer, they can send a temporary security code to you. Then, you can choose "Input security code", type in the temporary security code of the remote PC, and click "OK" to remote into an unattended computer for instant remote support.
Then you are able to solve remote computer issues as if you were sitting in front of it.

Remote Assistance [Windwos built-in remote support software]
Remote Assistance is a Windows built-in tool and you don't have to download it on the Internet. It can connect two computers so that you can help troubleshoot or fix problems on another person's computer.
▶ How to use
Step 1. In the computer which needs others' remote assistance, hold Windows key and press R, and type "msra" on the entry bar of Run box to open Remote Assistance.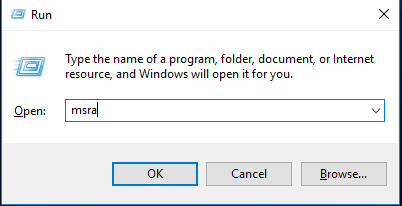 Step 2. Choose "Invite someone you trust to help you" and choose" Save this invitation as a file".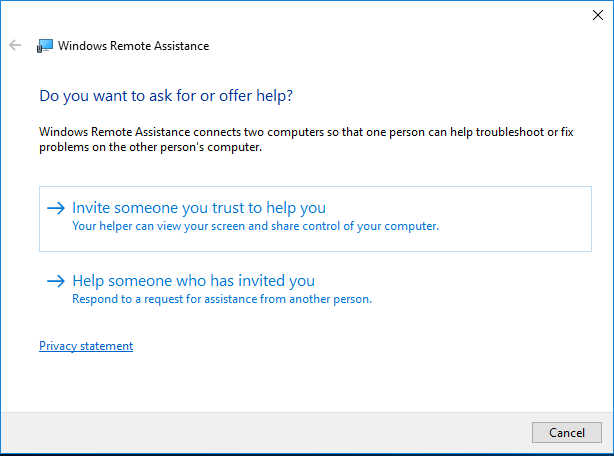 Step 3. Choose a path to save this file and a pop-up window that contains a password will appear. Send this file and password to the computer that offers help.
Attention: Do not close this pop-up window. Once you close this window, the connection will be canceled and you need to do the steps above again.
Step 4. On the computer that offers quick remote support, double-click this file, type the password in the entry bar, and press "OK".
Step 5. A pop-up request will display on the host computer, click on "Yes". Then the connection between the two computers is established. And you can offer free instant remote support to your customer.
✍ You may also be interested in Remote Assistance Easy Connect Greyed Out [Fixed].
Chrome Remote Desktop [Chrome extension]
Chrome Remote Desktop can be considered a Chrome extension. As long as the two computers sign in to a Google account and install the extension, you can get instant remote access from one computer to another computer through Google Chrome browser.
▶ How to use
Step 1. Open Google Chrome browser, search "remotedesktop.google.com/access" in the address bar, and press Enter. Click the download icon on the loaded website and follow the directions to install Chrome Remote Desktop.

Step 2. After installing Chrome Remote Desktop, the one who needs the other's help needs to go to Remote Support window, click Generate Code, and send this temporary access code to the helper.
Step 3. The helper should go to Remote Support window and type this code in the entry bar and click "OK".
✍ You may also be interested in Is Chrome Remote Desktop Not Working? Fix it Right Now!
Conclusion
It's not hard to offer/get instant remote support as long as you find out proper remote access software. If you want to get/offer quick support without downloading third-party software, Remote Assistance can be your choice. If you need to offer support to a computer that runs Mac or Linux, you can use Chrome Remote desktop; if you need comprehensive remote support software for Windows computers, it's recommended to choose AnyViewer.