Why choose remote access solutions for small business?
With the advent of the remote access tools like Windows built-in feature RDP, many users are benefited a lot whether in aspects of work or study. And according to some companies, they are looking for small business remote access software that possess low cost and high efficiency so that they can respond to unexpected situations very well.
For example:
When encountering bad weather like typhoons, the employees in a small business can access office PC from home PC to accomplish the work.
For the small business that cannot afford the big office, some employees can use remote access solutions to work from home.
...
These situations are inevitable for small businesses. Here in this post, we list remote support tools for small business. Hope you can get what you want from this guide.
The best remote support tools for small business
Here in this part, the 3 best remote support tools for small business would be illustrated to you. You can choose one one them according to your situation.
AnyViewer
When it comes to the best remote access solutions for small business, a free & professional remote access software-- AnyViewer is highly recommended. Being supported by a strong team, AnyViewer is appraised by many users for its fast connection speed and easy operations. Unlike the Windows built-in feature RDP, the remote connection in AnyViewer won't be limited to the same LAN, which means you're able to get remote access anywhere and anytime. And you can also enjoy the following advantages:
★Tips:

AnyViewer allows you to remotely access a PC with little effort. Once you log into the same AnyViewer account on 2 PCs, then you can get remote connection with one click.
It's also workable for the one who needs to give assistance to his or her colleagues. By sending the security code, you're able to help anyone with AnyViewer.
AnyViewer is secured by Elliptic Curve Cryptography (ECC) encryption, protecting your data from leakage during a remote connection.
It is free of charge and assigning the device or managing computers are accessible. However, if you want to manage more than 10 PCs, upgrading to a higher version is wiser.
By upgrading to an advanced plan, you can enjoy the following benefits:
You can assign 10 devices to achieve unattended remote access and manage 100 devices.
You can connect to another computer in privacy mode, which means the screen of the remote computer will be blackened and the mouse and keyboard of the remote computer would be disabled, further protecting your privacy.
You can transfer more files between remote computers in a larger size and at a faster speed.
Then get one and let's figure out how to operate AnyViewer.
In this part, detailed steps on how to access remote PC via the free remote software for small business-- AnyViewer are given. Follow me and take them into practice.
Step 1. Download, install and launch AnyViewer on both computers. Go to Log in, and then click Sign up. (If you already have signed up on its official website, you can log in directly.)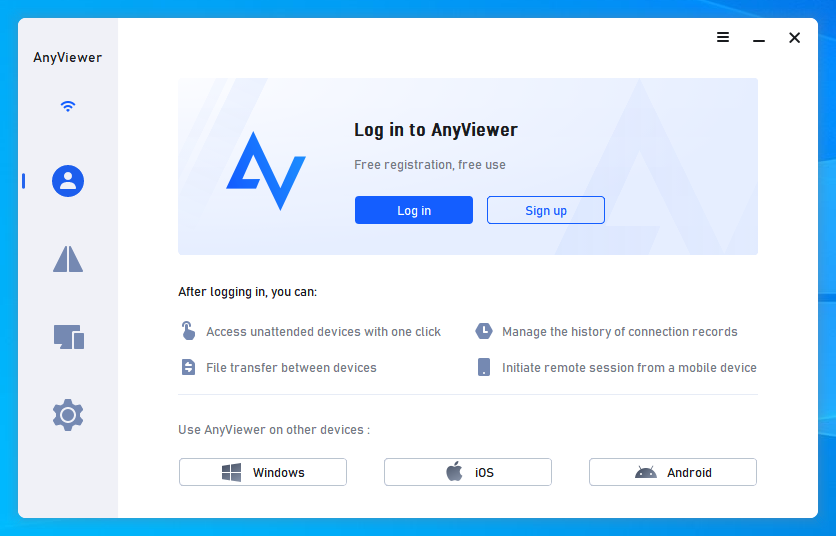 Step 2. Fill in the signup information.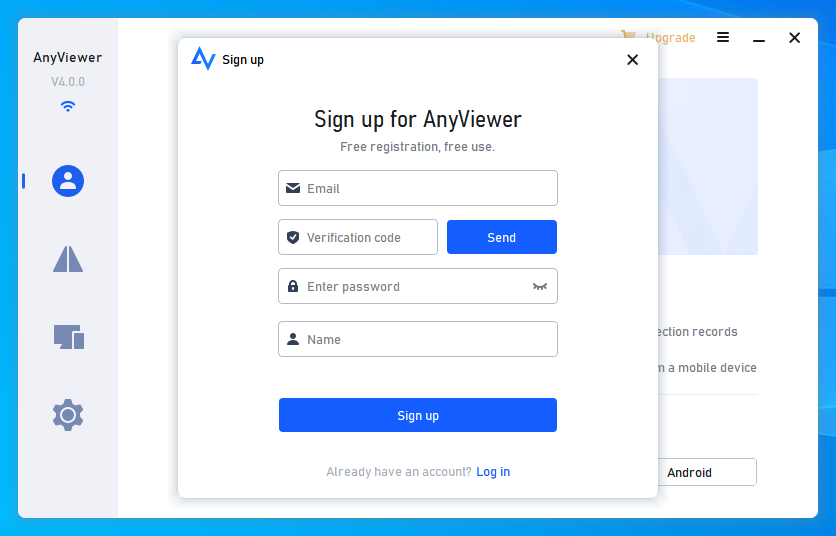 Step 3. Then you can see you successfully logged in to AnyViewer. Your device will automatically be assigned to the account you've logged in to.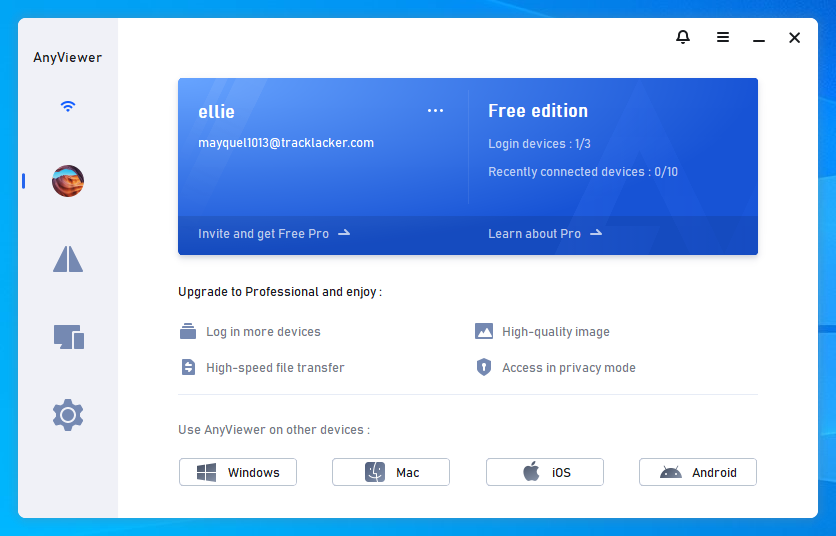 Step 4. Log in to the same AnyViewer account on the two devices, then you can achieve a direct connection by clicking One-click control. After that, you can get remote access for business.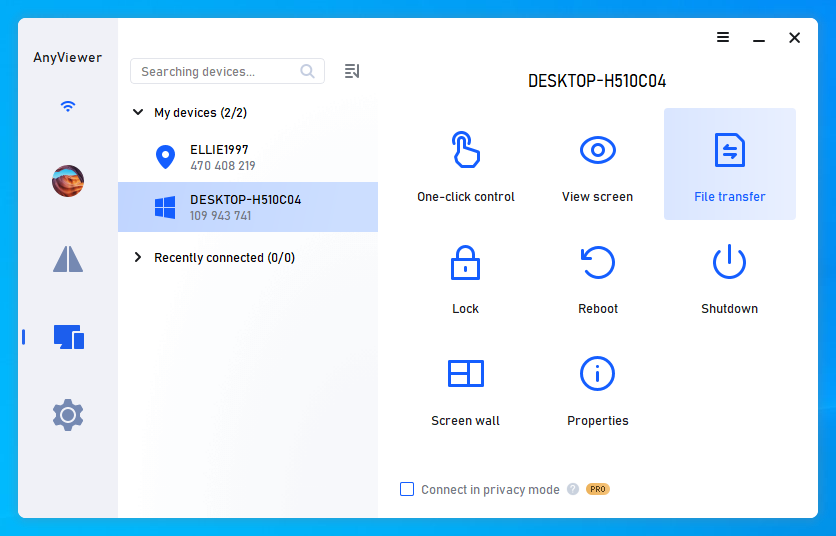 If the remote PC that didn't assign to the AnyViewer account, go to Currently connected and then locate the PC you want to control. Choose to Send a control request to your partner. Once the request is allowed, then the remote connection can be achieved.
If you need to transfer files, go to the right pane and select File Transfer. Of course, the feature File Transfer is also available in a remote session. You can select one of the options based on your situation.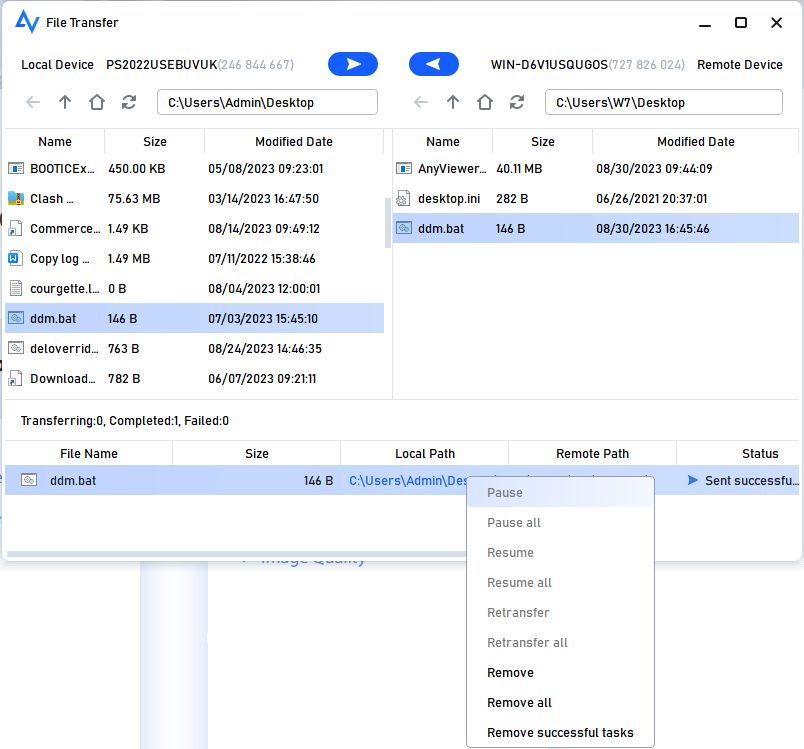 AnyDesk
AnyDesk is a remote desktop solution that can be used to remotely control computers and transfer files between computers. It is applicable on a variety of platforms and operating systems, including Windows, Linux, Free BSD, Mac OS, iOS, and Android, with which the business can get an amazing experience.
Now follow me to know the operations.
Step 1. Download and install AnyDesk on the PCs.
Step 2. Open it, then you can see your address which can be used for remote access. On the client computer, enter the address of the host computer in the blank box and then click Connect.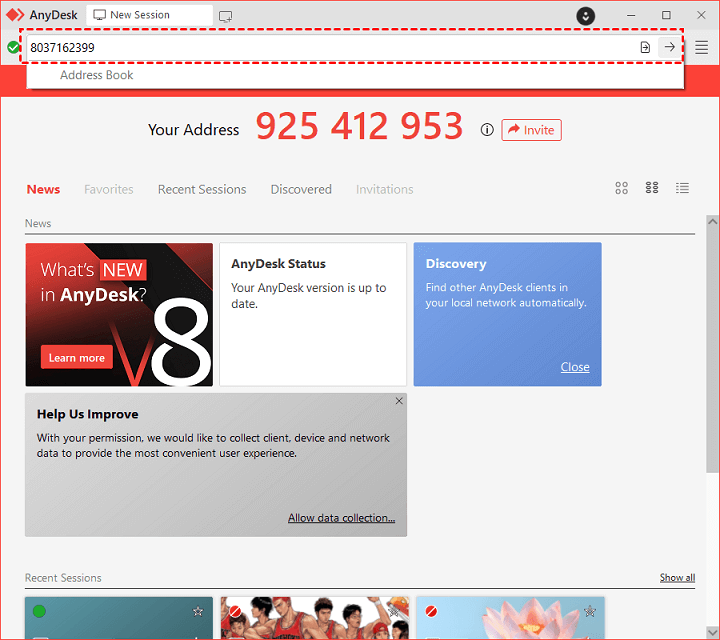 Step 3. On the host computer, the recipient will receive a pop-up window. Click Accept to establish the remote connection.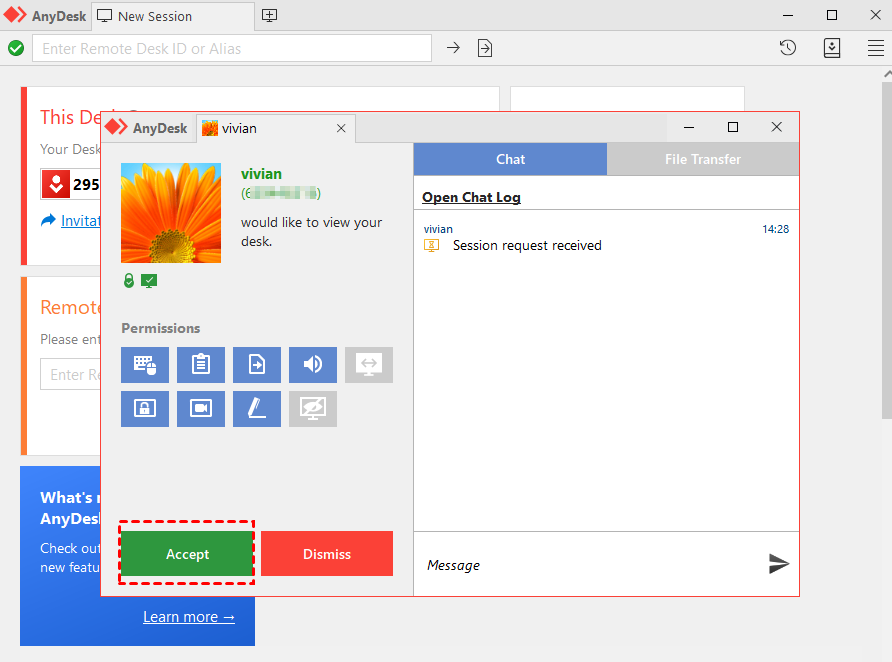 Note: AnyDesk also supports unattended remote access. You can enable it and set your password for unattended remote access in settings.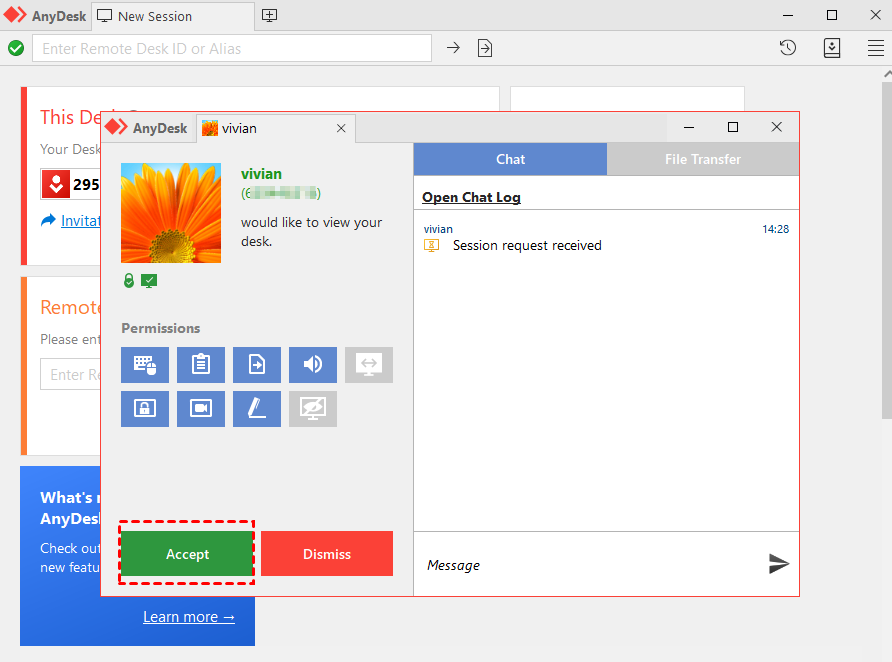 Pros:
AnyDesk is fast and efficient.
AnyDesk provides a self-managed local solution to help you save data. It's free to go.
For some commercial features, its price is relatively low.
Cons:
The screen of the host computer will freeze sometimes.
The self-managed local solution provided by it makes it inconvenient as some files and data need to be downloaded locally only.
TeamViewer
TeamViewer is a remote control application that can run in the background of any firewall or NAT agent. It has features like remote control, file transfer, and unattended remote access. It is compatible with a variety of operating systems, including Windows, Mac OS, Linux, Android, Chrome OS, iOS, and iPadOS. It's free for non-commercial use, while it's a little bit expensive for commercial, especially for small business.
Preparation work:
Step 1. Download and install TeamViewer on PCs. Select the purpose (commercial or personal) for downloading this software during installation. Here, take the free version of individual users as an example. (If you find the experience with TeamViewer is quite good, then you can purchase for commercial use.)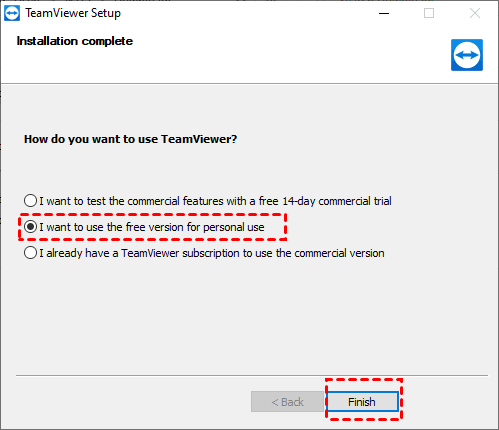 Step 2. Run TeamViewer on both computers. Select Login in the main interface. You need to create your own TeamViewer account for the first time. Click Next to complete account registration (you also need to verify the account before use).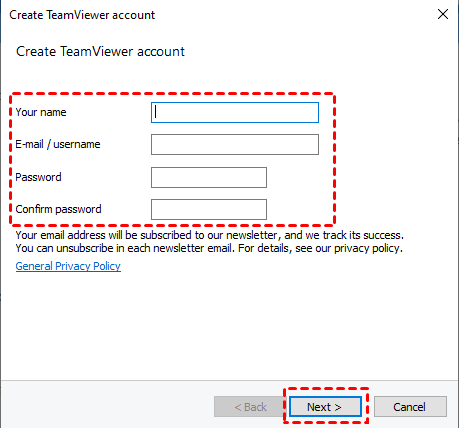 Step 3. Click Remote Control on the left side of the TeamViewer main interface on the host computer, enter the ID of the client computer under Partner ID, and click Connect.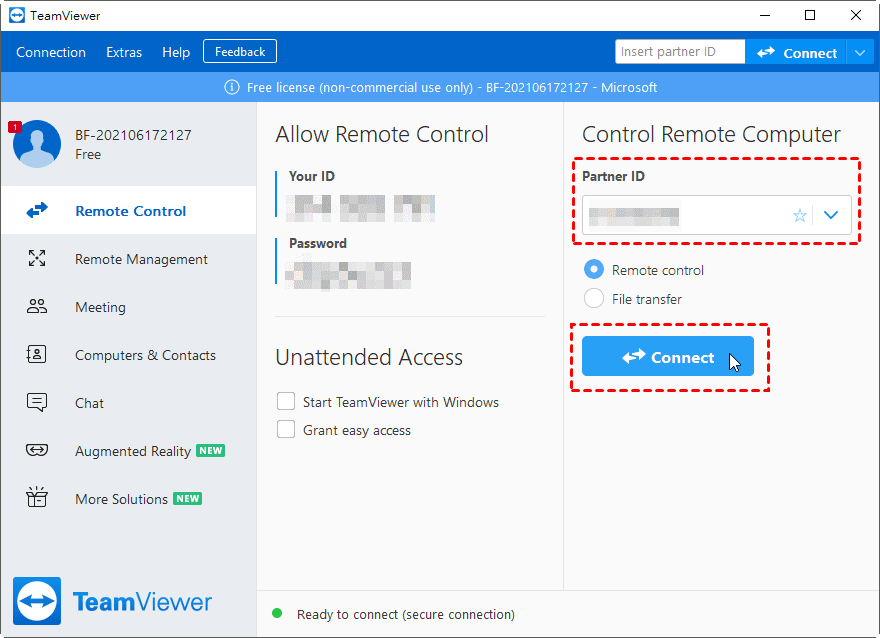 Step 4. Enter the password of the host computer in the TeamViewer Authentication window to realize the remote control.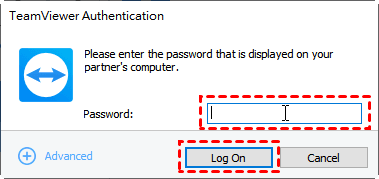 Pros:
It has a simple interface and is easy to use.
It runs smoothly without jamming. It has a free version for personal use.
Cons:
Its connection is unstable;
It is free for individual users with limited features.
The commercial version with more features is very expensive.
Conclusion
Here in this post, we list the remote access solutions for small business, like AnyViewer, AnyDesk and TemViewer. . I believe that you must have a thorough understanding of these software. But if you encounter some issue like remote connection drops in AnyDesk or you think the price of AnyDesk and AnyViewer is too high, then AnyViewer would be a nice shot.