Is Bomgar free?
Bomgar, which is called BeyondTrust Remote Support now, provides secure remote support for any device, including desktops, laptops, mobile devices, and even POS systems. It gives helpdesk teams the ability to quickly and securely access and fix any remote device anywhere.
Why do people want an alternative to Bomgar? The biggest reason might be that Bomgar is not free, even for personal use. That is not friendly to private users when they are just trying to provide remote support to families or friends.
What are the free alternatives to Bomgar? [3 options]
What are the best free alternatives to Bomgar Remote Support? Here we provide three options to Windows users.
Option 1. Free remote access & support software AnyViewer
AnyViewer is the free remote support software for Windows, iOS, and Android. If you want to remotely access a Windows computer from another Windows computer or an iOS or Android phone, AnyViewer is your best choice. Let's see the AnyViewer vs Bomgar comparison.
AnyViewer free version allows you to assign three devices to each account. It features two connection channels, allowing two devices to begin remote sessions simultaneously. It also enables two simultaneous sessions, which means that one computer can initiate remote connections to two machines at the same time. The free plan also includes unattended remote access, multiple displays, file transfer, text chat, and other features.
Step 1. On both computers, download, install, and launch AnyViewer. Go to Log in on the Controller computer, and then click Sign up (if you have already signed up on its official website, you can log in directly).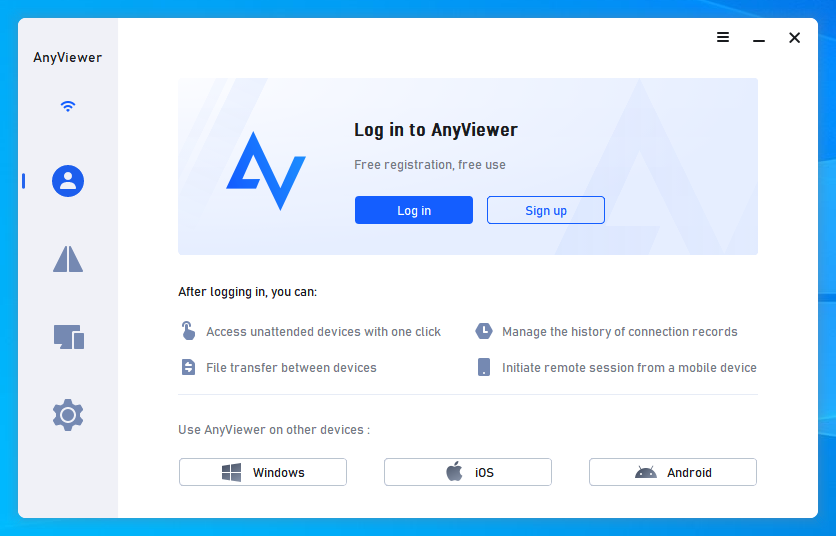 Step 2. Fill out the signup form.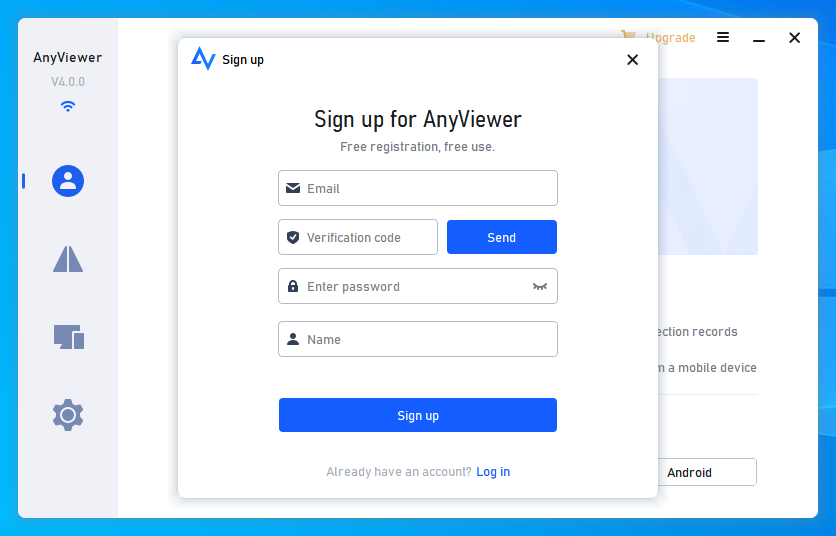 Step 3. You should now see that you have successfully logged into AnyViewer. Your device will be assigned to the account to which you have logged in automatically.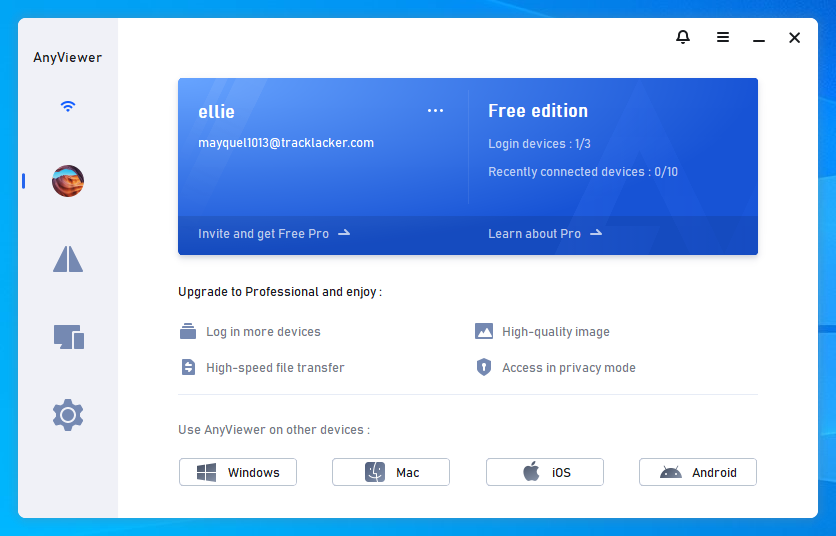 Step 4. Sign in with the same AnyViewer account on both computers, then click the One-click control for unattended remote access.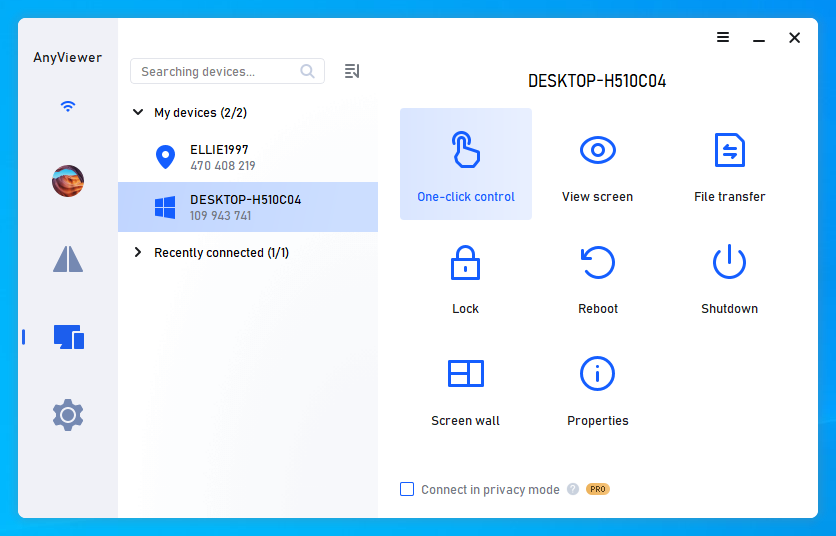 Step 5. The remote desktop will appear once the connection is established. You can start to provide remote support. You can click Operation in the toolbar to get shortcuts.

Notes:✎...

It is recommended to upgrade your account to a Professional or Enterprise plan. What can a professional or enterprise plan brings to you:

More devices can be assigned to the same account for unattended remote support.
Connect in privacy mode to protect your privacy. This means the Controller can black out the remote PC screen and disable the remote keyboard and mouse click.
File transfer speed will be increased. Transfer speed is 500 KB/s for a free account and up to 10 MB/s for a paid account.
Option 2. Windows built-in remote support feature Remote Assistance
The second option is to use the Windows built-in remote support feature Windows Remote Assistance. The biggest advantage of Remote Assistance is that you don't need to download anything and can quickly get started. Let's see how to provide remote assistance to others.
Preparation work:
Step 1. Right-click on This PC and then select Properties.
Step 2. Locate Remote settings on the left pane.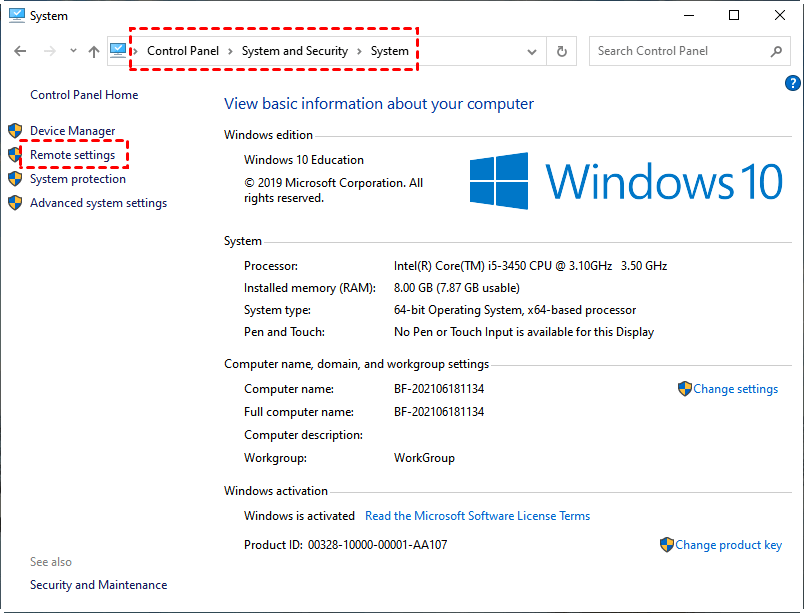 Step 3. Switch to the Remote tab, and then tick the option "Allow Remote Assistance to this computer".
Then you can start to use Remote Assistance:
Step 1. Press Win + R and then type in "msra" in the box, and hit OK to open Remote Assistance.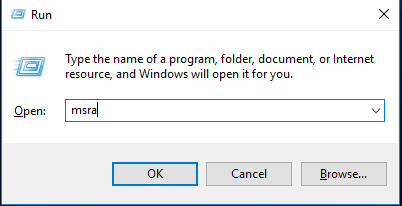 Step 2. Choose "Invite someone you trust to help you" on your PC and click "Save this invitation as a file".
Step 3. Save this file on the desktop and a pop-up window that contains a password will appear. Send the file and password to thePC providing help.
Step 4. On the PC providing help, choose "Help someone who has invited you", and then double-click on the file, enter the password and click OK.
Step 5. Then a pop-up request will display on the computer receiving help, click on "Yes".
Step 6. On the PC providing help, click on "Request control" and then a window will be popped up on the computer receiving help.
Step 7. Click on OK on the PC providing help, and then you can give assistance.
Option 3. Remote support feature Quick Assist for Windows 10 and 11
The final option is to use Quick Assist, another Windows built-in software. But Quick Assist is only available on Windows 11 and 10.
Step 1. In the PC that is used to offer support, type Quick Assist in the search box and run it.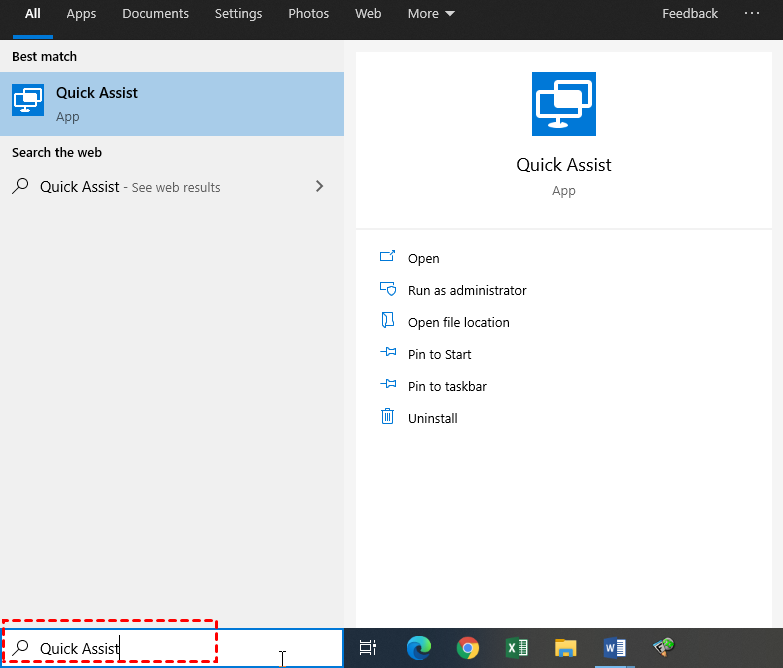 Step 2. Click Assist another personunder Give assistance.
Step 3. Now, you need to sign in to your Microsoft account.
Step 4. After successful login, you can see your security code. Please send it to the PC that needs help.
Step 5. In the computer that needs to be assisted, run Quick Assist, input the security code from the assistant under Code from assistanceand click Share screen.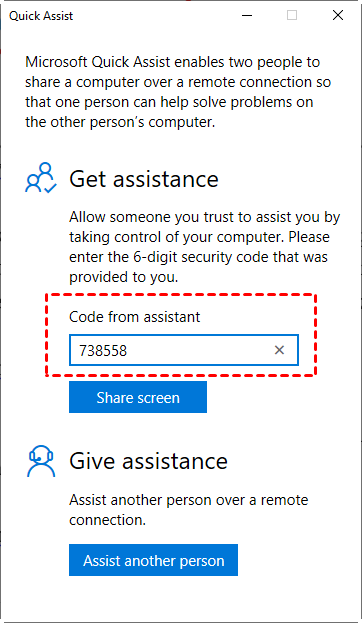 Step 6. In the helper end, two options: Take full controland View screenpop up. Choose Take full controlto offer remote assistance and click Continue.
Step 7. the receiver will get a message saying that someone will be able to see the files and control the computer. Make sure that the one is trusted and click Allow.
Finally, the assistant can connect to the receiver's computer successfully. And the assistant can settle the PC's issues from far away.

The bottom line
This post primarily introduces the tops three free alternatives to Bomgar. We highly recommend you to choose the third-party remote support software AnyViewer over Remote Assistance and Quick Assist. Because it is faster and more stable. Besides, it provides more practical features.