What is the best software to transfer files from one PC to another?
During my work time, I usually need to transfer files between the PCs of my colleagues. Besides, I sometimes work at home, and I also need to get the files from my work PC to my PC remotely. Now I think software may satisfy my demands. What is the best software to transfer files from one PC to another?"
- Question from a user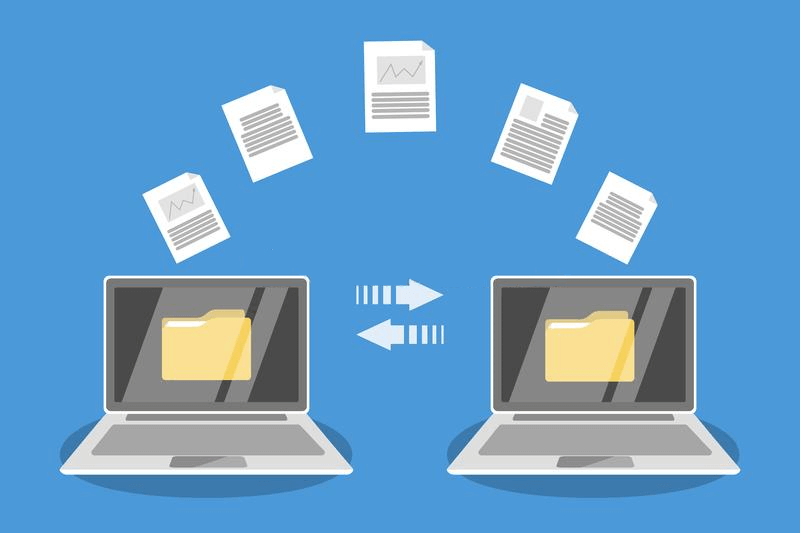 AnyViewer: The best PC file transfer software
AnyViewer could be the best free file transfer software for PC that you have been looking for, which is well-known as the best PC file transfer software and offers you the following benefits:
Easy-to-use. It offers an intuitive interface and only needs one click to transfer files without requiring difficult procedures.
Efficient & Stable. It has a fast file transfer speed and a free account can transfer 100 files at once. Besides, it provides you with a stable file transfer connection.
Compatible. It supports several Windows versions, for example, it's available on Windows 11/10/8.1/8/7 and Windows Server OS.
Multi-function. You can also use AnyViewer to get unattended remote access to desktops, laptops, or servers with simple steps, then you can share a screen, play computer games, manage another computer remotely, etc. Besides, it also supports iOS devices, you can remotely access Windows PC from iPhone or iPad.
User-friendly. It supports text chat in session and shortcuts of operations. Besides, it won't lock the host PC during connection.
Secure. It is secured by Elliptic Curve Cryptography (ECC) encryption, preventing your data loss during the whole connection.
Now, let's get started to sign up and transfer files via AnyViewer.
Part 1. Sign up for AnyViewer
Proceed with the subsequent steps after downloading and installing to register for AnyViewer.
Step 1. On the host PC, go to Log in interface and then click Sign up (log in directly if you have already signed up).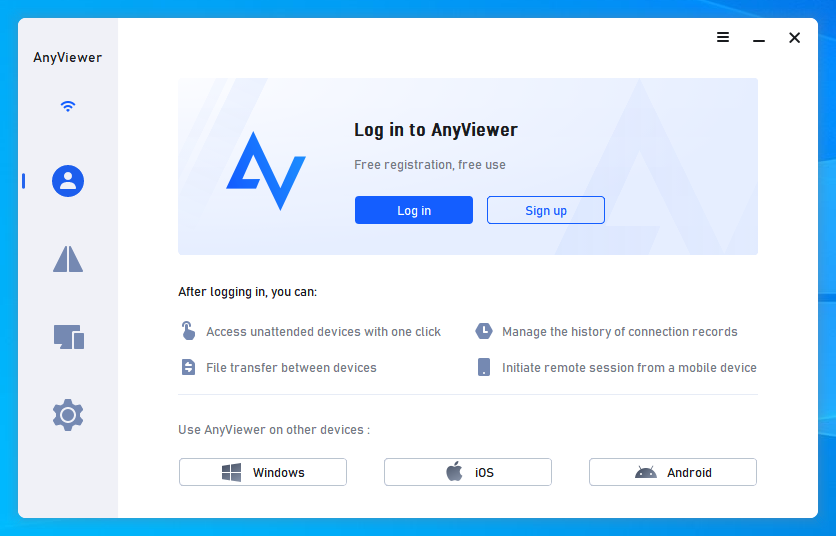 Step 2. Fill in the sign up information.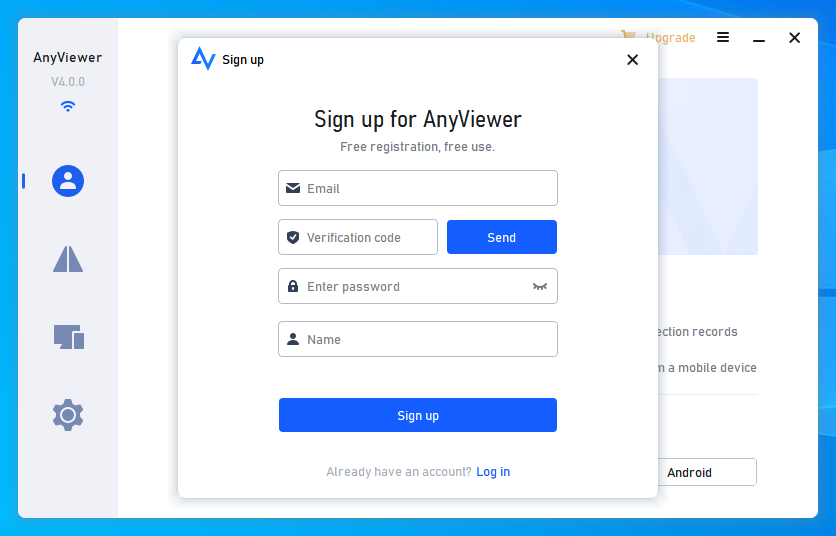 Step 3. When you successfully logged in to AnyViewer, your devices are automatically assigned to the account you've logged in to.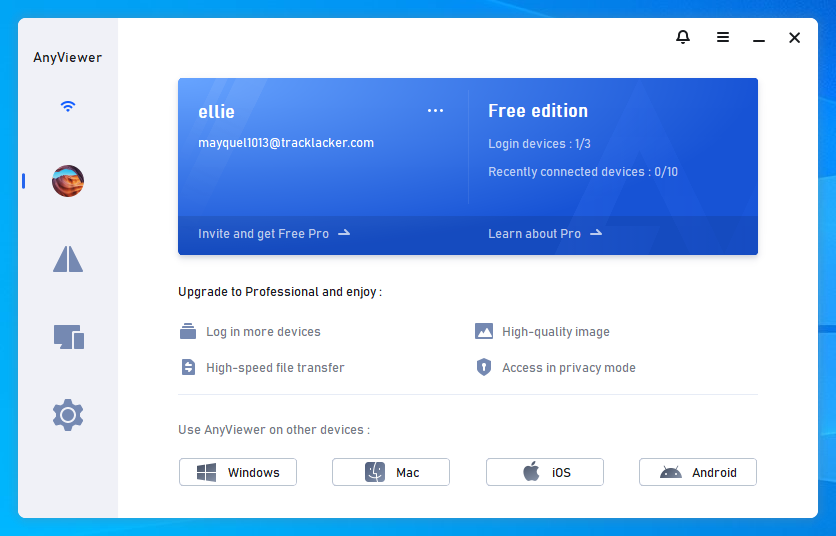 Part 2. How to transfer files between PCs via AnyViewer [3 ways]
After logging in to the best PC file transfer software AnyViewer on the host PC, here are three ways for you to transfer files via AnyViewer.
Way 1. Transfer files with the same AnyViewer account
You are recommended to use this method which is more convenient and efficient when you need to transfer files from remote desktop to local frequently on your computers. Before operations, ensure your devices are logged in to the same account.
On the client PC, go to the Device interface to choose the target device you want to achieve file transfer, and then click File transfer.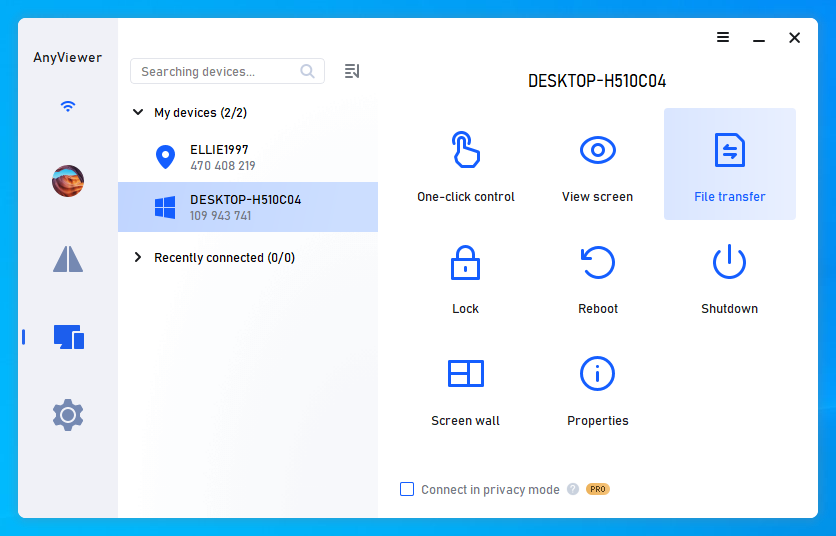 Way 2. Transfer files with the partner ID
When you need to transfer files to someone you don't trust enough, we suppose you use this method to transfer files without logging into the same Anyviewer account on the other device to secure your data.
Step 1. On the client PC, type in the ID of the host PC and tick File transfer mode, and then click Connect.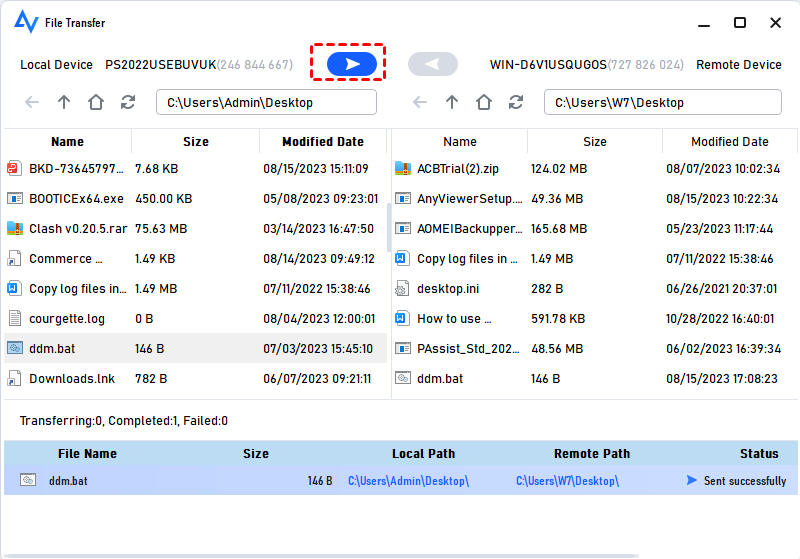 Step 2. A Connection Request appears to ask you whether to Send a request to your partner or Input security code. Choose the way according to your need and then you are allowed to transfer files between the devices.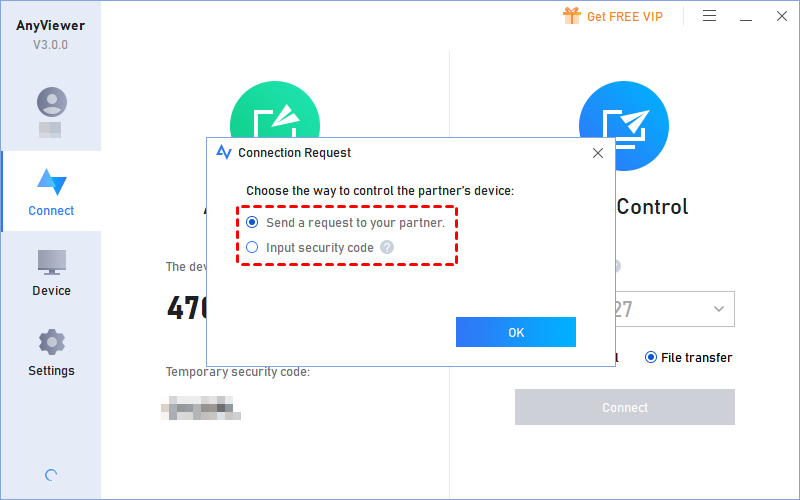 Way 3. Transfer files during a remote session
It is also possible to transfer files in a remote session if you want to transfer files between computers while also managing the target computer remotely.
Step 1. On the client computer, select the target computer on the Device interface and click Remote control to achieve unattended remote access.
Step 2. Then you can click Files from the upper toolbar to transfer files.

No matter which option you choose, a File Transfer dialog box will appear. The host PC is displayed there on the left of the box, while the client PC is displayed there on the right. To send the selected files to the client PC, click the right arrow after selecting the files you wish to send. To transfer files to the host PC, select the files and click the left arrow on the opposite side.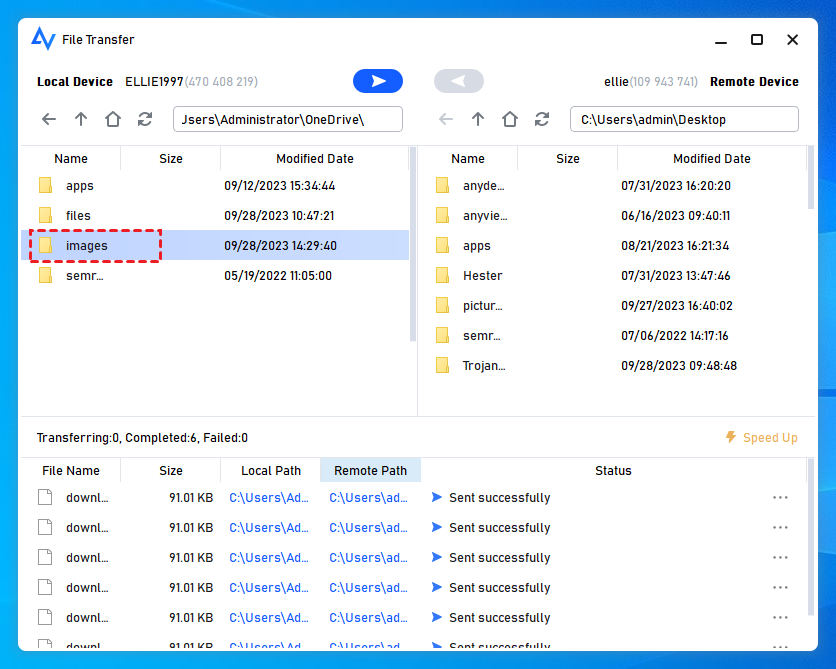 The transfer status is at the bottom of the box. Right-click to pause or remove the tasks.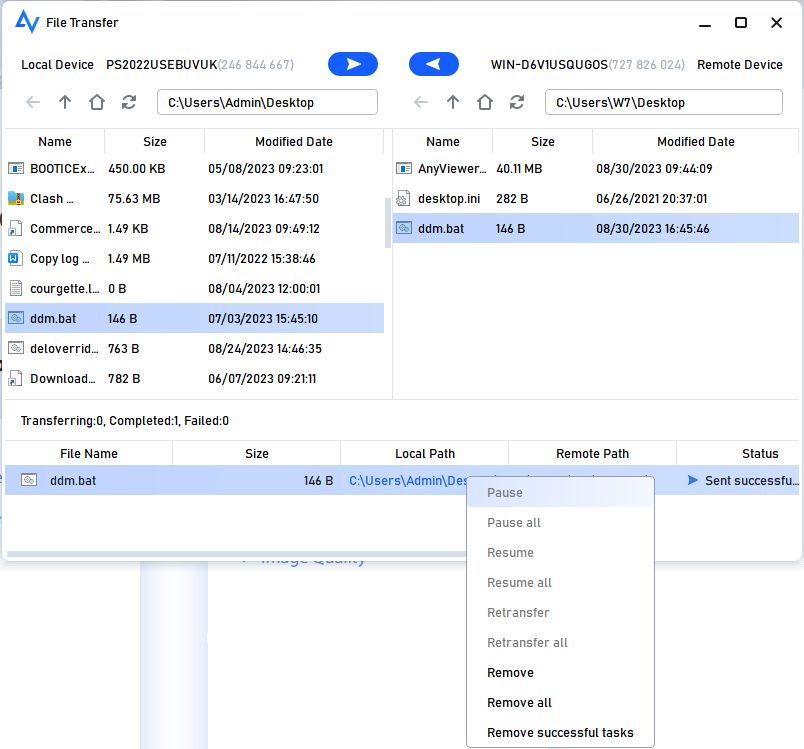 Notes:✎...

AnyViewer file transfer support for a single file smaller than 100 MB for the free account, and you can transfer no more than 100 files per time. You can upgrade to a Professional or Enterprise plan and the following rights will thereafter be yours:

Transfer more files at once. A free AnyViewer account can transfer up to 100 files at once, while a paid account is allowed to transfer unlimited files at once.
Speedier file transfer speed. Transfer speed for a free account is 500 KB/s, and for a paid account is up to 10 MB/s.
Transfer larger files. A free account can transfer a single file smaller than 100 MB, while the max size of a single file for a paid account is 1 TB.
Assign more devices to the same account to achieve direct file transfer.
Connect to distant computers in privacy mode so that you can disable the remote device's keyboard and mouse and completely black out its screen.
You can go to the AnyViewer pricing website to get more detailed information.
Conclusion
If you are looking for the best PC file transfer software, the third-party professional software AnyViewer could be an ideal choice for you. Using AnyViewer, you can transfer files between local and remote computers directly without saving any file, like you are on one computer. Besides, it has other multiple remote functions for you to enjoy. Don't hesitate and download it right now.