Why need to control my parents' computer remotely?
The majority of our age has grown up with computers, making it easy for us to operate them. But things aren't the same in our parents' generation while computers were not widely used at the time. As a result, some of you may be the only tech-savvy member of your family, and your parents rely heavily on you to troubleshoot computer issues and set up new devices. While it can be pretty frustrating to try to talk them through the steps over the phone, you may wonder if there is anyone who can teach you how to help parents with computers remotely?
For example, a user posts on AnandTech Forums saying that he has difficulty in trying to help his mother load information from her thumb drive to her hard drive. He mentions that even this simple task is next to impossible as his mother cannot explain to him what she's doing and the state of her desktop, and also cannot understand what he is saying. This has really got him crazy. He wants a free or cheap safe remote access software that would let him access her mother's laptop from far away.
A free & easy-to-use remote control application
Remote control means you can use a client computer to remotely see the screen of a host computer and remotely access data, files, or programs on it. you can remote into your own computers to get the information you need right now from another place or access another person's computer to help him fix some technical problems remotely.
Under either circumstance, you need remote control software to help you achieve remote access. There is much remote control software for your choice, some are commercial, some have a 7 or 14-day free trial, and some are totally free. If you are looking for free and stable remote access software, you can use AnyViewer. It would be a great option for you for the following reasons:
It allows you to remotely control your parents' computer to help them fix any computer problems.
It supports various Windows versions, including Windows 10/8.1/8/7 and Windows Server 2019/2016/2012 R2, providing you with less limitation on the operating system of your parents' computer.
It is free to download and easy to set up, even for aged people.
It offers you flexible and easy connection modes. You can freely choose to input a security code, a temporary security code, or send a remote control request.
How to remotely control your parent's computer using AnyViewer? 
If you are trying to help your parent out with their computer, here's the detailed instruction on how to do it. But before your remote connection, both your and your parents' computers need to download AnyViewer and install it. Don't worry, it's very easy to operate, even for your parents.  
Step 1. Now both your and your parents' computers have successfully downloaded AnyViewer. Fire it up and you'll see the following interface.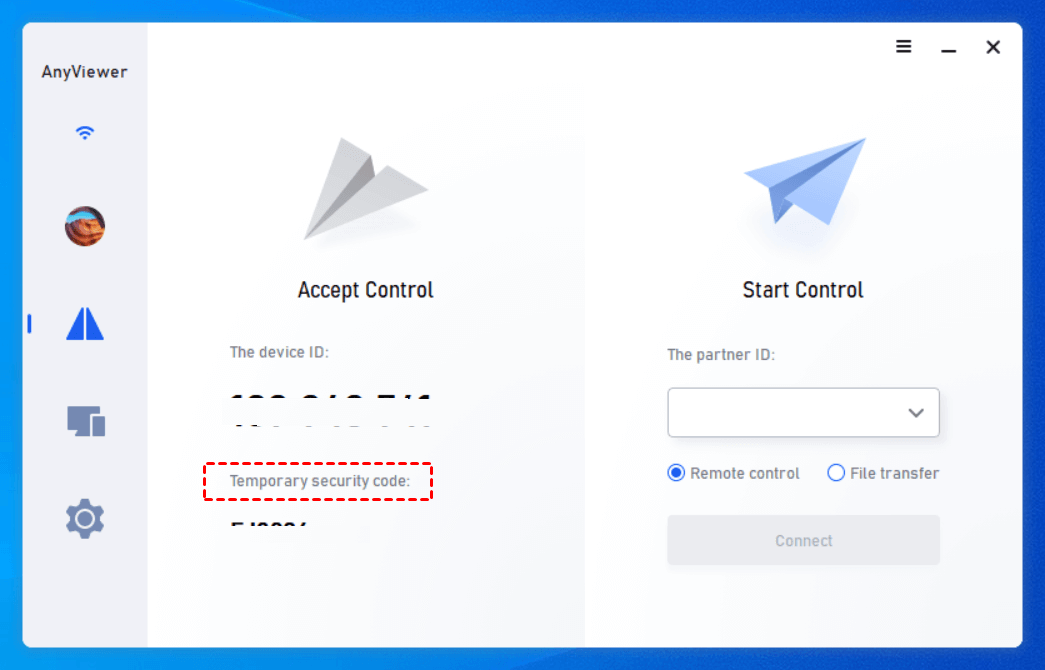 Step 2. On your parents' computer, they need to click on Setting and then Recipient. Tick all three options. Then set a security code they want in the box.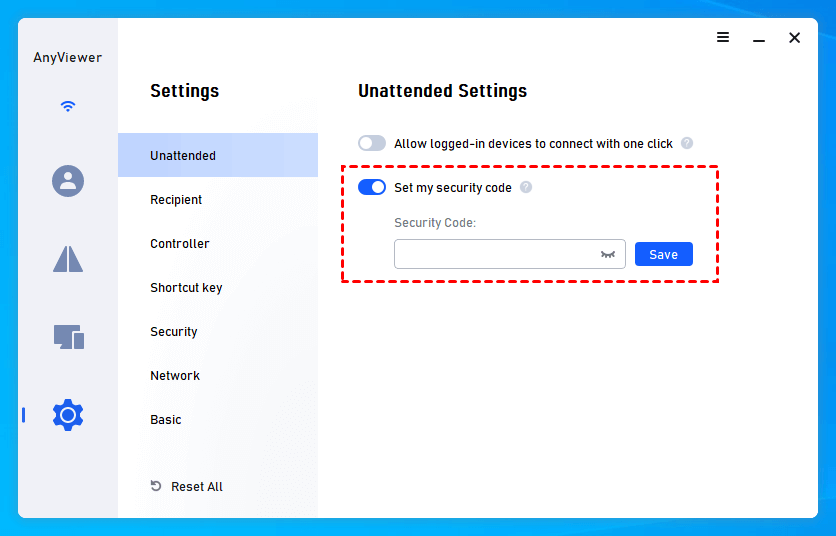 Step 3. On your computer, first, you need to know the device ID of your parents' computer. It's on the interface of AnyViewer. Then you have three options to achieve remote connection.
Option 1. Ask your parents to tell you the temporary security code of their computer on the interface. Then input the code to achieve direct connection.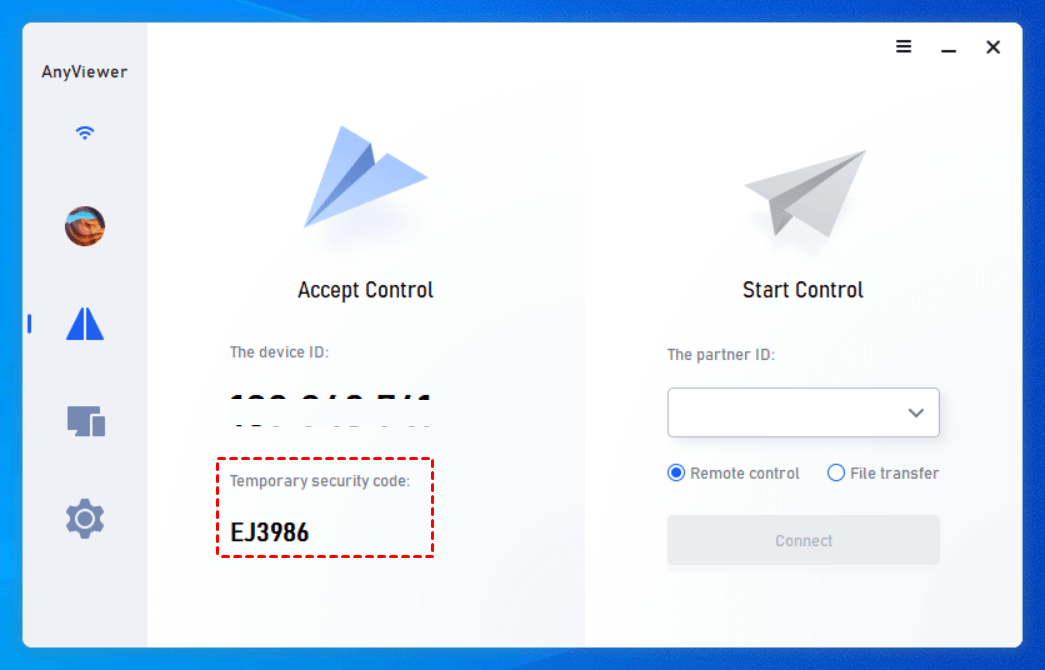 Option 2. Ask your parents to tell you the security code they have just set in step 2. Then input the code to achieve direct connection.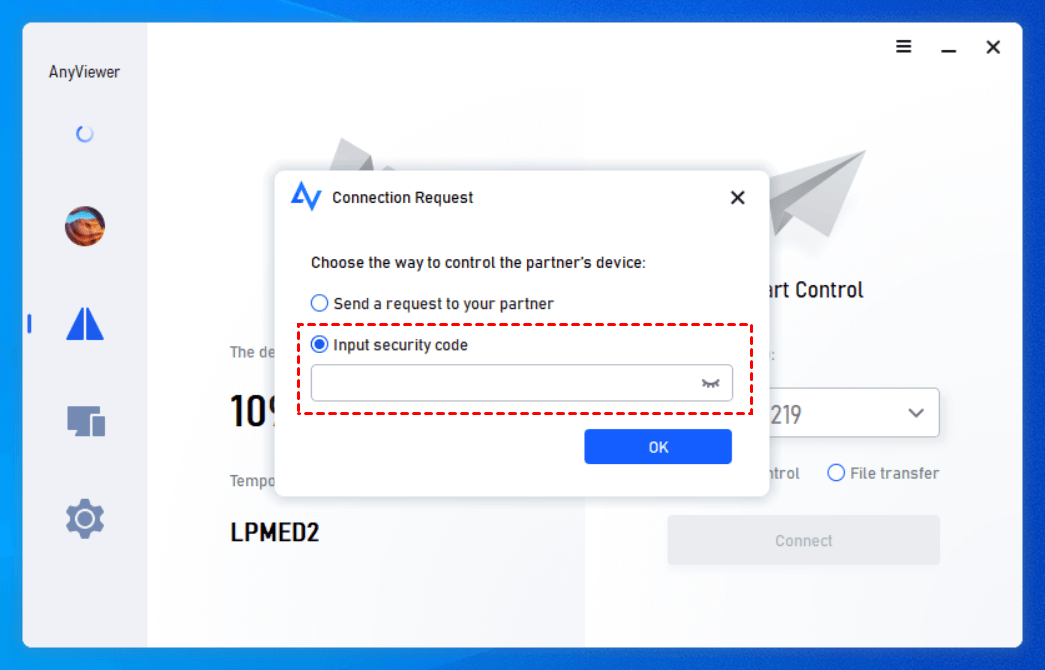 Option 3. Send a control request to your parents' computer. Then they will receive a pop-up request to control their computer. This won't allow you to establish a connection directly. They need to click Allow to achieve remote control.